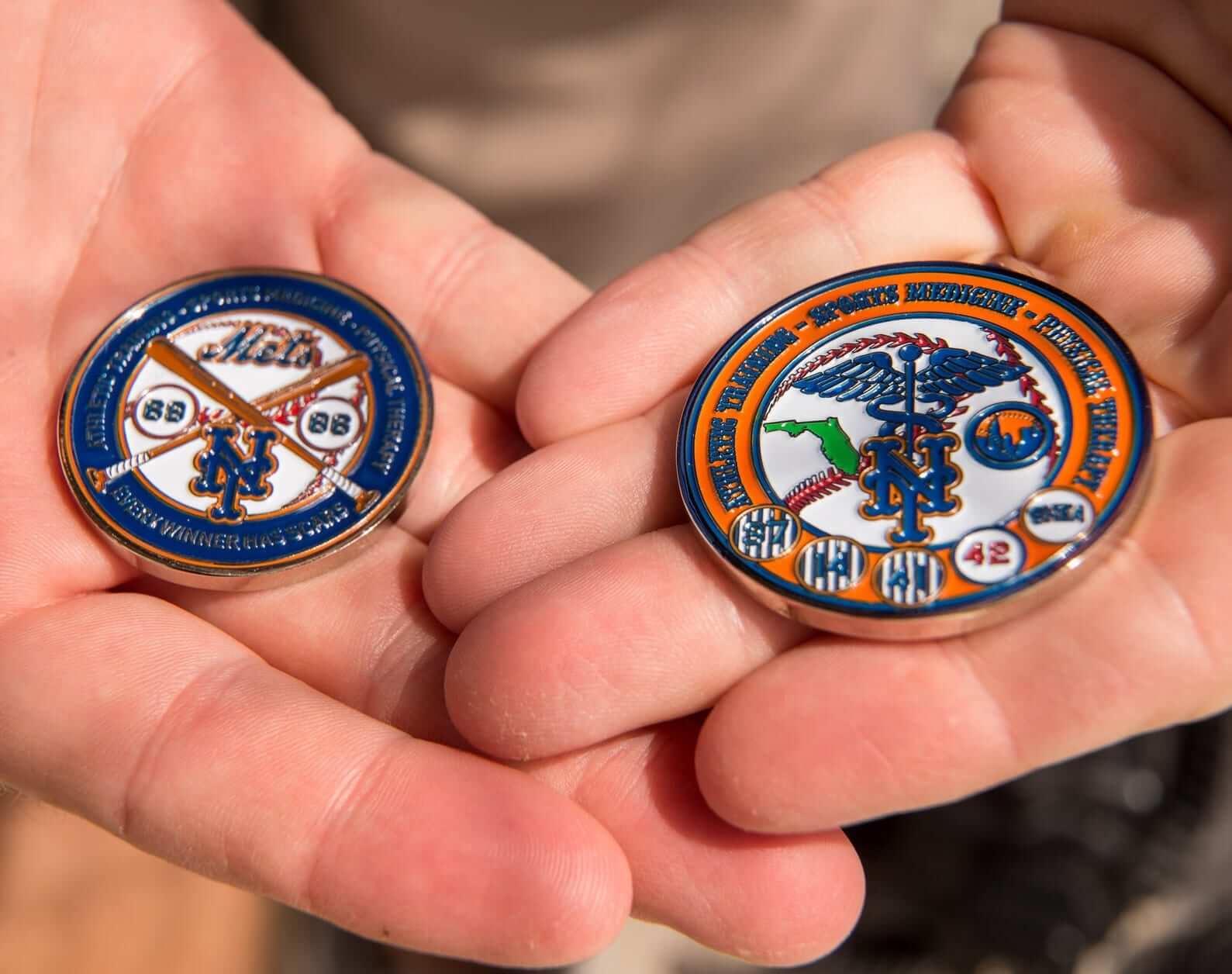 Photo by Brett Carlsen for The New York Times; click to enlarge
So here's a new one. If a Mets player suffers a major injury — not a sprained ankle or a sore hammy, but something that keeps the player on the shelf for months and requires significant rehab time at the team's training facility down at Port St. Luice, Fla. — and if the player also dedicates himself to his rehab program, the rehab staff will award him one of these "rehab coins" when he's ready to play ball again.
The coins have apparently been given out for several years now, but I didn't know about them until they were featured yesterday in this very interesting article, which explains that the coins were the brainchild of Mets minor league rehabilitation coordinator Dave Pearson:
Pearson got the idea for the coin a few years ago after he noticed that players in the Mets' strength and conditioning program were getting new T-shirts every year. He wanted something for the rehab program. But, he figured, "Nobody wants to wear a shirt that says "˜rehab.'"

Then he remembered a gift he had received, before he worked with the Mets, from a patient who had served in the military. As a sign of thanks, the man had given him a challenge coin, a special token that signified the unit to which he belonged. Peterson thought the idea might work with the Mets.
A nice idea. But does a millionaire athlete really need a coin as a motivational tool? And do the players actually care about the coins once they receive them? Apparently not:
Jenrry Mejia said he keeps his Mets coin at home in the Dominican Republic; it might be in a drawer somewhere, he thinks. Steven Matz, who has also had Tommy John surgery and has an outside chance to make the Mets this season, said he kept his coin in the center console of his truck. He said the sun might have melted it a bit. Juan Lagares forgot that he had ever received one.

"I might use it as a golf-ball marker," Harvey said, examining his coin. He was being serious, sort of.
Since we're talking about the Mets here, it's easy to make jokes: "The players probably have to pay for the coins" or "Wilpon's planning to pay his players' salaries in those coins." But there's no need for that, because the coins come with their own built-in Metsian self-mockery:
[After coming up with the idea, Pearson] sketched out a design for a coin that represented the Mets' rehab program. The result was a mash of Mets history, medical references and, of course, a motto. Pearson searched Google and found "Perfer et obdura; dolor hic tibi proderit olim," which is Latin for, "Be patient and tough; this pain will be useful."

But on the coin, "Perfer" is misspelled as "Prefer."
Sigh.
•  •  •  •  •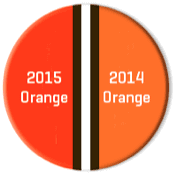 So about that Browns news: Okay, so by now you know that yesterday's Browns logo release was no big deal. I summarized my reactions yesterday in this ESPN piece, but here are some additional thoughts:
• Several people have noted that the new shade of orange seems closer to the Bengals' shade. That could be part of an effort on Nike's part to consolidate fabric dye lots. (There was some chatter about this yesterday on Reddit, although we know by now how reliable that is.)
• As I mentioned in my ESPN piece, you can get a sense of what the brown facemask will look like on the field by looking at Bowling Green photos. One additional visual point is that the brown mask kind of blends in with the skin tone of African American players, who currently comprise about 68% of the league's players.
•  Speaking of the facemask: Several news news stories yesterday, including the one written by ESPN's Browns beat reporter, Jeremy Fowler, mentioned that the Browns had previously worn brown facemasks in 1952-62. That was news to me, so I asked Jeremy where he got that info. He said it came from Browns spokesperson Rob McBurnett, so I contacted Rob and asked if he had any photographic substantiation of the team wearing brown masks back in the day. He responded with this shot from a 1962 Browns/Cowboys game (click to enlarge):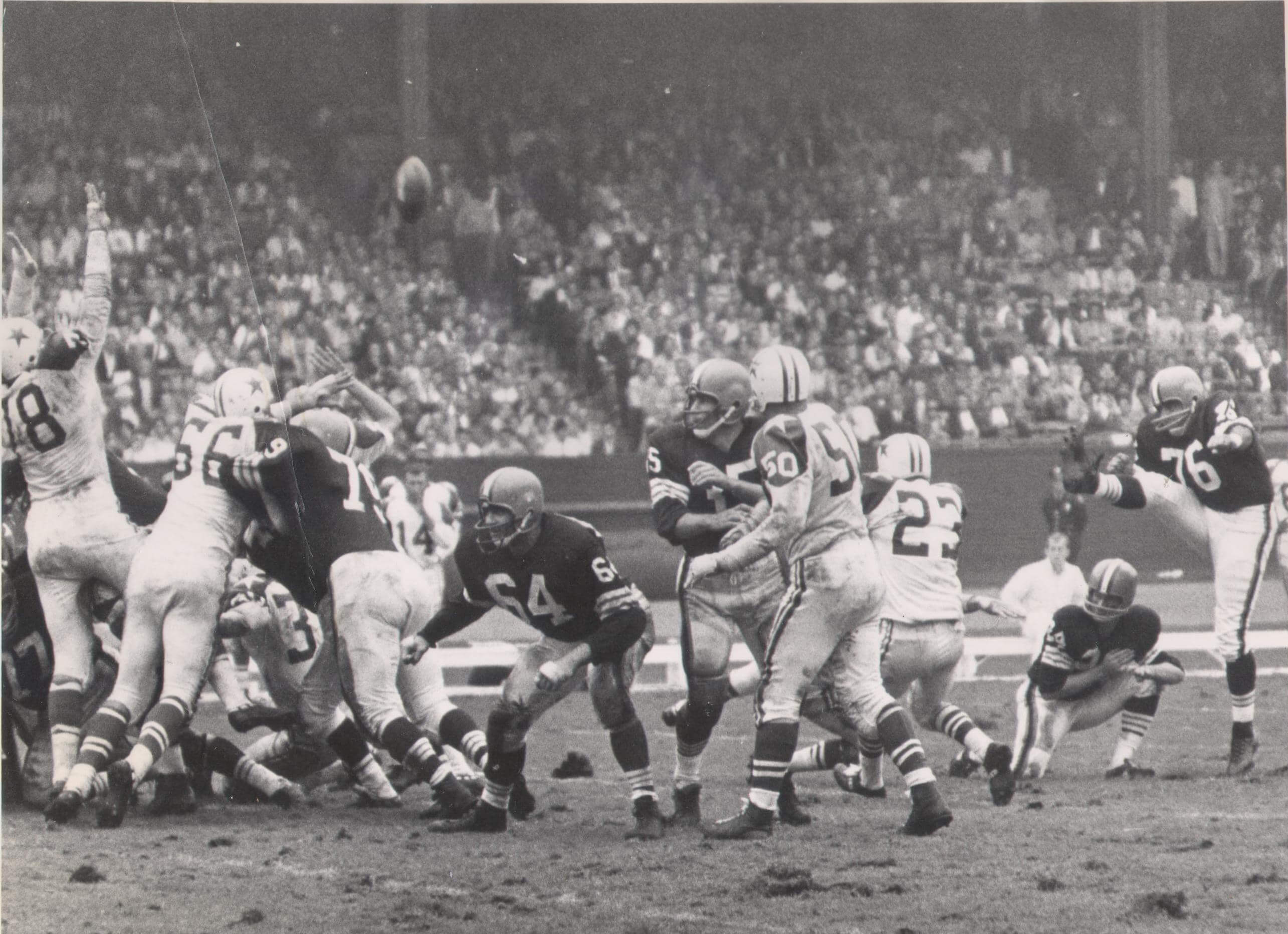 As you can see, two of the linemen do indeed have brown facemasks. So there you go.
• Several people have asked me why they're using such an old-fashioned helmet illustration for the new logo. One reason, I'm sure, is because they don't actually want the illustration to be all that illustrative. When I asked team president Alec Scheiner if the center striping would be getting wider, he declined to answer the question and said we'd all find out when the new uniforms are released in April. So the helmet illustration was probably deliberately inconclusive-looking.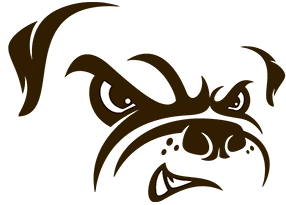 • I really, really like the new Dawg Pound logo. No offense to Todd Radom, who designed the previous version (or to his bulldog Casey, on whom that logo was based), but this new design is really fun. Yeah, he has the requisite furrowed brow and a snarl, but he's also sort of smiling — he looks more mischievous than ferocious, and I can totally envision him switching into slobbering, tail-wagging mode. Scheiner wouldn't say whether this logo will appear on the uniforms as a sleeve patch or hip graphic, and I doubt they'll go that route, but I'm holding out a small hope for it. (As an aside, kudos to the several conspiracy theorists who think the dawg's mouth is a subliminal Nike swoosh. With the pooch's mouth and the Broncos' logo's nostril serving as our starting points, maybe we can assemble an entire creature out of swooshes.)
• As for the uniforms, they'll be unveiled on the evening of April 14. Scheiner says they'll be more "radical" than the logo changes, which isn't saying much but still sounds like cause for concern.
•  Phil and Todd Radom both discussed the Browns logos on this Cleveland radio show last night.
• Finally, lots of people spotted this on the Browns' website yesterday and got all excited, thinking it was a leak of the new jersey. As I kept explaining to these people, that's cornerback Joe Haden's Pro Bowl jersey.
•  •  •  • •

Baseball News: The Pawtucket Red Sox are moving, probably to Providence, which unfortunately means that one of the great team nicknames — "PawSox" — will no longer apply. Dang (from John Kimmerlein). … Pretty nice new uniforms for Navy, along with matte batting helmets. … . … Whoa, check out this early-1980s Phoenix Giants uni — yabba-dabba-do! (Nice find by Drake Gilliand.) "¦ Robbie Cano has switched to Franklin batting gloves.

NFL News: This is funny: What if the Browns were in charge of redesigning every NFL team's logo? … More NFL helmet concepts, most of them pretty dreadful. … Seahawks RB Marshawn Lynch is trying to trademark the phrase "I'm just here so I won't get fined." … " I guess the Chargers' logo can now mean be used to represent electrochemisty," says Lydia Kisley. "That's from the lab of Phil Baran at Scripps Research Institute, which is in San Diego. I found it on his website, in publication 138. I only saw it on the website, not in the publication it's linked to. Guessing one of the graduate students is a Chargers fan."

College Football News: Baylor has hopped on all of the standard uniform trends in recent years — BFBS, chrome helmets, matte helmets, custom typefaces, etc. The only thing they haven't done is GFGS — until now.

Hockey News: The Kings wore their gold throwbacks last night. "¦ The space between Red Wings D Alexey Marchenko's NOB and his uni number appears to be larger than on his teammates' jerseys (good spot by Jim Thorburn). "¦ Habs headgear! That's Christian Thomas wearing the full cage and Jarred Tinordi with the full shield (big thanks to Matt Larsen). "¦ Also from Matt: Blues goalie Jake Allen is Canadian but has an American flag on his backplate.

NBA News: The Suns will unveil their new sleeved alt jersey at 2pm Eastern today. … Kevin Garnett, back in Minnesota, is wearing his old uni number. "¦ The Cavs will wear navy alternates tomorrow night (thanks, Phil).

College Hoops News: Color vs. color last night in Maryland, as the Terps wore gold unis at home against Wisconsin. That prompted this look at Maryland's top games wearing gold. "¦ Tonight Virginia Tech will be doing a giveaway of an argyle T-shirt based on Buzz Williams's sweater (from Andrew Cosentino). … More color vs. color: Missouri and Florida going black-vs.-orange last night (thanks, Phil).

Soccer News: MLS will hold its annual Jersey Week promotion during the first week of March. "¦ Here's a look at the evovlution of the New England Revolution's uniforms.

Grab Bag: Some old Tour de France jerseys have been repurposed as blankets. "¦ A new cycling kit manufacturer is offering limited-edition designs. "¦ Speaking of cycling, here's the story of how lace-up cycling shoes made a (slight) return to popularity after a crash by American hopeful Taylor Phinney at the 2012 Giro d'Italia (from Sean Clancy). "¦ New lacrosse helmets for Oregon. "¦ The Australian cricket team is going to be testing a new helmet design. "¦ Jersey-sponsorship snafu for the Aussie rules football team West Perth Falcons.