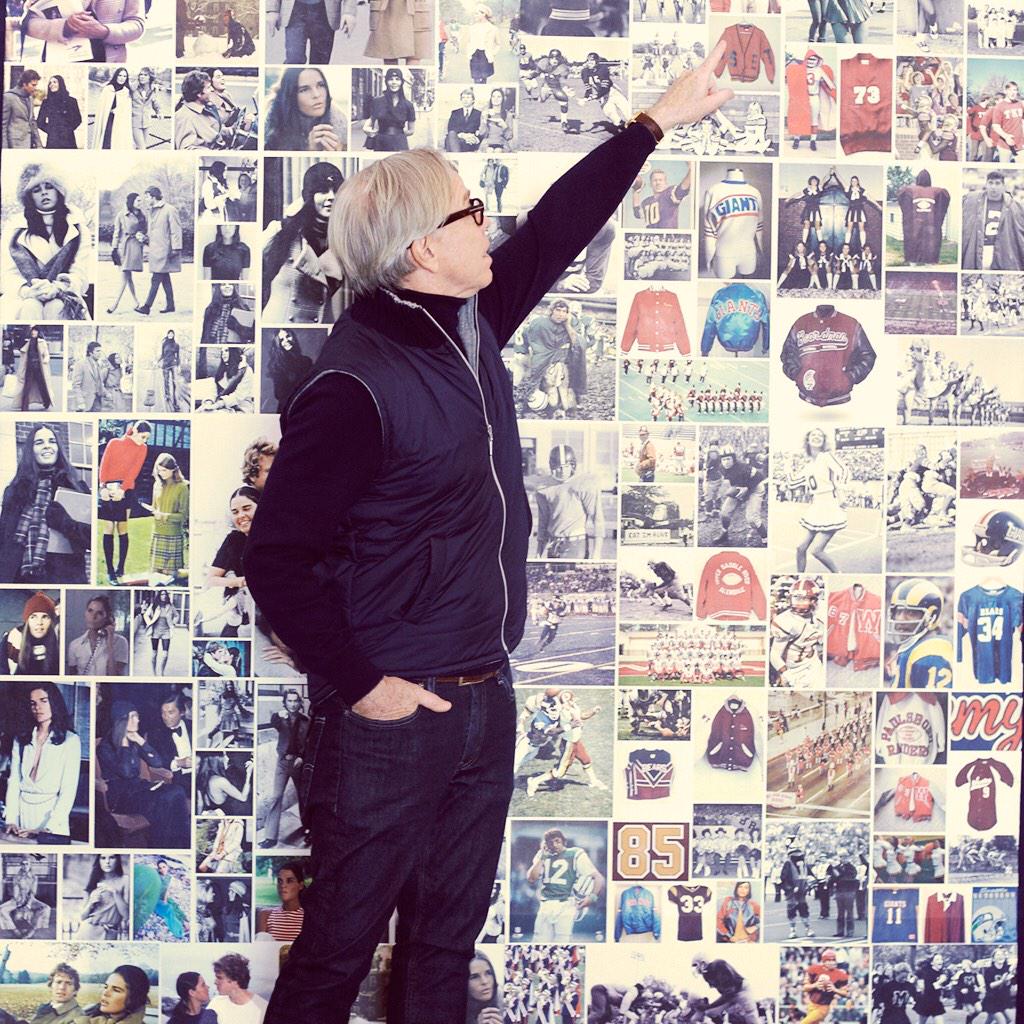 Click to enlarge
We're currently in the midst of Fashion Week here in NYC, as designers are showing their fall collections. This generally has no impact on my life and no relevance to Uni Watch, but designer Tommy Hilfiger had himself a bit of a Uni Watch moment with his runway show yesterday.
That's Hilfiger above, in front of a wall of photos that he says were among the inspiration for his new collection. If you enlarge the photo, you'll see lots of sports-themed pics on the wall — Joe Namath (two shots of him as a Jet and another as a Ram), Joe Theismann, a NY Giants sweater, lots of varsity jackets, a cheerleader or two, and so on.
Hilfiger took things further by staging his show in the Park Avenue Armory and outfitting it like a football field, complete with a "TH"-branded helmet at midfield, his surname in the end zones, goalposts, and more:
A quick glimpse at the set. We're going to have a ball! "" TH #NYFW #TommyFall15 pic.twitter.com/QRcSVErTTs

— Tommy Hilfiger (@TommyHilfiger) February 16, 2015
It's game time @TommyHilfiger. #TommyFall15 #fashion pic.twitter.com/ShTS5eCc0U

— Wallpaper* (@wallpapermag) February 16, 2015
We sneaked in early for the @tommyhilfiger #tommyfall15 rehearsal! Yes… That's a stadium! #nyfw #wgsnhub pic.twitter.com/7LGtfR9N5W

— WGSN (@wgsn) February 16, 2015
Teams have been formatting their uniform unveilings to look like runway-style fashion shows for years now, so I guess there's a certain symmetry in a runway show being formatted to look like it's taking place in a stadium.
Prior to the show, there were lots of football-related props backstage, including helmets (which did not match the design of the one shown on the field), pennants, and trading cards:
Backstage at #TommyFall15 in the #Twittermirror #NYFW with @celineaagaard pic.twitter.com/DgItoao8ol

— Tommy Hilfiger (@TommyHilfiger) February 16, 2015
Backstage at #TommyFall15 in the #Twittermirror #NYFW with @rachel_arthur pic.twitter.com/pqjVdKFLJH

— Tommy Hilfiger (@TommyHilfiger) February 16, 2015
Backstage at #TommyFall15 in the #Twittermirror #NYFW @holliemaysaker @angelrutledge pic.twitter.com/l3CHtXDewd

— Tommy Hilfiger (@TommyHilfiger) February 16, 2015
As for the clothing itself, I saw this sketch before the show, which seemed to suggest a vaguely jersey-based concept:
So how did everything turn out? There was definitely a football theme running through some of the designs — a uni number here, a UCLA stripe there, and so on. Most of it, frankly, looked silly. Here are some photos and screen shots (if you can't see the slideshow below, click here):
The repeated use of the number 30 apparently refers to the founding of Hilfiger's company in 1985 — 30 years ago. Oh, and I should mention that these designs constituted only about 25% of the show. The rest of the clothing wasn't the least bit football-oriented and therefore looked rather strange in the faux-stadium setting.
At the conclusion of the show, Hilfiger came out holding a Patriots helmet, apparently because Pats owner Robert Kraft was in the audience. If you want to see a review of the show from a fashion writer, look here.
(My thanks to reader Chris Flinn for letting me know about this one.)
•  •  •  •  •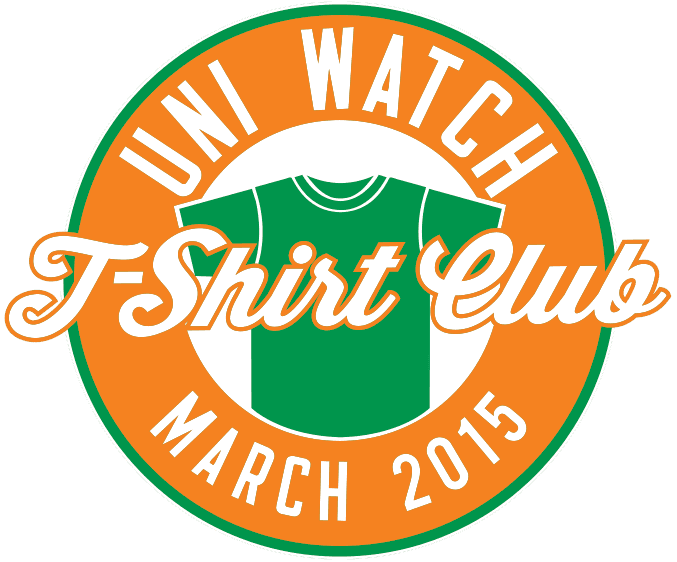 New T-Shirt Club design launch: Today is the third Tuesday of the month, which means it's time to launch the latest design we're offering in the Uni Watch T-Shirt Club.
As I mentioned last week, March is when teams break out their St. Patrick's Day uniforms, so that's what Teespring and I have used as the inspiration for our latest shirt design (click to enlarge):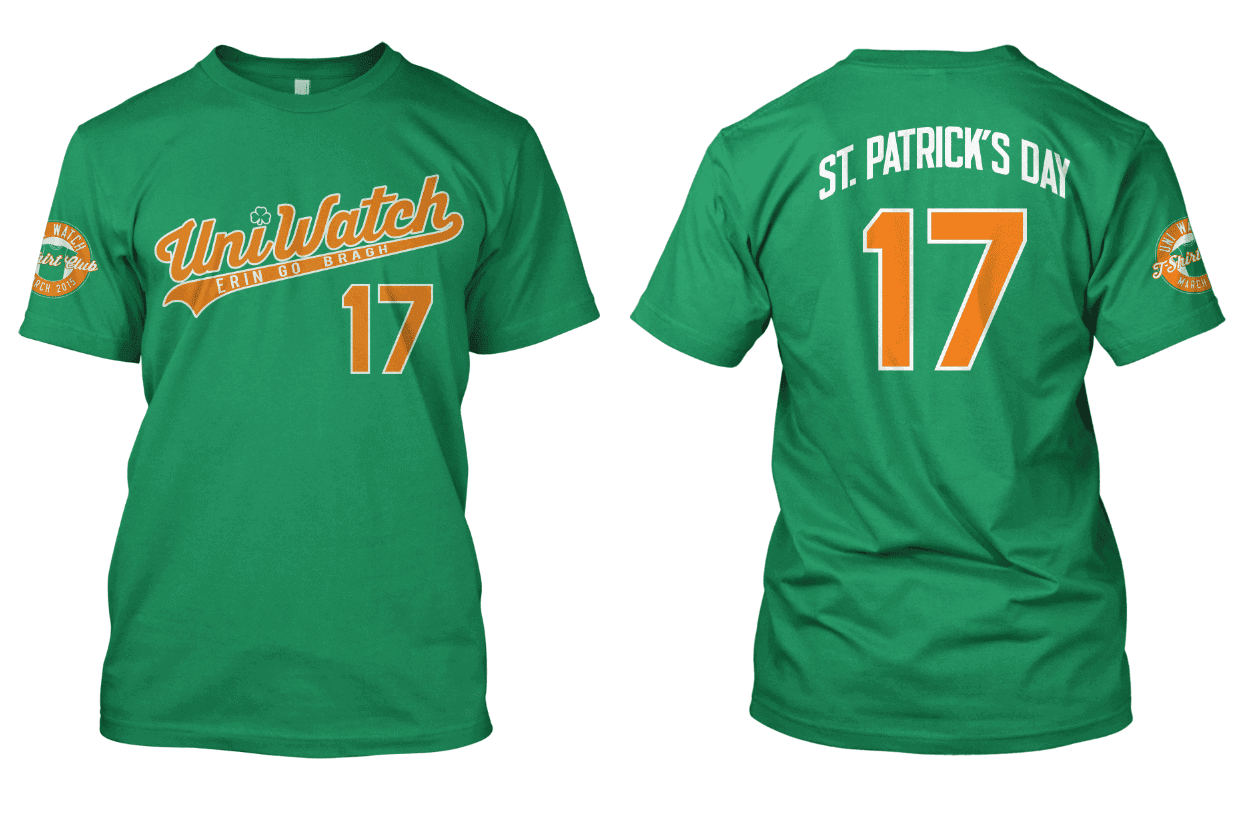 Some quick notes: Green is already a Uni Watch color, of course, but the green being used on these shirts is lighter than the forest green that we'll be using later in the program for the "Alternate" shirt. We used orange as the secondary color because of the Irish flag. We also changed the uni number from 15 to 17 (for St. Patrick's Day, obviously), changed the slogan under the script to "Erin Go Bragh," and dotted the "i" in the script with a shamrock.
Here's everything you need to know about ordering the shirt:
1. You can purchase the March shirt on this page. (Ignore the bits about "reaching our goal" and the "campaign being successful" — that's for Teespring clients who use T-shirt sales as fundraisers.)
2. As you'll see, there's a choice of American Apparel ($23.99) and "Premium Ringspun," which is actually a brand called Tultex ($21.99). Their tailoring and sizing are slightly different, and their shades of green are very similar but not exactly the same, so use the "View Sizing Chart" link and compare the colors to be sure you get the shirt that's best for you. Domestic shipping is $3.85 for the first shirt, $1 for each additional shirt; international shipping is $9.50 to Canada, $12.50 elsewhere.
3. Unfortunately, the largest size we can offer this month is 3XL. My apologies to those of you who prefer 4X or 5X (I think we sold eight shirts in those sizes last month), but we couldn't find a brand in those sizes that offered the right shade of green.
4. This shirt will only be available through next Monday, Feb. 23, 11pm Eastern. After that date, the shirt will not be offered for sale. All shirts ordered by then should be delivered by March 10 (and in many cases well earlier than that).
5. People who purchase all 12 shirts (collect 'em all!) will be eligible for a bonus prize at the end of the year. I haven't yet decided what this prize will be, although I have some ideas. It may depend somewhat on how many people stay on board for all 12 shirts, and we won't have a sense of how many people that might be until the summer, so I'll likely wait a while before settling on the prize. But I assure you it'll be something good.
I think that's it. Again, the March shirt can be purchased here. The April design will launch on March 17; I'll provide a preview of it during the week before that. If you have any questions, give a holler. Thanks for listening.
•  •  •  •  •
A new raffle (and results for an old one): You know how there are interactive sites where you can design your own uniform, or your own sneakers, or whatever? The baseball bat manufacturer DeMarini now has a site where you can design your own bat. Most of the design templates are, frankly, a bit too "extreme" for my tastes, but whatever — the DeMarini folks have generously agreed to provide a free bat to a lucky Uni Watch reader who'll get to choose his or her own bat design.
To enter, send an email with your name and shipping address to the raffle address by this Friday, Feb. 20, 7pm Eastern. One entry per person. I'll announce the winner later that week.
Meanwhile, the plus-one for my presentation this Thursday at Skidmore, Owings & Merrill will be Noah Hougland. My thanks to all who entered — wish you could all come along, really!
• • • • •

Baseball News: Interesting note from Michael Stoudt, who says that Andy Pettitte's No. 46, set to be retired by the Yankees this August, will mark the first time 46 has been retired by any MLB team. "¦ Rogers State is going with the old Chisox beach blanket template (thanks, Phil). "¦ Here's a close-up of Nebraska's awful new BP top. Hey, nothing honors the troops like batting practice! "¦ Very nice uni the other day, including tri-panel cap and Northwestern-striped stirrups for McNeese. "¦ Campbell University's chest protectors have "Exodus 20:15" — "Thou shalt not steal." "¦ The West Virginia Black Bears, a new Class A NY-Penn League team being established in Morgantown, will unveil its new logo tomorrow (from Joe Sewash). "¦ Lots of old MLB uniforms on display in this 1969 Gatorade commercial (great find by John Philips). "¦ Also from John: what he claims is the only remaining color footage of Game 2 of the 1969 World Series. "¦ "Ballplayers at Cornerstone University (from the NAIA) literally live at the ball field," says Dustin Semore. "Dewitt Baseball Stadium now has dorms above the stands. It looks like a giant press box from first base to third base with a lot of windows. It's odd, but I would totally go there." "¦ Here's some great footage from the 1999 Orioles/Angels futuristic game. Always thought the O's design was kinda weak, but the Halos took the concept to its logical extreme. "¦ Mets RHP Jennrry Mejia was working out yesterday in a Los Mets T-shirt. "¦ In the wake of Barry Zito signing a minor league deal with the A's last night, here's a shot of him wearing the very unfamiliar No. 53. "¦ In 1992, the Cardinals put out a promotional film to mark the team's 100th anniversary. "Of particular interest are shots of players wearing pinned-on three-digit numbers in the early days of the farm system (at the 3:45 mark), Specs Toporcer wearing a great pair of striped socks (7:25), and Pepper Martin's band, the Mud Cats band, wearing fascinating Cardinals-inspired uniforms (18:00)," says Jerry Wolper. … After Bob Feller died in 2010, the museum devoted to him in his Iowa hometown fell on hard times, and now it has closed. Much of its memorabilia is being given to the Indians, who'll display it at their stadium.

NFL News: Yesterday's Ticker had a photo of a powder blue Chargers helmet. That prompted Michael Eggenburg to send in a photo of his own powder blue Chargers helmet, which is even better than the one we saw yesterday because it has better outlining on the lightning bolts. "¦ I think we've seen this before, but once more won't hurt: As many of you know, the Saints wore a black helmet during the 1969 preseason. Here's a 2012 auction listing for a game-used example of those helmets. Looks like the colors faded/yellowed over the years (from @ProsFB). "¦ Seth Shaw found a 1998 preseason shot of Randy Moss wearing No. 18 and FIOB! When I posted that shot on Twitter, Mike Nessen quickly came up with this, and several people explained that Moss's brother, Eric, was also on the roster at the time — hence the FIOB.

Hockey News: The Binghamton Senators wore purple-trimmed uniforms on Sunday. "It was for the Do It For Daron Day, a youth mental health cause started when head coach Luke Richardson's 14-year-old daughter committed suicide in 2010," says Jason Perrier. "¦ Here's a ranking of NHL third jerseys (thanks, Phil). "¦ Flames goalie Jonas Hiller's plain black mask matches his teammates' black helmets. "And it protects him from getting punched in the head by Popeye!" notes Stephen Hayes.

NBA News: A sports radio guy in New Orleans things the Pelicans should bring back the Hornets' Mardi Gras uniforms, and I totally agree (thanks, Phil).

College Hoops News: The Wisconsin-Parkside women's team, like so many others, wore pink the other day. But coach Jacob Yorg took things a step further by wearing a pink suit. "¦ More intriguingly, Wisonsin-Parkside had a Civil Servants Day last Thursday, to honor the military, first responders, and government employees. But uniforms they wore honored only one of those groups, and you can probably guess which one that was. I asked a team spokesman for the thinking behind this, and he said, "The thinking was camouflage still fit the theme of patriotism and commitment to the community." So even when a team tries to think outside the military box, they end up back inside that box. Sigh. "¦ More women's action: North Central College and Elmhurst College went color-on-color and it looked great (from Steve Johnston).

Soccer News: "I've always wondered how teams handled international travel," says Danny Garrison. "Case in point: Bayern Munich's English-language Twitter feed sent out this picture showing the whole team's passports together for their Champions League trip to Ukraine. Interesting." "¦ Here's a look at some players modeling the new USA road kit. "¦ Kevin Davies of Preston played without a number or NOB during yesterday's game against Man U. Was this a blood shirt situation? (From Rasheed Clarke and Mike Glosier.) "¦ In a related item, Bradford player Rory McArdle wore a shirt with no name or number during the recent FA Cup match against Sunderland (from Graham Clayton). "¦ Indy Eleven's new alternate jersey will be unveiled today. "¦ Southampton will go back to Adidas kits next season. "They're playing this season with unbranded kits after a dispute over Adidas's design choices," says Yusuke Toyoda. "¦ Also from Yusuke: New away kits for Northern Ireland. "¦ As noted in the Ticker last month, the electronics manufacturer LG recently made subtle adjustment to its logo. "This has caused a bit of a problem for German Bundesliga team Bayer Leverkusen, who are sponsored by LG," says Bernd Wilms. "In the first match after the winter break, Leverkusen wore jerseys with the new logo. Strangely enough, in the three matches since, they've worn jerseys with the old version. If I recall correctly, Bundesliga rules require changes to the standard jersey design to be approved before the season starts. Meanwhile, all the TV-visible advertising in the stadium has been changed, including press conference backdrops, but for some reason they forgot the advertising plastered on the back of the coaches' dugouts."

Grab Bag: Shame on the officials at Riverside Brookfield High School in Illinois, who are selling the naming rights to their football stadium, bleachers, and concession stand (from Eric Bangeman). "¦ Conn Nugent really likes the triple-shamrock logo being used by the Irish cricket team. Here it is in action. "¦ A Chicago-area family created their own backyard curling sheet. "¦ Interesting article about running shoes with extra layers of cushioning. "¦ RIP, Lesley Gore.