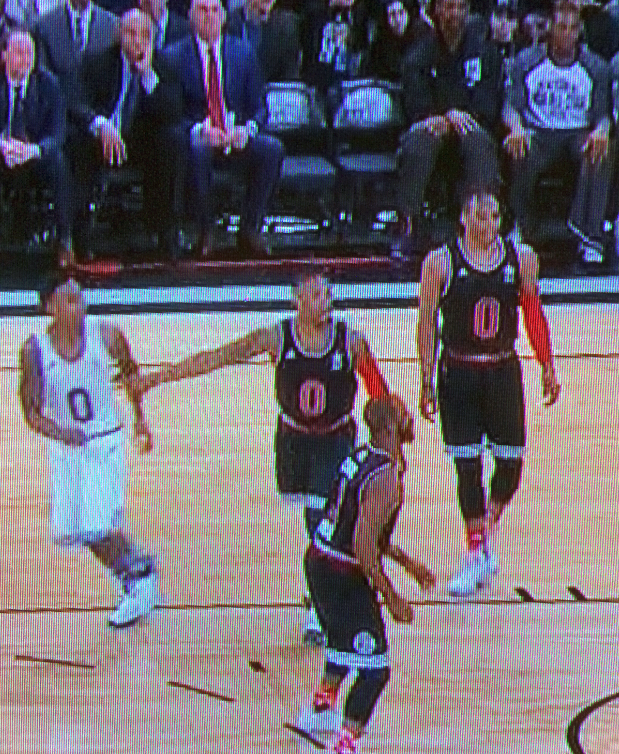 Odd sight at last night's NBA All-Star Game, as three players wearing No. 0 — Jeff Teague (Hawks), Damian Lillard (Blazers), and Russell Westbrook (Thunder) — were all standing in close proximity. Zero was the only uni number that showed up three times on the two rosters. (The East also had two No. 7s and two No. 2s, but neither of those numbers was represented on the West roster.)
The NBA, like the NFL and NHL, didn't used to allow multiple all-stars wearing the same number; now all three leagues allow it. I'm assuming at least part of the reason for the change is merchandising: It's easier to sell an all-star jersey with the player's usual number, and harder to sell one if it has an unfamiliar number. (MLB, of course, has always allowed it, because the players wear their regular team uniforms, which inevitably leads to number duplication.)
I'm fine with the duplicate numbers, but it leads to an interesting question: If it's okay in an all-star game, would it be okay during the regular season? If there are two guys on a given team who both want wear No. 12, why not let them both wear it? After all, they'll both be wearing NOBs (unless the team in question is the Yankees, or maybe the Red Sox or Giants at home), so it's not like there'd be no way to tell them apart.
I can think of some counter-arguments to this idea, but it's good food for thought. Discuss.
(Big thanks to Pat Costello for the screen shot.)
• • • • •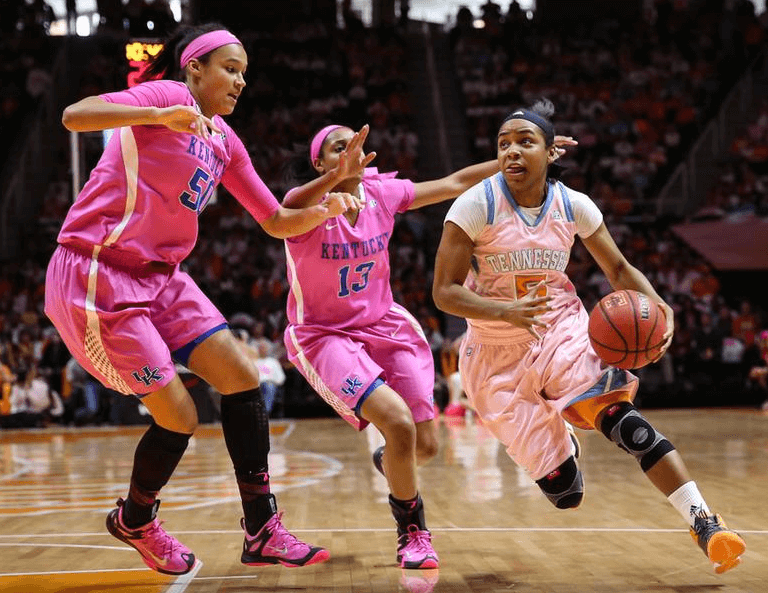 And you thought Pinktober was bad: We're now in the thick of Play 4 Kay season, so tons of women's college hoops teams have been breaking out the pink. This trend reached new depths of absurdity yesterday in Knoxville, as Tennessee and Kentucky went pink-vs.-pink — jeez.
Other women's teams wearing pink yesterday included Vanderbilt, South Carolina, Nevada, New Mexico, Georgetown, Auburn, Hofstra, and Baylor.
• • • • •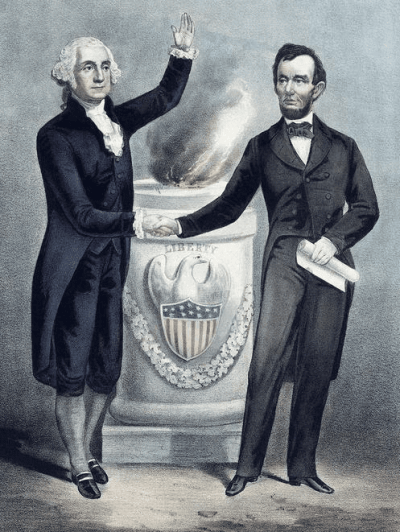 How Presidents Day ruined my parents' anniversary: Today is Presidents Day. Many of you presumably have the day off from work, and many schools are closed for winter break. But for my family, Presidents Day has always resonated a bit differently.
Here's the deal: When my parents got engaged in 1947 and began thinking about a setting a wedding date, they had a clever idea. My father worked at a department store and had ideas about opening his own shop (which he eventually did), so they thought, "Let's get married on Feb. 22 — Washington's Birthday." That way, they figured, their anniversary would always be a holiday and my father would always have the day off. (This was before every holiday became an excuse to run a big sale.) And so that's when they got married — Feb. 22, 1948.
It all worked fine until 1971, when the Uniform Monday Holiday Act went into effect, redesignating Washington's birthday as the third Monday in February. After that, their anniversary was never on the holiday (although it occasionally fell on a Sunday), so their little scheme was scuttled.
Of course, none of this matters anymore. My parents retired in 1987, and my father is now deceased. Still, I like the story — a little reminder that even when you think you've outsmarted the system, sometimes the system outsmarts you back.
• • • • •

Baseball News: The Yankees will retire Andy Pettitte's No. 46 this August, which I believe will be MLB's first number retirement for an admitted PED user. "¦ While looking for something else, I came across this mid-1980s shot of Cardinals OF and low-cuffery pioneer George Hendrick with no logo on his batting helmet. "¦ Check out the uniforms Albert Pujols and friends wore for his charity basketball game (from James Poisso). "¦ Looks like the Dodgers repurposed a 1980 press pass for use in 1981. Judging by the date, maybe they hadn't gotten the '81 passes printed up yet (from Alan Yelent). … While researching something else, I came upon photos of Roy Campanella and Yogi Berra wearing the same catching gear that wasn't color-appropriate for either of their teams. … Check out how thin the White Sox's NOB lettering appears to have been in this shot of Moose Skowron. "¦ Mono-orange uniforms yesterday for Oklahoma State (from Michael Guffy). "¦ Interesting look for Alabama State: mono-gold, NNOB, and stirrups (from Cody Drury). "¦ Nice throwbacks yesterday for TCU (from David Feigenbaum). "¦ New cream unis yesterday for Georgia Southern. "¦ New gold unis for Florida State. "¦ State flag-based stirrups for Maryland. Too bad about the logo creep (from Matt Shevin). "¦ Speaking of stirrups, check out the super-tasty striped design being worn yesterday by Miami (thanks for making my day, William Schaefer). "¦ In February of 1986, players from the 1969 Cubs and Mets renewed their '69 rivalry by playing an exhibition series, but they wore 1986 uniforms (from William Yurasko). "¦ Last night's episode of The Simpsons included a shot of Bart wearing a baseball uniform, including stirrups — or maybe just two-in-ones (screen shot by Ferdinand Cesarano).

Football News: Hmmm, what if the Chargers had a powder blue helmet? … The NCAA is considering a rule change that would allow coach-to-helmet communication, just like in the NFL. Frankly, I'm amazed they haven't been doing this all along.

Hockey News: I might drop my all-inclusive opposition to uniform ads if they could look like the ones on the shoulders of this Jokerit road sweater (from Alec Pappas). "¦ "I was enjoying the SNL 40th-anniveersary reunion show with my roommates and we all noticed that the Blackhawks jersey Mike Myers was wearing didn't have an NHL logo," says Chris Frank.

Basketball News: Good article on how a Manhattan high school coach's fixation on the number 33 ended up having a ripple effect through NBA uni-numerical history. "¦ Check out Dr. J and the rest of the Sixers with their 35th-anniversary warm-ups (from Marc Viquez). … Black History Month sneakers yesterday for Texas A&M (from Michael Kors).

Soccer News: All of these are from Yusuke Toyoda. "¦ U.S. women's national team player Sydney Leroux announced her Valentine's Day marriage to a fellow soccer player with a uni-centric photo. "¦ West Ham United got a new sponsor following the collapse of its old one, and the new logo on the jersey looks like a patch job. "¦ This is the second time West Ham has switched sponsors mid-season. The first time was in 2008. "¦ Paris Saint-Germain striker Zlatan Ibrahimovic celebrated a goal by showing names of people suffering from hunger temporarily tattooed on his chest. He received a yellow card for removing his jersey and will be suspended for the next game:

Grab Bag: Negative review of this LG TV includes the following: "[S]ports fans may find their favorite team's jerseys appear to have been put through the wash a few too many times." "¦ New logo for China's national tennis team. "¦ A bill currently under consideration would make California the first state to require all cyclists to wear helmets at all times and reflective clothing at night. "¦ You're familiar with the phrase "taking a dump"? Apparently the people who published these cookbooks aren't. "¦ New lacrosse helmet for Cornell.