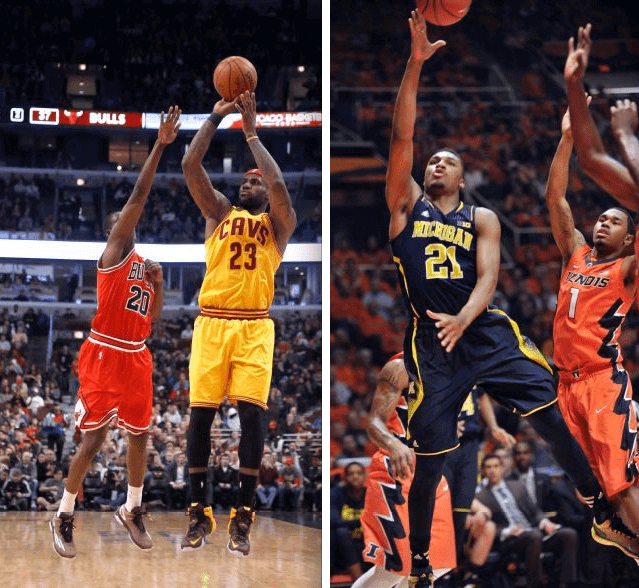 Color-on-color fans — a group in which I include myself — enjoyed a rare NBA/NCAA daily double last night. On the pro level, in the final game before the all-star break, the Cavs and Bulls went gold vs. red. And in the college ranks, Michigan and Illinois went navy vs. orange. The home teams here were Illinois (which was having an "orange-out") and the Bulls (who wore red because, uh, beats me).
We appear to be rapidly reaching the point where the concepts of home and road uniforms will essentially be fungible, at least on the basketball court, and that's fine by me. Why not scrap those constructs and just let the teams wear whatever they want, as long as there's enough contrast? A lot of teams seem to be doing that anyway, but they still have to get "permission" from higher-ups to wear colors at home. I say scrap that system and let those colors run.
And speaking of color-on-color, there was an interesting NHL game last night in L.A., where the Kings wore 1960s gold throwbacks:
Nowadays, of course, it's normal for NHL teams to wear colors at home. This gold uni, however was worn back in the days when teams wore white at home — but the Kings didn't have a white uni back then. They wore gold at home and purple on the road (just like the Lakers, with whom they shared an arena and an owner). So all of their home games were color-on-color. Therefore, it would have been appropriate for their opponents last night, the Flames, to wear red. Unfortunately, that's not what happened.
As an aside: People forget this now (or at least I think they do), but for most of the 1970s the Kings wore gold pants with the gold jerseys/socks, creating a solid-gold look. Even though I hate purple, I'm glad they went with the purple pants last night — hockey unis are always better when the pants provide an element of contrast.
• • • • •
ESPN reminder: In case you missed it yesterday afternoon, my latest ESPN column is about the state of MLB memorial patches in general, and the Cardinals' patch for Oscar Taveras in particular. Check it out here.
• • • • •
Membership update: Four new designs have been added to the membership card gallery (including Blake Pass's card, shown at right, which is based on NASCAR drive Ryan Newman's "Ghost Flames" car design). We're now fully caught up on membership orders and have four slots open in the current batch, which will go to the printer once we get four more orders.
As always, you can order your own custom-designed membership card here, you can see all the cards we've designed so far here, and you can see how we make the cards here.
• • • • •
Click to enlarge
My favorite city scores again: As if I needed another reason to love Milwaukee, check this out. Are they gorgeous or what? They're from a set of over 100 vintage Milwaukee bus passes that reader Hugh McBride found on Flickr. Check out the full set — great stuff.
•  •  •  •  •
A new raffle "¦ and the prize is me, sort of: For the past 40 years, the architecture firm Skidmore, Owings & Merrill has periodically invited professionals from the design world to give presentations at their New York offices. They recently invited me to do one of these presentations ("Your website has been the cause of many midday tangents in our office," read their introductory email), and I've happily accepted. The presentation will take place next Thursday, Feb. 19, at 5:30pm. The topic will be (of course) "A Brief Overview of Athletic Hosiery."
I'm allowed to bring a guest, and that guest will also be invited to join us for a post-presentation dinner. I could invite one of my friends, but most of them don't give a shit about uniforms, and it occurs to me that some of you folks might enjoy seeing the inside of a big-time architecture office.
So here's what we'll do: If you want to be my plus-one (and if you're available to be in downtown Manhattan next Thursday by, say, 5:15pm), send an email to the raffle address. One entry per person. I'll pick a random winner and announce it on Tuesday morning. Cool? Cool.
One additional note: In light of the topic, I may ask the guest to don some stirrups and function as a visual aid.
•  •  •  •  •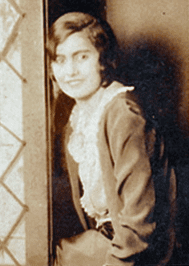 PermaRec update: The student shown at right was described by her own father as having a "peculiar disposition." She ended up dying very young, from a disease that we now vaccinate against. Plus, a DNA test provides an unhappy ending to an earlier story. Get the full scoop over on Permanent Record.
•  •  •  •  •

'Skins Watch: Distressing note from Gregory Koch, who writes: "The Oneida Indian Tribe, one of the leading campaigners to change the Redskins' name, is opening a casino in Chittenango, New York. It will be called the Yellow Brick Road Casino, to pay homage to Wizard of Oz author L. Frank Baum, who was born in Chittenango. Just one problem: Before Baum wrote that novel, he wrote several editorials advocating genocide of Native Americans, and sometimes referred to them as 'Redskins.' Of course, this doesn't make the tribe any less right about the Redskins' name, but it does seem a bit hypocritical to me for them to use this name for their casino." Agreed. "¦ A contentious meeting was held last night to discuss the high school team names in West Hartford, Connecticut, where the two schools have been using "Warriors" and "Chieftains" for decades. The local board of education has already moved to remove the names from team jerseys. Further info here.

Baseball News: We've mentioned many times that the Padres supply Little League uniforms to San Diego youth, which is awesome. Disappointing, however, to see that this year's unis have Clorox ad patches (from Mark Scelfo). "¦ In a related item, here's a good story about the Rays providing uniforms to Tampa Little Leaguers. "¦ Hartford is getting a new baseball team, and you can help name it (from John Dankosky). "¦ Spider-Man once went to a Mets game (from Gordon Blau). … NYU has a new baseball team this year, and here are their inaugural uniforms (from Andrew Nesci). "¦ Some Red Sox players are being photographed in red cleats. Could that signal a footwear color change for this year? "¦ New logos for the Sussex Miners (thanks, Phil). "¦ Some ballpark improvements for the Bakersfield Blaze. "¦ The Rangers will add a memorial patch during spring training for equipment manager Joe Macko. No word yet on what the patch will look like, or whether it'll be worn during the regular season (from Mike Klug). "¦ Lots of new uniforms and gear for USC. "¦ Here's what Mississippi will be wearing for the season-opening series against William & Mary. "¦ San Diego State will retire Tony Gwynn's number today. "¦ New uniforms for Oklahoma State.

NFL News: "Joe Ruback (aka License Plate Guy) created a custom NY Giants 'Pride' jersey with all of their different helmets and Super Bowl patches," writes Chris Flinn. "He should update the NFL shield, though!" "¦ How did the Jaguars' logo end up being used by a Russian youth hockey team? (Good find by David Dyte.) "¦ Back in 1978, Bills WR Frank Lewis played at least one game without an NOB. "That was his third game with the team," notes Johnny Garfield, so it's not as though they didn't have enough time to get his nameplate set up.

Hockey News: The recent Chicago Auto Show featured a Blackhawks-themed Camaro. "¦ Matt Martin of the Islanders was at the mall and took a photo of himself standing next to an unsuspecting guy who was wearing a Martin jersey (rare non-Rangers-related contribution from Alan Kreit).

NBA News: Reader Lammert Wijnsma has created a personal logo for Celtics G Marcus Smart. "¦ CNBC showed James Harden in a Thunder uni yesterday. "¦ Nike has created an LED basketball court for All-Star weekend here in NYC. "¦ In a related item, here's an interesting tidbit: According to this article, "Tickets for the All-Star Game (on Sunday night at Madison Square Garden) and for the slam-dunk contest and other competitions (on Saturday evening at Barclays Center) were not made available for public sale for the fifth straight year. Only a small percentage of the seats were even offered for purchase by season-ticket holders of the two host teams, the Knicks and the Nets." "¦ Here's a new one: The Sioux Falls Skyforce of the D-League will be wearing corn-themed uniforms later this year. "¦ Here are some views of the All-Star Game court. The lanes will have a sublimated secondary logo. "¦ Warriors G Klay Thompson has a new sneaker deal with Anta, a brand that I'd never even heard of before, although I'm sure that says more about me than it does about them (from Andrew Rader). "¦ The NBA likes nicknames.

College Hoops News: No photo, but Georgia Regents (D2) and Lander will wear "military-themed" uniforms when they face each other this Saturday. "¦ Nothing could be finer than to be in Caroolina. That's from the 2005 national championship (screen shot by Drew Mastin). "¦ Grey-out on tap this Sunday for Washington State (thanks, Phil). "¦ Wofford College alum Geoffrey Thomas was appalled to discover that his alma mater is wearing sleeves this season. "¦ Pink-trimmed jerseys next weekend for New Mexico.

Soccer News: Interesting story on the USL's new adaptable logo system. "¦ FC Dallas let fans vote on the field pattern for tonight's game against DC United. "¦ Key quote from this article about the old MISL's Tacoma Stars: "This size of the uniforms were a bit soft-pornish. They gave us shorts where half your ass was hanging out, and some of the tightest shirts you've ever seen."

Grab Bag: Awesome story about a California artist who noticed that a freeway exit wasn't properly marked on a sign, so he fixed the sign himself — and got away with it (big thanks to Tim Bugbee). "¦ What does it mean if only one house on the block doesn't have snow on its roof? It may mean that the people inside are growing weed. "¦ Australia's oldest man has a fun hobby: knitting jerseys for penguins. "¦ The New Mexico volleyball team is selling a bunch of jerseys, shoes, and other gear this weekend. "¦ You may have heard that there's a new report documenting the history of lynching in America. Here's a detail I hadn't previously known: According to this story, blacks could be lynched for, among other things, "wearing their military uniforms after World War I." "¦ Bit of a kerfuffle in the lacrosse world about an Ohio State player's helmet that got destroyed by a close-range shot. "¦ Not uni-related, but fun: Dan Eldridge has started a blog about vending machines. "¦ A Belgian newspaper has ranked the best and worst pro cycling kits (from Sean Clancy). "¦ A Minnesota man is questioning the appropriateness of a local high school's Confederate-style "Rebel" mascot (from Joshua Johnson). "¦ After JetBlue introduced new uniforms, they managed to recycle the old ones. "¦ Staples is now offering to design logos for small businesses. "¦ "Finally," says Sean Clancy, "a comprehensive video on cycling sock height and color!" "¦ You've heard about flag football, but did you know there's also flag rugby? There is! And a flag rugby league in Niagara Falls, N.Y., has a new logo. "¦ New helmet for funny car drive Matt Hagan (from David Firestone). "¦ During the 1977 Centenary Test Cricket match between Australia and England, Australian player Rick McCosker had his jaw broken while batting in the Australian 1st innings. He came out to bat in the 2nd innings with his head wrapped in bandages (from Graham Clayton). "¦ John Daly's caddie/fiancé Anna Cladakis was sporting nice argyle socks during the opening round at the AT&T Pebble Beach National Pro-Am. "No comment on Daly's get-up," says Dave Rakowski. "¦ Who's that playing soccer for William & Mary? None other than The Daily Show host Jon Stewart (from Todd Gaines). "¦ New lacrosse uniforms for Maryland (from @jmjacobs05). "¦ Terrible news in the journalism world last night, as New York Times media critic David Carr — a super-skilled, super-insightful writer who's a hero to many journalists, myself included — collapsed in the newsroom and died at the age of 58. I never got to meet him, but I do know one of his daughters. Very, very sad. RIP.