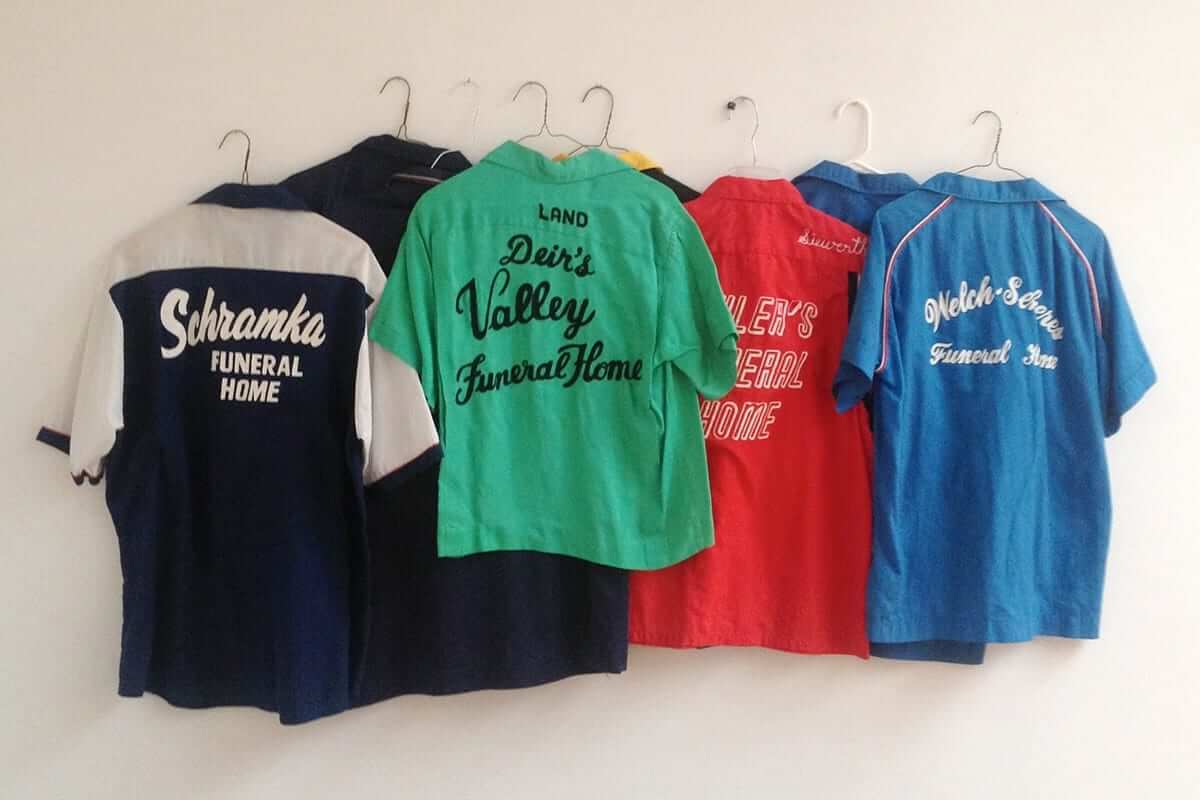 Click to enlarge
I love bowling. I also love collecting things. Occasionally these two passions overlap — I have a small collection of bowling instructional LPs, for example. I also have lots and lots of old beer ads that show people bowling, and I have a little display of old bowling books and pamphlets (I particularly like the title More Pins, More Fun).
And yes, I also have several vintage bowling shirts, but I don't really think of them as a collection, and it's never occurred to me to acquire bowling shirts with a particular theme.
It did occur, however to Johan Kugelberg (whose name may be familiar to some of you from his work as a music writer and record label manager). As you can see above, he's amassed a nice collection of vintage bowling shirts from funeral home teams, an admirably narrow-focused theme that I wish I'd thought of myself. The collection was displayed as part of a gallery show here in Brooklyn last August, but I wasn't aware of it and missed out. Only found out about it two days ago, when I was poking around on the web for something else and stumbled across the gallery listing. Dang.
If you think bowling shirts are an exercise in bohemian irony, and funeral home bowling shirts doubly so, Kugelberg doesn't disagree. From the text of his gallery show listing:
Ironic consumption has become increasingly ironic, and the search for the ironic has become increasingly iconic. The old millennium ended, and the commodification of cultural consumption as an online experience has led directly to a dictatorship of obscurity.
Yes, that's all rather twee, but I'm pretty sure it's intentionally so (which just makes it more twee, right?). Anyway: Bowling shirts! Collecting! Funeral homes! They're all worthwile.
• • • • •
If you can't see the slideshow above, click here
Teed up: Golf, unlike bowling, holds zero interest to me. In fact, I have this theory that we're all intrinsically either bowlers or golfers at our core, but I digress. The story here is that on Saturday night I went to a gallery show that featured, among other things, a display of 35 unusual golf tees made by the artist Tony Stanzione. Most of them were glass, but a few were wood. All were really interesting. If I could use these tees, I might actually become interested in golfing.
• • • • •
T-Shirt Club Update: The March design for the Uni Watch T-Shirt Club will go on sale next Tuesday, and today I'd like to show you what's in store and get your feedback on a few points.
March, of course, is when teams break out their St. Patrick's Day uniforms, so that's the inspiration for our March shirt. We're currently considering two designs — one with an orange script and one with a white script (click to enlarge):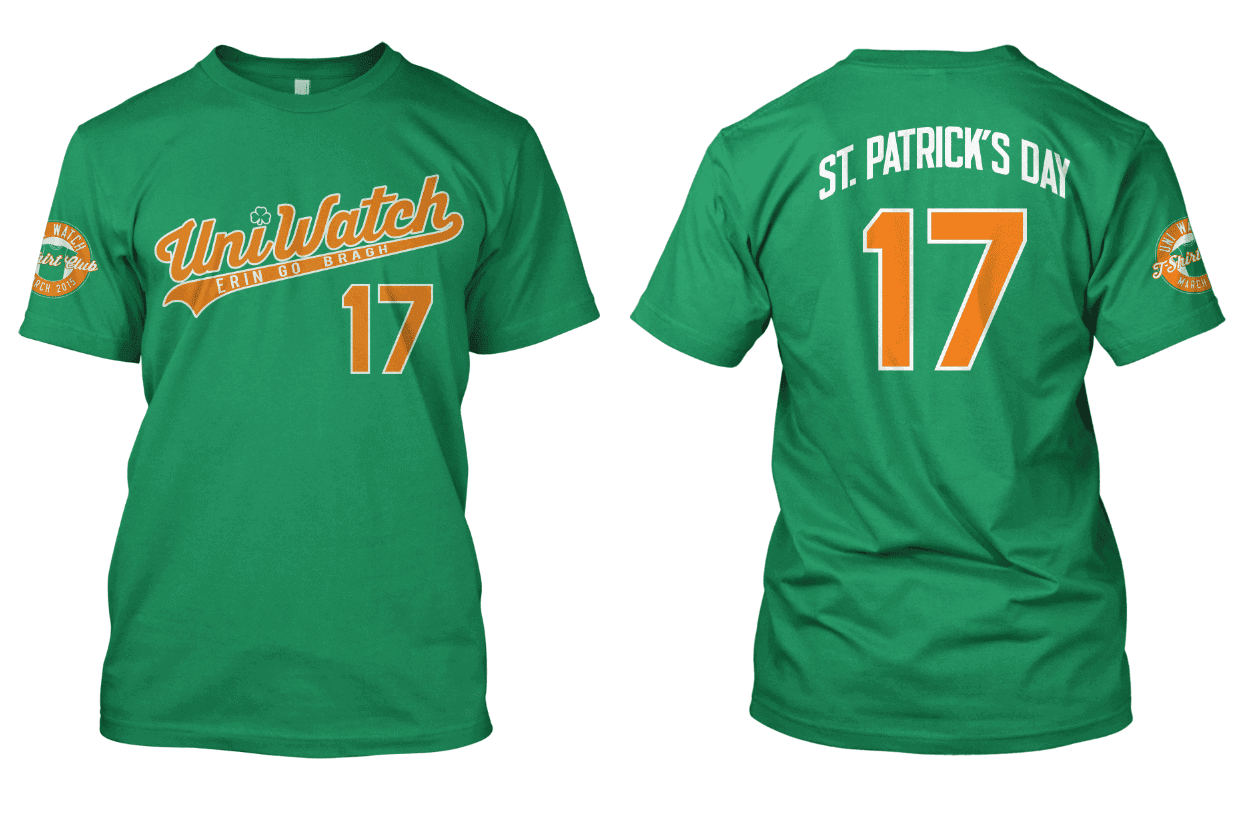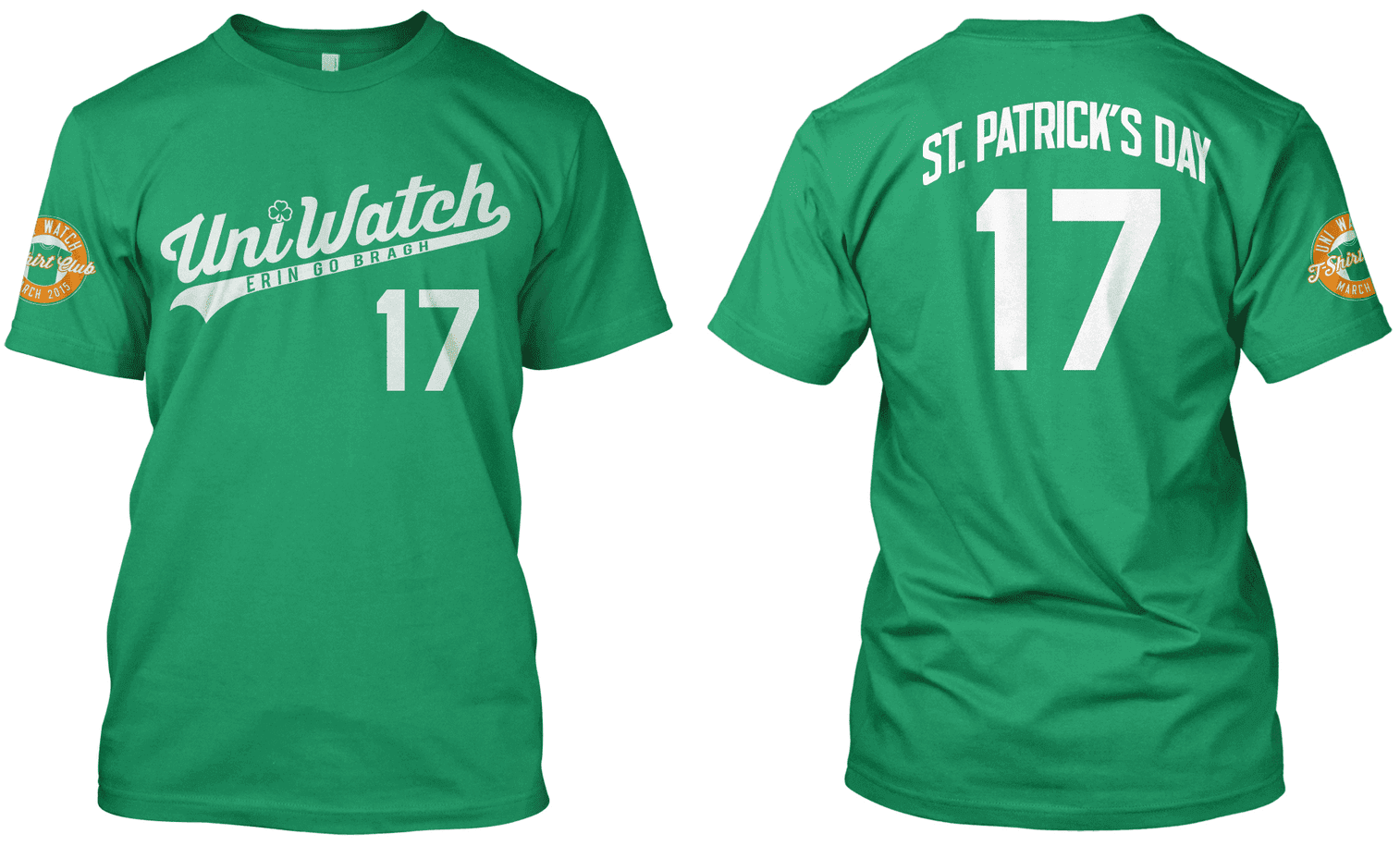 A few notes about these designs:
• Green is already a Uni Watch color, of course, but the green being used on these shirts is lighter than the forest green that we'll be using later in the program for the "Alternate" shirt.
• We're using orange as the secondary color because green, orange, and white are the colors of the Irish flag.
• As you can see, we changed the uni number from 15 to 17 (because St. Paddy's Day is on March 17), changed the slogan under the script to "Erin Go Bragh," and dotted the "i" in the script with a shamrock. (We also considered putting a little icon of the Irish flag above the NOB, where the MLB logo would go on a baseball jersey, but it looked too busy, so we scrapped that.)
We like both of these designs. Which one do you like best? Vote here:
• • • • •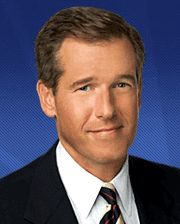 What Brian Williams and Jim Bouton may have in common: I don't care a whole lot about the current Brian Williams brouhaha, mainly because I don't care a whole lot about Brian Williams, period. But the episode has reminded me of something related to Uni Watch: Back in 2006 I was working on an ESPN column about baseball pants pockets, and I remembered that Jim Bouton's book Ball Four included a mention of Braves slugger Rico Carty carrying his wallet in his uniform pants during games, so I got in touch with Bouton to learn more about that.
Bouton elaborated slightly on what was already in the book, but then he told me something really interesting (I'm paraphrasing here): "I can't tell you much more, because I don't remember most of what took place in Ball Four anymore. I've told the stories so many times that all I remember are the stories, not the actual events."
I can totally relate. There are definitely stories and accounts that I've told so many times that the stories have superseded the memories of the events. I'd like to think that the stories are accurate representations of what really happened, and I believe they are. But frankly, I'm no longer sure. I don't doubt the veracity of these stories, but I feel like I've lost touch with the actual events and only have the narratives that I've told so many times. (In fact, I've told the story of what Bouton told me many times, so that one could fall into this category as well, except for one thing: I still have my notes from that interview.)
I suspect this is what happened to Williams. Or as media critic David Carr put it in this article, "Stories tend to grow over time and, if they are told often enough, they harden into a kind of new truth for the teller." This doesn't excuse Williams's behavior, of course, but it probably explains it, at least to a degree.
• • • • •
Click to enlarge
Collector's Corner
By Brinke Guthrie
We've all seen the complete gumball helmet sets, but take a peek if you will at this placemat. Love the helmet art, and the schedule for the 1966 season! You get the complete set of 15 teams and the placemat in one auction.
Here's the rest of this week's eBay haul:
• How about this 1970 NFL Bicycle Helmet Hubcap for your ol' Schwinn Spyder, eh? This one features the Patriots.
• Take a look at this vintage set of 1960s NFL glasses, willya? Brownie, the Colts, Pack, Eagles and Vikings. New. In. Box.
• Wow, great graphics on this 1970s Padres poster. This 1970 Portland Trailblazers poster has the same vibe, too.
• Funny how after all these years, you can still immediately place a particular image. See this pack of 1974 Fleer NFL stickers? That's absolutely Washington running back Larry Brown.
• They didn't do a lot of work on the graphics for this 1970s NFL board game, did they? (There's a hoops version, too.)
• I could never figure out why the 1970s White Sox had that modern "Sox" logo but also the old-fashioned font. See them both on this dugout jacket
• Cool! A 1970s Atlanta Flames puck pencil sharpener!
• Featured these once before on CC, but it's worth showing again: Check out this 1970s Montreal Canadiens poster. Those are some sharp graphics.
• Great look for the Chargers helmet on this 1970s pennant. Air Coryell, baby.
• Charles O. Finley (look it up, kids) probably hoarded his pennies in one of these 1973 Oakland A's helmet banks. (Still in the bag!)
• And this one is out of left field and just for PL: a 1970 Coca-Cola delivery guy shirt. It's the real thing.
• These Packers/Cowboys helmets don't appear to be NFL-approved, do they?
Follow Brinke on Twitter: @brinkeguthrie
• • • • •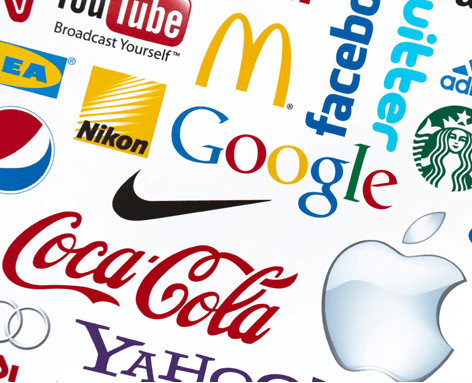 Read this: Gawker/Valleywag writer Sam Biddle — a very smart guy (and also very nice, at least the one time I met him) — has written a brilliant, devastating piece called "Brands Are Not Your Friends." It's very simple and direct, it's not too long (1200ish words, or about the same as one of my ESPN pieces), and it's totally worth your time. Highly recommended.
• • • • •
Uni Watch News Ticker
By Garrett McGrath

Baseball News: A tech start-up is currently in a trademark war with the Nationals and the Cubs (from Bob Gassel). … So many choices: Uni Watch friend Chris Creamer broke down all of the Mets uniform options for 2015. … It's that time of year again: The Nationals' equipment is on its way to Viera, Florida (from Tommy Turner). … The Dartmouth baseball team in 1880 was pretty stylish in stripes (from Jay Sullivan). … Pure gold here: a 1965 photo of the Astros riding a rocket in the just-opened Astrodome. Check out the real grass, which soon died due to lack of sunlight, leading to the development of AstroTurf. … Tequila sunrise uniforms for the Bucs from Hoover, Alabama (thanks, Phil). …

NFL News: A Patriots fans who jumped on the bandwagon this season was in the Bahamas wearing a Vince Wilfork jersey and then ran into Wilfork himself and seemed to have no idea who he was (thanks, Paul).

Hockey News: With the 35th anniversary of the 1980 "Miracle on Ice" Olympic squad now at hand, the Hartford Wolf Pack — that's a Rangers farm team — will be wearing Miracle on Ice-themed jerseys on Feb. 28. Here's hoping the back-jersey design includes the requisite contrasting nameplate (from Josh Tremblay).

Soccer News: From an article about the expansion New York City F.C., an amusing episode from the dark ages of American soccer: "The Phoenix Fire's first game in 1979 and the sudden panic, 10 minutes before kick-off, when the kit turned up and the president, Len Lesser, bounded into the dressing room to announce why there was no goalkeeper's jersey. 'We're going to be the smartest team in the league. None of this bullshit with players wearing different uniforms. I want us all to have the same uniform'" (great stuff from Yusuke Toyoda).

NBA News: It looks like a Atlanta Hawks rebranding is in the works for the 2015-16 season, according to a quote from their owner (from Conrad Burry).

College Hoops News: Boston College will be wearing throwback uniforms for their game against Syracuse on Wednesday (thanks, Phil). … A look at the new Duke throwback uniform (thanks, Phil). "¦ Really good story about Muslim women basketball players who want to wear hijabs, which are allowed in the NCAA but are banned by FIBA for international play.

Grab Bag: "A family trip this weekend to the Reagan Presidential Library had some uni-notable items, including his Notre Dame sweater from Knute Rockne: All-American," says John English. … Here's an article about an airbag developed for skiers (thanks, Paul). … A cool piece on the popularity of dark-colored cycling kits (from Sean Clancy). … Here's a product that turns that strap of your shoulder bag, or any other strap, into a billboard for your favorite teams (from Kevin Mueller). … Here is an interesting graphic comparing baseball logos to their university's version (thanks, Phil). "¦ Vote for your favorite Wisconsin high school mascot (from Joel Mathwig).