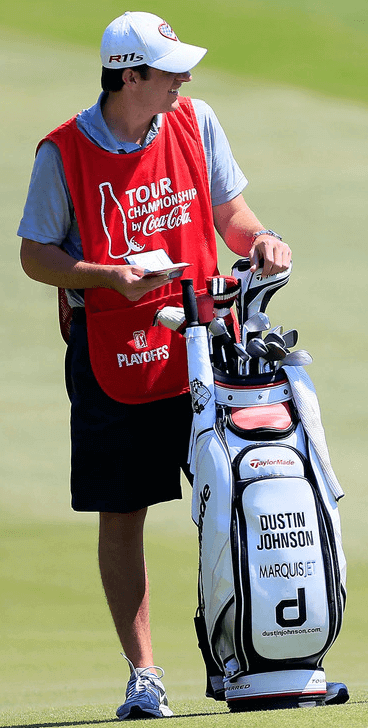 I have a new ESPN column today, about Nike and the NFL — check it out here.
Meanwhile: Very interesting storyline from the golf world yesterday, as a group of 81 caddies filed a class-action lawsuit against the PGA because they're forced to wear bibs featuring the logos of PGA sponsors without being paid. The lawsuit says the caddies "are made to serve as billboards to advertise, at the direction of the PGA Tour, for some of the most profitable companies in the world without compensation."
This is a complicated case (and that's not even counting the issue of grown men wearing "bibs," which probably deserves its own lawsuit), and I encourage you to read that entire article before having a kneejerk reaction one way or the other. One of the trickiest aspects is that the caddies are independent contractors employed by the individual golfers, not by the PGA, but they're still forced to wear the PGA bibs, which feels a bit like a "taxation without representation" situation.
I saw a lot of discussion of this story on the web yesterday, and certain refrains kept popping up. For example:
• "Nobody's forcing them to be caddies." True enough, but that doesn't mean automatically mean that their labor conditions are fair or just (or legal). Nobody's forcing you to have your job either, but you'd probably complain if you felt you were being treated unfairly, and you'd consider legal action if you thought the situation warranted it.
• "The caddies already make a lot of money." Some of the caddies do pretty well, but my understanding is that a whole lot more of them earn less than $100K/year. In any case, that's a red herring, because the merits of their case are either valid or invalid regardless of their income.
• "The caddies are just greedy." Maybe true, maybe not, but irrelevant either way. Again, the case will stand or fall on its own legal merits, not on anyone's assessment of the plaintiffs' character.
• "Anyone could do that job." False. But even if it were true, it wouldn't matter — see above.
• "They're already being paid, indirectly, for the sponsorships." The argument here is that the sponsorship money goes into a tournament's total prize purse, which then goes to the golfers, who then pay the caddies. This is an interesting argument, but I don't think it holds up. The sponsorship money indirectly helps to pay for everyone connected to the tournament, but not everyone has to wear the sponsorship bibs — only the caddies do.
It's worth noting here that I'm not a big golf guy. So I asked longtime Uni Watch reader John Okray, who works as an assistant professional at a golf club in Wisconsin, what he thought of the caddies' lawsuit. Here's his response:
As far as the lawsuit goes, I think it is warranted, but not for the amount they are asking for. Everyone wants a little more piece of the pie — I get that.. But what they're asking is a bit too much in my opinion.

Not every tournament even has sponsors on their bibs. For instance, all the Majors do not include sponsors. So during the Masters, would caddies not get compensated for one of the biggest tournaments of the year?
Veeeeery interesting to learn that the Major tournaments let the caddies go ad-free. In other words, the people behind the sport's most prestigious events understand that plastering the caddies with ads would compromise the air of dignity and status that they've spent years building.
And that, really, is the lesson here: Ads on uniforms look like shit. They always look like shit, even on caddies. And they inevitably lead to conflicts, petty squabbling, and lawsuits like the one that was filed yesterday. We'd all be better off without them — on caddies' uniforms, and everyone else's. #NoUniAds.
•  •  •  •  •

Baseball News: The Giants will unveil their latest home alternate jersey this Friday. I've seen the design, and the one thing I'll say is that it is not a revival of this jersey. "¦ Interesting to see that USC's jerseys once featured periods after the letters of the school name abbreviation (from Joel Mathwig). "¦ We'll never see Ted Williams in a tequila sunrise jersey. But how about Ted Williams on a tequila sunrise jersey? "¦ Marlins slugger Giancarlo Stanton, whose 2014 season was ended by a pitch to the face on Sept. 12, will wear a facemask on his batting helmet in spring training. "¦ Super-plain "MLB" jerseys for the MLB Puerto Rico Showcase. "¦ In case you didn't already know, the black version of the Mets' skyline logo really sucked. "¦ New cleats for Vanderbilt (from Jerry Lawless). "¦ The Royals' new "Forever Royal" billboard would make a lot more sense if the player were going high-cuffed (from Jason Gomez). "¦ What's worse than a game with both teams wearing red jerseys? Both teams wearing red jerseys covered with ads. "¦ Washington State's new batting gloves have that composite logo design that we've seen a lot of in the football world. "Maybe I'm turning into a crotchety old man, but they seem a bit much," says Mike McLaughlin. … Whoa, look at this rare 1935 Brooklyn Dodgers cap. "¦ Check out these game-worn 1972 White Sox stirrups — uni-numbered, and with extensions! (Thanks, Phil.) "¦ The mighty Fleer Sticker Project has a good entry on a 1972 JC Penney catalog with an NFL helmet offer on the wrapper. "¦

NFL News: I hadn't noticed this until Noel Tovar pointed it out, but the Patriots had raised nose bumper logos for the Super Bowl. Turns out they also had them for the AFC championship game. They don't seem to be as raised as the 3-D logos used by other teams, though. "So even their nose bumpers are a little deflated," says Noel. … Looks like Pats WR Brandon LaFell is still wearing his old purple/gold shoulder pads from his LSU days. He also did that when he played for the Panthers (from Brian McCrodden). "¦ What's cooler than Salvador Dali in football helmet? Not a goddamn thing (big thanks, Phil). "¦ People who wore a Pats jersey at the Sugarloaf ski resort in Maine on Sunday got half-priced lift tickets. "¦ Why would a toy samurai sword for sale in Taiwan have a Bills helmet sticker on it? Weird.

College and High School Football News: Crazy flag-based uniforms for the U18 International Bowl. "¦ New 50th-anniversary logo for NIU's Huskie Stadium. "¦ @JVince11 made his own Arizona State concept helmet. "¦ Iowa State players got new training shoes yesterday. "¦ Akron's equipment staff has been toying with some new helmet concepts, as seen here and here. "¦ Do Texas Tech's uniforms matter to recruits? Maybe. "¦ New helmets possibly in the works for Nevada, although those might just be recruit-bait. "¦ Here's a ranking of the last two seasons' worth of Oregon uniforms.

Hockey News: The Islanders wore fisherman fauxbacks for pregame warm-ups last night. "¦ College hockey teams wore muscular dystrophy awareness helmet decals last weekend. "¦ The Wichita Thunder will wear these wheelchair unis for NASCAR night on Feb. 20 (thanks, Phil). "¦ Sabres goalie Jonas Enroth has a new mask in the works. According to this page, it "will feature a white-based background, accented with the crossed sabres at the chin area. Along the top of the helmet, a blue and gold brick wall curves up and over. On the side, a rough-looking circle logo graces the remaining canvas." "¦ The Missouri Mavericks' "law enforcement appreciation" unis are just a little bit gaudy (from Ryan Atkinson). "¦ Unexpected styling on this 1960s jersey. "Almost a precursor to the Dallas Stars jersey," says Jimmy Lonetti.

NBA News: Pacers players have some thoughts about the team's uniforms. "¦ Here's a slideshow breaking down the Cavs' record by uniform (thanks, Phil). "¦ MetroCards — the prepaid cards we use to access the New York City mass transit system — are now being issued with an NBA All-Star Game design (Phil again). "¦ What if each NBA team had its logo incorporated into the O'Brien Trophy? "¦ In the wake of the Rockets' and Warriors' Chinese New Year unifiorms, here's a look at some of the best and worst moments in Chinese New Year branding.

College and High School Hoops News: Northern Iowa — the team with the best school abbreviation — wore a "DH" memorial patch for booster Dale Howard on Saturday (from Jesse Gavin). "¦ But in a disappointing move, UNI is going BFBS this Saturday and is removing the "UNI" from its jersey. "¦ Texas Tech will wear black unis with new black shoes today. "¦ Pink uniforms for the Washington Township (NJ) girls' team. "¦ Even if you like color vs. color, as I do, you have to draw the line at grey vs. brown. Ewwwwww. "¦ In 1950, the BYU hoops team went on a tour of South America and wore "Mormons" warm-up tops (from @pal3327). "¦ Wisconsin gave away this G.I. Joe cap, sponsored by the National Guard, last night. "Looks like low-resolution vomit," says Andrew Mueller. True enough. And the little circle-R trademark symbol is the cherry on top of this shit sundae.

Soccer News: The L.A. Galaxy visited the White House and gave President Obama a jersey with FiNOB. On their previous two visits, the jerseys had his surname (thanks, Phil). "¦ Here's a bunch of concepts showing modern teams in retro styles (from Jason Borneman). "¦ Here's a closer look at the new MLS numbers (from Matthew Streeter). "¦ The rest of these are from Yusuke Toyoda: Kara Mbodj of Senegal wore gloves at the African Cup of Nations, which wouldn't be so unusual except it was 86 degrees. … The Irish national team's former kit man got a jersey-cake for his 91st birthday. … An Inter player threw his jersey to fans after a 3-1 loss, the fans threw it back, and a brouhaha ensued.

Grab Bag: The UN World Food Program is "extremely concerned" by images seeming to show its boxes of food aid in Syria with the ISIS logo. "¦ In a related item, ISIS's latest execution video shoes the militants wearing matching digi-camo uniforms similar to those worn by U.S. Marines. "¦ A Wyoming sheriff has imposed a new dress code that bans cowboy boots and hats. One of his deputies quit in protest. "¦ This is great: A Toronto man made a curling sheet in his backyard (thanks, Phil). "¦ Did you know New Mexico has a Nordic skiing team? They do! And the team wore 1990s throwbacks at Friday's home meet (from Frank Mercogliano). "¦ A museum in California currently has an exhibit of Boy Scout and Cub Scout uniforms from around the world. "¦ Good article about flight attendant uniforms. "¦ "IndyCars used to have a fuel that, when ignited, burned with an invisible flame," says David Firestone. "So when a driver caught fire, it looked like this." "¦ The BMW-Happy Tooth Dental Group women's professional cycling team (yes, that's really their name) is inviting fans to design the team's support car (from Michael Roecklein). "¦ The Red Bull RB11 race car is decked out in full camouflage.