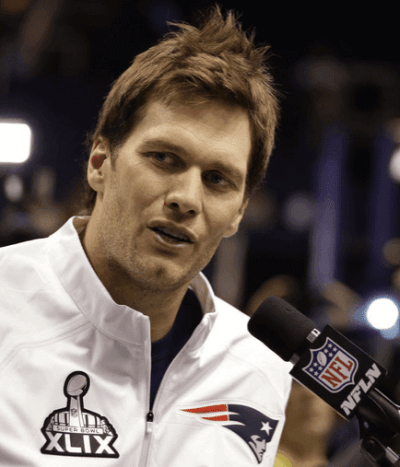 Update, 1:30pm: Didn't realize I was gonna have a new ESPN column today (thought it was being held until tomorrow), but I do, about the latest wrinkles in the annual debate over which cap logos should appear on Baseball Hall of Famers' plaques. Check it out here.
Now then: Yesterday was Super Bowl Media Day (aka the annual Big Fuss Over Nothing). Here's a look at some of the event's uni-centric aspects:
• Most players wore those Media Day uniform jackets. But some players, like Pats running back LeGarrette Blount, were in full uniform. Anyone know why?
• Bill Bellichick wore mandals.
• Pats cornerback Brandon Browner wore Nike Hypervenom soccer cleats.
• For reasons that aren't clear to me, a lot of the players arrived wearing knapsacks. Was this a sponsorship thing (the official knapsack of the NFL, or whatever)?
• Many Pats players wore Flying Elvis caps. But cornerback Darrelle Revis wore this black cap, which looks really odd to me. Like, what Pats wordmark is that?
• Speaking of caps: If you're wondering about that cap Marshawn Lynch was wearing, look here.
• NBC Sports correspondent Karim Mendiburu Contreras was wearing — uh, you tell me. Bizarre.
• Not sure what the full story is here, but one dude found a new way to wear neon green.
• The event was sponsored by Gatorade, which presumably explains why each player's chair was accessorized with a Gatorade towel. As you know, sitting and answering questions is really strenuous, so you have to towel off quite a bit. Douchebags.
•  Speaking of corporate nonsense, Richard Sherman's headphones were confiscated.
• Finally, here's an interesting tidbit: Media members (or at least some of them) were given earpieces that let them choose which players they wanted to hear.
(My thanks to Jason Eich and Phil for their contributions to this section.)
•  •  •  •  •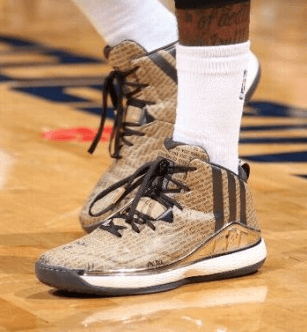 Sneaker Report
By Owen Dillon
[Editor's Note: As longtime readers are aware, I'm not a sneakerhead. But today we're going to try something new "" a sneaker-centric guest column by Owen Dillon. If it's well-received, it may become a semi-regular feature here on the site. Feedback welcome. "" PL]
Martin Luther King, Jr. Day is obviously an important holiday from a historical and cultural standpoint, but it's also become a big day in world of sneaker culture, where it presents an opportunity see the new sneakers being debuted by NBA players. When combined with Black History Month, it makes this an important time of year for new sneaker designs.
This year Nike decided to go with a black and white patterned look, which was present throughout all of its models, including the most recent Jordan silhouette, the Jordan 29. LeBron James also got his LeBron 12 in a Black History Month/MLK Day edition featuring multiple patterns throughout the upper and lower, with a grey sole.
Kobe Bryant is now out for the year, but before that he was given an MLK Day edition of his very popular Kobe 9. This particular shoe comes in the high-top version of the Kobe 9, and is primarily black on the outside, white on the inside, providing a very nice contrast.
Then there's Kevin Durant. The Durant 7s also received the Black History Month treatment, but I don't much care for the two-panel multicolored concoction. Personally, this was my least favorite BHM shoe from any brand.
Kyrie Irving also has a signature shoe from Nike, and the Kyrie 1 also got a Black History Month makeover. This is one of the most entertaining shoes from Nike in the BHM line, and is my personal favorite.
Adidas also join in on the Black History Month theme. The John Wall 1 was shown in a variety of browns with a gold lower; Damian Lillard's first shoe got an MLK treatment; and the Derrick Rose 5 also debuted a new edition for MLK Day. Unlike the Nike models, all the Adidas models featured words and quotes from Kareem Abdul-Jabbar, obviously one of the inspirational athletes of recent memory.
Under Armour has only one signature athlete, and only one relevant non-signature shoe, but that didn't stop them from taking part in the MLK celebration. The Stephen Curry 1 was featured in grey and black, much like the Nike models.
Finally, my favorite pair of kicks worn during the past few weeks was a special edition of the Nike LeBron 8 Soldier worn by Danny Green of the Spurs. The shoe paid tribute to the late Stuart Scott. In addition to being a very nice gesture, the shoes looked very good with the Spurs' road jerseys.
•  •  •  •  •

Baseball News: New commish Rob Mandred's signature has been added to the official MLB baseball. "¦ The A's are giving away a bobblehead with audio this season. "¦ Here's a visual timeline of all the Topps baseball card designs from 1951 through 2015 (from Jonathan Daniel). "¦ Tequila sunrise jerseys on tap for the Fresno Grizzlies (from Jared Buccola).

NFL News: Odd scene from the 1993 Pro Bowl: Moose Johnston from the Cowboys wearing a Packers helmet. Johnston says it's because his helmet was stolen the night before the game, so he had to wear Brett Favre's lid. "¦ The big neon "R" at the Rainier Brewery in Seattle is changing its colors to blue and green for the Super Bowl (from Markus Kamp). "¦ EA Sports' Super Bowl simulation shows Tom Brady with elasticized sleeve cuffs, which is something Brady doesn't actually wear on the field (thanks, Phil). "¦ The 1976 Bucs had Maulty Moore and Manfred Moore on the roster, so at least one of them wore FNOB. Look at the spread on that lettering — it practically extends onto the sleeves! "That's from this site, which has some other cool stuff from the early days of Tampa pro sports," says Cork Gaines. "¦ On Thursday the U.S. Commerce Department's National Institute of Standards (NIST) and Technology will participate in a news conference in Phoenix on health and safety in the NFL. NIST will join the NFL, GE, and Under Armour to announce an open competition to identify innovative materials for protective sports equipment. "¦ Here's the annual story on that company that makes the Super Bowl jersey patches (thanks, Phil). "¦ Here's a discussion thread on how Super Bowl field designs might have looked if the teams that lost the conference championship games had won. "The one for Super Bowl XIV, with the Oilers versus the Bucs, would cause seizures," says Eric Dearden. "¦ Dolphins CEO Tom Garfinkel says the team will be celebrating its 50th season in 2015, which presumably means a patch is in the works (from @JJHarkins). "¦ Robert Morris University has totally ripped off the Eagles' logo and wordmark. Yeah, they've made slight adjustments to both, but come on (from A.J. Frey). "¦ A few days ago I showed you the Super Bowl uniform being worn by that statue in downtown Phoenix. That uniform was made by Patsy Elmer of Big Time Jerseys, who's shown here posing with the statue. "All the tackle twill name and numbers are 25% larger than on a normal-size jersey," she says. "The statue's chest measures 65", which is only 5" bigger than Shaquille O'Neal's. When Shaq played with the Phoenix Suns, he wore a size 60 jersey, which to my knowledge is the largest size any Suns player has ever worn."

College Football News: Here's some 1980 footage of Bear Bryant talking about some very specific aspects of his hats (nice find by Chris LaHaye). "¦ Here's a one-minute video of Clemson's football equipment staff going through all the gear players are issued during the season (from Scott Moody).

Hockey News: Good story about the NHL's partnership with GoPro helmet-mounted cameras. "¦ The Powerchair Hockey International Committee is launching a logo design competition. "¦ The Penguins misspelled Sidney Crosby's name on their own program. … The Blackhawks are auctioning off a seriously ugly jersey as part of a meet-and-greet with Marian Hossa. "Yikes," says Ryan Lindemann. "¦ Always kinda weird when a team uses an anniversary logo as its main jersey crest. That's the 15th-anniversary uni for the Tri-City Storm (from Jason Johnson). "¦ Stars C Jason Spezza changed from a jaw guard to a conventional visor at some point during last night's game against the Habs. "The Canadiens' announcers suggested that it was because he had trouble inserting his mouthpiece," says Matt Larsen. "¦ Here are Miami's uniforms for the upcoming Hockey City Classic (from Jason Eckerle).

NBA News: The Pacers will wear 1990s throwbacks tomorrow night against the Knicks. "¦ Charlie Panian recently picked up this 1972-73 Bucks media guide. Among other things, it lists the official team colors for each NBA club. The funny thing about this is that it has "red and white" for the Hawks, even though the accompanying photo shows Pete Maravich wearing the blue/green uni. You can see more of the interior pages here.

College Hoops News: North Carolina Wilmington's new logo will be revealed prior to tonight's game against Elon. "¦ Akron did a purple-out for pancreatic cancer yesterday. The "Peters" NOB is for former assistant coach Dan Peters, who died of the disease about three months ago. "¦ Pink-trimmed uniforms last night for Georgetown. "¦ Some sort of bizarro sneaker on tap for Maryland (thanks, Phil). "¦ Arkansas G Anton Beard normally wears No. 31, but someone puked on his jersey during last night's game, so he had to switch to an old No. 15 jersey with outdated fonts (from Jason Yellin).

Soccer News: Here are the Women's World Cup jerseys for Sweden (from Mira Muikku). "¦ Here are some updates on MLS and international kits (from Trevor Williams). "¦ Barcelona may end its sponsorship deal with Qatar Airways.

Grab Bag: Did you know there's a band called Uniform? It's true! Not really my bag music-wise, but ya have to like the name. Now let's see a band called Stirrups. "¦ There are lots of species of "white-crowned" birds — the white-crowned sparrow, the white-crowned pigeon, and so on. But the recent snow has left me with a white-crowned bird feeder. "¦ Under Armour may design new uniforms for the Baltimore police department (from Adam Marcus). "¦ The Super Rugby champions NSW Waratahs have extended their sponsorship agreement with CMC Markets. "¦ Cycling news: Menswear designer Paul Smith has designed the leader's jerseys for Dubai Tour (from Sean Clancy). "¦ Here's a fun slideshow of Syracuse-area high school wrestling singlets (from Tony DiRubbo). "¦ Another company outfitting an Aussie Open tennis player in neon green: Uniqlo, which sponsors Kei Nishikori (thanks, Phil).