[Editor's Note: Today we have a DIY project from Thomas Fiers, who's come up with something unusual: uni-themed pillows. Enjoy. "" PL]
By Thomas Fiers
I've been a big supporter of the Japanese soccer team Shimizu S-Pulse for 10 years now, and I decided to celebrate that anniversary by creating a series of decorative pillows representing the uniforms used during the club's first 10 years — from 1992 to 2002.
S-Pulse is famous for its uniforms, which use creative representations of the Earth mixed with bright orange or white colors. To create the pillows, I redrew the different "world map" designs used in each season for home (orange) and away (white) games, and I added uniform numbers based on the team's best players from the appropriate seasons (for all of today's photos, you can click to enlarge):
Here are the players represented by each pillow:
Vol. 0: Takumi Horiike (1993-1994)
Vol. 1: Katsumi Oenoki (1993-1996)
Vol. 2: Yasutoshi Miura (1993-1996)
Vol. 3: Masaaki Sawanobori (1992-1996)
Vol. 4: Kenta Hasegawa (1992-1996)
Vol. 5: Teruyoshi Ito (1997-1998)
Vol. 6: Toshihide Saito (1997-1998)
Vol. 7: Ryuzo Morioka (1999-2001)
Vol. 8: Alessandro Dos Santos (1999-2001)
Vol. 9: Daisuke Ichikawa (2002)
Vol. 10: Kazuyuki Toda (2002)
Vol. 11: Masanori Sanada (2002)
Granted, there's a bit of a cheat here: While I design the pillows on my computer, I don't make the pillows themselves. They're made by an American company called Society6, which does a great job. The process is like so: First I take pictures of the jerseys in high definition. Then I use them as supports for redrawing the designs on my computer:
Since the quality of the product is high, I had to draw everything as very precise vectors. With these files, I can use the designs on any media — I could cover a whole building without losing quality if I wante! But eh, I just wanted to make some pillows. Here's how they turned out:
And here's a nice bonus: When I position one of the pillows across the jersey that inspired it, it creates a neat optical illusion:
———
Thanks, Thomas — very cool stuff.
Now that I think of it, pillows offer a really good format for uni-based DIY projects. Now that Thomas has shown us the way, I suspect we may see more DIYers going this route. Hope so!
• • • • •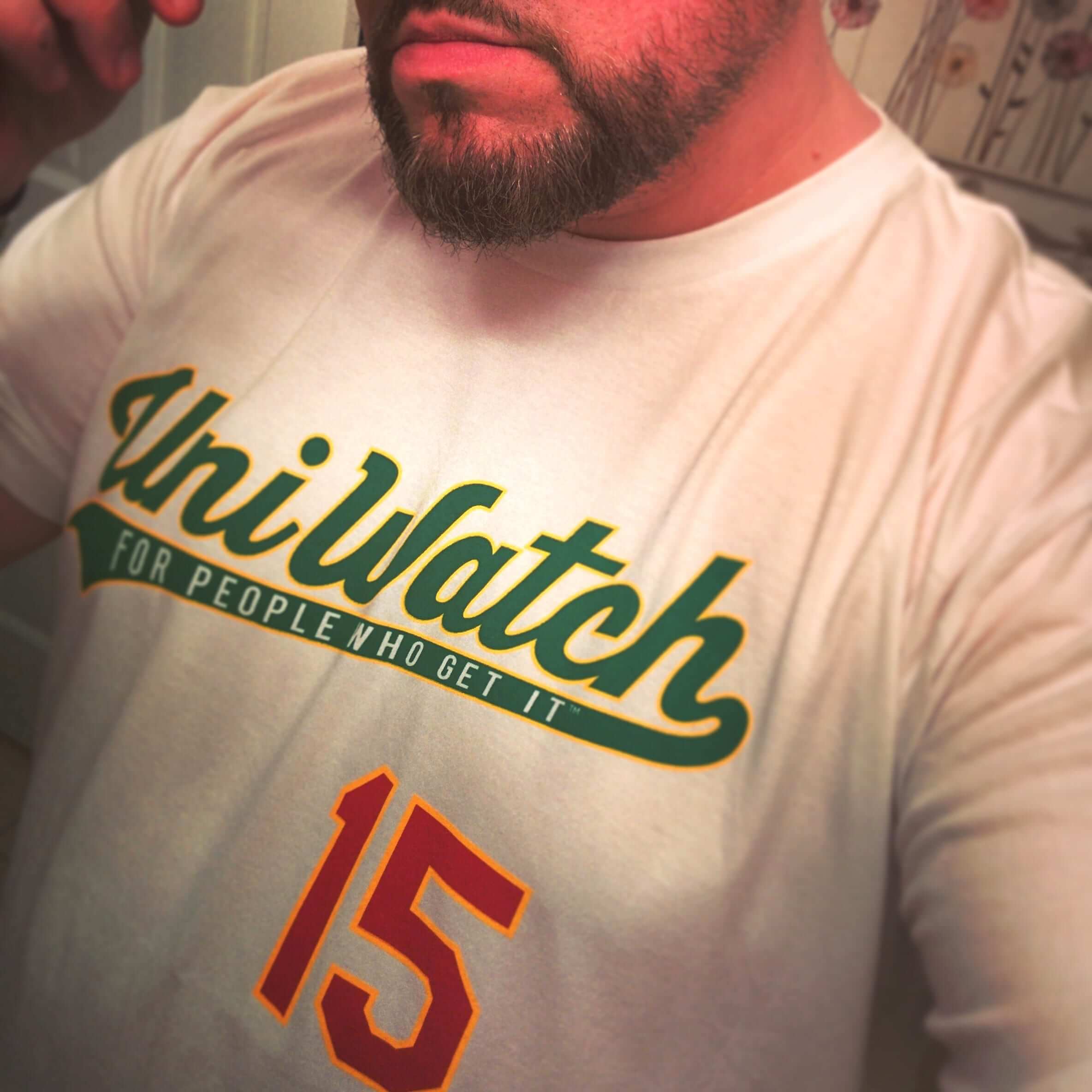 Click to enlarge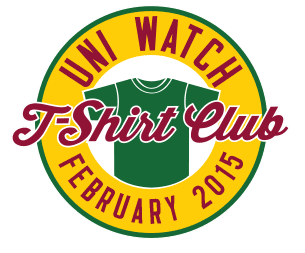 T-Shirt Club update: Even with the face partially obscured, I'd know that guy shown above anywhere. It's longtime Uni Watch reader/pal Terence M. Kearns modeling his January tee from the Uni Watch T-Shirt Club. Should look good with his Mets road jersey lettering tattoo.
Meanwhile, in case you missed it earlier this week, the February design is now available. Full details here, or just go straight to the ordering page. And for those of you who've received your January shirts in the mail, feel free to send "action photos" this-a-way. Thanks.
• • • • •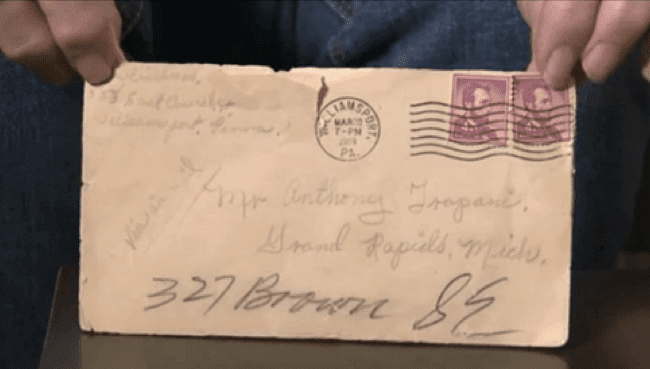 PermaRec update: A letter mailed over 50 years ago (shown at right) was intercepted and hidden away in a file cabinet. Its intended recipient recently discovered it, read it, and learned that he has a son he'd never known about. Get the full story on Permanent Record.
• • • • •

'Skins Watch: A prominent civil rights group that works closely with the NFL and is headed by former NFL players is calling for the 'Skins name to be changed. "¦ Two Native American groups have launched a phone campaign to get the 'Skins name changed (thanks, Phil). "¦ "The teams at Jackson High School in Jackson, Missouri, are called the Fighting Indians," says Brian Rosener. "The town welcome sign has a picture of Andrew Jackson and is located not far from Trail of Tears State Park. Always found it odd that
a city named for a president who did so much harm to Native Americans would have a school mascot named Indians."

Baseball News: The Mariners will unveil their new Sunday home alternate uni today at 1:30pm Eastern. … "The Fox show Backstrom is set in Portland, Oregon," says Joel Hatield. "But some of the media pictures show the main character wearing a Portland Sea Dogs hat, and that team is from Portland, Maine." … We already knew Randy Johnson would be wearing a D-backs cap on his Hall of Fame plaque, and now the rest of the caps for this year's class have been announced. … I think it would be fair to say that Wayne State's new unis are none too subtle (from Nick Benes). … New uniforms for TCU. … Wait, how could the Sox in shorts be playing the Astros?! Answer: That's not the Chicago White Sox — it's the double-A Knoxville White Sox. Of course, lots of MLB teams used to recycle their uniforms in their minor league systems, but I had no idea that the Chisox had done that with their shorts. And hey, it's great to see shorts vs. tequila sunrise, even if it was in the minors. "¦ Here's another look at those new Nashville Sounds unis (from Patrick O'Neill). "¦ Longtime Uni Watch reader/contributor Richard Paloma has written a good piece about collecting A's jerseys (thanks to Phil for letting me know about it). "¦ The Kenosha Kingfish want local middle and high schoolers to help design the team's road uniform.

NFL News: To the surprise of nobody, the Seahawks will wear blue jerseys in the Supe. No word yet on the pants, although I still think it'll be blue. "¦ Speaking of the Seahawks, they're attempting to trademark a bunch of stuff, including the number 12. … A Super Bowl ad encouraging people to spay or neuter their pets will feature lots of furry critters wearing football uniforms. "¦ Here's a good story about the Wilson football factory in Ada, Ohio. Longtime readers may recall that I did my own story about the factory several years ago. "¦ Victoria's Secret's Super Bowl commercial features models wearing conventional (not babed-out) football uniforms. "¦ Dolphins CEO Tom Garfinkel has confirmed that the team will be getting a new alternate jersey next season, but of course we already knew that (from Steve Skor). "¦ The Supe will be taking place in Phoenix, so the downtown statue called Full Life Reach has been decked out in a generic Super Bowl uni. "At first, back in November, he had on a black T-shirt with the AZ Super Bowl logo and long black shorts," says Kenn Tomasch. "The shorts disappeared after about two days, so he just had a T-shirt on and looked like — well, it wasn't a good look. Then they put this uni on him."

College Football News: Check out this screen shot of a 1970s Colorado State player with an NOB that appears to be "Bell, Mark R." So it's an FNOB, an FIOB, and a comma, all in one! It's from this CSU recruiting video (great find by Bill Kellick). … More new helmets for Troy. "¦ Oregon does better when it wears school colors (thanks, Phil).

Hockey News: The Utah Grizzlies' uniforms tomorrow will be saluting local police and firefighters. "¦ Here are some great outdoor hockey photos from Flint, Michigan (from Eric Romain). "¦ Forty-nine years ago yesterday, the Red Wings' jerseys were stolen (thanks, Phil). "¦ Also from Phil: Canada's contestant in the Miss Universe pageant wore a bizarre hockey-themed outfit.

NBA News: The Trail Blazers' logo looks pretty cool when rendered in Lego (from Matt Harris). … Here's a video on how the Heat's "black tie" uni was developed (from Scott Moody). "¦ Danny Green of the Spurs was granted permission to wear custom sneakers tributing fellow UNC alum Stuart Scott for last night's game against the Bulls. "¦ Speaking of the Spurs, they wore "NBA Fit" shooting shirts prior to last night's game. I think every team is doing this. "¦ We knew that the NBA all-star jersey were going to be FNOB with first name above the number, surname below. Now we're getting our first look at how that will look on a few of the players' actual jerseys (big thanks, Phil). "¦ Notice anything odd about these retail photos of the Bulls' black alts? Inconsistent color sequence on the armhole stripes! (From Connor O'Hea.)

College and High School Hoops News: A diehard Syracuse fan has named his daughter Cuse. "¦ In a related item, Syracuse will be retiring two players' numbers next month. … Too bad this very nice green Durene warm-up top is too big for me, or else I'd be all over it. … New GFGS alts upcoming next month for Northwestern (thanks, Phil). … I think it's safe to say that this Western Carolina helmets is just to impress the recruits (Phil again). "¦ Here's more info on all those new Under Armour unis that have been showing up lately. "¦ UCLA and Oregon State went color-vs.-color last night (thanks, Phil). "¦ Here's another high school team that wore throwbacks from a now-defunct school (from Jack Marshall). "¦ 1972 throwbacks on tap next Saturday for SMU (from Brad Sutton).

Soccer News: Interesting typography on the first letter of the NOB for Martin Ødegaard of Real Madrid. Anyone know if that typographic treatment, with the partial diagonal line instead of a complete one, is common? (From Kevin Brewer.)

Grab Bag: Good historical look at UK policemen's helmets. … New logo for UNC Pembroke. … Several prominent designers were asked to give their definitions of branding. … Inmates at a Georgia jail are being shamed with hot-pink uniforms. … Some new cycling helmets on display at the Tour Down Under (from Sean Clancy). … The Chicago Transit Authority rolled out some 1970s throwbacks trains, complete with vintage conductors' uniforms, the other day (from Brent DiCrescenzo). "¦ Adidas has wasted no time putting out its new catalog of Miami merch (thanks, Phil). "¦ Pro golfer Brooke Pancake has inked an endorsement deal with Waffle House. Wouldn't IHOP have been more appropriate?