Click to enlarge
[Editor's Note: Today we have a guest entry from uniform designer/historian Todd Radom, who's discovered a heretofore undocumented chapter in MLB logo history. "" PL]
By Todd Radom
I recently acquired a rare copy of the 1987 Major League Baseball Style Guide. It was a fun trip down memory lane, back to an era when the Cardinals wore pullovers, the Phillies' jerseys had zippers, and the Padres rocked the brown and orange. But one thing in particular stood out "" the Twins' then-new look for 1987. The page for the Twins' uniforms (shown above), marked as having been created in September 1986, shows a primary logo that doesn't quite match the one that the team actually ended up using (click to enlarge):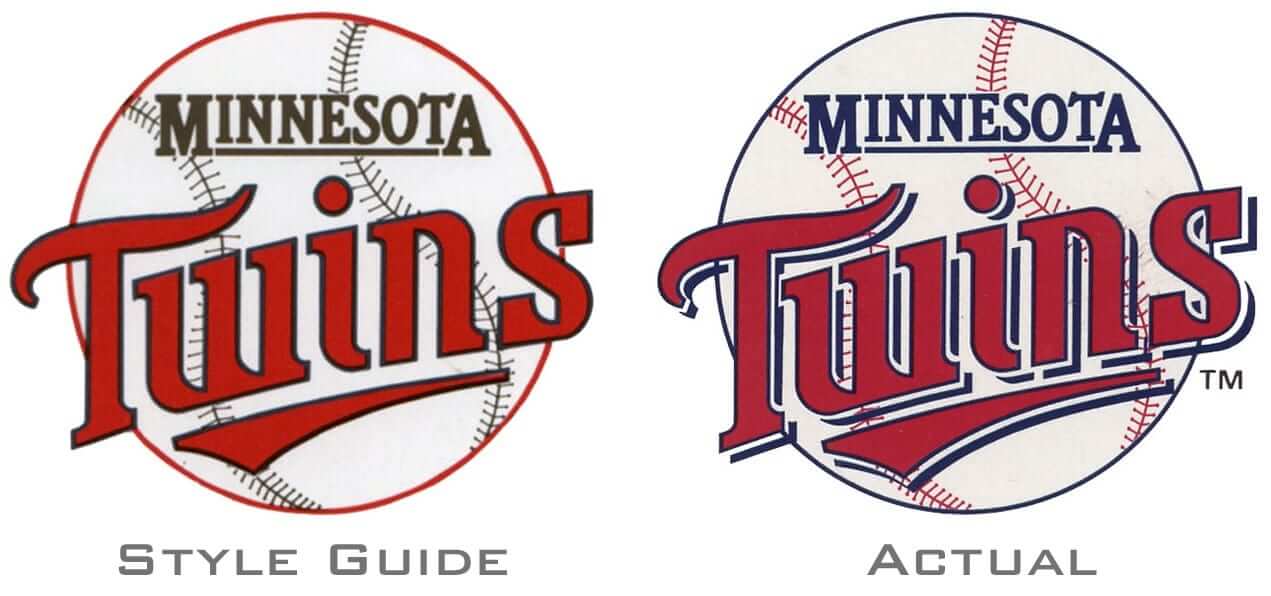 There are three primary differences between the logos:
1. The drop shadows. The logo that was eventually used featured disconnected navy blue drop shadows around the "Twins" letterforms. This effect gave additional detail and visual density to the mark, making it more complex. The original logo looks stark by comparison, far more streamlined, with abundant negative space.
2. The stitches. The stitches on the baseball were changed to red. I can understand why they didn't want the stitches in the original version to be red. Having these fine lines abutting the navy outline of the "Twins" letterforms "" as well as the navy "Minnesota" "" would have ensured clean reproduction, an especially important factor in the days before digital printing. But someone very important must have looked at this after it had been released and said, "Baseball stitches should be red," and that was that.
3. The outline of the ball. The original outline was red, which certainly gave the elements a more red look when compared to the logo that replaced it.
The reasons for this seemingly abrupt change are unknown. Research reveals that the remaking of the Twins identity was an appropriately deliberate process. In late June of 1986 the team publicly acknowledged that it was in the midst of rebranding itself for 1987, specifically seeking a "more meaningful logo." The new look was unveiled on October 10, 1986. Longtime local icons Minnie and Paul were out, a less traditional visual sensibility was in. "Over the years, three different logos were utilized concurrently, which led to some confusion," said Twins president Howard Fox. "With that in mind, our aim was to create one emblem that would singularly identify the Twins and Major League Baseball in an animated fashion."
The new uniforms featured pinstripes both at home and on the road, a seldom-used combination. Interestingly, the Twins' home uniform lettering never featured the drop shadow that was present in the (eventual) logo. Why was that the case? It now seems clear "" the overall graphics package, once unified across various visual assets, became disjointed when the logo was modified prior to the 1987 season.
The Twins' logo underwent additional changes over the next several seasons. MLB digitized its visual assets in the early '90s, which led to refinements and editing of this and other club logos. As of 1992, the simplified red stitching no longer butted directly against the navy blue outline of "Twins." This was a sensible, pragmatic call for both structural and aesthetic reasons: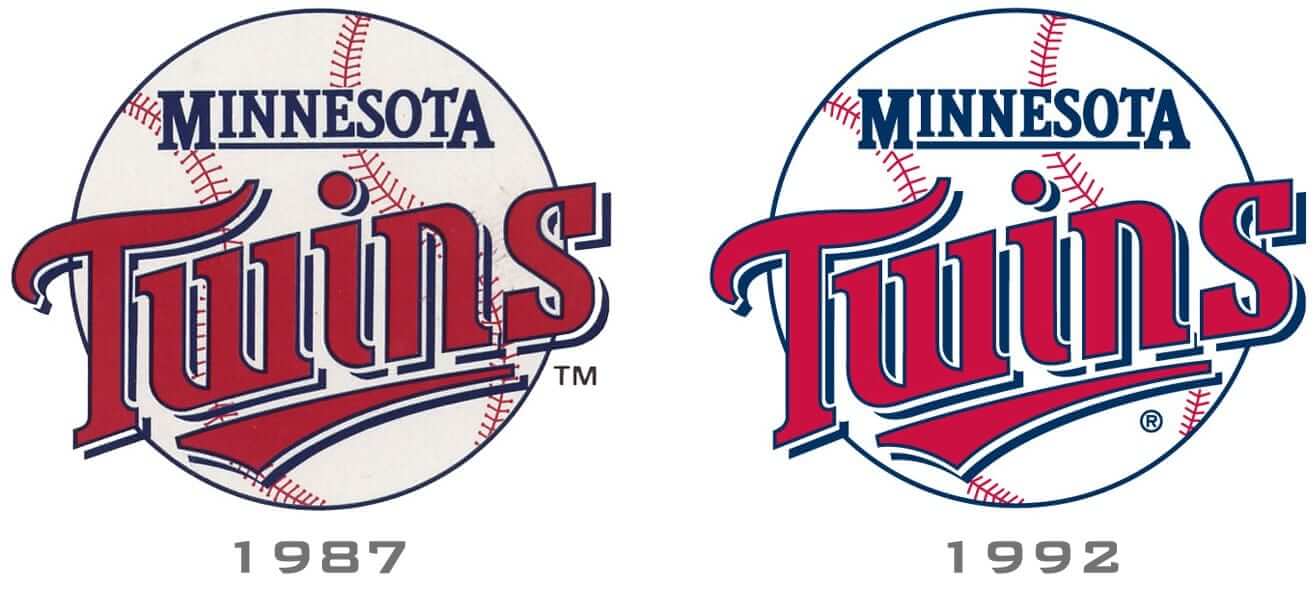 One year to the day after the Twins unveiled their new identity, they were playing in Game 3 of the American League Championship Series. The Twins would go on to win the first World Series championship in franchise history later that month, thus cementing the bond between the team's new look and a new era of prosperity. Take another look at the word "Twins" and note the fact that "win" is underlined, a subtle directive that the 1987 club certainly took to heart.
•  •  •  •  •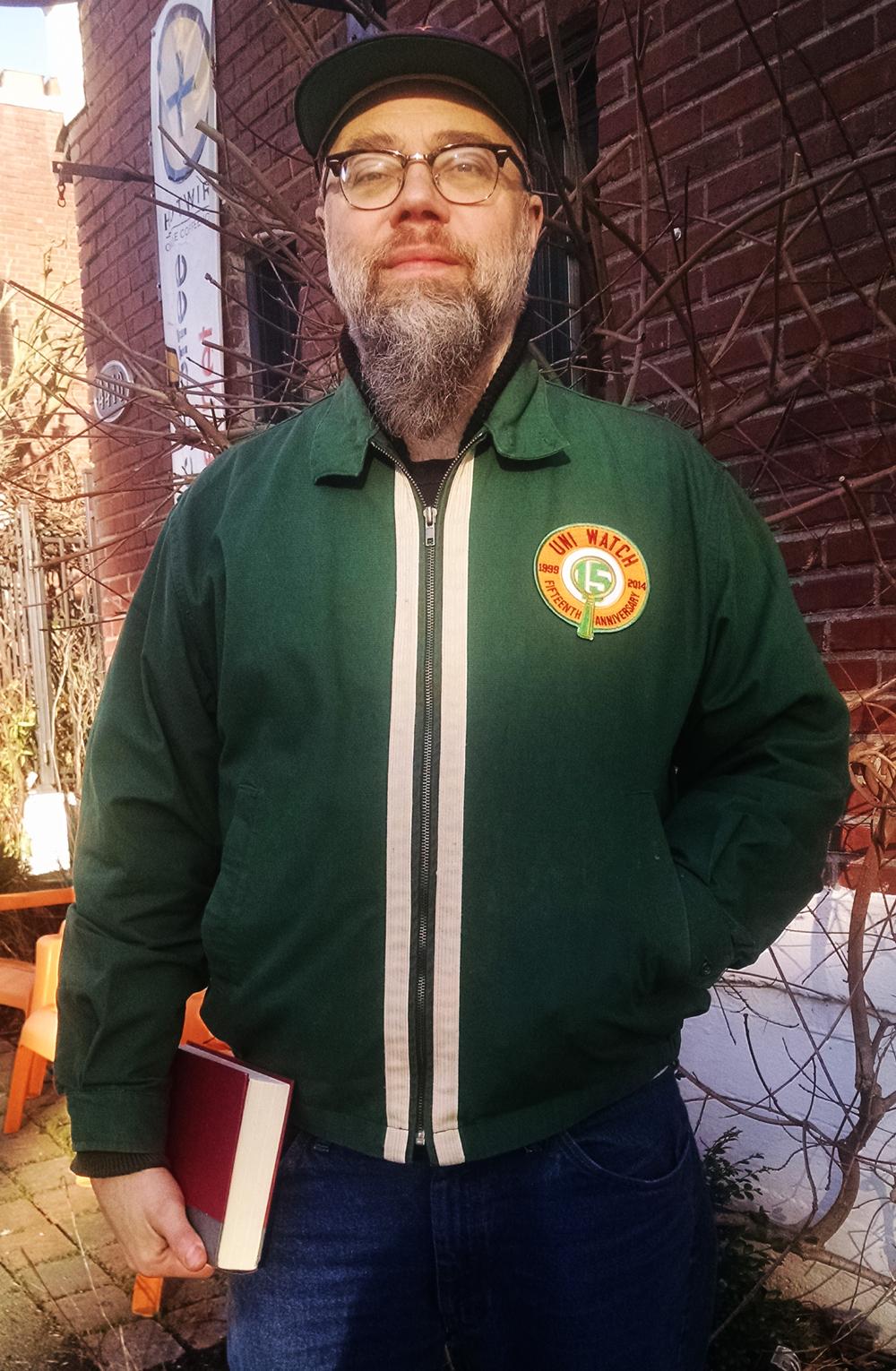 Click to enlarge
Patchwork: No surprise that the gent shown above would come up with a great application for the Uni Watch 15th-anniversary patch, because he's none other than Scott M.X. Turner — the guy who designed the anniversary logo in the first place! Not only that, but he also designed that jacket when he was working for Stall & Dean about 10 years ago. So the whole package is a Scott Turner production — nice. (For more about Scott's involvement with S&D, look here.)
If you want to order your own Uni Watch anniversary patch, you can do that here. And if you already have a patch and have sewn it onto something, let's have a look.
• • • • •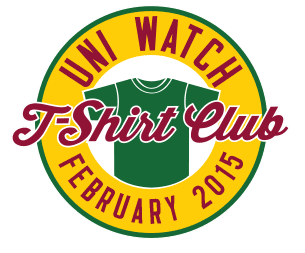 T-Shirt Club reminder: In case you missed it yesterday, the Uni Watch T-Shirt Club's February design is now available for purchase. Full details here, or just go straight to the ordering page.
• • • • •

Baseball News: The Mariners will be unveiling a new Sunday home alternate uni on Friday. I've seen it and can report that it's a nice little addition to their wardrobe but definitely not a big deal. That last link also includes a really nice slideshow of Seattle baseball history. … More on those pocketed BP jerseys that Phil wrote about last weekend: the Royals wore them too, and Leigh Bellinger has one in his collection. "Unfortunately, no uniform number is written on the tag, so I have no way of knowing who wore it, but I like to think it was George Brett," he says. "¦ Students at an Indiana high school were each assigned a city and then had to come up with proposals — including uniforms, mascots, and more — to move the Rays to that city. "¦ Here's the logo for the inaugural World Baseball Softball Confederation Premier 12 tourney, which will take place in Tokyo this November. Further details here. … New mascot, as yet unnamed, for the South Bend Cubs. … Safeco Field in Seattle is slated to become MLB's first LED-lighted stadium (thanks, Mike). … The Mets are increasing the size of their scoreboard screen. "¦ Yesterday's Ticker had the news that BYU is relaxing its anti-beard rules. Now the Supreme Court has unanimously ruled that prison officials can't prohibit Muslims from growing beards. Can the Yankees' beard ban be far behind? At the very least, this would be a good time for someone to do a House of David throwback game.

NFL News: Concussion discussion: Mike Ditka says he wouldn't let his kid play football. "¦ Here's something odd: a 1939 photo showing a Bears team jacket with the 1939 New York World's Fair "trylon and perisphere" logo. Strange that a Chicago team would commemorate an NYC event. "The Bears did play in New York against the Giants at the Polo Grounds on Oct. 22, 1939," notes Ryan Becerra, so maybe that explains it. Anyone know more? … White Castle is not an NFL sponsor, so they Photoshopped all the league and team logos out of the jerseys in this ad (from Joseph Bailey). … According to this story, Seahawks WR Jermaine Kearse offered to trade his helmet to the fan who ended up with the game-winning ball from Sunday's AFC championship game, which invites "Gotcha!" retorts from those opposed to the NFL's one-helmet rule (from Scott Lederer). "¦ Todd Radom has written a very nice piece on Super Bowl artwork. "¦ The NFL will use narrower goalposts for the Pro Bowl — you know, to help you take the game more seriously. "¦ Minor kerfuffle in New England, where Pats WR Julian Edelman was shown on TV wearing a less-than-wholesome T-shirt. "¦ When the Seahawks went to the Super Bowl last year, the city of Spokane hung a 12th Man banner on its clock tower, but not this year.

College Football News: Penn State's athletic director, who said it was "inappropriate and insensitive" for the PSU hockey team to wear "409" helmet decals in the wake of Joe Paterno's wins being restored, has now apologized for that statement. … If you're into rankings, here's one observer's picks for the best and worst college football uniforms of the past season (thanks, Phil). … Also from Phil: Looks like Pitt has added its script logo just below the jersey collar. "¦ Ohio State alums who've gone on to play in the NFL now have their own lockers back at OSU (from Andre Torres).

Hockey News: Maple Leafs fans have been showing their disgust with the team's lousy performance by throwing jerseys onto the ice, and now three such fans have been banned from the team's arena. At least one observer thinks these fans should find better ways to protest. Or maybe they can just be distracted by this amazing ice projection that the team has been doing (thanks to Phil for that last link). "¦ New GFGS jerseys for UMass-Lowell (thanks, Phil). "¦ "Superhero Weekend" jerseys for the Alaska Aces (Phil again).

NBA News: The Heat's "black tie" unis, which I feel like we've been hearing about forever, finally debuted last night. Note the Adidas stripes on the shoulders — a first for a regular season game, I'm pretty sure. Check that, it's actually four stripes, not three. "¦ The Heat's cheerleaders wore uniforms that matched what the players were wearing. "¦ Here are the socks that'll be worn in the NBA All-Star Game. "¦ Oh baby, Matt Miskelly was clearing out some old posters that his dad designed and came up with these NBA beauties.

College Hoops News: People never get tired of writing article about menswear designer Alexander Julian's connection to UNC. "¦ The South Carolina coaching staff wore Coaches vs. Cancer socks last night.

Soccer News: Adidas's new deal with ManU is so expensive that the company is reassessing its relationship with the England cricket team (from George Chilvers). … Interesting series of infographics showing which parts of the UK are buying which jerseys. … Here's a look at U.S. men's national team kits over the years (thanks, Phil). … Also from Phil: All MLS teams will be doing that thing where they put season ticket-holders' faces in their uni numbers. "¦ New camouflage jersey for the Norwegian club Sandefjords. "It's made by Macron, the people behind Napoli's camo and faux-denim monstrosities," says Yusuke Toyoda.

Grab Bag: A 53-year-old Brooklyn man, distraught after his wife divorced him, has found solace by making his own miniature golf course out of trash. "¦ Cycling's governing body United Cycliste Internationale (UCI) has blocked the IAM Cycling team's jersey design that features the rider's NOB. "The NOB apparently will be moved to above the sponsor's name," says Sean Clancy. Further info down around the middle of this page. … New logos for Jackson County, Mississippi, the United Fresh Produce Association, and, possibly, Wrestlemania 32. … England's and India's cricket teams went blue-vs.-blue the other day. "With only ten or so major cricket-playing countries, you'd think they'd be able to get some sort of contrast," says Richard Hunter. "¦ Louisville has extended its contract with Adidas (thanks, Phil). "¦ How bright is Nike's Aussie Open tennis attire? So bright that it caused a reflection on Roger Federer's skin (from Cork Gaines). "¦ Some British policemen are trading in their helmets for peaked hats. "¦ The Ben Hogan golf club line, dormant since 2008, is being revived. "¦ Interesting note about newly elected Syracuse-area Congressman John Katko: "At his swearing in ceremony on Jan. 6, Katko wore a purple tie as a symbol of his bipartisanship. On Tuesday night [at the State of the Union address], he wore an orange and blue striped tie as a nod to Syracuse University" (from Matt Dowell).