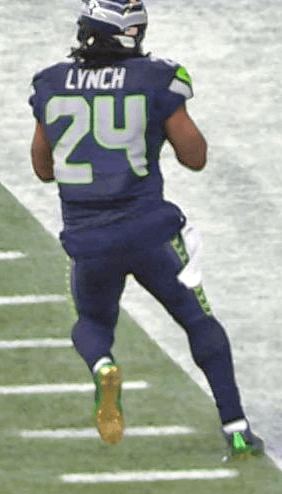 In the latest case of an unnecessary soap opera that made me feel like a few of my brain cells were dying off, Seahawks running back Marshawn Lynch had planned to wear gold cleats for yesterday's NFC championship game against the Packers. But NFL footwear can only be some combination of black, white, and team colors, so the NFL threatened to keep Lynch from playing.
Lynch ultimately relented and wore blue-and-green cleats with gold soles (as seen at right). This created a bonus soap opera among fans who mistakenly thought the gold soles were Lynch's way of saying "Fuck you, you can't make me!" to the league. In fact, he's been wearing the gold soles all season long, as you can see here, here, and here.
This whole melodrama makes my head hurt. Here's a thought: Wear your regular fucking cleats already and spare us all the bullshit. Jeez.
In other news from yesterday's conference championship games:
• No surprise to see the Seahawks wearing bright-green mouthguards, but definitely surprising to see Packers linebacker Clay Matthews wearing one.
• At one point the yards-to-go info in Fox's score bug was off by 40 yards.
• Turning the Colts/Pats game, someone on the New England sideline was wearing an old Adidas jacket.
• Some Pats tailgaters had an effigy of Andrew Luck with the wrong number font, among other uniform discrepancies.
• Colts defensive tackle Arthur Jones went a little heavy on the eye black.
• Two recurring uni quirks for the Colts: Running back Dan Herron once again wore eye black under only his left eye, and wide receiver Hakeem Nicks once again had those strips of black tape on the outer bars of his facemask, which you can just barely see here.
• In a first (at least to me), the Colts had chicken broth available on their sideline.
• No photo, but Patriots offensive lineman Ryan Wendell, who was filling in at center, wore a towel that appeared to say, "Stork" — an apparent reference to injured center Bryan Stork. Not clear if that was a tribute to Stork or if he was literally using Stork's towel.
As for the Stupor Bowl, the NFC is the designated home conference this year, so Seattle will presumably go full-scuba. That's going to make for an ugly game, because Seattle's costumes liook like shite Seattle's jerseys/pants/helmets and New England's pants will all be navy. Whaddaya gonna do.
Tomorrow we'll take a look at some serious Super Bowl uni trivia involving these two teams, courtesy of reader Jay Braiman, who's crunched some numbers that I think you'll find very interesting.
(My thanks to @bryanwdc, Tim Cross, Seth Shaw, Jim Walaitis, and David Westfall for their contributions.)
•  •  •  •  •
QBC panel discussion audio: In case you missed it when Phil posted it on Saturday, an audio recording of the uniform panel discussion that I moderated at the recent Queens Baseball Convention is now available. The other panelists were uniform designer/historian Todd Radom; game-used jersey experts Bill Henderson and Nick DiSalvo; Mets uni number expert Jon Springer; irrepressible Mets stitcher Russ Gompers (who should really have his own podcast, or maybe his own TV show or nightclub act); and our own Phil Hecken. The discussion runs about an hour — enjoy:
•  •  •  •  •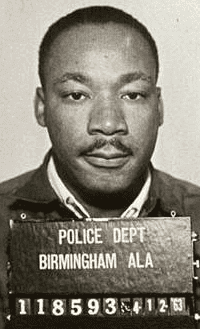 Today is Martin Luther King Jr. Day, when we honor the life of the greatest American of the past century. King's profile is particularly high at the moment because of the film Selma, which I assume some of you have seen by now.
I saw Selma just before Christmas. It falls prey to some of the clichéd conventions of biopics, and there's been some controversy over the film's portrayal of Lyndon Johnson, but for the most part it's a super-powerful piece of work that's absolutely worth seeing. (At the risk of highlighting something trivial, I'll also mention that some of the Alabama policemen shown in the film have really interesting Alabama-shaped sleeve patches on their uniforms.)
The events shown in the movie took place in 1965 — a year after I was born. I cannot express to you how shameful it feels to me, how unacceptable, that these beatings, killings, acts of domestic terrorism, denials of basic rights, and other events took place within my lifetime. During much of the movie I literally felt sick to my stomach, like I was going to throw up. I managed not to do that, but instead, with about 15 minutes left in the movie, I began to cry — not due to any specific trigger but because of the accumulated horror and disgust that I felt over these events having taken place in my country, in my lifetime. I kept sobbing for about 10 minutes after the movie ended. The crying eventually stopped, but the horror, disgust, revulsion, and shame remain.
Two additional thoughts:
1. The film gives the impression that the Voting Rights Act of 1965 removed all the legal barriers to blacks registering to vote. It did not. Many southern states challenged the law's legitimacy and attempted to retain their poll taxes and literacy tests. The Supreme Court didn't finally strike those down until 1966. Again, it's shameful and unacceptable that it took so long.
2. It's worth noting that King was only 39 when he was assassinated in 1968. If he'd been allowed to live out his natural life, he might still be alive today at 86. Think about how much he accomplished in so little time — and how much more he could have done if he'd had the chance to do so. Sigh.
•  •  •  •  •

Baseball News: Cardinals personnel wore Oscar Taveras memorial buttons at the team's recent Winter Warm-Up event. In addition, the Cards will wear an "OT" memorial patch for the upcoming season. This has already prompted controversy among those who think Taveres shouldn't be uni-memorialized because he died while driving drunk and the accident took his girlfriend's life as well as his own. "¦ Kenn Tomasch attended one of those old-timey "base ball" games and took a lot of photos. "¦ New uniforms for the Korean team SK Wyverns (from @MyKBO).

NFL News: Happens like clockwork every year: With the Super Bowl approaching, there are more stories about counterfeit jerseys. "¦ Here's something I don't recall having seen: Back when Sam Wyche coached the Bengals, he wore a cross on his headset. "Not as eye-catching as Mike Singletary's necklace, but still," says Mike Engle. "¦ You probably knew already that the Pats have one wordmark on their jerseys and another one that they use in their end zones and on their neck bumpers. But did you know they have a third wordmark displayed on their sideline? Too much! (From John Pritchard.) "¦ Great catch by Daniel Merz, who was watching the 1978 AFC Wild Card Game and spotted Dolphins RB Norm Bulaich wearing the team's old helmet logo with the dolphin's head inside the sunburst. That logo was officially retired after 1973 but still popped up here and there during the next season or two. But 1978? Wow.

College Football News: Is UNLV planning to go GFGS? Maybe. "¦ After the announcement last week that Joe Paterno's wins were being restored to his record, the Penn State hockey team wore "409" helmet decals. Now the school's athletic directors says that was "inappropriate and insensitive." "She'll be dealing with the fallout for this from parts of the Penn State fan base for the rest of her tenure," says William Yurasko).

Hockey News: Today's installment of the comic strip "Pearls Before Swine" features a character who returns from a trip to Montreal wearing a Canadiens jersey. I'm told that this same character/jersey will appear at least one more time this week. "¦ Jeff Barak has done a retrospective of all the jerseys Rob Blake wore with the Kings.

NBA News: The Warriors wore their sleeved grey alts on Saturday. A small note on this page refers to this as "a Saturday tradition." I'd say that's a misuse of the word "tradition," but whatever — I didn't realize that this uni had a designated Saturday protocol. "¦ When NBA teams have worn sleeved grey uniforms this season, the refs have worn the older jerseys with the contrasting sleeves, presumably to avoid any visual confusion. But when the Magic went sleeved/grey yesterday, the refs wore their current grey jerseys (from David Arnott).

College and High School Hoops News: "I Can't Breathe" T-shirts continue to make news and cause controversy, most recently at a Pennsylvania high school. … How much do people in Alabama love the Crimson Tide? So much that the teams at now-defunct Millport High, about an hour from Tuscaloosa, were called the Junior Tide (from Dustin Semore, who stresses that that's not him in the photo). "¦ Illinois wore 1989 throwbacks yesterday but had to change the shorts logo, because Chief Illiniwek is now off-limits. Pretty sure they've worn those throwbacks at least one other time this season, but I hadn't been aware of the logo switcheroo until now. But despite the Chief being banished from the uniform, he apparently made a halftime appearance (from Dave Garabedian and @joshneisler). "¦ The Mississippi coaching staff went open-collared with no neckties for Saturday night's game against Arkansas. "Very 'business casual,'" says Seth Shaw. "¦ Remember that St. John's player who rolls up the bottoms of his shorts? Jillian Alleyne of the Oregon women's team does the same thing. Here's a shot of her doing it in yesterday's game against Washington State. As you can also see in that shot, WSU's uni numbers really need a light-colored outline or something. "When I was sitting up at the main concourse level, they were impossible to read," says Greg Brown.

Soccer News: Petro-dollars are changing the look of European jersey sponsorships. "¦ Julio Vera of the Wenatchee Fire wore No. 100 on Saturday (from @OlyTownFC). "¦ New third kit for Southampton (from Yusuke Toyoda). "¦ Also from Yusuke: Hull City's James Chester dislocated his shoulder yesterday and used his jersey as a makeshift sling. … FC Copenhagen will not be able to use the city's coat of arms on its jerseys.

Grab Bag: As you may have heard over the weekend, rock and roll svengali Kim Fowley, the man behind the Runaways, has died. Whatever else you can say about him, he had a fondness for sleeve patches. "¦ Lots of cycling kits ranked here (from @FormerDirtDart). "¦ A Richard Childress Racing employee has been accused of stealing some racing suits and selling them on eBay (from David Firestone). "¦ Also from David: John Force Racing is switching to Chevy. "It should also be noted that this is the first time in 29 years that John Force won't be sponsored by Castrol, as he lost that sponsorship at the end of 2014," says David. "Castol and Force were one year shy of tying the record for longest sponsor/driver pair, currently held by Budweiser/Kenny Bernstein at 30 years." "¦ And one more racing item from David: Press Pass, the exclusive manufacturer of NASCAR trading cards, has gone belly-up. "¦ The most interesting thing about those "Choose lovin'" commercials that McDonald's has been running for the past few weeks is that they conclude with the McD's logo against a field of blue — a color that, to my knowledge, has never been part of the company's visual program before. "¦ Graham Clayton reports that a demonstration game of Australian rules football was played during the 1956 Melbourne Summer Olympics, featuring a combined VAFA team and a combined VFL/VFA team wearing pretty cool Olympics-themed uniforms. "¦ The Australian Open is now underway, and we can say this much about Rafael Nadal: At least all his ridiculous neon/highlighter accessories match the color of the ball. "¦ Speaking of Nadal, his shoes have a little "09" on the back — the year he won this tournament (thanks, Phil). "¦ Burton Ruby, who ran the company that made Sansabelt slacks, recently passed away (from Jordan Cutler). "¦ This is pretty cool: an airline seat cover repurposed as a leather bag (from Yusuke Toyoda). … Johns Hopkins' lacrosse jerseys now have the B1G logo (from Griffin Smith).