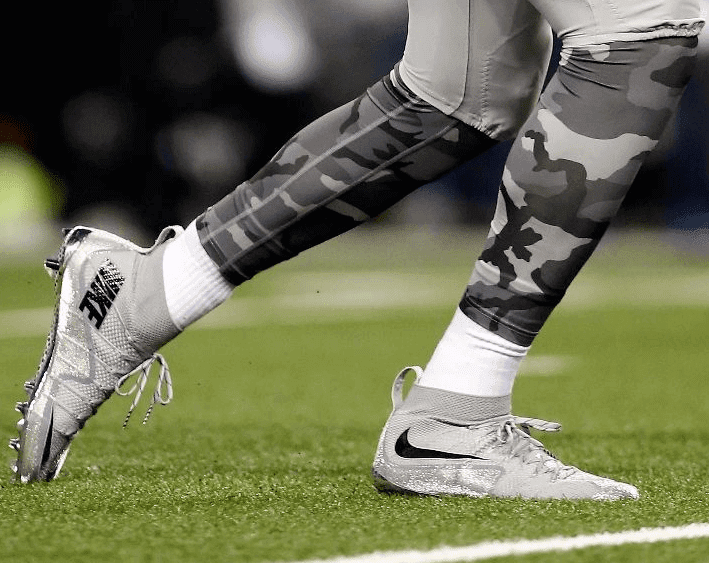 Lots of people were wondering if Oregon would pull some sort of uni-related surprise in last night's national championship game against Ohio State. Would the Ducks retreat to the dressing room after pregame warm-ups and come out in a completely new design? Would they change uniforms at halftime?
Turns out Oregon's uniforms did have a new wrinkle last night, but it was the lamest, most mundane one imaginable: They wore G.I. Joe tights. Boy, that's innovative, eh? Looks like someone's bag of tricks has run dry.
Some other uni-related notes on last night's game:
• Ohio State running back Ezekiel Elliott played the first half with his usual crop-top jersey style. But in the second half his jersey was full-length. Pretty sure it was the same jersey — it was tucked up under his pads and then came loose.
• The CFP logo was white on Oregon's helmet but black on Ohio State's. That represented a change for Oregon, who had worn the black version in the Rose Bowl. But the helmet decals matched the "2015" jersey patches: white with a black football for OSU, vice versa for Oregon.
• Speaking of the "2015" patch, the zebras wore it too.
• Ohio State wide receiver Michael Thomas had several "6" decals on his helmet, in addition to the familiar buckeye decals. I'm told that this refers to "Zone 6," which is the OSU receiving corps' term for the end zone. (For further details, scroll down to the fifth item on this list.)
• We had a lot of back-and-forth chatter last week regarding the end zones. Would they be black, or would an extra layer of team-color paint be applied? Turns out they were black. For further info on the thinking behind this, check out this excellent article by longtime Uni Watch comrade Cork Gaines.
• The "2015" logo (the same one that was worn as a jersey patch) was even printed on some of the confetti — all of which made it that much more surprising to see the that the championship T-shirt had "2014 National Champions" on the chest.
• The postgame celebration included a shot of LeBron James wearing a Cavs cap and an OSU jersey. Here's a view from the front.
•  Looks like the championship trophy is particularly susceptible to fingerprints.
• Good to know the Eugene Police Dept. had its priorities straight yesterday.
(My thanks to Chris Flinn, Adam Stockinger, and Jordon Welle for their contributions.)
•  •  •  •  •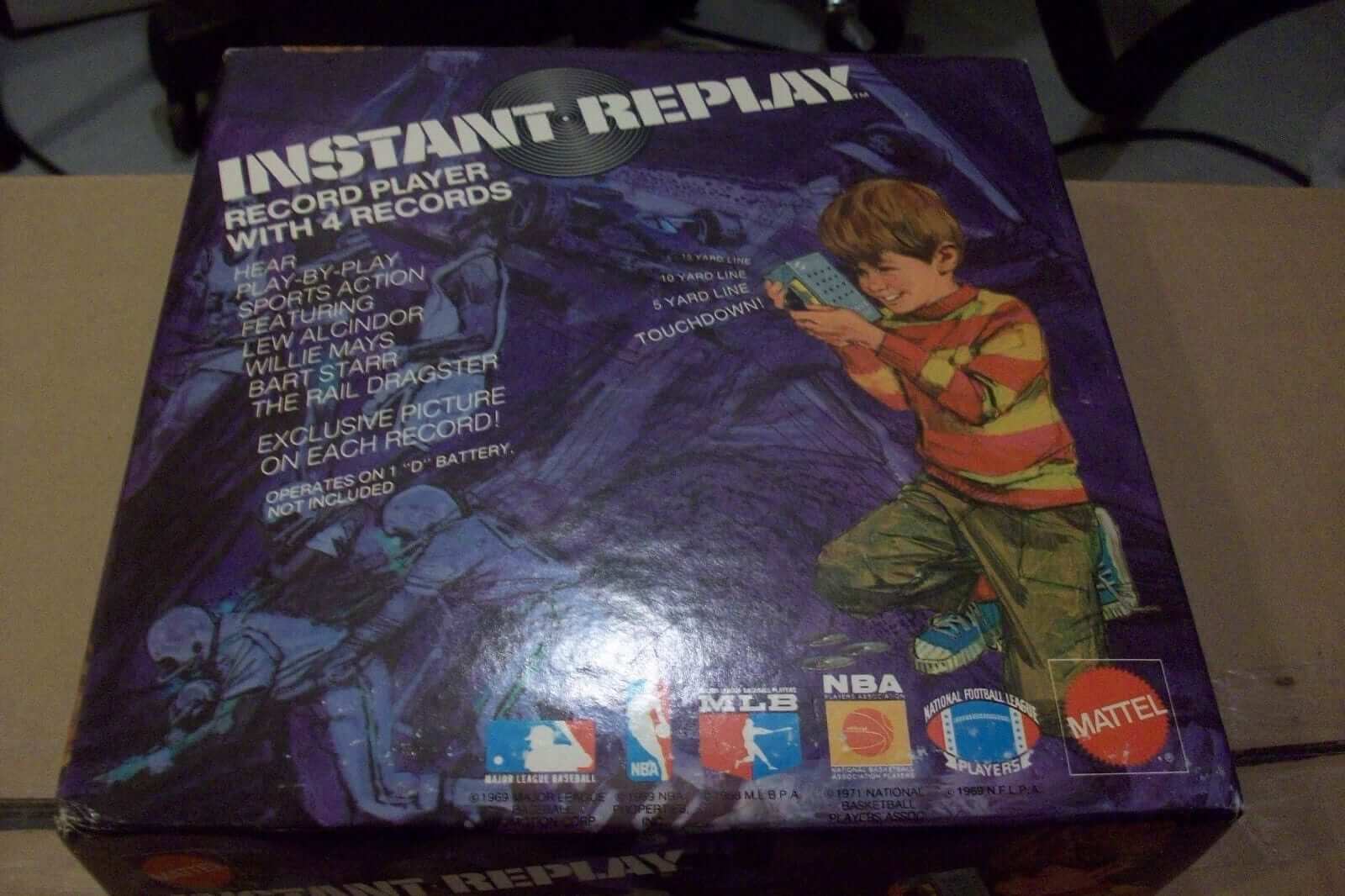 Click to enlarge
Collector's Corner
By Brinke Guthrie
This is one of the coolest things ever from back in the day — the Mattel Instant Replay. It looked like a handheld transistor radio, but you'd pop in special discs with play-by-play on 'em. Just like being there! This one includes 14 discs with players like Bart Starr, Lew Alcindor, and Willie Mays.
That's a tough one to top, but here are the rest of this week's picks:
• This seat cushion says "Super Bowl" on it, and the listing says it's from the first game in January of 1967. But the term "Super Bowl" name wasn't officially in use until SB III, so your guess is as good as mine as to the authenticity.
• Speaking of seat cushions, here's one from the original Ice Bowl on New Year's Eve of 1967, where the Packers hosted the Cowboys in arctic conditions. The Pack would go on to defend their Super Bowl I title against the Ray-Duhz.
• Here's a set of 1970's NHL thermal cups, with art by the incomparable Nick Volpe.
• Here's a late-1960s KC Chiefs ceramic stein. Note the different-than-usual facemask treatment.
• A few vintage NFL posters here. All 26 then-current NFL teams are represented in this 1970 promo poster from Chase and Sanborn. Gotta be Otis Taylor in this KC Chiefs one, and here's a Packers poster from 1968.
• Nice graphics on this (empty) can of Dolphin Beer, "Florida's Premium Beer."
• Take a look at Gale Sayers's helmet on the cover of this 1967 Dell Sports NFL preview. Looks pretty low-tech compared to today, doesn't it?
• Stay dry with this St. Louis football Cardinals rain poncho.
• Look at this 1960s L.A. Rams bobblehead in mint condition! He's priced like it, too.
• Nice cover art on this "This Is NFL Football/49ers Edition" from 1967. Thirty-one pages, including game terminology and schedule. Don't you wish they still put out stuff like this?
• The Central Bank is where the ABA's Denver Rockets bank!
• Technigraph helmet plaque alert! This seller has the Pats, Jets, Chiefs, and Saints available for sale.
•  And we wrap up with one from reader Mark Stephen Delrossi: a great assortment of vintage Philadelphia sports pins.
• • • • •
Patch update: It took a while, but the Uni Watch 15th-anniversary patch is finally back in stock. You can order yours here.
While we're at it, I still have a small supply of 15th-anniversary stickers available. Full details on how to order those are here.
Finally, thanks to the more than 200 of you who purchased the first offering from the Uni Watch T-Shirt club. The February design will be available next week (after that we'll settle into a regular monthly rhythm), and I hope to be able to show it to you later this week.
• • • • •
Uni Watch News Ticker
By Garrett McGrath

Baseball News: The Brewers are letting fans vote for their favorite T-shirt designs to be given away on home Fridays during the 2015 season (from Patrick O'Neill). [As an aside, that's an apostrophe catastrophe in the splash photo. Grrrrr. "" PL]

College Football News: Good story about how Oregon's "Puddles" mascot won out over a rough and tough superhero alternative mascot (from Gordon Blau). … Here's more about those prototype Arizona State uniforms from Adidas that are circulating (thanks, Phil). … "I am late on this but Jalston Fowler, No. 45 for Alabama, was wearing an older Nike jersey template at the SEC championship game, instead of the Nike Mach speed template alabama has been wearing all season," says Caleb King.

Soccer News: The Baltimore Blast and Syracuse Silver Knights of Major Arena Soccer League found themselves in a red-vs.-orange game on Saturday. Baltimore changed to white at the half (thanks, Phil). "¦ Following threats of a fan boycott, Cardiff City wore blue kits at home for the first time since the owner changed the team color to red in 2012 (from Yusuke Toyoda). "¦ Also from Yusuke: Players on the Swedish club Halmstad the players don't like the team's new away shirt.

NBA News: The Spurs went for the ol' champion's visit to the White House and presented president Obama with an outdated jersey without the NBA logo on the back (thanks, Phil). … The Suns are making four-fingered foam hands in honor of Gerald Green (thanks, Paul).

College Hoops News: Louisville will honor the 1980 Championship Team at halftime Of Duke game in addition to wearing throwback unis (thanks, Phil). … "While attending the UAB basketball game vs FIU, I noticed that every UAB player wore two different colored shoes, one primarily white and one primarily green," says Nick Salyers. "It is a conscious choice by UAB head coach Jerod Haase, in order to raise awareness for Pediatric Cancer, in conjunction with Children's Hospital of Alabama, after the team informally adopted cancer survivor Elijah Seritt."

Grab Bag: Do you consider yourself a cheesehead? If so (or even if you don't), then prove it by taking this Packers uniform quiz (thanks, Phil). … Penn State hockey will be unveiling a new alternate sweater on Saturday, when they're slated to play Michigan State (thanks, Phil). … An artist has reimagined fashionable brands as they would exist in a grocery store (from Gordon Blau). … "Saw all of these striped stirrups at a Goodwill in Santa Rosa," says Daniel Klempner. "An entire team's worth!" … The MECCA floor in Milwaukee is being put up for sale (from Jeff Ash). … Trek Factory Racing unveiled its new cycling kit last week (from Sean Clancy). … "The Elite Mixed Climbing competition at the Ouray Ice Festival, one of the premier ice and mixed climbing competitions in the world, was this weekend in Colorado," says Jake Snyder. "As I was reading about the results, I started noticing an interesting trend: Many of the competitors wear white FootJoy golf gloves on both hands!"