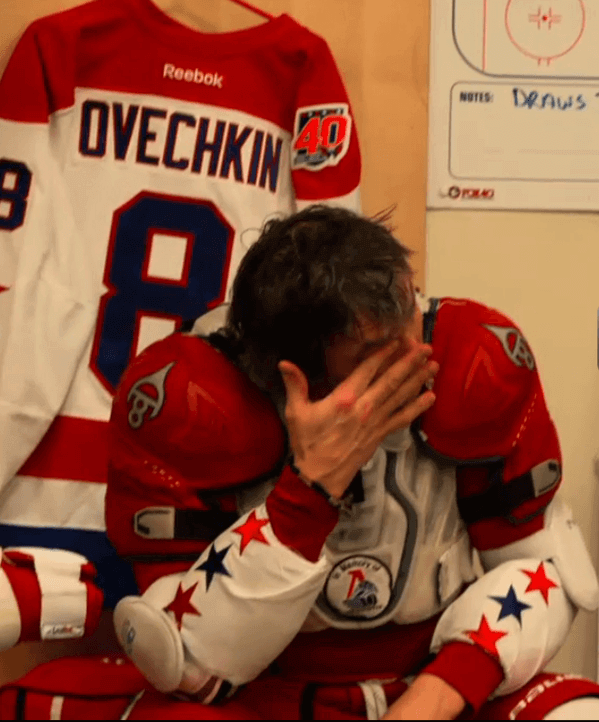 [Editor's Note: Charles Noerenberg recently submitted a Ticker entry that was so interesting and so well-developed that I've decided to turn it into a guest entry. Enjoy. "" PL]
By Charles Noerenberg
I recently came across the photo you see above, which shows Alex Ovechkin of the Capitals sitting in the locker room, with his throwback third jersey hanging behind him. The interesting thing is that his elbow pads have the throwback jersey's sleeve pattern sewn onto them, stars and all.
As you probably recall, the NHL's new rules regarding players tucking in their jerseys were more or less aimed at Ovie. I didn't realize that the changes also included restrictions on rolling up sleeves, which is something Ovie has always done. Here are old two shots of his rolled-up sleeves, which expose his pads [click to enlarge]: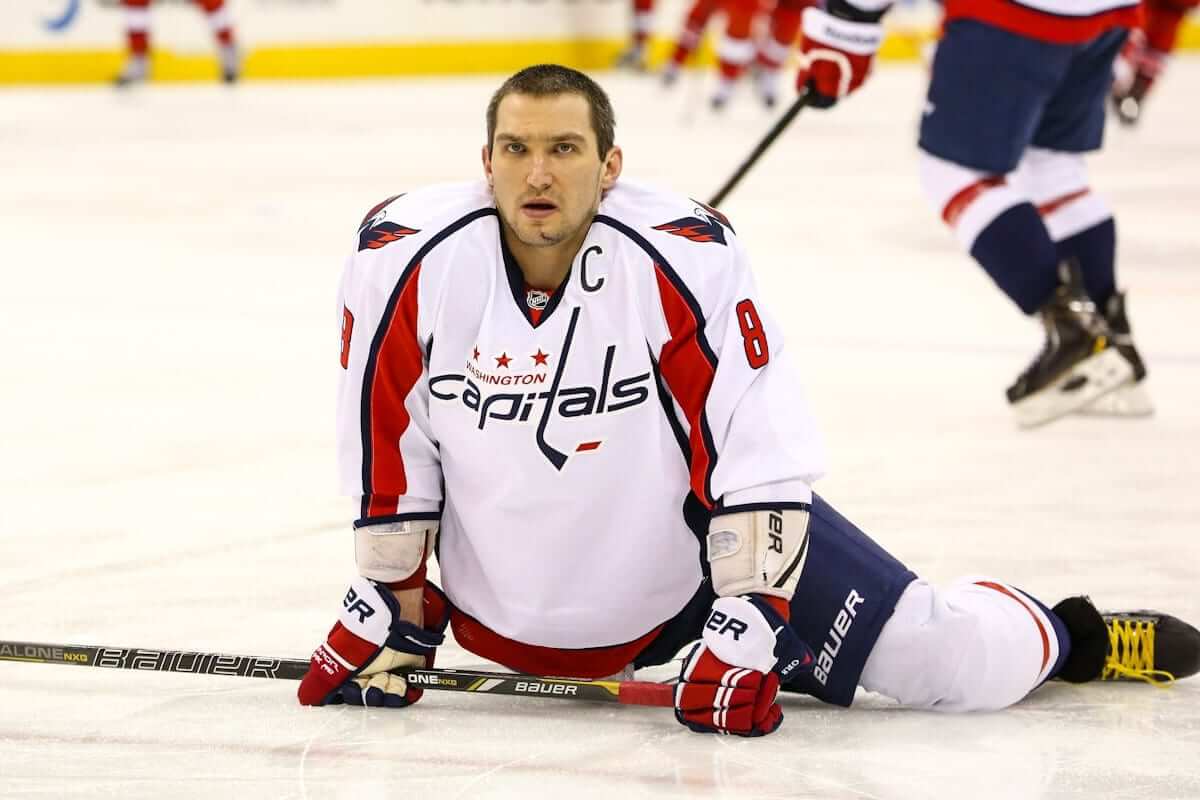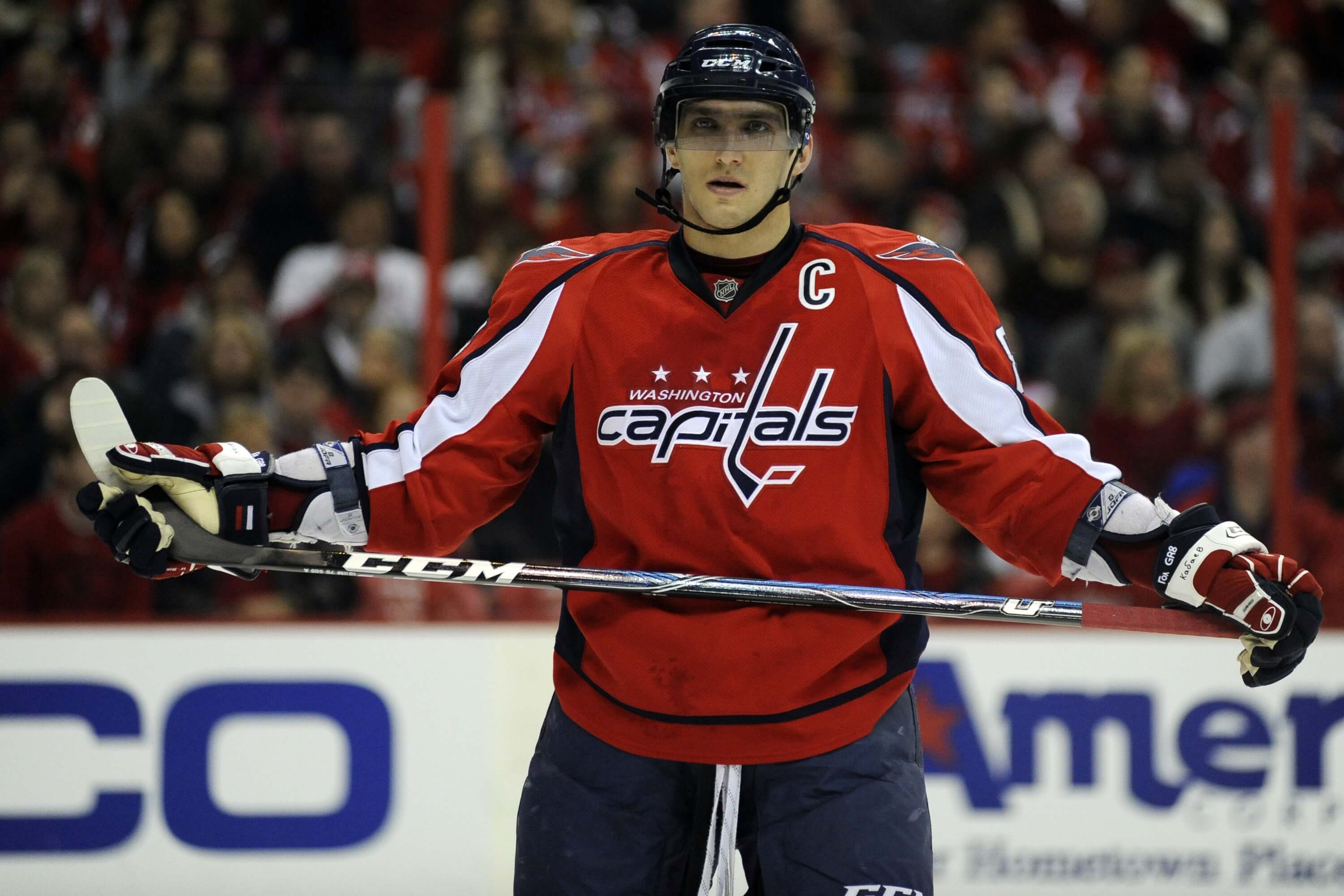 This season, however, the equipment staff has begun sewing the "extra" sleeves onto his elbow pads. So when he hikes up his jersey sleeves, it exposes the faux sleeve on the pad. You can tell when he's doing this because the jersey sleeve has contrasting trim at the cuff. They've done this for all three of the team's jerseys [click to enlarge]: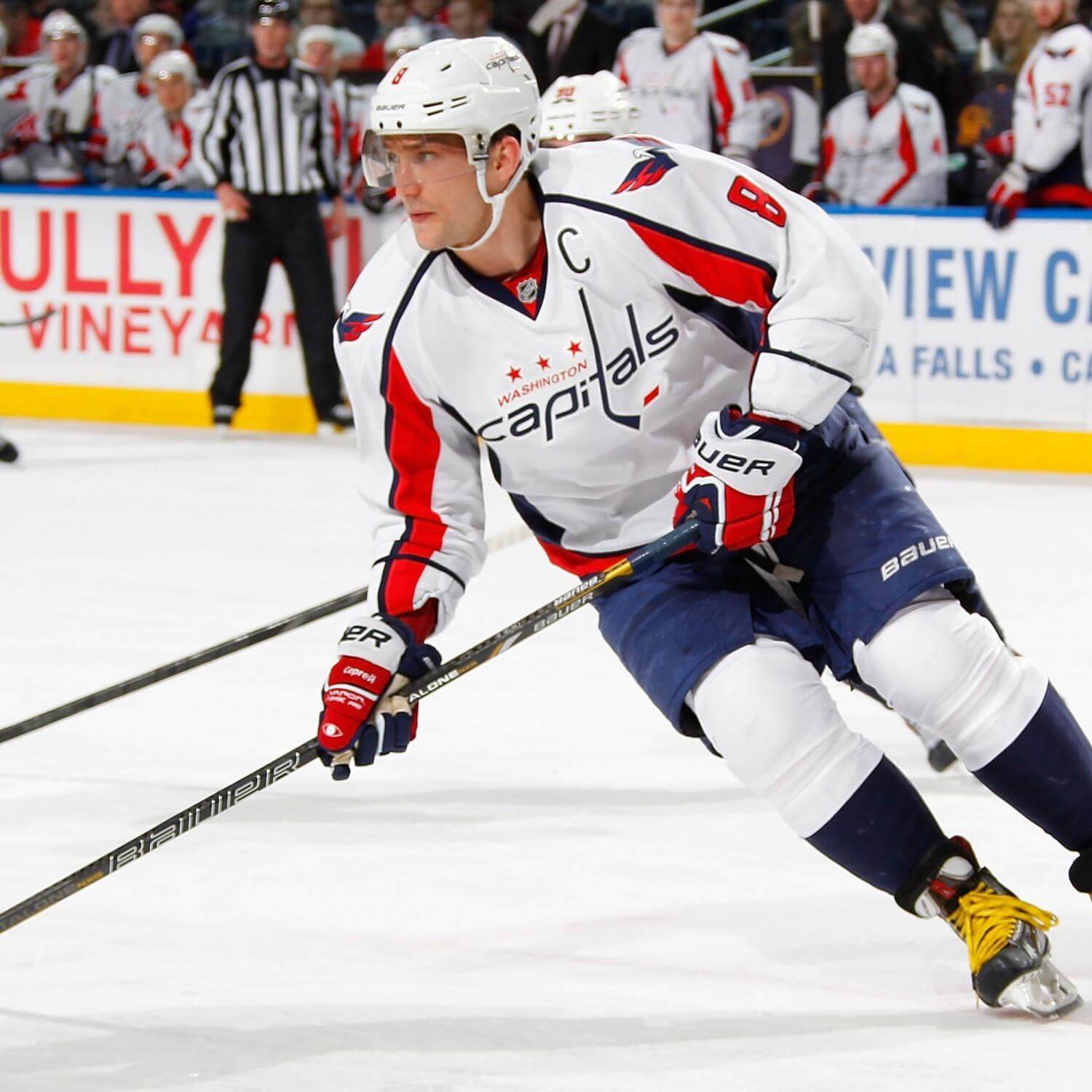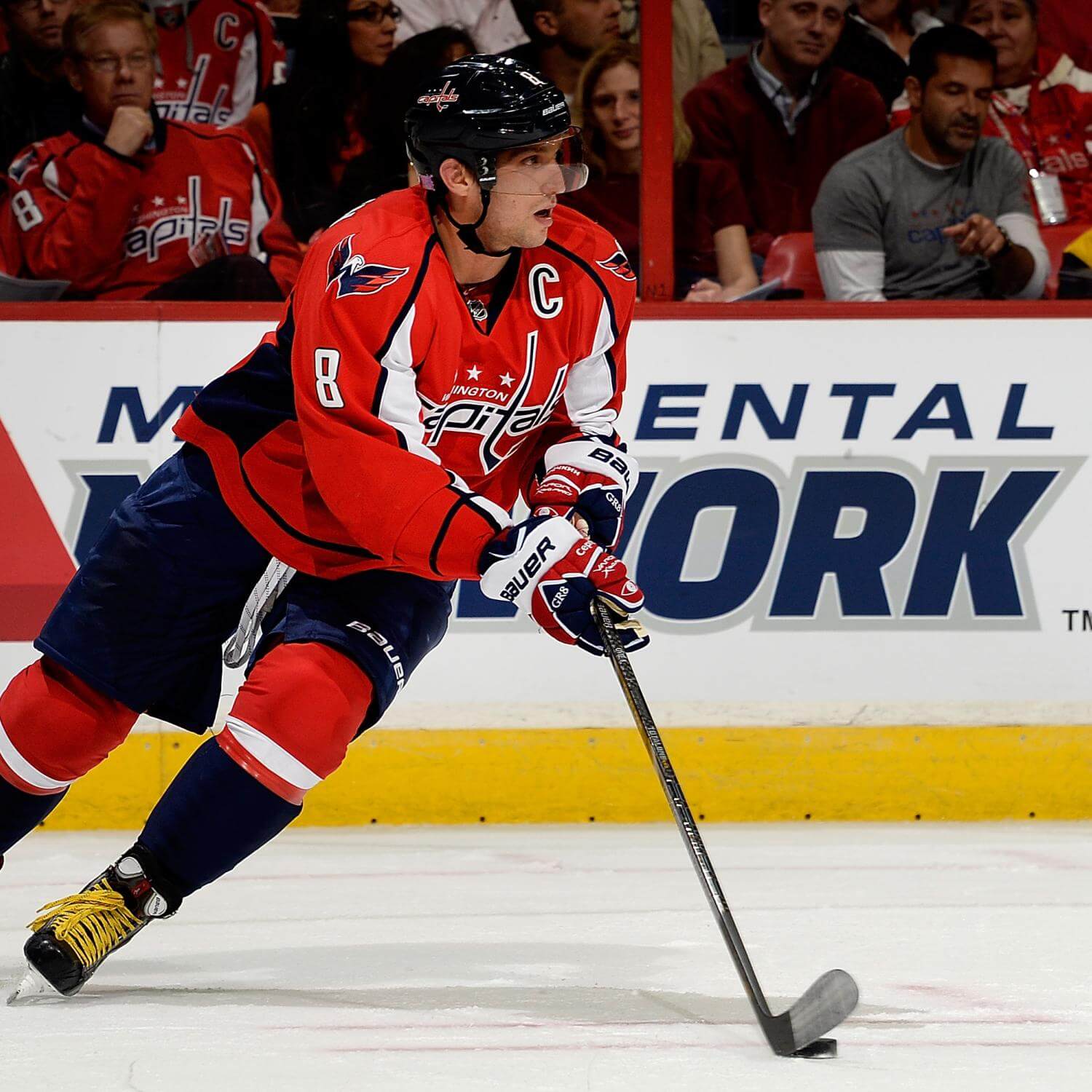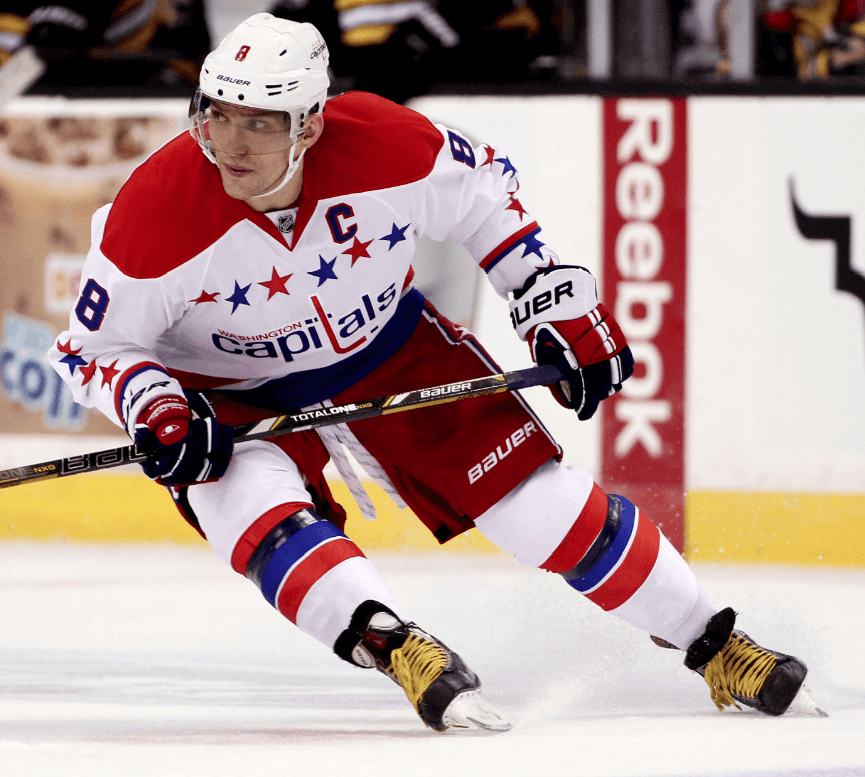 It's amazing for me to think that Ovechkin has three different sets of elbow pads in rotation, and that the equipment staff has to remember which ones to include on road trips. I also wonder if he's ever worn the wrong pads. One thing's for sure; I'll never look at a photo of Ovie the same again!
I know a few other players like Marian Hossa also roll up their sleeves, but I'll have to do some further digging to see if they've gotten similar elbow pad modifications. [In Hossa's case, it doesn't look like it. "" PL]
•  •  •  •  •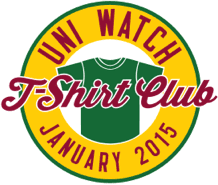 LAST CALL for the January design: Today is the last day to order the limited-edition "Home" design from the Uni Watch T-Shirt Club. Due to production issues, the ordering deadline, which had originally been 11pm Eastern tonight, has been moved up to 4pm Eastern this afternoon. After that time, this shirt will no longer be offered. If you've been waiting to order, do it here, or get the full story on the T-Shirt Club here.
• • • • •

Baseball News: Here's a rarity: a spring training shot of Doc Gooden wearing No. 9! Note the mesh-back caps, too (great find by Dwayne White). "¦ Not new, but here's a very informative post about the Roman Pro Cap Company (from Mark Gonillo).

NFL News: Cowboys QB Tony Romo wore a balaclava and had some helmet stripe issues yesterday (thanks, Phil). "¦ Nice look at the NFL 50th-anniversary logo on LeRoy Kelly's Pro Bowl helmet (from Scott Cummings). "¦ Two Packers DBs were wearing Cristiano Ronaldo shoes yesterday. Lots of folks noticed that — including John Henson of the Milwaukee Bucks (from JohnMark Fisher and Mike Chamernik, respectively). "¦ Colts WR Hakeem Nicks once again wore the black tape on the outer bars of his facemask.

College Football News: Here's how the Oregon jersey will look tonight wth the "2015" patch … Good story on Oregon's equipment staff. … A few days ago I asked about alcohol being sold at tonight's title game. Here's an article on that very issue. … Here's Ohio State DL Michael Bennett talking about why he wears No. 53 for Kosta Karageorge (from Chris Flinn). … Here's our first look at an Adidas-branded Miami uniform, although Phil says, "My Adidas buddy just messaged me to say, 'Those are just samples, not the final product.'" "¦ In a related item, Miami alum Warren Sapp is apparently not a fan of the school's new Adidas affiliation (from Jacob Morrow). "¦ Remember how the Carolina Panthers' mono-black uni was named the best uniform in NFL history or some such nonsense? In a similarly dubious development, Kentucky's mono-black costume has been named "Uniform of the Year" (from Josh Claywell). "¦ Schutt has unveiled a new "smart helmet."

Hockey News: Very cool move by the Ducks and Jets, who tributed Teemu Selanne by wearing every NHL jersey design he ever wore — including Anaheim's Wild Wing jersey! — during warm-ups for last night's game. Additional info here, and there's a closer look at each jersey here (from Eric Goodman). "¦ Nazem Kadri of the Maple Leafs tried to be diplomatic when asked about those dreadful all-star uniforms. "¦ The Sabres will retire Dominek Hasek's number tomorrow.

NBA News: "I Wanted to share the Sesame Street-themed NBA jerseys we made for my nephew's second birthday, which we celebrated at his first ever professional sporting event — Sunday's Clippers/Heat game," says Stuart Friedel. "There are three others that couldn't make it — a blue/pinstriped Magic Cookie Monster, Cavs alt Snuff, and Nuggets yellow striped Bert — but I think the six of us were a good team." Indeed!

College Hoops News: Oregon State and Arizona went color-vs.-color last night. Lots of additional photos on this page (from Eric Fisk).

Soccer News: The Italian team Lazio wore "Je Suis Charlie" kits yesterday. "¦ Yusuke Toyoda reports that several Premier League players this weekend wore black armbands in tribute to the victims of the Paris terror attacks, including Frenchmen Mamadou Sakho of Liverpool and Bafétimbi Gomis of Swansea, who celebrated a goal with a French flag, as well as both teams in the Arsenal/Stoke City game. Arsenal manager Arsène Wenger also wore an armband over his jacket. "¦ In a related item, Puma created an ad poking fun at Wenger's past struggles with his jacket zipper (though "he still can't get it right," says Yusuke).

Grab Bag: Interesting to see that Stuart Scott's very first ESPN broadcast included two uniform mentions. Sounds like he Got Itâ"¢ right from the start (from Patrick Lasseter). … Decent article on flight attendant uniforms. … All sorts of "Je Suis Charlie" merch is selling briskly. "¦ My friend Laura Forde and I cat-sit for each other. She's not a sports fan, but her nephew Alexander is a big Uni Watch enthusiast, so she recently bought a Uni Watch T-shirt for his birthday, and it looks great on him. "¦ Lots of good bicycle head badge photos here (from Joanna Zwiep).