Paul here, pinch-hitting today for Phil. As you can see above, the Ravens were flagged for history's longest penalty during yesterday's game against the Pats. The thing is, New England had two 18-mile penalties on the same play, so everything offset.
In other notes from yesterday's NFL playoff games:
• Someone on the Patriots' sideline was wearing vintage Air Jordans and sweats.
• During pregame warm-ups, Panthers linebacker Thomas Davis wore a visor with the team logo embedded in it. But he didn't wear the visor during the game.
• Another Panthers linebacker, Luke Kuechly, had some issues with his helmet logo beginning to peel off.
• Looks like Panthers quarterback Cam Newton was wearing shin pads under his socks. I'm always amazed more players don't do this — seems like the shins are very exposed and vulnerable.
• Remember how the Cowboys used to tie their jersey collars to their shoulder pads? Panthers center Ryan Kalil was doing that yesterday, and I noticed tackle Mike Remmers doing it as well.
(My thanks to all contributors, including Andy Bentley, Joey Breeland, Tim Cross, Gunter Guzman, Mark Heggen, John Koziol, Glenn Stern, and of course Phil.)
•  •  •  •  •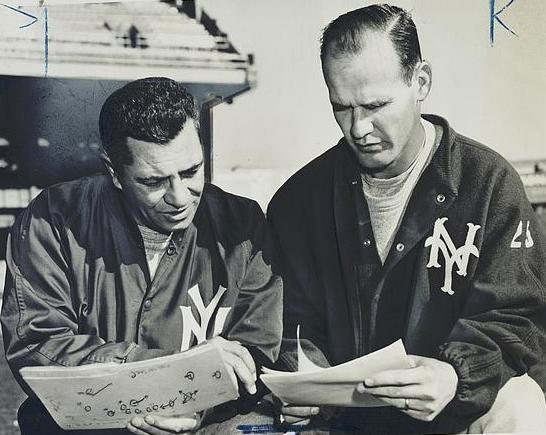 In a "NY" state of mind: One of the big ironies in New York football Giants history is that Vince Lombardi and Tom Landry were both on the team's coaching staff in the 1950s — Lombardi was the offensive coordinator, Landry the defensive coordinator. Both, of course, went on to become immortal head coaches with other teams, primarily during a period when the Giants were having very little on-field success. Old-school Giants fans still rue the fact that they both got away.
The fascinating thing about the photo of Landry and Lombardi shown above, of course, is that they're wearing inconsistent "NY" logos on their jackets — a Yankees-ish version of Lombardi and a New York baseball Giants version for Landry.
Also, Landry has a number on his left sleeve, which means this photo is probably from 1954 or '55, when he was a player-coach.
(Big thanks to Mark Gonillo for sharing this photo.)
• •  •  •  •
Click to enlarge
The king of Queens: Meet Steve Santangelo, one of many Uni Watch readers who said hello to me at yesterday's Queens Baseball Convention. Most of the QBC attendees were wearing Mets gear, but Steve — a Queens native who now lives in New Jersey — went the extra mile by whipping up a DIY jersey for the occasion. And wait, what's that on his sleeve? Let's take a look:
Okay, so the colors clash with the rest of the jersey, but it's still pretty cool.
Steve also brought another DIY Queens-centric jersey — dig (click first photo to enlarge):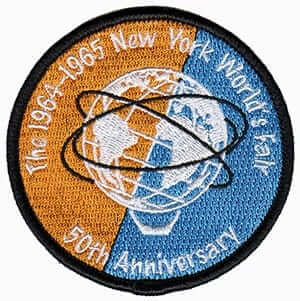 Good stuff, right? As for the rest of the QBC, it was a big success and a lot of fun. Big thanks to everyone who said hi, and doubleplusthanks to the members of the uniform panel that I moderated — Russ Gompers, Jon Springer, Nick DiSalvo, Bill Henderson, Todd Radom, and our own Phil Hecken. Biggest thanks of all to Mets Police blogger Shannon Shark for making the whole event possible. Already looking forward to next year's installment!
•  •  •  •  •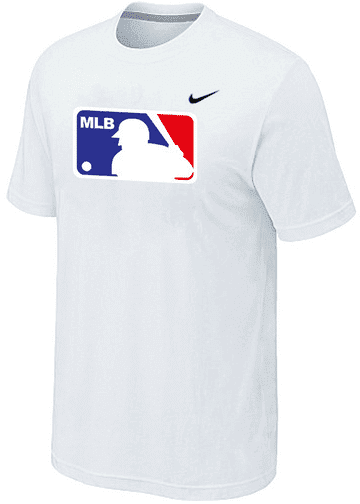 Some thoughts about Nike and MLB: I was talking to a branding consultant about some uni-related stuff the other day, and at one point I asked him if he thought Nike had a shot at getting the MLB uniform contract at some point down the road. He said no, for two reasons:
1. First and foremost, he said, MLB isn't a good fit for Nike — or for Under Armour, for that matter — because Nike's brand image is all about the leveraging of performance technology, and baseball doesn't lend itself very well to that approach. There's too much standing around, not enough contact or one-on-one athleticism. (Of course, that doesn't stop Nike from outfitting plenty of college baseball teams, but that's different than making the huge investment that would be necessary to secure the MLB contract.) This is an interesting point, and something I hadn't thought of before.
2. The consultant also said Nike is all about youth and millennials, while baseball is essentially a legacy sport whose popularity among young people is fading. I've heard this same assessment of baseball's generational appeal (or lack thereof) from other people. I said to him, "Wouldn't that make MLB more likely to go with a company like Nike, to help update the sport's image? And wouldn't that represent a big opportunity for Nike to reinvent baseball's aesthetics?" He basically said (paraphrasing here), "I suppose, but I don't think it would be worth it to Nike. It's just not a good enough fit."
Of course, as we've discussed before, many casual fans mistakenly think Nike already makes MLB's uniforms because of all those undershirt collar logos, which actually have more exposure than the Majestic jersey-sleeve logos, but that's a separate issue.
•  •  •  •  •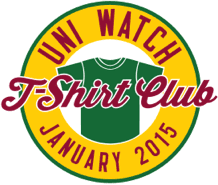 T-Shirt Club reminder: Today's the next-to-last day to order the inaugural offering from the Uni Watch T-Shirt Club. Full details here.
• • • • •

Baseball News: These very unlicensed Hall of Famer patches are endearingly goofy. "Were Gossage's lips that big?" asks Douglas Ford. Did seaver play for the candy canes? Was Reggie's nose that big? Did Catfish Hunter wear a box-hat? Was Phil Niekro an albino? Surprisingly, they nailed Jim Palmer's perfect hair." "¦ Whoa, check out the spectacular jackets worn by the 1914 Boston Braves (thanks, Phil).

College Football News: The jerseys for tomorrow night's title game will apparently have a CFP "2015" patch. Surprising that this wasn't shown in the original uni unveiling photos last week. "¦ Tim Dunn points out an interesting aspect of yesterday's FCS championship game between North Dakota State and Illinois State: both teams were NNOB. "¦ In the Medal of Honor Bowl, Georgia Southern LB Edwin Jackson had mismatched numbers on his helmet and jersey (from John Koziol).

Hockey News: The Flames wore G.I. Joe warm-up jerseys prior to Friday night's game. I'll say this much for the NHL: At least they keep this nonsense restricted to pregame and don't allow it for actual game unis. "¦ Bruins D Adam McQuaid suffered a torn jersey last night (from @BigBill_8). "¦ A few days ago I mentioned that the Kalamazoo Wings did ones of those promotions where they let local kids paint anything they wanted onto the ice. Here's how the resulting game looked last night (from @TJN3). Here's an additional photo — the only other game shot I could find. "¦ Harvard and Yale wore fauxback uniforms for last night's Rivalry on Ice game at Madison Square Garden (from Robert Brashear).

Soccer News: Someone on Swansea — not sure who — was wearing a blank jersey yesterday. Blood jersey, I'm assuming (from Timothy Burke).

Grab Bag: New tiger-striped college hoops uniforms for Auburn (from Clint Richardson). … French skier Alexis Pinturault wore "Je Suis Charlie" on his helmet while competing in the men's giant slalom in Adelboden, Switzerland, yesterday. "¦ Lots of additional "Je Suis Charlie" gestures and related sports-world responses to the French massacre here.