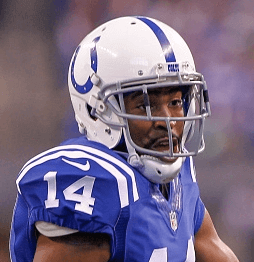 Colts wide receiver Hakeem Nicks had two small bands of black tape on his facemask during yesterday's playoff game against the Bengals. I remembered that he had done the same thing on Dec. 21, so I decided to see how long he'd been doing it prior to yesterday:
Yesterday: Yes
Dec. 28: Yes
Dec. 21: Yes
Dec. 14: Yes
Dec. 7: Yes
Nov. 30: No
Nov. 23: No
Nov. 16: No
I stopped looking after that. So it appears that Nicks did this for the last four games of the regular season, plus yesterday's playoff game. Now, as to why he does it, I have no idea. At least one person has described it as a "Pop Warner-style" move, but I don't understand that reference — like, do Pop Warner players routinely tape up their facemasks? Anyway, I'll be asking the Colts' media office about this today.
A few other notes from the playoffs:
• Colts running back Dan Herron wore eye black under only one eye. (I'm not sure why he'd need any eye black at all — the game was played indoors.)
• Speaking of Herron, he and Bengals defensive lineman Brandon Thompson traded jerseys at the end of yesterday's game. (My initial thought a few weeks ago that jersey-swapping was largely limited to wide receivers appears to have been unfounded. Pretty much everyone is doing it, regardless of position.)
• After the game, Herron was spotted in the Colts' locker room wearing socks adorned with, depending on your point of view, Ohio State buckeye symbols or pot leaves:
Boom Herron rocked Ohio State socks after being the Bengals – https://t.co/2jE61Zza5q pic.twitter.com/264O7Mqod2

— For The Win (@ForTheWin) January 4, 2015
Yes, duh, those are pot leaves. Interestingly, Herron and the Colts will be playing their next game in Colorado. Hmmmmm.
• The spread of the Cowboys' blue Nikelace has reached epidemic proportions. I received a lot of emails and tweets about this yesterday (most of them, I sense, from people who don't watch a whole lot of NFL games until the postseason, although of course I could be wrong about that), so people are definitely noticing. I asked the Cowboys about this a month or so ago and got no response, but I'll ask again.
• Going back to Saturday, Ravens safety Matt Elam received some on-the-spot jersey surgery on the Baltimore sideline.
•  Finally, there's this (which is admittedly not uni-related but is nonetheless one of the weekend's defining visual moments): If you ever doubted that running for president is little more than a series of indignities, check out New Jersey Gov. Chris Christie looking super-awkward while trying to hug Cowboys owner Jerry Jones at the conclusion of the Dallas/Detroit game: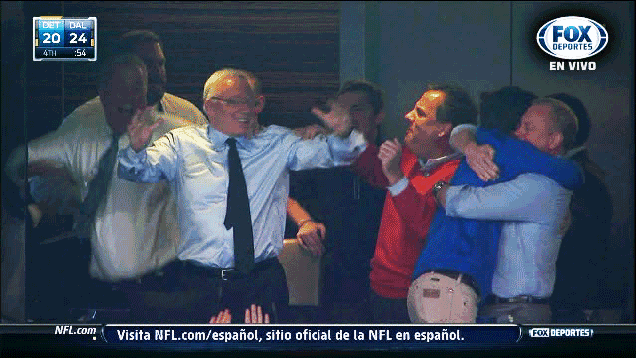 Christie, incidentally, is also a Mets fan. Let's hope we never see him behaving like that around the Wilpons.
(My thanks to Stephen Hayes, Ryan Munthe, and Phil for their contributions.)
•  •  •  •  •
Uni Watch Hit Parade: For the past 10 days or so I've been playing the hell out of Rips, the debut album by longtime indie-rocker Mary Timony's latest band, Ex Hex. (Yes, she also had a solo album called Ex Hex back in 2005, but that wasn't very good, while this new band is sensational.) I'd kinda given up on Timony, whose work hadn't done much for me since the first couple of Helium records back in the mid-1990s, but Rips totally rips. Here are some of its best tracks:
It's a tremendous record — don't miss.
• • • • •
Advertiser Discount: Our friends at American Trench (whose ad runs at the top of the right-hand sidebar) are offering a discount for Uni Watch readers: If you enter the code "UNIWATCH" at checkout, you can get $20 off of this merino wool cap. So it'll be $65 instead of $85 (and with free shipping to boot). Only a few caps are left in each color, so move fast.
• • • • •

Baseball News: Here's some footage of the Reds wearing red alternate jerseys for a 1984 game at Dodger Stadium. The only problem with that is that the Reds didn't have red alternate jerseys in 1984. They did, however, have these red BP jerseys. So the video is apparently an early example of a team wearing BP jerseys for a game (great find by Jerry Wolper). … Also from Jerry: Here's some home movie footage of the Padres and Expos warming up prior to a 1969 game at Jarry Park. … Ferdinand Cesarano was watching a replay of the 1996 World Series and noticed that Braves OF Andruw Jones wore different jerseys in Games 1 and 6. The giveaway: His NOB's arching changed from vertical to radial. … Lots of interesting uniforms on display in this post about Japanese baseball cards (from Jeff Wilk). … According to this Sporting News item, Casey Stengel was once owed money by a minor league team and stole their uniforms as collateral. They never paid up and he kept the unis. … Kevin Graber was looking at an old magazine cover photo and noticed a little "14" embroidered into Pete Rose's stirrup. I've seen that for other teams, but not for the Reds. … New uniforms for the Korean team Hanwha Eagles.

College Football News: Did you hear how the town of Oregon, Ohio, is changing its name on the day of the title game, as a way to support the Buckeyes? Actually, no they're not. … I say a lot of negative things about advertising, but I also like to give credit where it's due. So: I think that Dr. Pepper campaign with the soda salesman who claims to have created the CFP system is pretty damn good (although nothing, not even the best ad campaign, can make that trophy look good).

Hockey News: Here's a pretty good attempt to upgrade the Ducks' uniforms. … New mask for Milwaukee Admirals goaltender Marek Mazanec. … Okay, so this is totally weird but also totally wonderful: former NHL ref Lou Marsh in full uniform, including skates, on the tarpaper roof of a Toronto building. "I believe he is posing with the patented jerk of his thumb that motioned a delinquent player to the penalty box," says Will Scheibler. Yeah, probably, but still — what the fuck?!

NBA News: Yesterday's Ticker mentioned that Rockets G James Harden wore a jersey with the NBA logo on the front on Saturday night. Turns out he also had the front logo on Dec. 31. Those are the only two instances I was able to find. Houston's next home game is this Saturday, so we'll see if he does it again.

College and High School Hoops News: The Wisconsin team apparently forgot to pack their towels when traveling to last night's game at Northwestern, so they had to use — ewww — purple towels instead (from Nate Cravil). … "I am a member of Board #84 (State of Rhode Island) of the International Association of Approved Basketball Officials (IAABO)," says a reader who prefers not to be named. "Every year, IAABO supports the 'Blow the Whistle on Cancer' campaign during a week of the season. During this week, officials can use pink whistles to show their support. However, as discussed on Uni Watch many times, the commercialization of pink has gotten out of control. So for better or worse, I declined to purchase one of these whistles and will probably send in a donation instead."

Soccer News: As part of the FA Cup, Dover played Crystal Palace yesterday at Dover's home field, the Crabble, which dates back to 1897 and seats only about 1,000. "The supporters had to get creative," says John Flanagan. "Check out the lads in the trees! Sights like this are what the FA Cup are all about. I can't get enough of the small old pitches, historic football grounds, and the amazing supporters." … Also from John: "Big bad Manchester United and their controversial manager, Louis van Gaal, will be spending their match on this bench, as they visit League One's (English football's third tier) Yeovil Town. No luxuries have been spared." … Oooh, look at this 1930s lace doily depicting a soccer player (from Robin Edgerton).

Grab Bag: On Friday I went the Museum of the City of New York to check out this outstanding exhibit on the illustrator Mac Conner. The show included a 1938 magazine cover illo showing a seriously nifty skating instructor uniform. … Buried within this article about McDonald's latest marketing plans is the following: "The company said other changes in 2015 will include new uniforms on crew members, as well as new packaging and signs in restaurants." … James Ballow was at a tile shop on Long Island and spotted this. Looks like it was based on NYC-area sports, circa 2000. … Here's one observer's choice for 10 iconic Toronto logos. … New logo for Seagate Technology. … You already knew that most horse racing bettors are a sad, lonely bunch, but this article+slideshow about the current scene at Aquaduct Racetrack in New York is still really powerful. … When a indigent man accused of a crime in Massachusetts couldn't post bail, the judge allowed the man to present his new pair of Nike sneakers instead. … Really interesting story on the music played after touchdowns on Sunday Night Football telecasts (from Seth Horowitz).
• • • • •
Tomorrow: The launch of the Uni Watch T-Shirt Club, whoop-whoop.