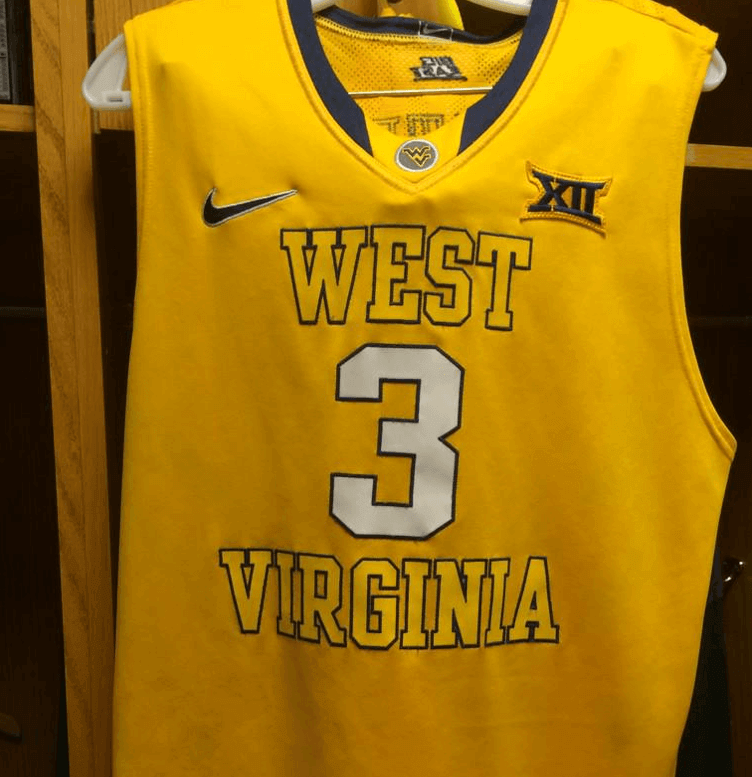 Odd scene yesterday in Morgantown, as West Virginia hoops tweeted that they'd be wearing the gold jersey shown above for their afternoon game against Virginia Tech. But as many Uni Watch readers quickly noticed, the Big East logo was visible on the back of the jersey, above the NOB — which is a bit of a problem, because the Mountaineers haven't belonged to the Big East since the 2011-12 season. As you can see from the patch on the front, they now belong to the Big 12.
If you look again at the photo, you can see that the Big East logo is surrounded by a rectangle. Turns out that was a gold cover-up patch: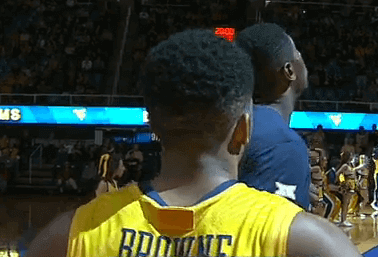 It's interesting to see a team using jerseys that are at least three seasons old. It's not clear where the old jerseys came from — maybe WVU had some old stock lying around, or maybe Nike did. Either way, kudos to them for repurposing the existing gear instead of making new uniforms just because of a tiny conference logo. Seems like a rare case of the modern uni-verse rejecting the standard precepts of disposable culture.
Meanwhile, the cover-up patch prompted an awesome quip from our friend Chris Creamer:
I think that means they've won an NBA title RT @Hokie20: WVU covered up the Big East logo on the back. @PhilHecken pic.twitter.com/MNoESoR3y0

— Chris Creamer (@sportslogosnet) December 30, 2014
(Big thanks to Phil for pointing me toward some of this stuff as it was happening.)
•  •  •  •  •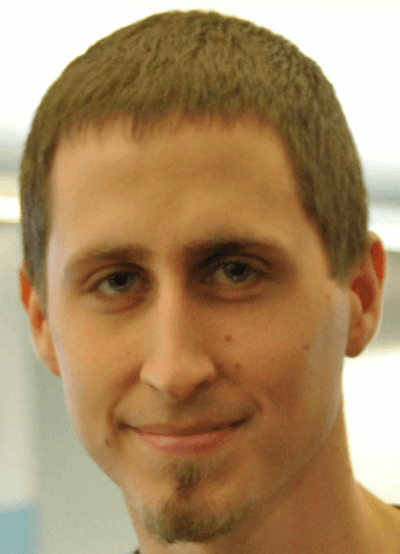 Mike's Question of the Week
By Mike Chamernik
When it comes to busy sports days, New Year's Day is right up there with Opening Day for baseball and the first day of March Madness. This year, we have five big-time college football bowl games, the NHL Winter Classic, and even two NBA games.
What are some of your favorite memories when it comes to watching or attending sporting events on New Year's Day, or even New Year's Eve? Have you played any sports on either of those days? As for uniforms, what are some of your favorite college football bowl jerseys or traditions, and what are some Winter Classic looks you've enjoyed?
• • • • •

Baseball News: Here we have what's reputed to be the oldest bib-front jersey known to exist. Nice! … A Twin Cities craft brewery has come up with a pretty cool Mets-inspired tee (from Jimmy Lonetti). "¦ Some gorgeous old scoreboards featured here and here (from Charles Rogers).

NFL News: The Giants don't have cheerleaders, but there's a cheerleading team that performs in the stadium parking lot and wants the team to hire them. … Here's a story on that guy whose beard Aaron Rodgers like to stroke on the sidelines. … The guy with the beard was also the subject of a very amusing tweet. "¦ The Titans have two different helmet carts (thanks, Phil).

College Football News: Stanford went with a tree-themed helmet logo for last night's bowl game against Maryland. "¦ "Many Baylor players have been wearing shirts that look like their black uniforms," says Drew Mastin. "They wear them before games as warm-up shirts, and also in public. The first thing I noticed when I first saw them was that KD Cannon who usually wears No. 9, was wearing a shirt with 09. I also later saw Antwaan Goodley wearing 05. But then I found this picture of number 2 Shawn Oakman wearing No. 2 — not 02. What's the deal? "¦ Yesterday's Ticker included a shot of Nebraska players wearing mismatched patches in the 1995 Orange Bowl. That prompted the following from Kyle Kalkwarf: "I remember when this happened. It wasn't different patches but rather that some players had white patches while others had the Orange Bowl logo sewn directly onto their red jersey, so there was no white background. The reason behind this is explained here: 'When Nebraska opened up their uniform contract in 1994, it was a company by the name of Apex which won the bid and thus was awarded the Nebraska uniform contract to begin in 1995. Although the contract began in 1995 Apex sent Nebraska uniforms that they wanted the team to wear in the 1995 Orange Bowl. Russell Athletic also sent the team an entire Orange Bowl set of Jerseys as Russell claimed they had the contract from 1994 and that included the January 1995 Game. Thus, [equipment manager] Glen Abbott received two complete sets of Orange Bowl jerseys and gave two jerseys to each player and let the players decide which uniform they wanted to wear. Therefore, you see two styles of jersey in this game. And, some players wore one jersey in the first half and the other jersey in the second half." … Here's yet another article on Oregon's uniform evolution (from MJ Kurs-Lasky). … No, I don't think Nike is overplaying the superhero angle, do you? … Here's Ohio State's jersey with the bowl game patch — but without the cape (thanks, Phil). … Baylor's bowl uni on Thursday will be chrome-green-green, and here's how the bowl decal looks on their helmet. … Michigan is already selling Jim Harbaugh No. 4 jerseys. … Whoa, check out thi shot of the 1962 Mississippi football team posed in uni-numerical order (from Allen Silkin). "¦ Coleman Mullins was in an antiques shop and spotted some very nice high school football game program cover art.

Hockey News: Longtime Uni Watch pal Jeff Barak has posted a really good review of NHL officiating sweaters through the years. "¦ In a related item, former NHL ref Paul Stewart has some thoughts on players' and officials' uniforms. … Tuxedo jerseys tonight for the Kalamazoo Wings. … Good article on how presidential campaign-style design has been used for the Winter Classic (thanks, Phil).

College Hoops News: Hmmm, does Louisville have a throwback in the works? "¦ I've lost track of all of Maryland's uniforms, but MJ Kurs-Lasky says the red ones they wore yesterday were new, and different from the red set they wore last month against Iowa State.

Soccer News: Not sure I've ever seen this before: The MASL's Milwaukee Wave are memorializing former player Brett Wiesner this year on a detachable arm sleeve. So odd to see a memorial on an optional piece of equipment, instead of on a true uniform element (good one from Marc Viquez).

Grab Bag: The latest development in the conflation of athletes with superheroes is a new on-demand film made by ESPN and Marvel, "exploring the concept that modern-day athletes are actually real-life superheroes." Here's the trailer (from Brett Stone). … Back at the Liverpool Speedway in Australia in the early 1980s, sedan driver Greg Bates had the left rear door of his No. 41 car damaged in an accident. So he borrowed a door panel from No. 85 Rex Sullivan, making the car look like it was No. 415 (from Graham Clayton). … Thanks to increasing rates of child obesity, school uniforms are now being made in larger and larger sizes. … "Instead of buying branded clothing to race in, supercross privateer Michael Leib has had all-white riding gear custom made so he can sell space to sponsors on a race-by-race basis," reports Michael Clancy.
• • • • •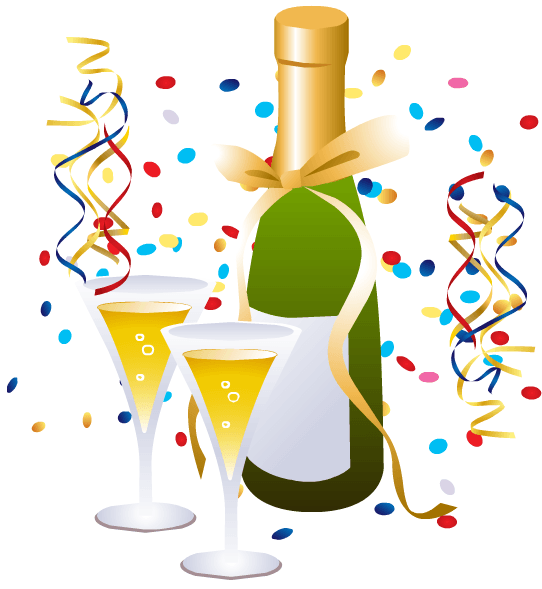 I normally spend New Year's Eve Day having lunch with a group of old friends, followed by cocktails, followed by heading home by 5:30pm or so — a little ritual we call New Year's Eve-ternoon. Unfortunately, a bunch of those friends are sick this year, so our Eve-ternoon has been cancelled, and I'll instead be seeing an afternoon movie with another friend and then we'll have a simple dinner together.
However you're spending your day, enjoy, be safe, and thanks for another successful year here at Uni Watch. Peace. "" Paul