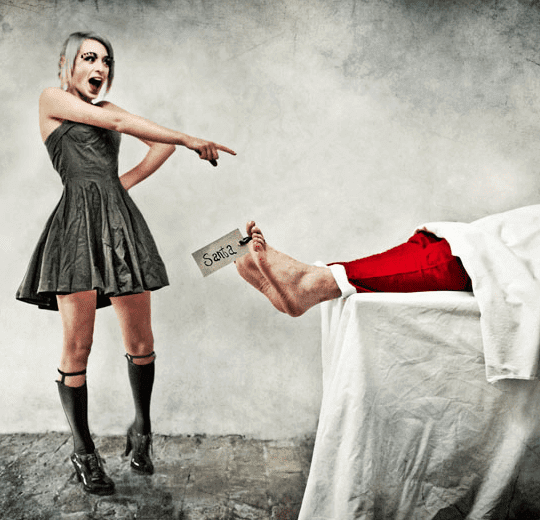 As longtime readers are well aware, Santa has always given me the creeps, so I'm happy to report that he met his demise last night. Too much booze while driving the sleigh? Long-overdue reindeer mutiny? Not sure, but whatever — the old geezer's finally dead (not to be confused with his death last year or two years efore that), and that suits me just fine.
Fortunately, there are 50 lucky Uni Watch readers who'll be getting something under the tree even without Santa's help, thanks to our annual reader appreciation raffle. Here are this year's winners, and the prizes they've won:
1. Complimentary Uni Watch membership card "" Jordan Lazinsk
2. Army football helmet from Gridiron Memories "" John Gogarty
3. Rowing blazer-themed necktie "" Matt Cann
4. Steelers Super Bowl IX anniversary pin "" Patrick Jordan
5. Pillbox-style maroon cap "" Greg Lamm
6. Mets 5950 "" Keith Carter
7. Mets helmet decal "" Scott Brement
8. Another Mets helmet decal: Steven Hom
9. Mr. Met luggage decal "" Brian Wysocki
10. Another Mr. Met luggage decal "" Matthew Nuiver
11. Mets equipment locker decal "" Keith Thibault
12. Puppy Bowl XI press pass ""Chris Short
13. Another Puppy Bowl XI press pass "" Ronald C. Lizik
14. Baseball cap-themed luggage tag "" Dan Monroe
15. Bobby Cox bobblehead "" Curtis Herd
16. Tom Glavine bobblehead "" Adam Hainsfurther
17. Evan Gattis bobblehead "" Nathan Harvill
18. Cardinals towel ""Jimmy Griggs
19. 2007 MLB All-Star Game sleeve patch "" Terry Corby
20. Bill King memorial patch "" Martin Thompsen
21. MLB 2013 Postseason patch "" Matt Vitelli
22. Newtown memorial patch "" Christopher Burke
23. Baseball Hall of Fame anniversary patch "" Justin Hale
24. Lou Gehrig patch "" Chris Weber
25. A's Gloops patch "" Rand Martin
26. 2010 MLB All-Star Game patch "" Nick Moe
27. Bob Welch memorial patch "" Thomas Miller
28. Lou Gehrig helmet decal "" Rick Subrizio
29. Nolan Ryan bobblehead "" Bill Elm
30. Braves necktie "" Andrew Jobe
31. Puppy Bowl T-shirt "" John Frank
32. AMets-inspired Nets T-shirt "" Frank Vazquez
33. Mets-inspired Jets T-shirt "" Noah Hougland
34. "nj" Giants T-shirt "" Jason Yander
35. Braves staff softball T-shirt "" John Przebieglec
36. Samford T-shirt "" Chris Frank
37. Curl USA T-shirt "" Darrell L. Frazier
38. Braves media guide "" A. David Byrne
39. Yankees media guide "" Pablo Souki
40. Braves dog leash "" Eric Wolf
41. Little Leaguer's First Uniform book "" Brad Jackson
42. Packers-inspired necktie "" Matthew Logan
43. Chicago pennant "" Jonathan Cain
44. Mr. Met illo by Rob Ullman "" Morris Belleville
45. Uni Watch anniversary stickers "" Chris Burks
I'll start mailing these out in batches over the next week or so. It'll take a little while to get everything shipped, so my thanks in advance for your patience.
As for today, I have a fun day planned: First I'm meeting a half-dozen friends in Chinatown for a lunch of soup dumplings, and after that we're gonna take in a screening of the new Tim Burton movie, Big Eyes. After some post-movie drinks, we're heading to another friend's house for eggnog a big-ass pork roast. Should be a festive time.
However you're spending the day, please accept my sincerest wishes for a wonderful Christmas. I'd also like to send extra-special holiday thoughts to the other folks who make this site so great: Ticker interns Mike Chamernik and Garrett McGrath; webmaster John Ekdahl; membership card designer Scott Turner; "Collector's Corner" columnist Brinke Guthrie; "Sunday Morning Uni Watch" columnist Terry Duroncelet; and of course L.I. Phil Hecken, the greatest right-hand man anyone could ever hope to have. A healthy and a happy to one and all. Peace. "" Paul