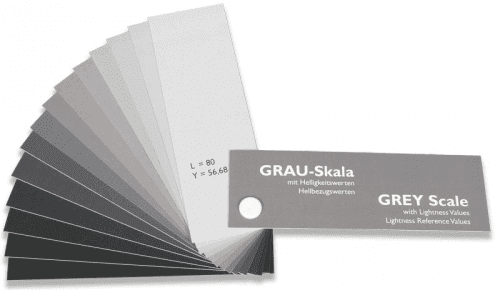 Gray plays a prominent role in the uni-verse. Baseball teams wear road grays; college football and basketball teams are increasingly prone to having gray alternate unis in their wardrobes; NFL teams like to annoy The Jeff by wearing gray facemasks; the L.A. Kings' new Stadium Series uniform has a lot of gray; and so on.
When I started working in the book publishing industry back in the late 1980s, I was taught that there were two ways to spell gray: the American way, with an "a," or the British/Commonwealth way, with an "e" (which is easy to keep straight because "America" starts with an "a" and "England" starts with an "e"). Most American style guides call for "gray," not "grey," and that's always what I've used.
Lately, though, "gray" has begun to bug me. I can't fully explain why, but "gray" just doesn't match the feel of the color as much as "grey" does. "Grey" feels, well, greyer, at least to me. When I see the "e"-inclusive version of the word, I instinctively get the feel of a cloudy day, a certain dreariness, and other things that I associate with the color. I've never fully gotten that feeling from the "gray" spelling, which for some reason feels a bit brighter and therefore less in keeping with the spirit of the word.
How does the rest of the uni-verse deal with this word? On the one hand, Nike tends to use "grey" (as in the case of this Syracuse football uniform press release, which refers to "the team's new alternate dark steel grey uniform"); so does Adidas; and the Seahawks refer to their alternate uniform color as "wolf grey" (which is funny, because the animal they're referencing there is the gray wolf). On the other hand, MLB uniform rules repeatedly use "gray," which is presumably why Majestic also uses "gray" — although third-party retailers selling Majestic product sometimes use "grey."
In short, there's no consistency out there. But like I said, "grey" just feels better to me, so today I'm announcing a momentous change in official Uni Watch policy: As of right now, I'm going to start spelling grey with an "e," at least on this site. I won't be able to do it when writing for ESPN (although maybe I'll see if I can sneak it past the copy desk) or for other media outlets that follow one of the standard style guides, but I'm definitely gonna do it on my own websites — even though it goes against everything I've been taught.
I've noticed over the years that most of the people who've corresponded with me (or posted comments here on the site, etc.) have tended to use the "grey" spelling, so I'm figuring most of you will like this change. Or maybe you won't, I dunno. Either way, the change is being made. The gray is dead; long live the grey!
• • • • •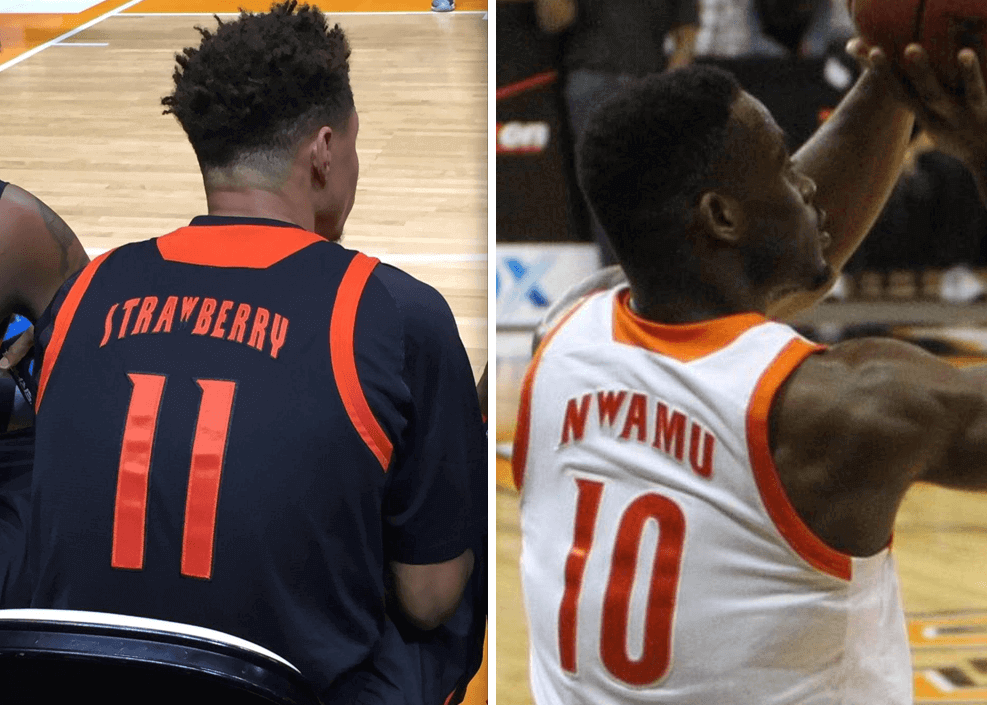 Click to enlarge
Put that one in the "W" column: On the left is Jordan Strawberry (yes, Darryl's son) of the Mercer basketball team. On the right, his teammate Ike Nwamu. As you can see, their NOBs both feature a diminutive "w" (which is all the more surprising because the lettering is vertically arched, which means each mini "w" had to be custom-angled). What's up with that? And does it extend to any other players on the team?
Mercer's current roster includes two other players with "w"-inclusive surnames: Jestin Lewis and Lawrence Brown. I tried to find photos of them but had a hard time because Mercer doesn't post photo galleries from each game on its website. Grrrrr.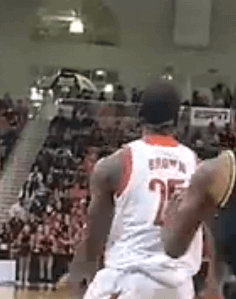 I did, however, find some highlight video footage that included a brief glimpse of Brown's NOB, which you can see at right. Sure enough — mini "w"! Although I couldn't find a rear-view shot of Lewis, at this point I think it's safe to assume that his "w" is similarly size-challenged.
I'm figuring this is Adidas's idea of building a "quirky" element into a custom typeface. Does anyone know if this font — or another font with a similarly inexplicable eccentricity — is used by any other Adidas schools?
(Big thanks to Jason Yellin, Roman Martinez, and Phil for bringing this one to my attention.)
•  •  •  •  •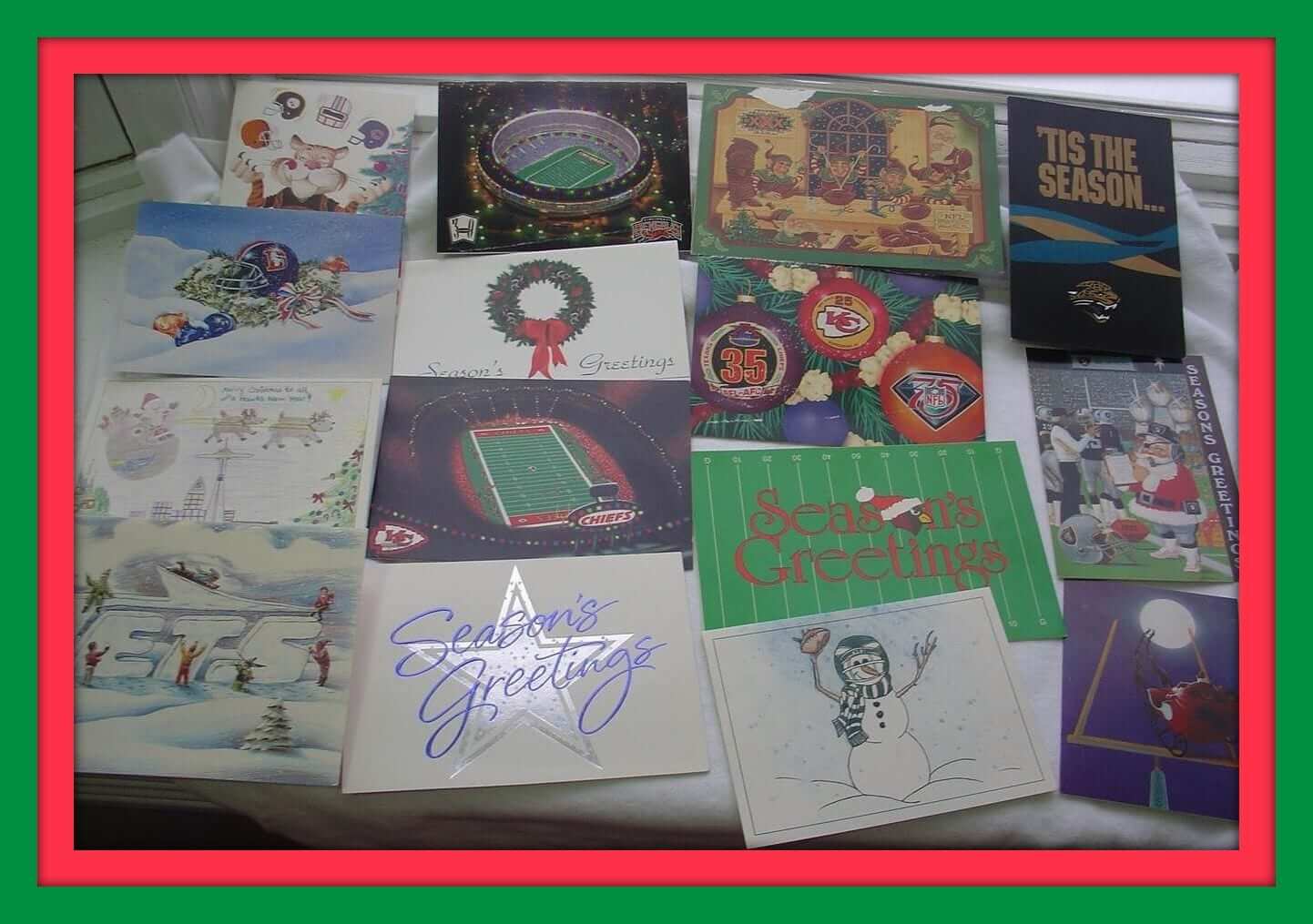 Click to enlarge
Collector's Corner
By Brinke Guthrie
Merry Christmas from Collector's Corner! If you need a last-minute stocking stuffer, how about this set of NFL Christmas Cards? Timely!
Okay, here's our last round of eBay finds before Santa hitches up his sleigh:
• Here's a lot of 1970s/1980s NBA bumper stickers and non-bumper stickers, including a Celtics "One More Flag" sticker and "C'mon, Cavs." (They really put some thought into that one, eh?) And here's another set of stickers from the same period for the NHL/WHA.
• Speaking of stickers, here are some Atlanta Falcons items — one from radio station WSB, then a nice logo/helmet sheet, and then this interesting one where the text overlaps the facemask.
• DeLong NFL alert! Find six different pullovers for the Chiefs, Lions, Falcons, Vikes, Saints, and Jets right here.
• Here's a terrific-looking 1970s Packers varsity jacket — and it's made of Naugalite! As a bonus, check out this really nice Packers varsity jacket with suede trim.
• Used to be that the Sony Watchman portable TV — cousin to the groundbreaking Walkman — was the coolest gadget around. This one comes with the 49ers helmet logo. Had one and loved it.
• The Champagne of Beers urged you to tune into Packer football with this promo ad.
• Got a selection of 1970s NFL kids' winter gloves right here. Choose from the Oilers or Rams.
• Really nice-looking 1970s NBA (not NFL as the listing says) magnetic standings board with all magnets intact.
• Who's the quarterback shown on this 1970s NFL belt buckle? Jim Plunkett, perhaps?
• Excellent helmet art on this 1970s NFL Thermos. And here's an ad that promoted and sold the Thermos back in the day!
•  •  •  •  •
Uni Watch News Ticker
By Garrett McGrath

Baseball News: The Yomiuri Giants have switched from Adidas to Under Armour (thanks, Phil). … You know how phantom championship T-shirts often end up in Africa? A shipment of Royals 2014 World Series champions tees have turned up a bit closer to home — at a store in Joplin, Missouri.

NFL News: "A good friend of mine made a great-looking Bengals/Broncos cake for last night's Monday Night Football game," says Jonathan Daniel. "Thought you'd appreciate it. Unfortunately they live in another state so I can't eat any of it." … Here's one we missed from Sunday's game: Texans LB Brian Cushing wore NYPD cleats in remembrance of the two murdered New York cops (from Chris Perrenot). … "Has anyone noticed that Big Ben is writing his uni number inside the Steelers logo on his sideline hat?" asks Derek Linn.

College Football News: LSU has posted a picture of their uniforms with patches for the Music City Bowl. … The Minnesota Gophers have 36 potential gameday uniform combinations (from Matt Larsen). … The endzone at Ford Field in Detroit has been painted Carolina blue for the Quick Lane Bowl. "¦ "I found this shot of what appears to be a white helmet for Mizzou, although I can't tell if it is an actual helmet or just a shell for practice," says Trent Daniel. "Interesting regardless."

Hockey News: Washington Capitals goalie Braden Holtby showed off the vintage-looking pads, blocker and glove he will wear in the Winter Classic. Here is a separate video of the goalie mask (thanks, Phil). … The Frood Mine Tigers won the Allan Cup in 1937. They played at Stanley Stadium in Copper Cliff, Ontario and here is an interior shot when it opened in 1935 (cool history lesson, Will Scheibler).

Basketball News: The Chicago Bulls Christmas jerseys have arrived at the Bull Market at the United Center. "¦ The University of Michigan announced via Twitter yesterday that the Wolverines will wear special 1989 white throwback jerseys for a Big Ten game against Minnesota on Jan. 10 at the Crisler Center (thanks, Phil). "¦ Cardozo High School in Queens is wearing that crazy Under Armour shorts template. Here's another view (from Aaron Scholder).

Grab Bag: Police officers in many cities responded to Saturday's Brooklyn cop killings by wearing black mourning bands on their badges yesterday. That included officers in Los Angeles, San Diego, and Norwalk, Connecticut, among other places. … The French army has a cycling team and they wear camo kits (from Sean Clancy). … "I attempted to recreate the old Maryland Arrows logo of the original National Lacrosse League (1974-1975) this past weekend," says Marc Viquez. "Here is what I came up with, which I'll add to a T-shirt sometime in the future." "¦ New away jersey for the River Plate soccer club in Argentina (from Paul Lee).