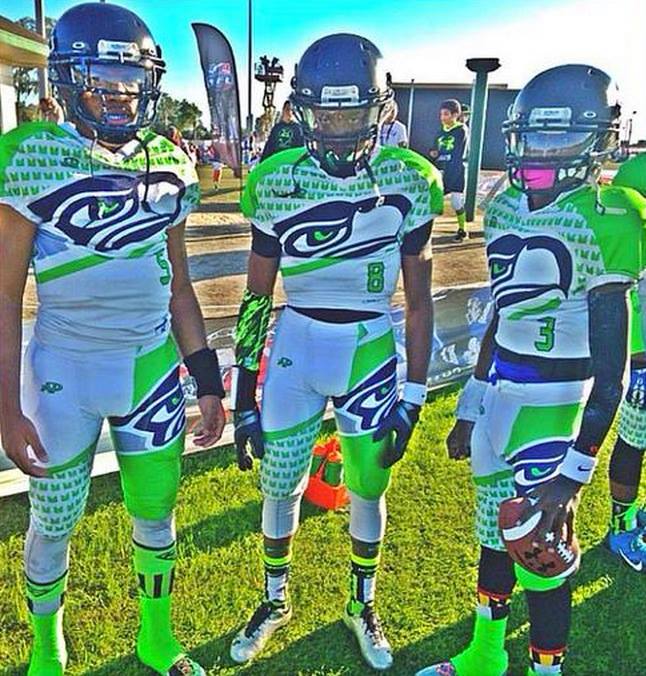 Remember back in 2012, when Atlantic High School in Florida wore those crazy football costumes, designed by Futuristic Woo? That was the first thing I thought of yesterday when this photo of the Maryland Seahawks — a youth league team — began circulating.
Yes, it's absurd. But it's also intriguing, because it goes against the longstanding rule that a football jersey has to have a big, prominent chest number. (Yes, I know that rule was briefly waived 20 years ago, but that was a one-time aberration.) Imagine if that rule weren't in place — it would certainly open up a lot of interesting possibilities for football uniform design. Okay, so most of those possibilities would probably be explored in the most ridiculous, over-the-top ways, but it's still an interesting thought.
Anyway: Wanna see these uniforms in action? Here you go:
And that's just the white/road version. Here's its home counterpart (click to enlarge):
The uniforms were manufactured by All Pro, a Baltimore outfitter whose maker's mark can be seen on the pants. (It's also on the jerseys, but it's harder to make out amidst all the confetti.) But who designed them? Phil immediately recognized them as being similar to a concept he had featured here on Uni Watch two years ago. That concept was by a guy named Dettrick Maddox, who calls himself Mr. Design Junkie. In 2012 he sent Phil a bunch of NFL concepts, including one that looks a lot like the Maryland youth team's uni: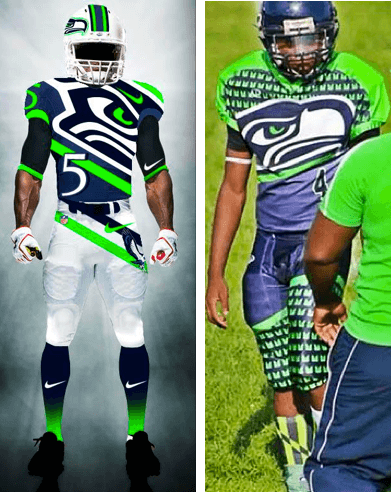 I sent a note to Mr. Design Junkie, asking if he had anything to do with the Maryland unis, but he didn't respond. I'll let you know if/when I hear anything.
•  •  •  •  •
Happy uni-versary: Reader Mark Coale informs me that yesterday was the 32nd anniversary of the night that the Flyers and Whalers faced off for the NHL's first all-Cooperalls game. I did some quick Googling and was happy to discover that this landmark moment in uniform history has been preserved on video:
It looked weird then and it still looks weird now. Personally, though, I'm astonished that hockey has stuck with its short pants for so long. You'd think a more streamlined format would have come around by now, no?
• • • • •
Attention industrial designers: There are certain items that make a very satisfying "Click!" sound when you close them or put the lid back on them. To show what I mean, I shot a short, crappy video featuring three such items — my asthma inhaler, a green pen, and my orange juice container (and also Uni Watch girl mascot Caitlin, although the sound she makes is "Meow!," not "Click!"):
In each case, there's a little premolded ridge that offers just enough resistance as you push the lid or cover back on — and then the resistance gives way, yielding the "Click!" When the level of resistance is just right and the "Click!" resonates just so, I find the whole operation to be mildly addictive, and sometimes I'll keep opening and closing the item obsessive-compulsively. This type of closure appears to be most prevalent with plastics, but I've also seen it used with metal.
For those of you who are industrial designers (or anyone else who knows about such things), I have a few questions:
1. What is this type of closure called? When was it invented?
2. Can the ridge — the part that provides the resistance — wear out? Like, if I opened and closed the lid on that juice container, like, a million times, would the ridge (and, with it, the "Click!") eventually wear away and disappear?
3. What else can you tell me about this type of closure? I want to learn as much about it as I can.
If you can answer these questions, please get in touch. Thanks.
• • • • •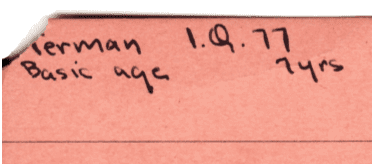 PermaRec update: The latest entry on Permanent Record focuses on a student who was listed as having an IQ of 77 and a "basic age" of seven, but who nonetheless got very solid grades. Get the full scoop here.
• • • • •

'Skins Watch: Arnprior District High School in Canada is scrapping its Native Peoples-inspired logo but will still call its teams the Redmen, at least for now. "¦ After the Oklahoma City School Board voted to have a high school stop calling its teams the Redskins, students at that school rallied in favor of the name. Further info here (from Matt Larsen and Yusuke Toyoda). "¦ A Native American group in Arizona wants the Cardinals to ban headdresses and redface when the Chiefs come to town (thanks, Phil).

Baseball News: The Pirates will unveil a new alternate jersey tomorrow afternoon, and Chris Creamer is hinting very strongly that it'll be a G.I. Joe design, wheee! … The logo on the Cubs' 1934 alternate jersey was apparently taken from the team's letterhead (from Jason Mott). … Always fun to see the Twinsfest logo with the winter hats and the frozen river (from Mike Klug). … Yahoo's Jeff Passan is a really good writer, so I was intrigued when I saw the headline and lede of this story, both of which imply that a camouflage Cubs cap was a key factor in Jon Lester's decision to sign with the Cubbies. But if you actually read the story, there isn't much, if anything, to substantiate that claim. Odd (from Roger Smidstra). … The Dodgers are facing criticism for posting a photo of 1B Adrian Gonzalez presenting a jersey to Mexican president Enrique Peña Nieto, who has become a controversial figure for many Mexican-Americans. "¦ Two good historical finds from Tristan Ridgeway: (1) Was KC A's pitcher Joe Grzenda wearing a fanny pack, or did he have his windbreaker stuffed into the back of his pants, or what? (2) What was the deal with the tape on Milt May's helmet? "¦ There's a guy in Chicago who makes high-quality bats in his parents' backyard shed (Brian Crago).

NFL News: Washington WR DeSean Jackson has gotten himself a pair of custom "I Can't Breathe" cleats, although it's not clear whether he'll actually wear them on the field (from Tommy Turner). "¦ 49ers defensive coordinator Vic Fangio's old high school is competing for the Pennsylvania state title this weekend, so Fangio showed his support by wearing the school's cap at a press conference (from Rob Seguin and Phil).

College and High School Football News: Here are the jersey patches for an assortment of bowl games, plus one helmet decal (thanks, Phil). … The U. of New Hampshire team is trying encourage proper tackling technique, and thereby limit concussions, by practicing without helmets. … Doug McConnell looked out his office window and spotted this truck cab painted like a Michigan helmet. … SG Helmets, a new helmet manufacturer that has received some attention this year, says the helmet rating system developed by Virginia Tech's engineering department, which is widely used throughout the industry, is based on "junk science.".

Hockey News: Really like the simple, hockey-style design of this vintage sweater. … Ugly Xmas sweater jerseys for the Reading Royals and Indy Fuel. … Here's an article on the technology that makes it look like the ice is on fire, among other visual effects (thanks, Garrett). "¦ "The Blackhawks store in Oakbrook (and maybe at the one downtown, although I'm not sure), they're selling a smallish Ball jar containing chopped up pieces of equipment — sticks, helmets, shoelaces, shorts, gloves, bolts skate blades, helmet decals — all for the low, low price of $75," says Jennifer Hayden. "They're not claiming anything's game-used. Not a penny goes to charity, either." So it's sort of like hockey gear potpourri. I'd love to see how they make these. Like, do they have a giant industrial shredder or what? On the plus side, whoever filled out that "Ingredients" tag has very nice handwriting.

NBA News: Since when do NBA players warm up in tank tops? That's Russell Westbrook prior to last night's Cavs/Thunder game. Maybe his "I Can't Breathe" T-shirt didn't arrive in time or something. "¦ The Kings wore their black alternates at home last night. "¦ A Memphis man has been charged with stealing 7,500 pairs of LeBron James sneakers.

College Hoops News: Here's something I missed from last weekend: Two Oregon players did the "Hands Up" gesture during the national anthem on Sunday. Their coach was not amused. … Utah and BYU went color-on-color two nights ago. "¦ More color-on-color, this time the Iowa and Iowa State women's teams, last night (from Barry Brite). "¦ We can add two UCF players — Brandon Goodwin and Daiquan Walker — to our list of waistband-rollers, but with a twist: They leave the tag hanging out in the back (from Brian Crago). … Some quick research reveals that one of those UCF players, Goodwin, was already rolling his waistband a year ago. Interesting to see that he's also changed uni numbers since then.

Soccer News: One person who buys a Portland Timbers jersey will get to meet the team's kit man and help him prepare the team's jerseys for an upcoming game (from Jeremy Brahm). "¦ Also from Jeremy: New home kit for Tokyo FC.

Grab Bag: The U.S. Navy has issued revised hairstyle regulations for women. "¦ Here's an opportunity for all you folks who tell me you're looking to break into writing: There's a job opening for a men's underwear blogger. … What took them so long: The Swiss pro cycling team IAM has put riders' first names under the sponsor's name on the jerseys (from Sean Clancy). … Two U. of Kentucky athletes — basketball player Tony Delk and gymnast Jenny Hansen — will have their jerseys retired in February. … All 16 rugby teams competing in the upcoming NRL Auckland Nines unveiled their new uniforms yesterday. "¦ Virginia Beach police are adding tourniquets to their uniforms. "¦ A Duluth brewery has agreed to stop using a logo that was similar to a Vermont brewery's logo. "¦ Graham Clayton calls the 1975 Penrith Panthers rugby league uniform "one of the ugliest football uniforms from any code of football in any country of the world," but I don't think it's so bad. Additional photos here.