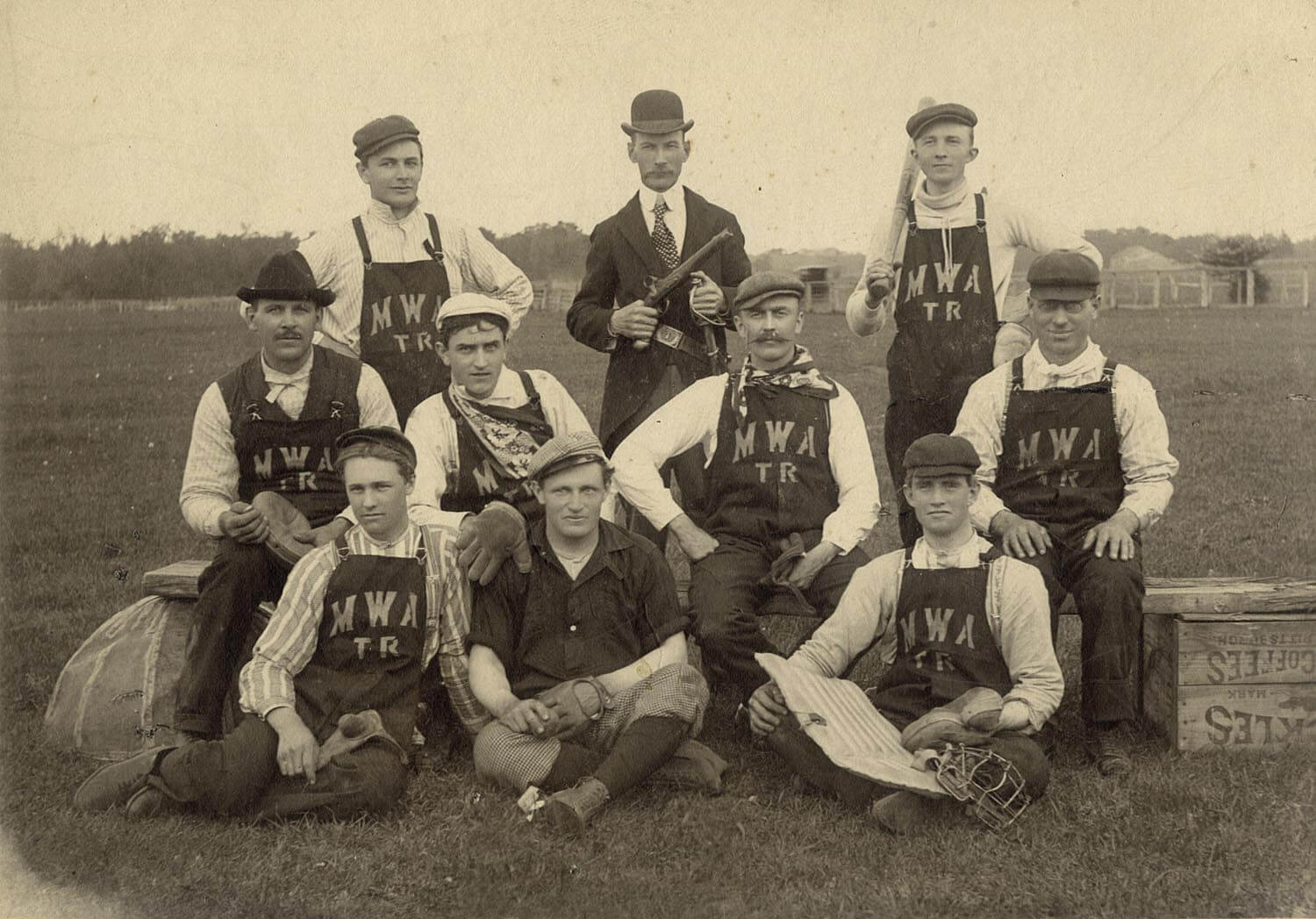 Click to enlarge
Paul here, pinch-hitting again for Phil, who's still working on another project (although he'll be back with his regular weekend crew tomorrow). The photo you see above, which is from about 1900, originally ran on the website It's a Long Season and was sent my way yesterday by reader David Cline. There are two very interesting things about it, beginning with the manager (back row, center), who's holding a pistol and a sword! Man — put that in your camouflage pipe and smoke it, eh? But even more interesting, at least to me, are the players' uniforms: They're overalls.
I've never seen a baseball team of any era wearing overalls. I checked with my go-to guys for this type of thing — Baseball Hall of Fame senior curator Tom Shieber and uni designer/historian Todd Radom — and they'd never seen an overalls-clad team either. Breaking new ground!
The vertically arched "MWA" chest insignia stands for Modern Woodmen of America, a fraternal organization that still exists today. The "TR" initials stand for Two Rivers, Wisconsin (home to a highly regarded wood type museum, incidentally). So this was the team for the Modern Woodmen chapter in Two Rivers.
The Modern Woodmen's headquarters are in Rock Island, Illinois — part of the Quad Cities. The baseball stadium there, home to the Single-A Quad Cities River Bandits, is called Modern Woodmen Park. Put it all together and all signs point toward an obvious promotion: The River Bandits should wear overall thowbacks!
Please make it so.
•  •  •  •  •
Another cross to bear: Knoxville West High School in Tennessee wore small yellow crosses on their helmets in last night's state championship game. "It was to honor two students and a student aide who died in a bus accident this week," says reader Andy Bartsch.
Knoxville West is a public school, which means they could end up in the same type of kerfuffle that developed back in September at Arkansas State, which added a memorial cross for a fallen player and team staffer, then had to remove it after a complaint about church/state issues, and finally decided to let the each player decide for himself whether to wear the cross. It's not clear whether the Knoxville players were given this same option or if the crosses were added by the team's staff, although I suppose the point is somewhat moot given that their season is now over.
• • • • •
Today's Uni Watch Birthday
By Douglas Ford
[Each day this month, Douglas Ford is selecting an athlete who's celebrating his or her birthday and presenting some uni-notable photos of that athlete. Here's today's installment.]
He's a former Minnesota Golden Gophers running back who played in the NFL for seven seasons, splitting time with the Cowboys and the Bears. He also looks great as an action figurine and in an illustration (where he almost appears to be surfing!) — happy birthday, Marion Barber!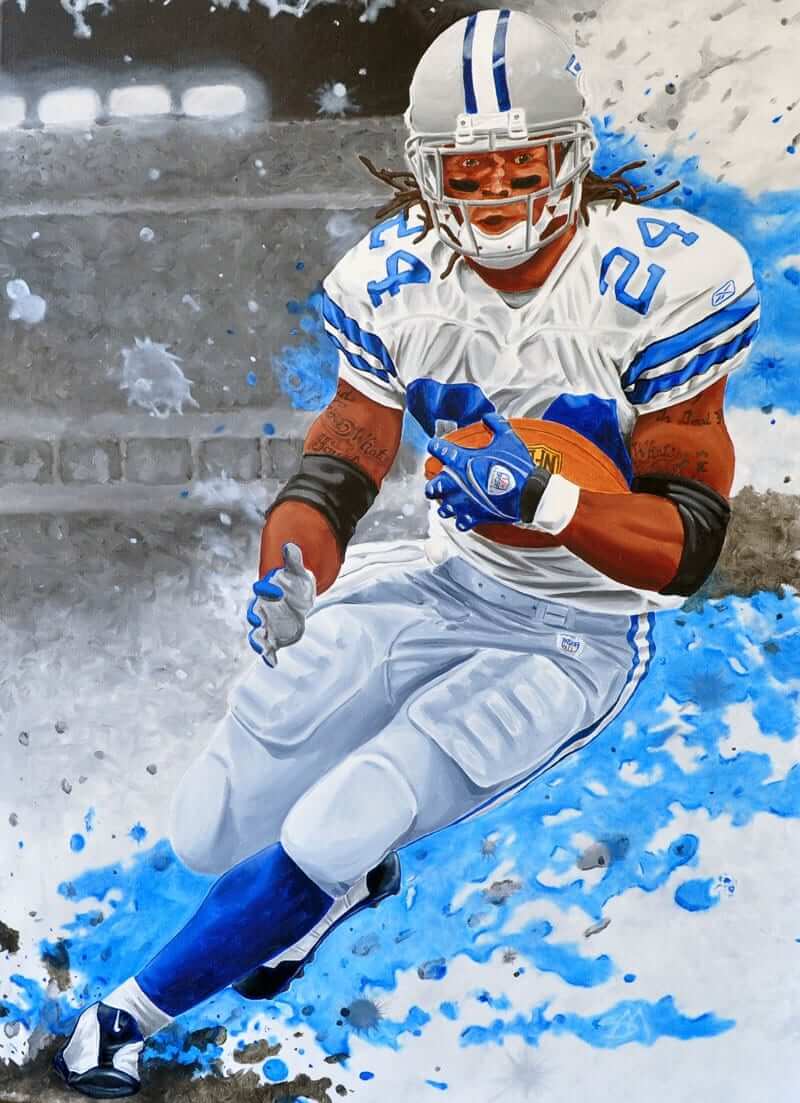 • • • • •
Membership update: Oh man, look at the crazy inlining on those numerals. And the Cyrillic NOB! That's Kary Klismet's new membership card, which is based on an old Soviet Red Army hockey jersey. Gorgeous, right?
That's one of eight new cards that have been added to the membership card gallery. The printed/laminated versions of those cards should mail out early next week.
As always, you can sign up for your own custom-designed membership card here, you can order a gift membership for a lucky recipient here, you can see all the cards we've designed so far here, and you can see how we produce the cards here.
• • • • •

Baseball News: Pretty awful new look for the Pawtucket Red Sox. Here's a better look at the caps. Let's hope the new uniforms include striped socks like the ones the bear is wearing. "¦ More impressive debunking by Peter Nash, who's shown that a Willie Mays uniform featured on Pawn Stars and sold at auction for $20K was bogus. "¦ Typical Mets: They make a big fuss about how they got Majestic to make lowercase NOB letters for Jacob deGrom, Travis d'Arnaud, and Matt den Dekker, and then their store sells jerseys with all-caps. Idiots (although probably not as idiotic as the people plunking down hundreds of dollars for those polyester shirts). "¦ Newly announced Rays skipper Kevin Cash has a uni-notable quirk from his playing days: He was among the first catchers to wear his helmet with the brim facing forward.

NFL News: Who's that campaigning with RFK in 1968? None other than members of the Rams' "Fearsome Foursome": Lamar Lundy, Deacon Jones, and Rosey Grier (great find by Douglas Ford). "¦ This is fascinating: In 1953, a team of American rugby all-stars toured Australia, New Zealand, and France and wore American football uniforms, complerte with helmets! How bizarre is that?! (Awesome contribution from Graham Clayton.)

College Football News: Arizona State's athletics dept. is reportedly on the verge of switching from Nike to Adidas. Further analysis here, and bonus points to Erik Tellef for getting into a Twitter pissing match with Adidas Football exec Mark Daniels. "Obviously, I wasn't expecting him to say,'You're right, our product substandard,' but I did find it intersting that he would go on Twitter and start a dialogue before the deal was consummated," says Erik. "Odd tactic while still in negotiations." "¦ New Wisconsin cleats for the B1G championship game. "¦ Reprinted from yesterday's comments: SEC fans don't wear team T-shirts when attending a game. "¦ Here's the patch that Northern Illinois and Bowling Green wore last night for the MAC championship game.

Hockey News: The Canadiens' memorial for Jean Bevileau has shifted from the helmet to the jersey (Matt Larsen). "¦ Here's a gallery of the best goalie masks in the American Collegiate Hockey Association. You can vote for favorite by "liking" it (from Justin Aniba).

Basketball News: The United States Postal Service is issuing a sheet of Wilt Chamberlain stamps — the first such designs for an NBA player. "¦ The Bulls are auctioning off the center court team logo from their Chicago Stadium practice court. … Excellent article about how leggings are increasingly popular in the NBA in general and on the Jazz in particular (from Brett Crane). "¦ Why did Rick Barry wear No. 24? In an interview with Tim McCarver, he said it was because he was a big Willie Mays fan. You can hear the audio of this exchange here (big thanks to Ferdinand Cesarano). … New GFGS unis last night for UConn.

Grab Bag: If you think you've seen it all when it comes to pinkwashing, think again. The last word on this topic can be found in this hilarious video report from The Daily Show's Samantha Bee. Highly recommended viewing. "¦ Some annoying digital marketing website has posted one of those meaningless "What's In, What's Out" lists for the upcoming year. Note that last "In" item — membership programs. Uni Watch was eight years ahead of that curve! "¦ In the wake of Aussie cricketer Phil Hughes's death, cricket helmet sales have spiked. "¦ New uniforms for American Airlines. "¦ Here are some thoughts on New York City police uniforms. "¦ The Supreme Court has agreed to hear a case involving a license plate design that includes the Confederate flag. "¦ A new line of men's clothing is aiming to "to make patriotism fashionable with a subtle, not-in-your-face message." "¦ Good article on how sports teams are phasing out hard-copy tickets (from Jamie Uthe). … New logo for next year's NJCAA soccer championship.