Good morning! My annual Uni Watch Holiday Gift Guide is up now on ESPN.com, and one of the featured items in this year's edition is artwork from a British painter named Paine Proffitt, who recently got in touch and pointed me toward his website. I was immediately blown away by his sports illustrations, which focus primarily on English soccer but also touch upon MLB and the NHL. "My work is mostly focused on the history, identity and nostalgic/emotional aspects of sports and supporting a team, and the personal stories that come with that," he said.
I asked Paine to choose a bunch of his illustrations for me to feature here on Uni Watch. Here they are (for all of these, you can click to slightly enlarge):
Pretty good, right? I love how Paine's illos look like woodcuts. You can see more of his work on his website, where he sells original artwork at limited-edition prints. Thanks for letting me know about your work, Paine — I love it!
• • • • •
Today's Uni Watch Birthday
By Douglas Ford
[Each day this month, Douglas Ford is selecting an athlete who's celebrating his or her birthday and presenting some uni-notable photos of that athlete. Here's today's installment.]
Today's birthday boy played basketball at the University of Minnesota and then played in the 1972 Summer Olympics, including the United States' controversial loss to the Soviet Union. He was drafted by the Cleveland Cavaliers with the second overall pick of the 1973 NBA Draft. When he scored a basket at a Cavs home game, the public address announcer would declare, "Two for the Brew!"
He turns 63 today — happy birthday, Jim Brewer!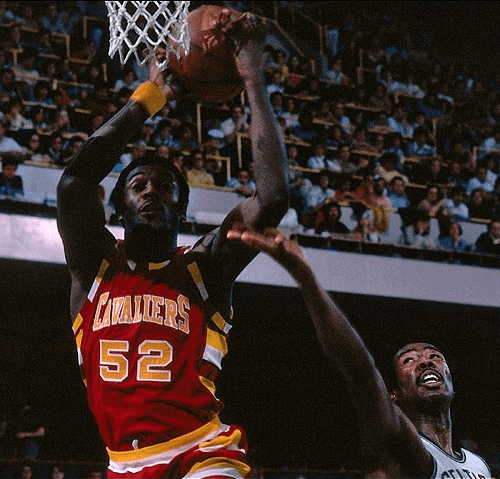 • • • • •

Baseball News: The Triple-A Oklahoma City RedHawks will now be called the Dodgers (from Justin Cliburn). "¦ The Daytona team in the Florida State League, which has switched its affiliation from the Cubs to the Reds, is due to unveil its new name tomorrow at 10:30am (from Wayne Koehler). "¦ Here's a new addition to our roster of catchers who've worn brimless helmets: former Twins backstop Dave Engle (from Andy Chalifour).

NFL News: Several wardrobe items from the TV show The Wonder Years, including the Jets jacket worn by child actor Fred Savage, have been added to the Smithsonian's collection (from Jonathan Daniel). "¦ Always fun to see how 1980s Giants defensive lineman Jim Burt's NOB had super-wide kerning (from Dustin Semore).

College Football News: Fresno State will be going with a new uni combo — white-white-blue — for the Mountain West Conference championship game (from Jared Buccola).

Hockey News: Martin Brodeur, newly signed with the Blues, will use this mask design (from Rob Siergiej). "¦ The Blues also released a video that shows Brodeur's nameplate being stitched onto his jersey (from Vernona Elms). "¦ Do you remember the 1999 Burt Reynolds filmMystery, Alaska? Me neither, but a hockey jersey from that film is up for bids (from Douglas Ford). "¦ The Hurricanes wore white at home last night.

Pro Basketball News: Someone has developed a complex but amusing formula to determine which NBA teams' uniforms are too "sacred" to be watered down with alternates (from Robert Silverman). … The latest edition of the always-awesome NBA Census, which breaks down the league's players by position, salary, height, race, birthplace, and more, is now available. … Knott Central High School in Kentucky is using the old Kentucky Colonels logo (from Thomas Clouse). "¦ The two primary Japanese professional basketball leagues have both unveiled the logos for their all-star games. Here they are — NBL and BJ League (from Jeremy Brahm).

College Hoops News: Whoa, check out the sashes worn by the 1911 UNC team! I'm assuming those were just for the team portrait and not worn on the court, but still pretty cool (great find by Leo Strawn Jr.).

Soccer News: Barcelona's new home kit has leaked, and the big surprise is that the jerseys have horizontal stripes (from Sinuhé Guevara). … Also from Sinuhé: "The Mexican football club Cruz Azul (yeah, the team name is Blue Cross and represent a concrete company) has revealed its new jersey." … Now that DC Comics has sued Valencia because of the team logo's similarity to the Batman logo, which other soccer team logos might be infringing on the world of comic books? Maybe these (from Coachie Ballgames). "¦ Frankfurt forward Haris Seferovic displayed a message written on his undershirt after scoring a goal on Sunday. "That is a tribute to a young female student named Tugce Albayrak, who intervened when two teenage girls were being harassed by three men in a McDonalds near Frankfurt, only to be attacked later outside the restaurant by one of the men," explains Mira Katriina. "She died last Friday in hospital from a brain trauma."

Grab Bag: Just what the world's been waiting for: ugly sweater-patterned suits (from Jonathan Daniel). … Reebok has struck a deal to provide uniforms for UFC fighters. … A bunch of female NYC cops have posted side-by-side photos of themselves in and out of uniform. … I'm still calling it Fairgrounds Coliseum. … New logo for the luxe travel mag Condé Nast Traveler. "¦ The Parramatta Eels of the National Rugby League have unveiled the jersey that they will be wearing for the nine-a-side tournament in Auckland, New Zealand in early 2015 and it's, uh, really something (from Graham Clayton). "¦ Pittsburgh sports columnist Dejan Kovacevic addressed the issue G.I. Joe-isms, and other aspects of politics crossing over into sports, in a recent Q&A piece. To see, go here and search on the word "politics" (from John Dankosky).