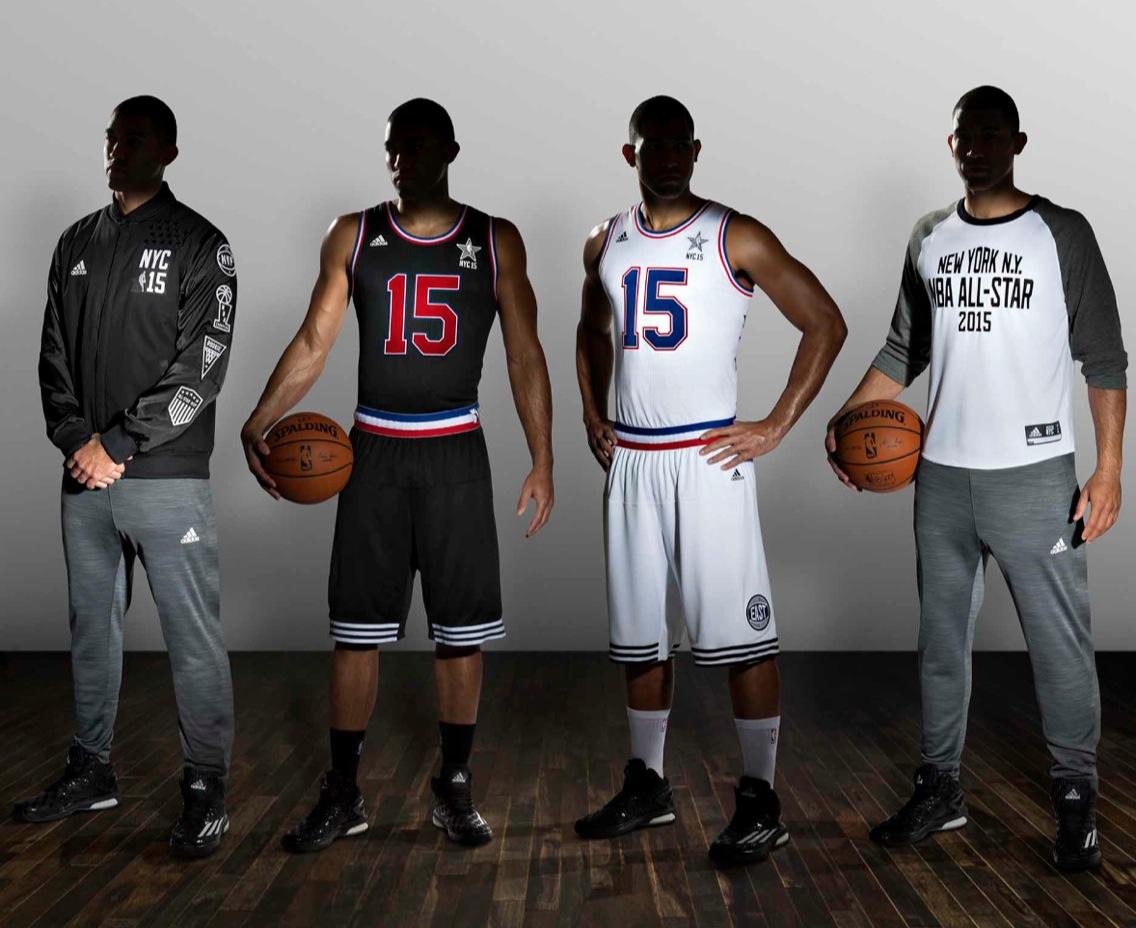 For all photos, click to enlarge
What you see above are this season's NBA All-Star uniforms, which were released this morning. Personally, I love them; many of you may hate them. Either way, let's give the NBA credit for going against the grain and confounding expectations. Instead of the usual gaudy, overdesigned approach, they've stripped everything down to their bare essentials.
The game will be played at Madison Square Garden here in New York. The East will wear white; the west will wear black. Note that there are no "East" and "West" conference designations on the jerseys — according to this piece by my ESPN.com colleague Darren Rovell, the last time that happened was sometime in the 1960s, but I'm trying to find out exactly when. (Unfortunately, as we've noted before, NBA uniform history is notoriously spotty.)
The backs of the jerseys will feature split FNOBs — first names above the number and last names below: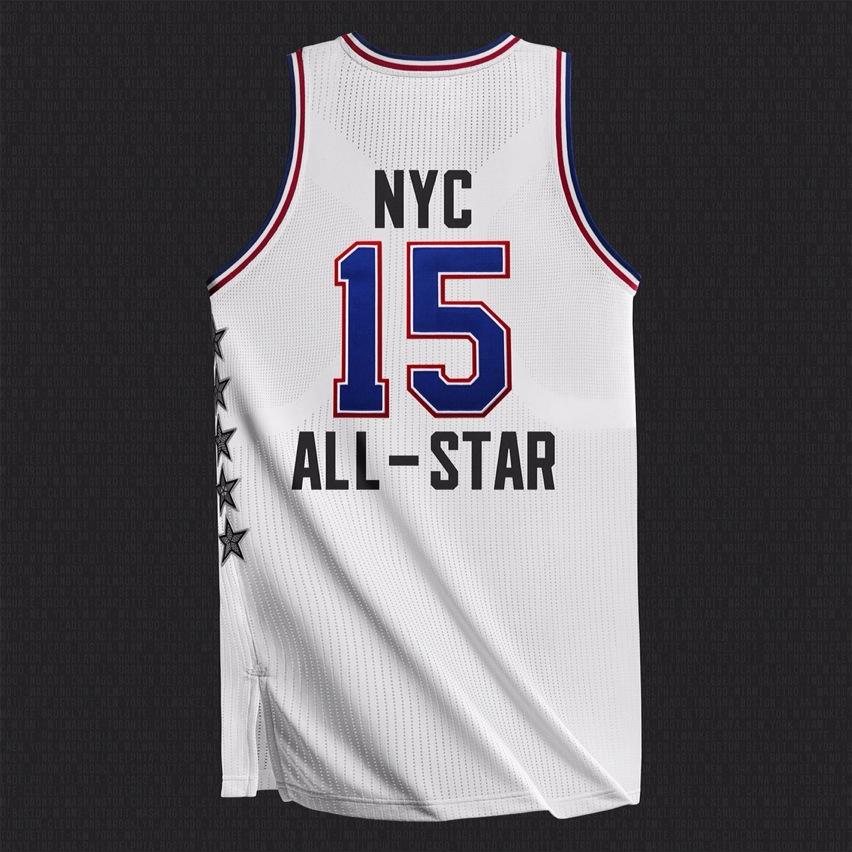 Things get a little silly with the "storytelling" embedded in the five stars appearing on the side of the jersey and shorts. The stars represent NYC's five boroughs, with a distinct pattern for each one — a checkered taxi pattern for Manhattan (not a great choice, since Checker cabs have been extinct in NYC for 15 years), the Unisphere for Queens (for you non-NYCers, that's this thing, which was built for the 1964 World's Fair and is now located outside of the Queens Museum), a vinyl record for the Bronx (apparently a reference to old-school hip-hop), waves for Staten Island (they clearly struggled to find something relevant to use for this one), and brownstone bricks for Brooklyn (wrong, wrong, wrong — true brownstones do not have traditional brick patterns):
The five stars then form a composite for the version of the NBA logo that appears on the jerseys:
I don't usually get too worked up one way or the other about shooting shirts, but I sure do like the one they've come up with here — it's essentially a baseball shirt: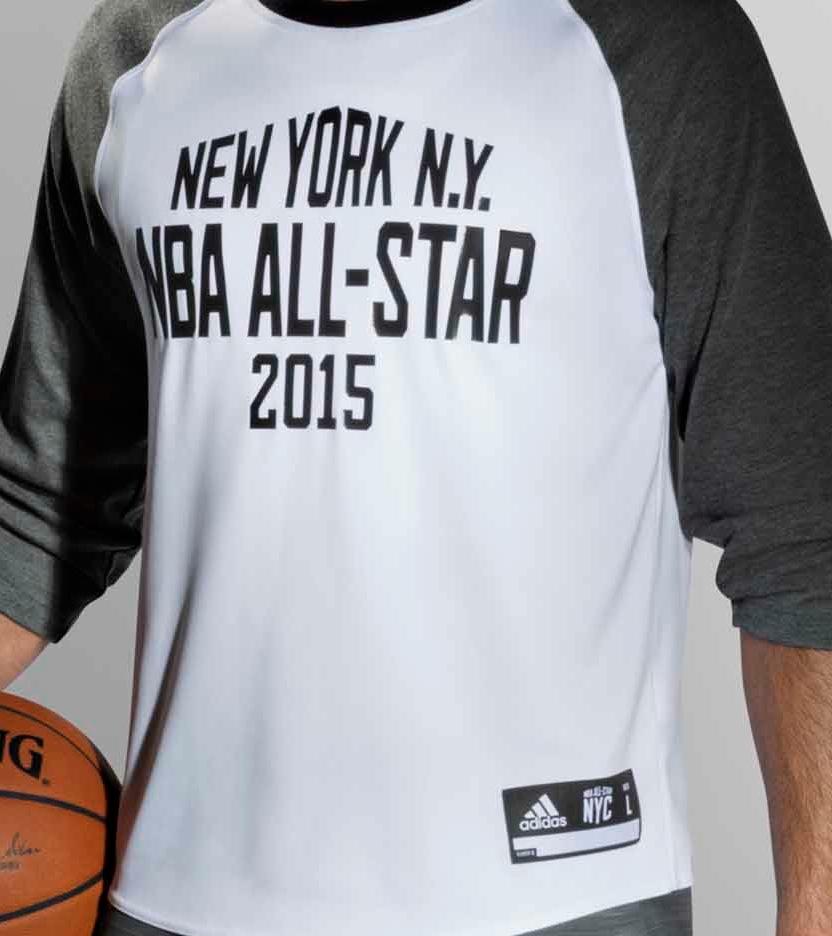 There's more, but those are the basics. You can see a bunch of additional photos here.
And hey: No sleeves.
•  •  •  •  •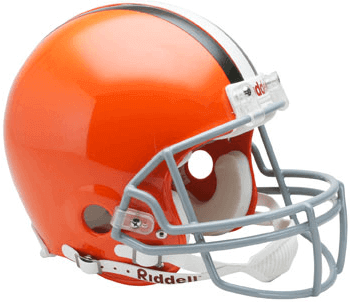 EXCLUSIVE! Mostly useless Browns info: Those of us in the journalism biz love to say how "a little birdie" has told us this or that. That way we get to feel all superior because we have a secret little birdie that whispers sweet exclusives in our ear, while you, you poor little pathetic thing, you have no little birdie to make you feel all special and sparkly. See how that works?
Okay, now that the hierarchy has been established, here we go: Browns owner Jimmy Haslam has been saying all along that the team's impending uniform makeover, due to be unveiled next spring, won't include any changes to the helmet. BUT! A little birdie tells me there will be two — TWO! — changes to the helmet, as follows:
1. The stripe will have some sort of "new texture."
2. There will be a new shade of orange, which will be more like Oklahoma State's or Oregon State's color.
In short: The Browns' helmet will look pretty much the same as before, except in the subtle ways it doesn't.
Don't you wish you had a little birdie to tell you things like this?
• • • • •

Grey Cup News and History
By Garrett McGrath
On Sunday, the Calgary Stampeders beat the Hamilton Tiger-Cats 20-16 to win the Grey Cup as the champions of the Canadian Football League. The cup separated from its base during the celebration. This is not the first time the cup has had some problems in its more than century of existence. The Grey Cup has been broken before on several occasions, stolen twice, and once held for ransom in 1969. The trophy remained missing for two months until Toronto police received a tip that led them to a locker at the Royal York Hotel in Toronto. The thieves were never caught. It also survived a 1947 fire that destroyed numerous artifacts housed in the same building.
The original cup was commissioned by Earl Grey, then Canada's Governor General, in 1909. Ceremonial kickoffs before the start of the game have been a political rite of passage since. A short video clip under the PMs tab on this CBC website documents three Prime Ministers of Canada (Pierre Elliott Trudeau, Lester B. Pearson, and John Diefenbaker) who have performed ceremonial kickoffs and their attempts. It has been a long time since a Prime Minister has done the ceremonial kickoff, but here is a great write up on the Governor General of Canada — David Johnston — doing the ceremonial kickoff for the 100th Grey Cup in 2012. And here is a video of David Johnston practicing for his big day.
(Thanks to reader Will Scheibler, who provided most of the info for this report.)
•  •  •  •  •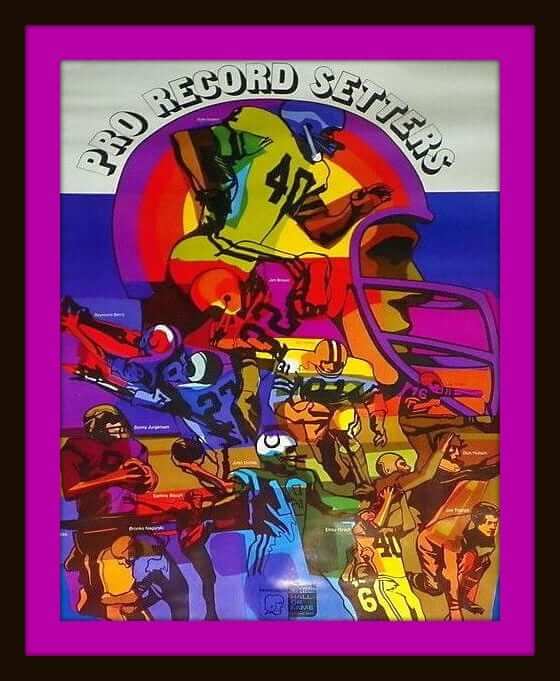 Collector's Corner
By Brinke Guthrie
Here we have maybe the grooviest NFL poster in Collector's Corner history: This psychedelic 1969 NFL Pro Record Setters poster looks like it's in great shape, save for a little tear at the top. Now all ya need is a mood ring, black light and a lava lamp. Far out, man.
In slightly less groovy (but still worthwhile!) finds:
• From the same seller as the NFL poster above comes this poster of a cartoon Boston Bruin skating off with the 1972 Stanley Cup.
• Looks like someone knocked off the Converse template pretty well with this pair 1970s NBA "Bob Wolf"
hightops.
• Here's a 1970s Patriots pen. The player on the display card — might that be Russ Francis?
• Same thing for the artwork on this 1970s NFL Mini Helmet Goalpost sets. I'd almost swear it was Walter Payton or Herschel Walker on the box art, but I think these were out well before Walter's 1975 debut, and Walker didn't get to the NFL until 1986.
• Nice artwork on this 1970s Prudential Insurance poster of NHL stars Bobby Hull and "Boom Boom" Geoffrion.
• For those of you who miss the original Bengals helmet logo, here it is in one of the 1970s copper wall plaques.
• Check out the font on the side of this 1970s Bobby Orr hockey puzzle. Belongs in the opening sequence of a 1970s sitcom, no?
• As anyone from Cincinnati will tell you, Skyline Chili rules. There's also a chain called Gold Star — that's where Charlie Hustle ate, as you can see on this promo glass.
• Another Hit King item: Pete had his own energy bar!
• And we wrap up this week with a 1967 NFL Helmet Bank with the shield on the helmet and a set of team name stickers you can apply to the base.
• • • • •
Today's Uni Watch Birthday
By Douglas Ford
[Each day this month, Douglas Ford is selecting an athlete who's celebrating his or her birthday and presenting some uni-notable photos of that athlete. Here's today's installment.]
You know him as a Green Bay Packer and Super Bowl champion, but get a load of him in his high school letterman jacket and check out Charlie Weis fantasizing about him being a Jayhawk — happy birthday, Aaron Rodgers!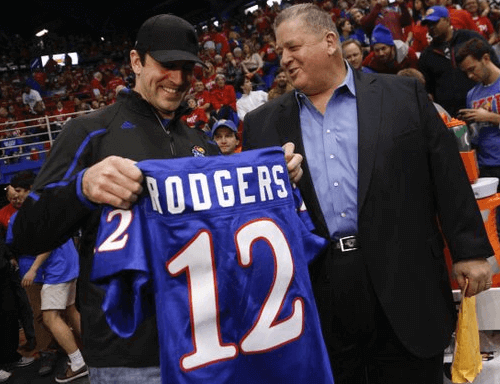 • • • • •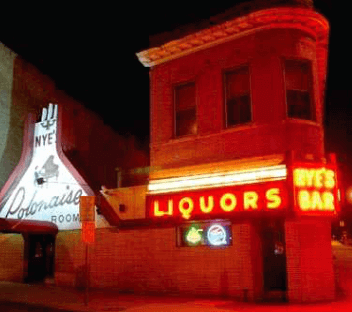 Another one bites the dust: Sad news yesterday out of the Twin Cities, where word came that the exceedingly wonderful Nye's Polonaise Room in Minneapolis will be closing its doors next year.
Nye's has hosted two Uni Watch gatherings over the years. The first was in May of 2007, when we held an excellent Uni Watch party there (there's a teaser here and a full-blown party report here). And then a handful of Uni Watch stalwarts met me at Nye's in January of 2010, when I was in town for what we called the Uni Watch Deep Freeze.
But my love of Nye's predates Uni Watch's existence. My first time there was in 1997, when my then-girlfriend Alleen Barber and I were in the midst of a month-long cross-country road trip. Nye's had been on our list of Twin City attractions, and it did not disappoint: Spectacular exterior signage, comfy supper-club-ish interior, strong drinks (with hazelnuts bobbing in Alleen's gimlet!), solid dinner entrées (I had the prime rib), and live polka in the back room. I knew right away that it would become a staple of my subsequent Twin Cities visitations, and that's exactly what happened.
Nye's owners say the place won't be closing until next summer or early fall, so there's still plenty of time for me to scoot out there one more time. Phil, can you cover the site for, say, the entire month of April?
• • • • •
Uni Watch News Ticker
By Garrett McGrath

NFL News: "While I was watching the Rams/Chargers game in San Diego, I saw there were a lot of L.A. Rams fans in attendance," says John Elbertson. "I was inspired to create concepts for the Rams if they moved back to California." … Can't top this Washington Post lede: "˜SAVE US!' pleads Redskins fan in paper bag head (from Tommy Turner). … JD Denson pointed out that this Immaculate Reception ornament has the NFL shield on the collar. "¦ Things between the Rams and the St. Louis Police Dept. got really silly overnight.

Hockey News: The Dallas Stars unveiled a television feature during the 2nd intermission of Saturday's game on the rebranding process leading up to the reveal of the new logo, jerseys and colors in June of 2013. The video and stills show a really interesting look at the process (from Seth Horowitz). … The Toronto Maple Leafs will copy the Canucks wear these shamrock decals on their helmets for the rest of the season in honor of Pat Quinn. The Leafs had previous worn a shamrock patch for two games (from Michael Engle).

NBA News: "I'm surprised no one mentioned this, but the Warriors just completed a five-game road trip where they wore their actual 'road' uniforms only once," says Sean Be. "It was the first game of the trip against OKC. After that game, they wore their home whites for the next four games, as each home team wore some type of alternate uniform against them: Miami (red "Miami" alternate), Orlando (gray sleeved alternate), Charlotte (teal alternate), and Detroit ("Motor City" alternate). The Warriors won every game." … The NBA's ugly Christmas sweaters are "so bad they're amazing."

Grab Bag: Candlestick Park is almost ready to be demolished, and here are some drone photos of the abandoned interior. … Cycling Watch from Sean Clancy: Pro cycling team Tinkoff-Saxo has introduced a camo-themed training kit at its winter camp. … French team FDJ changed their kit and added white shorts. … South African pro cycling team MTN-Qhubeka goes for the Foot Locker look with its new kit.