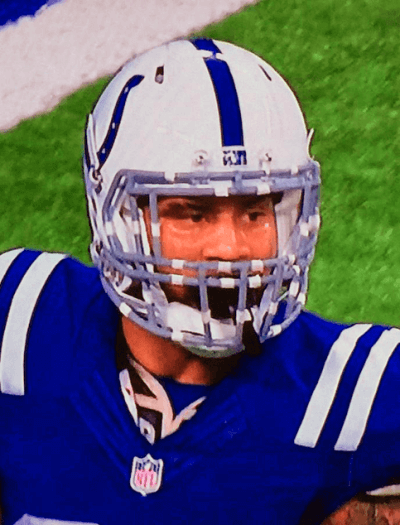 Interesting development yesterday in Indianapolis, where Colts safety LaRon Landry (shown at right) put lots of little tape stripes on his facemask. As soon as I saw that, I thought, "Hey, that's what Sean Taylor used to do!" And sure enough, Landry and Taylor were teammates on the 'Skins in 2007, plus Landry had originally planned to play with Taylor at Miami, plus-plus the Colts were playing Washington yesterday, plus-plus-plus this past Thursday was the anniversary of Taylor's death. Now if only Landry had also mimicked Taylor's sock style.
In other news from around the NFL yesterday:
• In St. Louis, several Rams players referenced the unrest in nearby Ferguson by giving the "Hands Up, Don't Shoot" sign during the player introductions. (Insert obvious joke here about how the refs showed solidarity by making the same sign every time the Rams scored.) One of those players, wide receiver Kenny Britt, wore shooting victim Mike Brown's name on his right wrist tape. He also had something written on his other wrist, but I can't make out what it was. After the game, the St. Louis Police Officers Association said they were displeased with the pregame gesture (which is their right, of course) and called for the players to be disciplined and for the Rams and the NFL to apologize (which seems patently ridiculous). Please note: Everyone is welcome to discuss the merits of players making gestures or wearing inscriptions that refer current events, and whether they should or shouldn't be disciplined for same. But we are not going to have a debate on the Michael Brown case. Thanks.
• The Chiefs saluted sidelined teammate Eric Berry in three ways: (1) They wore these T-shirts for pregame warm-ups. (2) They went mono-red, which is reportedly Berry's favorite look for the team. Note that they once again went with the red-topped socks, which they had done in their previous mono-red game (this past September) but not the time before that.. (3) The coaching staff wore a patch with Berry's number. No patch or helmet decal for the players, though.
• The Steelers marked the 40th anniversary of their Super Bowl IX championship season with a jersey patch.
• Instead of wearing his socks black over white, as per NFL rules (but creating the dreaded leotard effect), Saints defensive back Corey White flipped the script and went white over black.
• While watching the Pats/Packers game, I noticed something odd: a green border along the sidelines at Lambeau. I asked about this on Twitter and was told by many, many people that it was to provide better contrast between the field and the white out-of-bounds border, because Lambeau's grass isn't very green at this point in the season. Have they done this in the past? They sure didn't do it for this game, when the field was practically brown, not green.
• The Texans went mono-blue.
• In a move that scales new heights in hubris, Giants wideout Odell Beckham Jr. commemorated his amazing catch from last week by wearing self-celebratory gloves. Someone ought to remind him that his team lost the game when he made that catch. They lost yesterday, too.
• How color-coordinated was Cam Newton yesterday? So color-coordinated that he was chewing Panthers-colored gum. Probably just a coincidence, but it's still pretty funny.
• I was wondering why Tom Brady was being led around on a leash, so I posted that shot on Twitter, where I learned that it's a resistance band, which he uses when practicing drop-backs.
• Weird pants yesterday for Bucs coach Lovie Smith: team and league logos on the thighs and tuxedo striping down the sides. And an elastic waistband — ugh.
• No home teams wore white yesterday.
•  Yesterday marked the end of G.I. Joevember. This season's remaining games will not be promoting any particular cause of agenda — the first such games since late September.
(My thanks to all contributors, including John Alexander, Jon Cooper, and Jerry Peterson.)
•  •  •  •  •
Today's Uni Watch Birthday
Longtime Uni Watch reader/contributor Douglas Ford has come up with an excellent new project: For each day of December, he's chosen an athlete who's celebrating his or her birthday on that date and then found some uni-notable photos of that athlete. Here's Douglas to kick off the project with today's installment:
"You knew him as the National League MVP with the Big Red Machine, and perhaps you saw him during his decline with the Mets — but do you recall his start with the Giants or his final games with the White Sox? Happy birthday, George Foster!" [click to enlarge]
Cool, right? Douglas will have a new installment for each day of this month. If the project goes well, maybe we'll extend it into January and beyond. Feedback welcome.
• • • • •
Membership update: A new batch of designs has been added to the membership card gallery (including the Charlotte Hornets treatment, shown at right, that we prepared for Trayton R. Miller, one of several enrollees who took advantage of the special Bonus Purple Amnesty Day two weeks ago). The printed/laminated versions of these cards should go out in the mail at some point this week.
Shout-outs to Mike Miller and Gareth Hammond: I received your payments (thank you!) but am still awaiting the details of what you want on your card.
Also: Now that we're into the holiday season, this is a good time to remind everyone that we offer membership gift vouchers.
As always, you can sign up for your own custom-designed membership card here, you can see all the cards we've designed so far (nearly 1600 of them now!) here, and you can see the step-by-step process by which we make the cards here.
•  •  •  •  •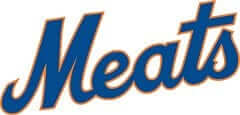 Theoretical shopping reminder: Just hypothetically speaking, wouldn't it be fun if you could put one of these T-shirts in someone's stocking (or in your own, for that matter)? If you agree, get in touch and we'll discuss. Thanks.
•  •  •  •  •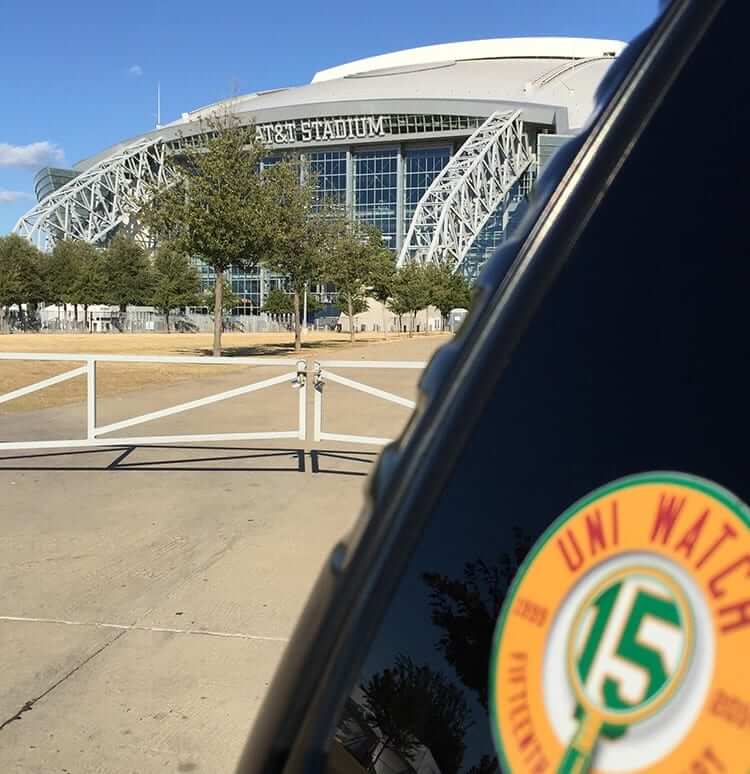 Sticker sighting: Uni Watch — or at least a Uni Watch 15th-anniversary sticker — made the scene yesterday at AT&T Stadium in Texas, thanks to reader Alan Beam's car, which was parked nearby. Do you have any good photos of your Uni Watch anniversary stickers or patches? Let's have 'em.
If you don't yet have any Uni Watch 15th-anniversary stickers (or if you do have some but want more), they're still available — details here. The 15th-anniverary embroidered patch is currently sold out, but I'll order a new batch if there's enough demand. Shoot me an email if you want to get in on that. Thanks.
• • • • •

Baseball News: The MLB Shop has leaked the Giants' new black alternate jersey, which I'm 99% sure will be worn next season. If they've disabled that link, no worries — here's a screen shot of it. Yes, it's basically the Bonds-era design (from Christian Cisneros). … Two days ago I asked about this decal on the back of Pete Rose's helmet during the 1980 World Series. Now Steve Dodell has gotten a clearer shot of it, showing conclusively that it was the old Mizuno logo, just like the one on Rose's batting gloves.

College Football News: You know how some teams have been using logo-embossed thigh pads? Michigan state players had two different logo patterns on their pads during Saturday's game (from Mike Cooper).

Hockey News: The Milwaukee Admirals have worn the Brewers' ball-in-glove logo on their jerseys for years now, because the Brewers are their jersey sponsor. On Saturday the Admirals played the Charlotte Checkers, who were wearing Charlotte Hornets-themed uniforms, so both teams on the ice were wearing the logos of Big Four teams in other sports. Has that ever happened before? (From Alan Filipczak.)

NBA News: The Pistons wore their sleeved "Motor City" alternates yesterday, and the Nets wore their sleeved gray alternates. Both teams lost, which makes me wonder if anyone has been tracking the results in games when one team wears sleeves and the other team doesn't. … On one of last week's episodes of Tosh.0, Tosh dressed up like a ghetto Santa gave a John Stockton jersey to a kid, who promptly said, "Who the fuck is John Stockton?" (From Chris Flynn.)

Soccer News: "New York Red Bulls forward Tim Cahill, an Australian native, wore a black armband on Saturday in tribute to Aussie cricket player Phil Hughes, who died several days ago," reports Yusuke Toyoda. "English soccer clubs also paid their respects by laying cricket bats on the turf before this weekend's matches." … You can vote in a logo contest for a proposed new Milwaukee soccer team (from Chance Michaels).

Grab Bag: Here are some interesting concepts for redesigning U.S. currency (from David Firestone). "¦ Another cricket death: An umpire for a match in Jerusalem was killed after being struck by a ball. "¦ You know how the "Flag" graphic on NFL broadcasts is yellow? It's yellow on TSN's CFL broadcasts too, which is weird because the flags themselves are red (from Eric Bangeman). … German F1 driver Sebastian Vettel marked his first test drive for Ferrari by wearing a helmet with "My First Day at Ferrari" printed on it.