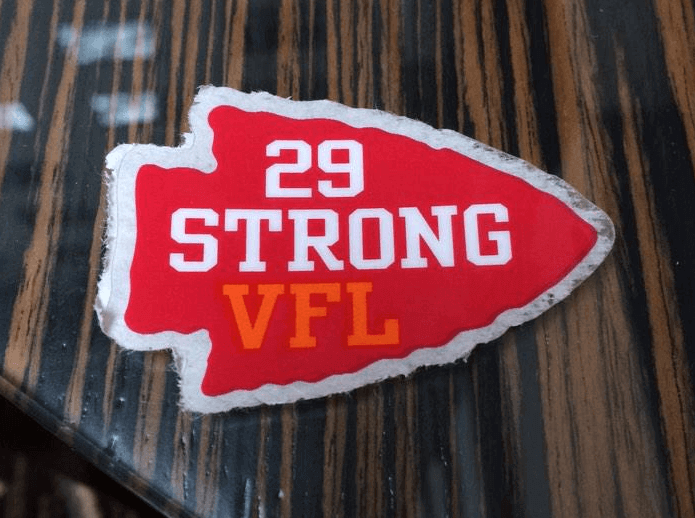 Phil and his crew have the weekend off, so there's no SMUW or Five Plus One today — sorry. But there's still plenty to talk about, beginning with Chiefs safety Eric Berry, who as you've probably heard has been sidelined with a mass in his chest, which may be lymphoma. Berry went to school at Tennessee, where the football roster currently includes his brothers Elliott and Evan (their parents apparently really like the letter "E"), so yesterday the Vols showed their support by wearing a helmet decal, which you can see above. The "VFL" stands for "Vol for Life," but the interesting thing about the decal, at least to me, is that it's basically a variation on the Chiefs' logo.
I'm trying to think of a prior instance of an NCAA team wearing an NFL logo, and I'm coming up empty. I know some NFL players have managed to sneak their college logos onto some aspect of their gear, but I can't recall a college team wearing a pro logo. Am I overlooking anything?
I'm assuming the Chiefs will also be wearing something for Berry, especially since they're playing in tonight's nationally televised game, but as of this writing they've made no announcement. Meanwhile, here are some additional shots of the Tennessee decal (click to enlarge):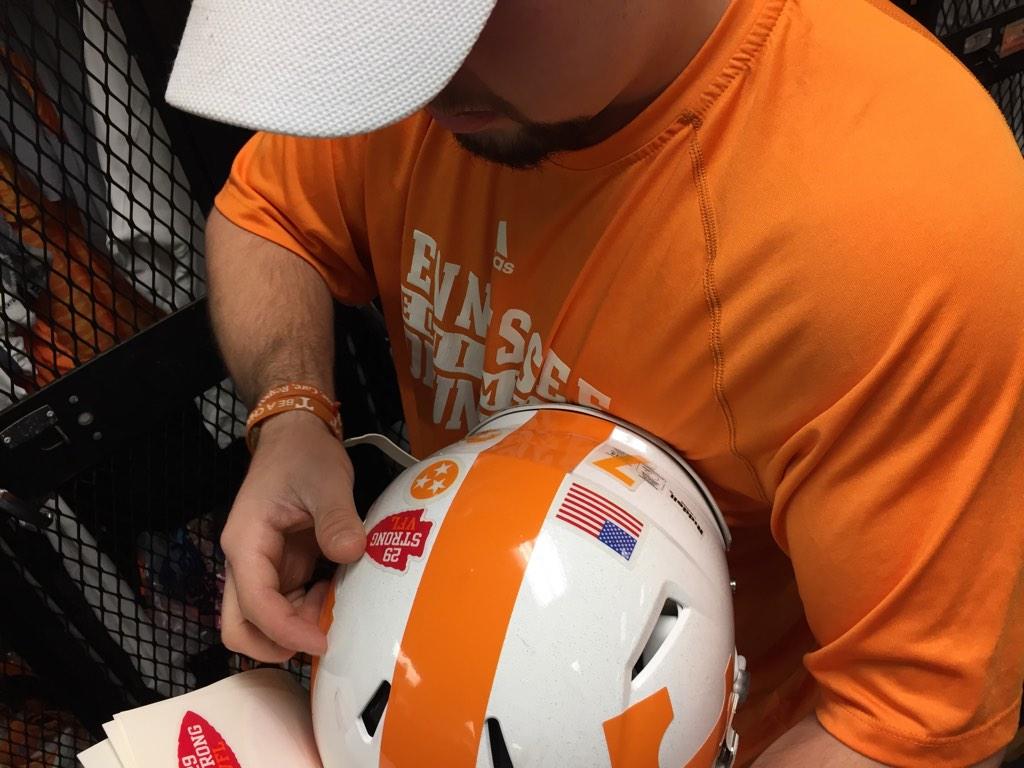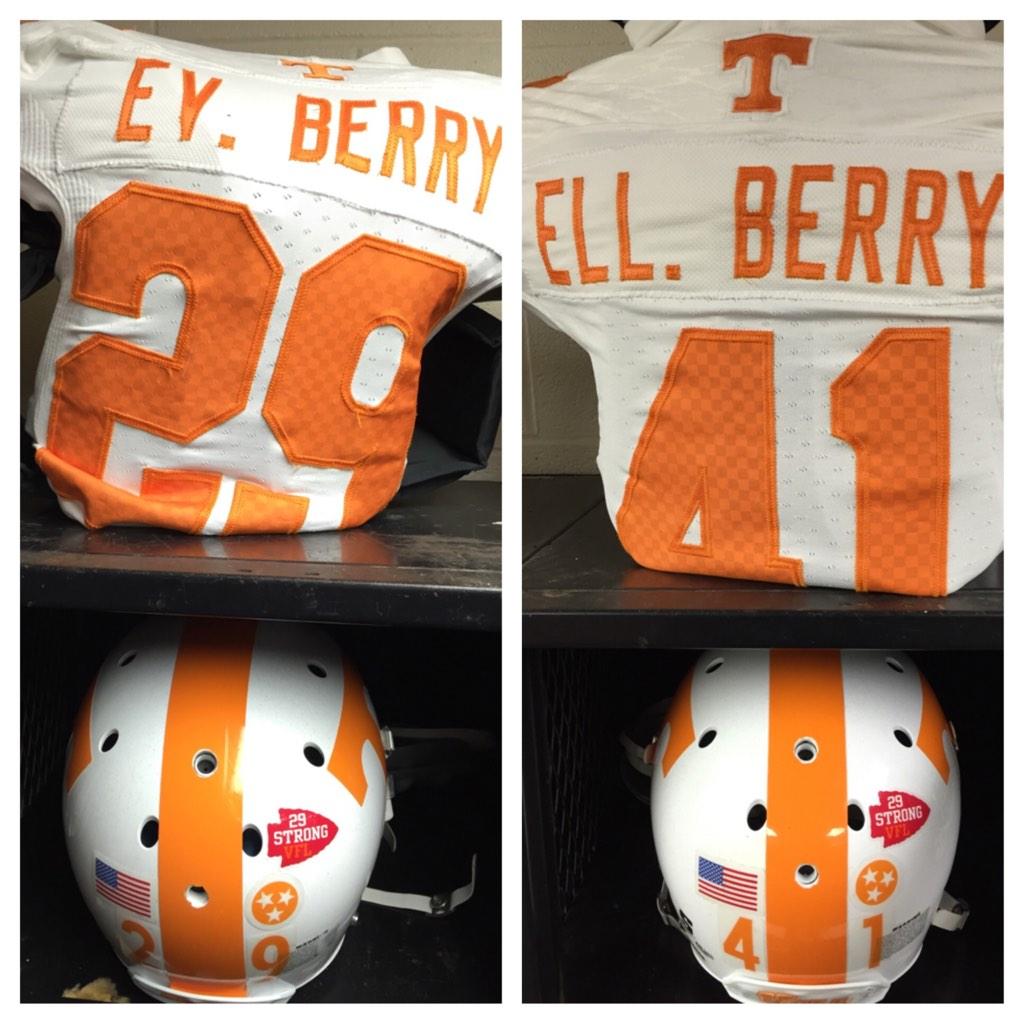 • • • • •
UWFFL update/reminder: Although there's no UWFFL coverage this weekend, the league's weekly Saturday and Sunday games are still taking place. You can vote on them, as usual, here. Full coverage will return next weekend.
• • • • •

Baseball News: 3B Josh Donaldson, newly acquired by the Blue Jays, is quoted thusly at the bottom of this article: "Somebody on Twitter had put me in one of those Toronto Blue Jays uniforms, the all whites. I tell you what, those uniforms are pretty sexy." … This is fascinating, if somewhat disturbing: One of the riot policemen dealing with protests two nights ago in Ferguson, Missouri, was wearing Rawlings-branded catcher's shinguards. Is that standard gear for riot cops? (Great spot by Laurence Holland.)

NFL News: Good article about the current concussion-management protocols. "¦ David Rovinsky says that with the Cowboys having worn blue on Thanksgiving, every NFL team has now worn color at home at least once this season.

College and High School Football News: This is pretty amusing: a Twitter feed exclusively devoted to photos of college football equipment trucks. "Very interesting to see everyone's take on the various designs," says Bob Smith. … Check out the zero used by Nazareth Academy in Illinois — interesting! (Big thanks to Eric Bangeman.) … You've heard of teams going mano a mano, but Missouri and Arkansas went mono vs. mono on Friday. … I'm pretty sure that's a new helmet that Southern wore yesterday (from Toby Nathan). … Minnesota LB De'Vondre Campbell got one of his dreadlocks stuck on his helmet yesterday (from Tony Tengwall). … Pretty sure yesterday was the first time West Virginia has worn white helmets with blue facemasks (from Ethan Lawrence). "¦ Boy, the Oregon/Oregon State game was pretty brutal-looking. Pretty cool nose bumper for the Ducks, though.

Hockey News: Reader Eric Buzard notes that the "2" on the Penguins' helmets doesn't match the one on their throwback jerseys. … Latest team to the the ugly sweater thing: the Saskatoon Blades (from Cory Wolfe). … In this interview with Capitals goalie Braden Holtby, he's asked why he wears No. 70. His answer: "[T]hey just gave it to me at my first camp. I got a surprise call-up my first year, played a few games and people started to buy the jersey. And I felt too bad to change it after I'd seen a couple of people pay money for the jersey, so I stuck with it" (from Nelson Warwick).

Basketball News: Here's an assessment of the Celtics' sleeved gray uniforms. … St. Bonaventure and Niagara both wore Buffalo Braves throwbacks when facing each other yesterday (from Pat Malacaro). … Notre Dame's new gold uni is so gorgeous, not even Under Armour's square collar can ruin them. Very, very nice.

Grab Bag: If you've been intrigued by Uni Watch's recent coverage of rowing blazers, maybe you'll like this rowing blazer-themed necktie. … David Firestone has done some NASCAR paint scheme rankings for Chevy and Ford. … Had brunch with friends yesterday at the Russ & Daughters Café on Orchard St., where the bathroom wallpaper featured a very cool pattern based on those "take a number" thingies. … Look at these three Aussie rules football teammates from 1963 — non-matching shorts, non-matching socks, and one guy doesn't have sleeves (great find from Graham Clayton).