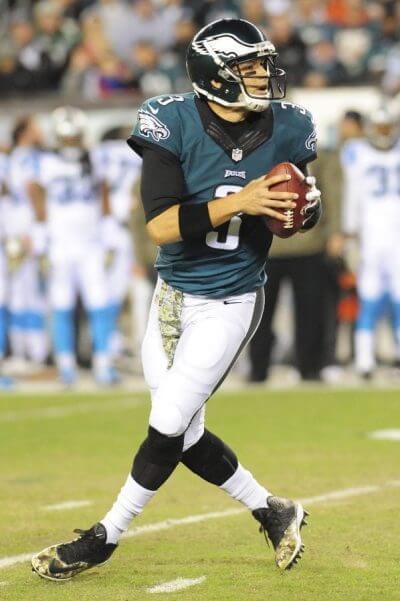 It had to happen eventually: The Eagles' green jerseys, which weren't ready in time for the start of the regular season, finally made their 2014 debut last night. I'm surprised (and, okay, disappointed) that Nike hasn't taken more heat for this snafu, which has to go down as one of the biggest failures ever by a uniform supplier, but whatever — the Eagles' wardrobe is finally fully stocked.
As we all know by now, the problems with this jersey had to do with matching the team's precise shade of green, which was apparently difficult to achieve with Nike's latest jersey fabric. This is why the Eagles were using the old pre-Nike fabric for the past two seasons. Several readers said the jersey color still didn't look quite right last night, although I'd like to wait until there's a day game before fully assessing that.
As others have noted, green seems to give Nike fits. The Jets, for example, often have several different shades of green visible on their jerseys. And then there are the Packers, who still use the old pre-Nike fabric for their jerseys. Nobody has come out and said it's because Nike can't match the Pack's shade of green in the more up-to-date fabrication, but I strongly suspect that's the case.
What is it about green that's so challenging? It's a secondary color (a mix of blue and yellow), but so are orange and purple, and nobody seems to have any problems matching those. I know some of you folks out there are particularly adept when it comes to colors and/or textiles, so please enlighten us.
I find the green situation particularly disheartening because green is — and has always been — my favorite color. I have a green car, a green sofa, a green living room chair, a green office chair, green sheets, green towels, lots of green clothing, and, let's not forget, a green-themed website. When my parents got me a bicycle for my fifth birthday, they damn well knew it had to be green. (And it was.) Back in the late 1980s, I even loved an indie-rock band called Green (not because of their name, but that didn't hurt).
I don't recall exactly when I fell in love with green, but I do remember this: My mom had been an artist when she was younger, and she used to sit me down in front of easel and encourage me to paint. One day, when I was very young (three, maybe?), she showed me how mixing blue and yellow together formed green. I was mesmerized — it was like magic! Instant green, spontaneous green. I sat there for what seemed like hours (but was probably just a minute or two, given a three-year-old's attention span), mixing yellow and blue in various proportions to make different shades of green.
I've always thought green is seriously underrepresented in the uni-verse, so I loved it when the Devil Rays scrapped their inaugural rainbow-gradation uni set for this look (one of MLB's more underrated uniforms of recent decades), and was bummed when they then traded in that look for their current design. On the plus side, I was happy when the Dallas Stars recently switched from this to this.
Anyway: By this time next year, maybe the Eagles will be wearing kelly green. Will that be any easier for Nike to reproduce? Let's hope so.
•  •  •  •  •
One-stop shopping for idiocy: I don't know what the fuck the Blackhawks were thinking yesterday, but they definitely get points for efficiency, because they managed to roll just about every wrong-headed uni-related trope into one incredibly ill-advised T-shirt:
The #Blackhawks Store will open early tomorrow with special Veterans Day promotions! For more: https://t.co/VSX2i30fpp pic.twitter.com/QUbxujpn4P

— Chicago Blackhawks (@NHLBlackhawks) November 10, 2014
I have nothing further to add here. I thought I had nothing more to add here, but then Doug Keklak and Phil showed me what the Johnstown Tomahawks were wearing last night:
@PhilHecken did anyone send you guys this monstrosity? pic.twitter.com/4USFDjgH2a

— Kek (@dougkeklak) November 11, 2014
How clueless can these teams be? Like, why not paint a trail of tears on the ice while you're at it?
• • • • •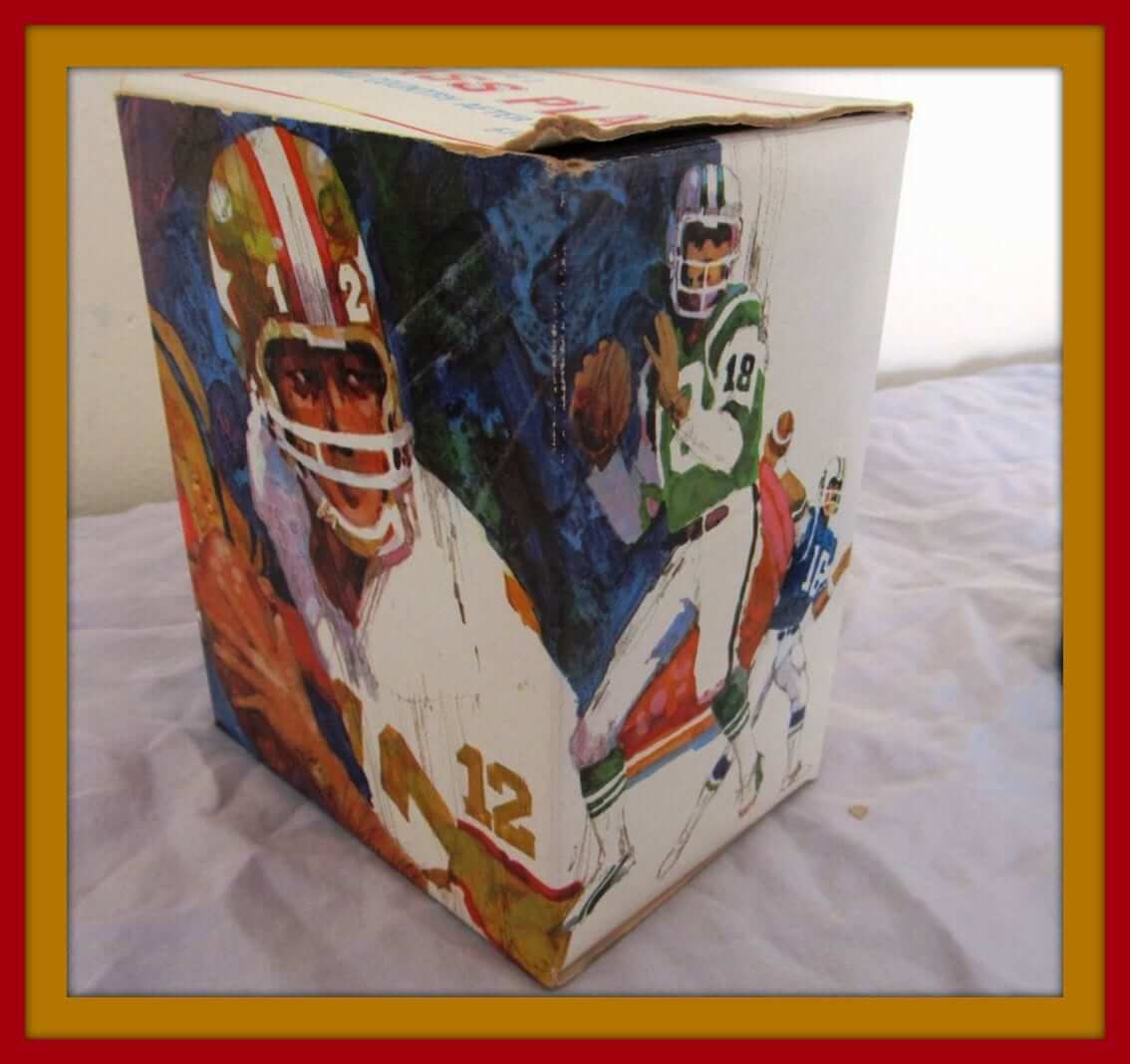 Click to enlarge
Collector's Corner
By Brinke Guthrie
Saw this 1970s Avon men's after shave decanter on Etsy. Man, look at that box artwork — it appears the designer took, shall we say, "artistic license" with the depiction. That's probably Bradshaw — it looks like him in the eyes, and there are the front numbers and Dunmark facemask. Yet the helmet has Niners colors, with a Cowboys star, and the sleeve stripe spacing kind of looks like early Bucs. No doubt that's Joe Willie next to him, wearing No. 18 with what looks like Cowboys or Lions colors.
As for the rest of this week's haul:
• Remember this? The 1973 NFL Playbook from American Express? BUY THIS! Twenty bucks!! [Couldn't agree more. A very formative item from my sports youth, and I still have my copy. "" PL]
• These notebooks with a football-style pebbled leather finish are real nice. Got one from the Bengals as a present. This one was a Panthers gift to their PSL holders.
• Here's an official 1960s NFL Portrait Album — no portraits, though.
• As long as you don't mind mixing and matching your 1970s blue-and-yellow-themed teams, how about a Billy the Kid NFL-licensed corduroy jacket and pants set from Sears, featuring the LA Rams and the San Diego Chargers.
• Is that Marv Hubbard on this 1970s Oakland Ray-duhz wall light switch plate? Had two of these — one Reds and one Bengals. I'd swap 'em out depending on the season.
• Like this Tampa Bay Bucs shirt, which is of course is not really a Tampa Bay Bucs shirt. The colors and the font are so dead-on 1970s. But it could pass for a Bucco Bruce accessory!
• If you're a Cubs fan and wear a size L, I totally recommend you check out this DeLong parka. Had a Reds one in black, and they are outstanding. A very soft shell with quilted lining.
• Check it out: This NHL puck display was given out to Texaco station owners in the 1970s.
Had one of these Cowboys sweatshirts. Authentic Pro Line, baby. Russell made great, sturdy stuff. No flash, just function. Staying with Dallas, I also had one of these pullovers from Starter. Excellent quality.
•  •  •  • •

Baseball News: The Twins' new home uni had already leaked over the weekend, but they officially unveiled it yesterday. Additional photos here. Feels more like a lateral move, not an upgrade or a downgrade, except for that gold-accented cap logo, which is a stinker. "¦ You know how teams will offer giveaway items to "the first 25,000 fans," or whatever? The Mets are lowering that number from 20,000 to 15,000 next season. Hmmmmm. "¦ The new Majestic catalog shows, among other things, a new BP jersey for the Giants (from Aaron Praszker).

NFL News: Cam Newton took G.I. Joevember a step further last night by wearing these headphones prior to the Panthers/Eagles game (thanks, Phil). "¦ Tim Donovan was watching last night's game and noticed ESPN analyst Jon Gruden holding a binder with a Panthers logo he didn't recognize. "I did a quick look at Chris Creamer's site and found out it was an alternate logo used by the team from 1995-2011." I've been aware of that logo's existence, but have rarely if ever seen it used anywhere. It reminds me of another rarely seen full-body animal logo — this one for the Broncos. "¦ The Falcons wore captaincy patches on Sunday. "I think this is the first time they've done this for a regular season game," says Ian Irwin. … "I found some clips from the 1973 made-for-TV biopic of Vince Lombardi, Legend in Granite," says Mathew Prigge. "Here is Lombardi, played by Ernest Borgnine, addressing rookies dressed in mono-gold unis at his first training camp." … The Packers will wear their Acme Packers throwbacks this Sunday (from John Okray).

College Football News: New black helmet for Maryland. … Ohio is doing a blackout next Tuesday. It doesn't specifically say that they'll be wearing black uniforms, but they do have this design in their wardrobe (from Leo Strawn Jr.). … Flag-desecration helmet on tap for Buffalo (thanks, Phil). … The Telecom Bowl is now the Car Tire Bowl. "¦ This is pretty awesome: color footage of the 1939 Iowa/Notre Dame game. " You can see ND switch to the green jerseys when the second half begins at 11:49," says Jimmy Atkinson."Some really good footage here, and. a good amount of pregame and halftime band action as well!"

Hockey News: The Bruins played dress-up soldier for pregame warm-ups prior to last night's game against the Devils. Here's a close-up on the chest patch. … Here's a video segment on the woman who does the chain-stitching on the Blackhawks' jerseys (from David Cummings).

NBA News: NOB typo in last night's Bulls/Pistons game, as Andre Drummond was victimized (thanks, Phil). "¦ The Blazers wore special shooting shirts on Sunday to honor a fan who passed away during a game last week (from Kristina Cruz). … Cole Flick inherited this jersey from his uncle, who got if from someone at the old Chicago Stadium. Is it an old all-star jersey? Something else? … Here's the logo for the Saturday-night component of All-Star weekend. … As we've previously noted, NBA refs have new uniforms this season. But the crew working last week's Spurs/Rockets game was wearing last year's uni design. Odd (from Josh Edney).

Grab Bag: Here's a story about the curling clinic that Phil and I attended two nights ago. "¦ Douglas Ford thinks he may have found the next Uni Watch intern. "¦ Here's a great illo of every Brabham Formula 1 livery from 1962 to 1992 (from Graham Clayton).