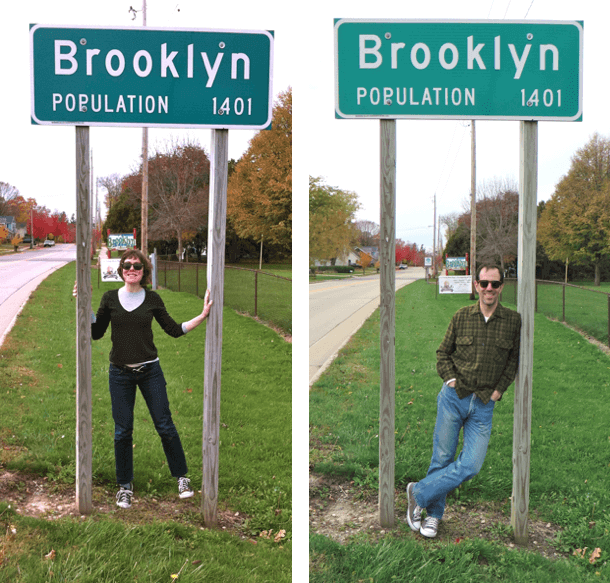 Click to enlarge
The photos you see above were taken two Sundays ago in Brooklyn, Wisconsin, one of the 11 Brooklyns scattered across America. The town made for a fun photo op during my recent vacation in Wisconsin, where the New Girl and I spent last week.
As you can see, Wisconsin lists a town's population as you hit the city limits, a small but informative gesture that's very useful if you happen to be road-tripping. It's one of the many things I love about Wisconsin, which is my favorite state. I visit there a lot — roughly two years out of every three, give or take — but this was the New Girl's first trip there, and it was fun to see America's Dairyland through her never-been-here-before eyes.
We spent our week (Saturday to Saturday) meandering in a big, 700ish-mile clockwise loop around the state's south-central region, beginning and ending in Milwaukee. The route I've traced on the map shown below is approximate — we went on tiny local roads whenever possible — but it should give you a rough idea of the ground we covered (click to enlarge):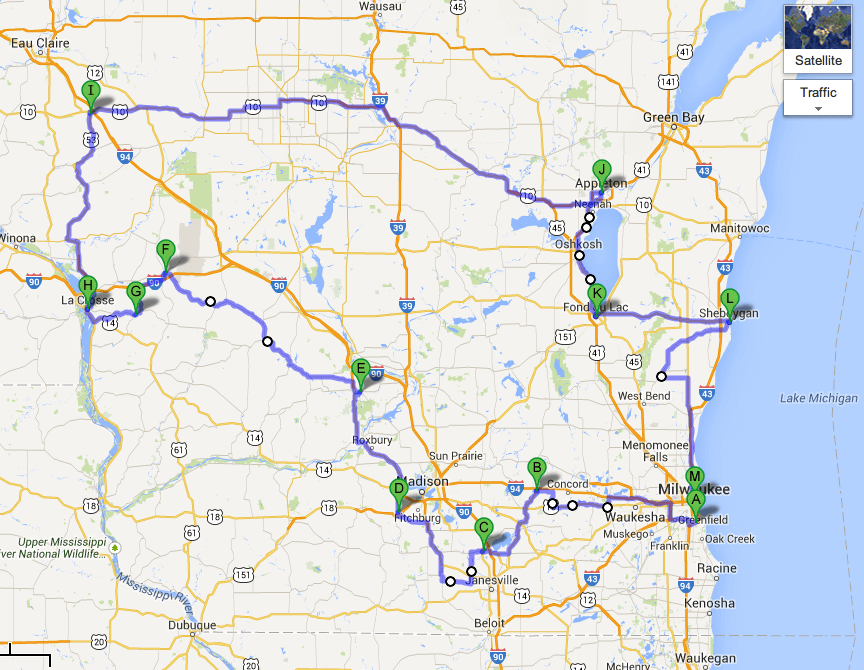 It was a great, great trip. We had perfect weather, the autumn foliage was spectacular, and we met lots of interesting folks along the way. Here are some of the highlights, listed chronologically:
Sunday: Dr. Evermor's Forevertron
Tom Every (who, by coincidence, was born in Brooklyn, Wisconsin) was a demolition engineer who got tired of destroying things and decided to start making things instead. In the 1980s he renamed himself Dr. Evermor and began building the Forevertron, a massive sci-fi-ish gadget (or at least that's what it would be if it actually worked) that's currently the world's largest scrap metal sculpture. It sits in the middle of a sprawling sculpture park filled with Evermor's other work, which is crafted from scrap metal, musical instruments, rusty tools, old knives, gas pump handles, and just about anything else you can think of, much of it salvaged from his old demolition jobs. It's all pretty mind-blowing, and I'm not exaggerating when I say that visiting here was one of the greatest experiences of my life.
There are two aspects of the sculpture park that hit you really hard. The first is the sheer volume of the sculptures. Evermor (who wasn't there on the day we visited, unfortunately, although we did get to meet his wife and daughter) is clearly one of those obsessive-compulsive artists for whom creative production isn't a choice — it's an imperative. I've always been fascinated by that kind of thing.
The other overriding theme at the park is the sense of wit, play, and whimsy in Evermor's work. The vast majority of his sculptures are of birds, fish, dogs, insects, and other animals, and most of them have super-expressive faces that are irresistibly smile-inducing. And some of Evermor's choices of how to depict feathers (or eyes, or beaks, or whatever) are really clever — I found myself chuckling again and again.
I took about 100 photos and haven't had time yet to edit any of them or weed out the bad ones, but here you go. Look closely and you'll even see a few sculptures of baseball players (if you can't see the slideshow below, click here):
Monday: FAST Corp.
A day after checking out the crazy sculptures at the Forevertron, we visited the crazy sculptures at FAST Corp. "FAST" stands for fiberglass animals, shapes, and trademarks. If you've ever seen a giant steer on the roof of a steakhouse, a giant soft serve cone in front of an ice cream stand, or a Bob's Big Boy statue, there's a good chance that FAST made it. They also make a lot of slides for water parks. The molds from which all of these creations are cast — about 600 of them — sit out in the open in FAST's side yard, and the company allows visitors to roam around and take photos.
I'm going to be writing an article about FAST for a design website, so we got a tour of the facility from the company's general manager. I don't want to give away all the photos before my article runs, but here's a taste (all photos by Heather McCabe; if you can't see the slideshow below, click here):
Monday Night: Leo and Leona's
One of the many great things about Wisconsin is that you can be in the middle of nowhere, surrounded by nothing but rolling farmland, and suddenly there'll be a roadhouse tavern. We stopped at lots and lots of these, but one stood out: Leo and Leona's, a great joint in the flyspeck town of Newburg Corners (population unlisted because the town is unincorporated, but we were told it's "less than 10"). We pulled in there at about 6:30pm on a Monday evening and quickly realized we'd stumbled upon the Best Bar Ever. Great neon, friendly people, and that indefinable but palpable aura the you can always feel when you've discovered a primo watering hole. After a few hours of drinking and kibitzing, someone asked where we were planning to spend the night. We said we didn't know yet (we were pretty much making things up as we went along), so the bartender said, "There's a spare apartment upstairs. You seem like good people, so you can crash there for $25 if you want." How cool is that?! So that's what we did. At the end of the night, the other customers went home, the bartender closed up shop, and we went upstairs. In the morning, we left a nice note and went on our way.
We were so busy having a good time that we didn't take nearly enough photos of Leo and Leona's (I particularly regret not having photographed the beautiful jukebox or any of the wonderful people we met), and the ones we did take were hampered by low light and the inherent challenges of photographing neon signage, but here are some shots (most of these by Heather McCabe; if you can't see the slideshow below, click here):
Leo and Leona's also had a bunch of old beer cases stacked up in the rafters, many of them for brands that don't even exist anymore (click photo to enlarge):
Tuesday: The Wisconsin State Pavilion and Chatty Belle
After the 1964 New York World's Fair, the Wisconsin State Pavilion was going to be demolished, but a local businessman arranged to have it moved back to Neillsville, Wisconsin, where it remains today as a combination visitors' center/radio station. It's a magnificent piece of Googie design (if you can't see the slideshow below, click here):
The Pavilion shares a parking lot with Chatty Belle, the world's largest talking cow. (Yes, there was something of an animal sculpture theme to this trip.) She used to give facts on the dairy industry, but now she mainly talks about herself and about the pavilion, which is sort of disappointing (video not shot by us):
I'm pretty sure Chatty Belle was made by FAST Corp., although I need to confirm that. In any case, she makes for fun photos (if you can't see the slideshow below, click here):
Thursday: Kettle Moraine State Forest
One of my favorite junctures during the trip was the 90 minutes or so that we spent tramping around on a trail in Kettle Moraine State Forest, which provided a much-needed dose of nature after several days spent primarily in car seats and on barstools. What these photos don't capture is the sound of a woodpecker that we heard throughout much of our time in the woods (if you can't see the slideshow, click here):
Friday and Saturday: Holler House
Many of my favorite Milwaukee bars no longer exist. The National Liquor Bar closed down years ago; Art's Concertina Bar was sold and got a makeover. But Holler House endures, thanks to the perseverance of proprietress Marcy Skoronski, who's now 88 years old but still tends bar every day (and cooks a bunch of food for everyone on Sundays). She's a real piece of work, and I mean that in the best way, so it was great to see her looking spry and plucky as usual when we stopped in last Friday night (click photo to enlarge):
The second-best thing about Holler House (after Marcy, natch) is in the basement, which is home to America's oldest pair of league-sanctioned bowling lanes. No automatic pinspotters here — they have live pinboys. This means you can't just walk in and bowl. You have to call ahead, so Marcy can be sure to have a kid on hand to set pins. When we stopped in on Friday night, we made arrangements to bowl the following afternoon.
I've bowled at some pretty cool pin-bashing parlors (including the wonderful Rohman's in Shohola, Pennsylvania, where the customers have to set their own pins), but nothing compares to Holler House. This was my third or fourth time bowling there, and it's always a privilege and a pleasure. As you can see below, it also tends to bring out the best in me:
(In case you're wondering: That was the second take. I got a 9-count on the first take, but the New Girl wasn't happy with the how the introductory sequence looked, so we re-shot and I happened to toss a strike — the first of three in a row, as it turned out. Not bad considering I wasn't using my own ball or shoes, all of which I'd left back home in NYC.)
Saturday: General Mitchell International Airport
This was the day we flew home, but it was still a highlight, because Milwaukee's airport lives up to (and perhaps even raises) Wisconsin's overall coolness quotient by virtue of two awesome quirks. First, the concourse is equipped with Ping Pong tables, which is completely absurd and utterly charming. There's no charge, and nobody seems to hog the table — travelers and families play for a bit and then move on, leaving the paddles and ball on the table for others to use. The whole thing is sort of surreal, and it's a welcome change of pace from the usual mix of harried stress and sterile corporatism found at most airports (click to enlarge):
The other great thing about the Milwaukee airport is what happens after you pass through security. You know how most airports provide a little area where you can put your shoes back on and put everything back in your pockets? Here's what they call that area in Milwaukee (click to enlarge):
Every Day: Taverns
Wisconsin taverns are the best of the best. In addition to the ones referenced above, we stopped at soooo many more — I'd say at least four or five a day, and sometimes more. We weren't getting sloshed or driving drunk, mind you — in most cases we each only had a short beer (i.e., a six- or eight-ounce draft), or shared a bottle. But we almost always ended up having interesting conversations with the bartender and/or the other customers, and we loved that feeling of walking into a new, unfamiliar bar, which for me is like unwrapping a present. We really should have photographed more of these places, but here's a smattering (if you can't see the slideshow, click here):
Miscellaneous
There were some additional things that I documented on Facebook as we went along. I'll let those Facebook posts speak for themselves:
———
There was more, but that's enough for today. One final thought, though: When I mentioned before the trip that I'd be heading to Wisconsin, several of you got in touch and said, "Let's meet up!" or "I'd love to meet you and buy you a beer!" I'm sorry, but I turned down all of those gracious offers — not because I didn't want to meet all of you, but because I wanted this to be a true vacation from Uni Watch in every respect. Thanks for understanding, and for all your enthusiasm. It means a lot, honest.
•  •  •  •  •
Raffle reminder: I'm currently raffling off three very nice baseball stadium prints. Details here.
• • • • •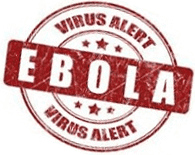 So here's a question: Don't worry, I'm not interested in discussing Ebola policy, quarantine policy, or anything like that (at least not here), but I do have a question that I'm hoping some of our more scientifically oriented readers can answer.
And here it is: We keep hearing that it takes 21 days for someone to go from Ebola exposure to Ebola symptoms. Isn't it rather improbably convenient that the incubation period happens to be exactly three weeks (instead of, say, 17 days, 19 days, or some other random period)? I can understand when things run 24 hours, since that's part of our planet's daily cycle, or even 28 days, since that aligns with the lunar cycle. But our seven-day week is a construct — it has no relation to any natural rhythms, at least that I'm aware of. So it seems like a mighty big coincidence that a virus's incubation period would just happen to be exactly three weeks.
So when scientists talk about Ebola and 21 days, are they really rounding up from another number (19 days, say), because 21 days is easier for people to remember? And if so, are there lots of examples of this throughout the worlds of science and medicine?
Let's please keep the discussion of this limited to the 21-day thing and not delve into other aspects of the Ebola/quarantine issue. Thanks.
• • • • •

'Skins Watch: Comedian Hari Kondabolu wants to change the 'Skins logo so it features a sunburned white guy. "¦ A Navajo high school in Arizona has emerged as an unlikely defender of the 'Skins name (from Tommy Turner). "¦ RUWT — that's "Are You Watching This?," the email service that emails you when a sporting event on TV you might be missing just got exciting — has apparently stopped using the 'Skins game (from Rob Holecko). "¦ Ed Gillespie, the Republican candidate for Senate in Virginia, is running a campaign ad in which he promises to oppose any attempts to make the 'Skins change their name. Interestingly, the ad says that Senate majority leader "has a bill to force the Redskins to change their name." But if you go look at the two articles that the ad cites for that claim, you'll see that one of them doesn't mention any legislation at all and is simply about public opinion and the fallout from the team's loss of trademark protection, and the other one is about revoking the NFL's tax-exempt status. In other words, nobody is "forcing" the 'Skins to do anything. But it's good to know that Ed Gillespie will oppose any such efforts, should they ever occur (which they won't). "¦ "Through the Apache Skateboards Twitter feed, I learned about What TRIBE, described as an 'art campaign aimed towards the eradication of the use of negative images of Native Americans as well as other diverse cultures,'" says Josh Sondelski. "Both have been posting about Native American rights and I've seen Washington-specific posts trickle in as of late." … With the 'Skins playing in Minnesota this weekend, the Minneapolis-based advertising agency Red Circle and the National Coalition Against Racism in Sports and Media have produced a new commercial about the team's name (from Jon Solomonson):

Baseball News: I've been saying for a while now that Giants OF Hunter Pence is the only single-glover in the bigs. But it turns out there's another one: Pence's teammate Madison Bumgarner (good one from Alan Borock). … CNN used a seriously outdated Giants logo for a World Series report yesterday morning (from Dan O'Hara). … Hip-hop star Kendrick Lamar loves the Indians' block-C. … A storefront in Yonkers — that's just north of the Bronx — uses the Twins' logo (from Terence Kearns). "¦ "Working at the Albany International Airport has its perks," says Jamie Burditt. "One of them is seeing a lot of baseball history passing through on its way to Cooperstown, whether it's actual Hall of Fame players, future HOFers, or, every October, World Series game-worn items on their way to be displayed. This year had some interesting items, including Yordano Ventura's cap with his memorial to Oscar Taveras from Game 6. They also had Game 7 winner Jeremy Affeldt's cleats, complete with dirt and grass from the game, Buster Posey's Game 7 jersey, and Pablo Sandoval's bat."

NFL News: Each defensive player for the Browns has been given a spiked black dog collar, and the coaches reward the players by giving out bone-shaped charms for big plays. "¦ During last night's Saints/Panthers game, the NFL Network ran this graphic of Panthers RB Jonathan Stewart. Just one problem: That's actually DeAngelo Williams, not Stewart (from Joey Breeland). "¦ Speaking of the Panthers, QB Cam Newton wore Charlotte Hornets cleats prior to last night's game.

College and High School Football News: Interesting spin on the color-out phenomenon, from Tim Lewis: "As a Michigan alumnus, I recently signed a petition calling for AD Dave Brandon to be fired. I just received an email encouraging the petitioners to wear white to this Saturday's game as an anti-Brandon protest. I'm not going to the game but I still live in Ann Arbor, and you bet I'll be wearing white!" … "I work with a former offensive lineman who played for Danny Ford at Clemson," says Douglas Ford. "The company we work for had 'wear orange for Halloween day' on Thursday, so he brought in this awesome jersey from the 1985 season, which includes a patch for the Independence Bowl." … "I was looking up the Radnor/Lower Merion football game, one of the oldest high school rivalries in the country (played every year since 1897), and found this collection of old program covers," says Andrew Hoenig. "Stock illustrations, mostly. I was at four of these games (1976-79) in the Radnor marching band, and I can assure you that our uniforms did not look anything like the '76 cover." … Here's a new blog about college football uniforms in New England. "Particularly good stuff on the unis worn toward the end of the UVM Catamounts program," says Tris Wykes. … "U! S! A!" helmet for Northwestern State this weekend. … Pride Hubris uniforms on tap tomorrow for Maryland. "¦ Sulligent High School in Alabama uses the Superman logo on their helmet (from Dustin Semore). "¦ LoveloveLOVE this 1993 shot of a Penn State fan wearing a pumpkin helmet. Or is it a helmet pumpkin? (Either way, big thanks to Chris Flinn). "¦ Florida State's new road jersey with the new red numbers also has a new collar design. "¦ Typo alert! That's James Burgess (not Bugress) Jr. of Louisville, from last night (thanks Phil). "¦ Here's this week's uni combo for Washington.

Hockey News: G.I. Joevember move upcoming for the Bruins, who'll be wearing camouflage warm-up jerseys and using camo tape on their sticks on Nov. 10. "¦ Full-body skeleton costumes on tap for the ECHL's Utah Grizzlies.

NBA News: The Cavs opened the season by wearing their new blue alternates. That marked the 27th different jersey design of LeBron James's career. Here are the other 26 (from Michael Johnson). … In a related item, the Cavs gave out "chalk toss" bags last night. "¦ Also, someone on the Cleveland bench was apparently pouring Gatorade into a Powerade bottle for LeBron.

Soccer News: A college soccer team in England has been told to stop wearing its PornHub-sponsored jerseys. … The Colorado Rapids are suing their jersey sponsor, Ciao Telecom, over missed payments. … Here's what Russian design experts think of the new logo for the 2018 World Cup, which will be taking place in Russia. … Here's an amazing nesting doll set with Lazio's late-'90s starting lineup (from Yusuke Toyoda). … The MLS's new Orlando City fanchise will unveil its inaugural uniform set next week (thanks, Phil).

Grab Bag: Here's a good visual guide to men's dress shoes (thanks, Brinke). … Will we soon start seeing uniforms made in Ethiopia? Could be, because that's where the center of gravity in the garment industry's sweatshop operations is shifting (from Tommy Turner). … New uniforms for the El Dorado, Arkansas, fire department. … A skating rink in Newfoundland, Canada, is instituting a mandatory helmet policy for anyone on the ice — customers, staff, everyone. … Fun article about the design of superhero wordmarks. "¦ World Bowling, bowling's international body, has come up a new, awful-sounding way to score a game, primarily to suck up to the IOC (from Jon Solomonson. "¦ With the Melbourne Cup horse race just around the corner, here's an infographic showing all the winning jockeys' silks from 1862 to 2013 (from Graham Clayton).
• • • • •

What Paul did last night: One of the best things about NYC this time of year is the annual Food Film Festival, a multi-night program of movies about food (short documentaries, mostly, although there are usually some short animations and other less serious stuff), accompanied by the foods shown in the movies. The installment that I attended last night featured nine short films, ranging in length from one minute to 33 minutes. During each one, a small army of volunteers marched down the aisles and distributed little samples of the food or drink being shown on the screen, which sounds chaotic but works surprisingly smoothly. We got to try rye whiskey, red wine, pizza, hot dogs, buckwheat pasta with pesto, churros, macaroni with Sriracha, goat cheese, black bean soup, and more. Then there was an afterparty with more foods related to the films. It's a great, great time and extremely well organized. It isn't cheap (the tickets are usually $85, although I bought mine at the "early bird" price of $70), but it's totally worth it. Puts a whole new spin on the concept of "dinner and a movie."
• • • • •
On a personal note: My 90-year-old mom is having hip-replacement surgery on Monday and will be in the hospital until Thursday. It should be fairly routine, as such things go, but still — she's 90 years old and all. My brother and I haven't yet worked out the logistics of who'll be visiting her on which days, but it's possible that the site will end up with a day or two of lighter-than-usual content next week. Thanks in advance for your patience.
The good news is that she wouldn't be going ahead with this procedure (and the doctor wouldn't have recommended it) unless she felt optimistic about getting plenty of years' worth of use out of the rebuilt hip. So that's a really positive thing — I'm proud of her.