Click to enlarge
I've written many times about the seminal graphic designer and illustrator Otis Shepard, who did great artwork for the Cubs, plus he designed several of the Cubbies' uniforms. He also did lots of non-sports work, most notably for Wrigley. His creative partner for most of this work was his wife, Dorothy Shepard.
I was stoked to learn yesterday that a new coffee table book about the Shepards, called Dorothy and Otis: Designing the American Dream, will be published next week. According to this review, it's loaded with gorgeous Cubs-related imagery, along with other work from their advertising career. Sounds like a potentially excellent holiday gift. I've asked the publisher for a review copy and will give a full report as soon as I'm able.
Meanwhile: New ESPN column today — a belated look at the World Series (which I would have written earlier if not for last week's vacation). Enjoy.
(Big thanks to former Uni Watch bench coach Bryan Redemske for tipping me wise to the Shepard book.)
•  •  •  •  •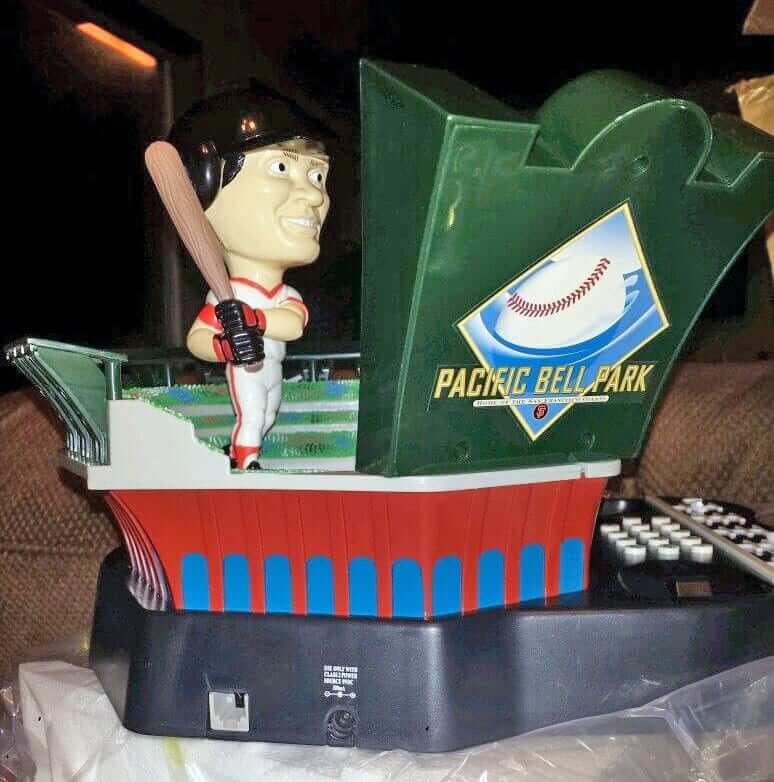 Collector's Corner
By Brinke Guthrie
Leading off once again with a couple of Giants/Royals items 'cause, well, you know. Game Six tonight and all. First up, this swell Pacific Bell Park phone from, I'm gonna guess, 2000 — the year the park opened for biz. I don't really care either way about most corporate branding, but PacBell Park just sounded good to me — it flowed. Then came SBC Park (ack) and finally AT&T Park. Willie Mays Field would have been the best, but it don't pay the bills. If you're a Royals fan, you might be interested in this vintage George Brett table lamp. Wonder if that bat has any you-know-what about the trademark?
Here are the rest of this week's eBay picks:
• Cool-looking 1971 Pat Patriot poster. (Say that five times fast!)
• Here's a nice-looking framed MLB pin collection from the 1970s-1980s.
• Vikes fans, you'll love this lot of items from the 1970s — a bank, belt buckle, wallet and more. The same seller also has some Vikes headwear.
• Look at this vintage Twins pin! Simple but awesome.
• Cliff Engle sweater alert! This time the team in question is the Red Wings.
• Here's something I like a lot: a baseball sitting in a little stadium seat, which is mounted on home plate. This one's for the Yanks.
• One of the best MLB team logos ever was the Brewers' ball-in-glove design, and here it is on a gold-trimmed beer stein. Wish they'd go back to this logo full-time.
• Reader Michael Clary submitted a bunch of items this week, including a Pittsburgh Pirates beanie, a 1970s Swingin' A's alarm clock, a 1970s Phil Esposito gym bag (no logos on this one), and a Boston Red Sox pencil case. Thank you, Clarybird!
• A collection of 1970s NFL matchbook boxes? Well, they put their logos on everything, so why not. Here's another matchbook, this one for the Steelers. Always liked helmet depictions without the facemask, which obviously would not have fit here.
• Did I mention that they'll put a logo on anything? Like, say, a Chargers clothes organizer. (Speaking of the Chargers, you think Ryan Leaf has one of these Beanie baby-type bears in his latest jail cell?)
• NFL mini-helmet buggy alert! Got your Bills, 49ers, and Chargers designs right here. Just bid, baby.
•  •  •  •  •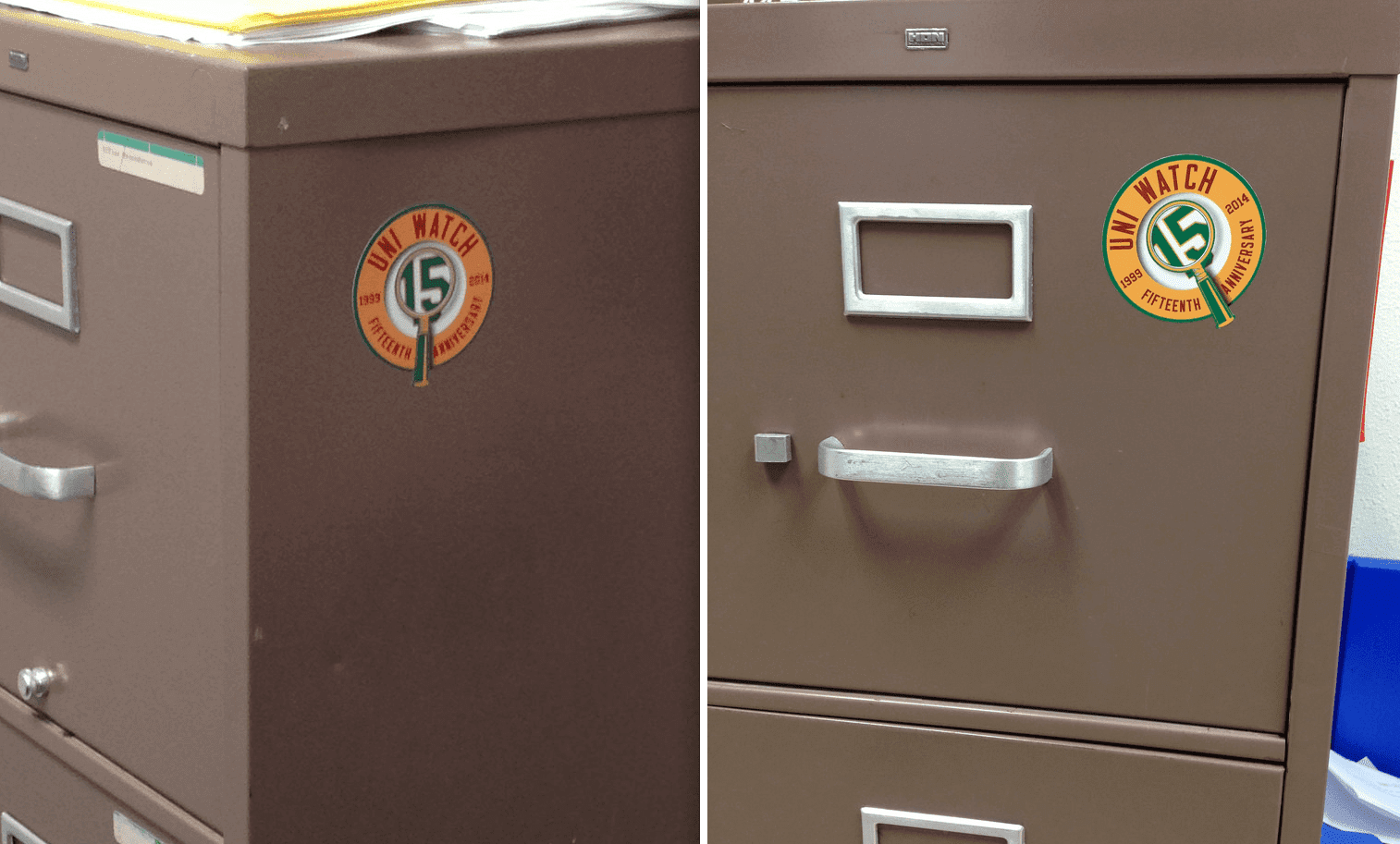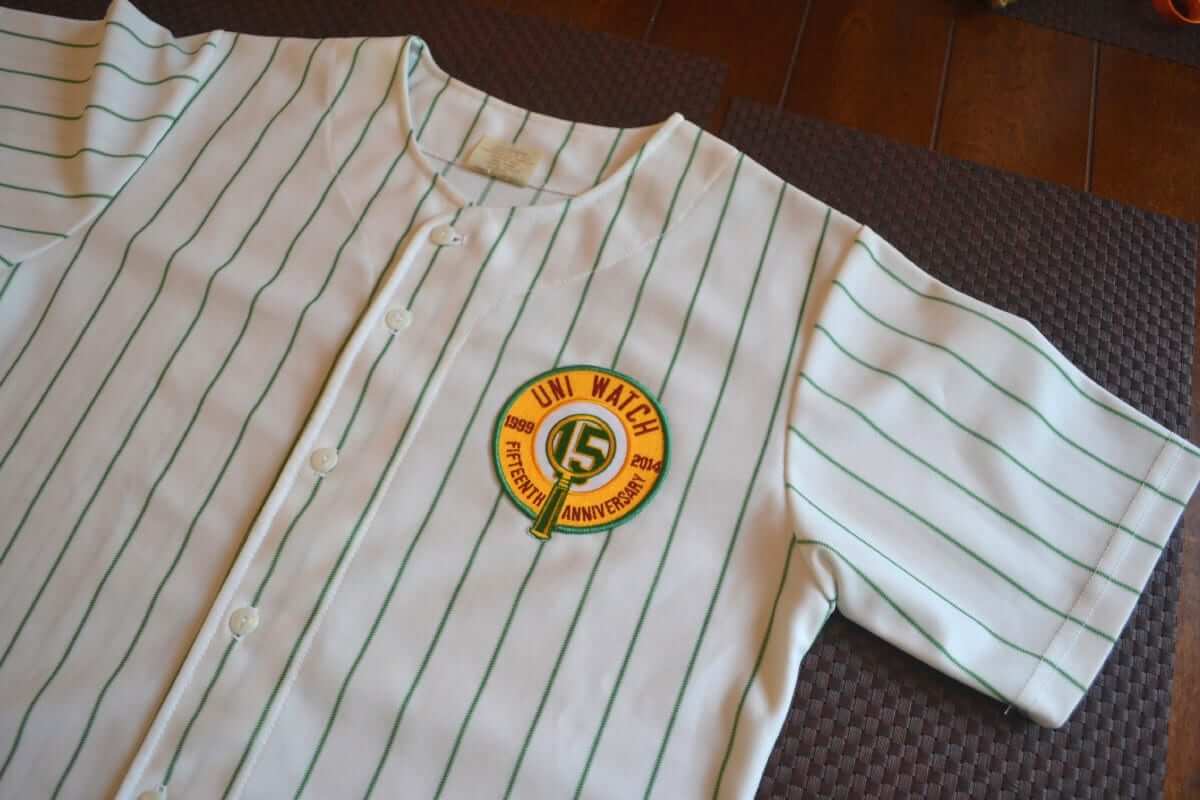 Click photos to enlarge
Anniversary merch update: The top photos show two Uni Watch 15th-anniversary stickers that reader Alex Allen has slapped on some file cabinets at his job. The lower photo shows a Uni Watch 15th-anniversary patch that a reader who prefers to remain anonymous has hand-sewn onto a green-pinstriped baseball jersey. Nice!
Do you have photos showing showing what you've done with the anniversary merch? Send 'em this-a-way. And if you haven't already ordered your own merch, here's where you can score a patch or some stickers.
• • • • •
Outtakes reminder: In case you missed it yesterday, I've written an interesting and entertaining article (or so I'd like to think) about things that have been removed from other things. Check it out here.
• • • • •
Uni Watch News Ticker
By Garrett McGrath

Baseball News: The Astros might get rid of that berm in center field for 2016. "¦ The San Diego State baseball team held its annual Halloween costume game on Sunday. "¦ "I'm getting into arguments with people about the way Hunter Pence wears his pants," says Scott Unes. "A lot of people out there seem to believe his above-the-knee style somehow harkens back to the way players wore their pants in the old days. I believe that nobody ever wore their pants that high, except maybe Elizabethans (imagine Shakespeare, with a neck ruff, wearing those poofy pants that sit above the knees, over tights, and you get the image that pops into my head every time I see Pence step up to bat). Am I correct? I've viewed a lot of old baseball pictures, but never remember any era where the pants were pulled up to expose the entire, sock-covered knee." … "I was looking at the new CFL caps from New Era cap company, and on their site is a section in the sidebar entitled, Heritage," says Leo Strawn, Jr. "After clicking that tab, you 'click to begin' and the site brings up a page with a timeline. If you move the slider bar over to 1930, there are three items, one of which is an old Tribe cap. The company states: 'The first New Era ® professional baseball cap was produced in 1934 for the Cleveland Indians ® home and away uniforms.' By clicking on that 1934 (home) cap (which looks like this), the following can be read: 'There was no such thing as exclusive licensing back then, so each year various companies would compete for the teams' business, as well as for minor leagues and local league teams – which made up the bulk of the industry back in the pre-souvenir cap days.' I thought that was a pretty interesting look at how teams got their uniforms prior to the big contract and merchandising days." … When Bill Clinton threw out the first pitch at Jacobs Field on Opening Day in 1994, he was wearing a cap with a "C," not a Wahoo cap. It wasn't the Indians' current block-C, either. Anyone know more? (From Jameson Stonington.)

NFL News: According to someone on Reddit who may or may not be a reliable source, the Broncos have asked Nike for orange pants for next season (from Jason Greening). … From yesterday's comments: Paul pointed out how William Gay wore purple cleats. According to teammate Ike Taylor, it was to raise awareness for domestic violence (from Sam Jasinski). … A dedicated New York Giants fan built an awesome replica of the team's old stadium — and it only cost $20,000 (thanks Brinke). … CBS ran a Thursday Night Football advertisement during Sunday's games that used the old Carolina Panthers wordmark (from Tom Konecny). … In more Panthers news, they celebrated their 21st birthday on Twitter with a photograph of Jerry Richardson and Paul Tagliabue posing with a prototype jersey (from Yusuke Toyoda). … Yesterday, we shared that with the Lions/Falcons game taking place in London, Fox's graphics team took the unusual step of creating soccer-style logos for each team. Turns out Fox they licensed the logos from Football as Football (from Jeffrey Sak). … Here's another look at that weird Patriots prototype helmet that's on display at Arrowhead Stadium (from Kevin Ackley).

College Football News: Georgia and Florida will be going color vs. color on Saturday. The last time both teams wore home uniforms against each other was in 1968 (thanks, Phil). … Arizona State fans decided on black/maroon/black for Saturday's game versus Utah — the first time the team has worn that combo. … Here's an article about a collection of historical items from Jack Trice's teammate Ira Young (from Joshua Kagavi). "¦ Cool history story: Fritz Crisler might have gotten the idea for using distinct offensive and defensive units — instead of using the same 11 guys on both sides of the ball for 60 minutes — from F. Scott Fitzgerald. A great colorized photo accompanies that article (from Bobby Pinkham). … "During the South Carolina/Auburn game this past weekend, some blue yard line and yard marker graphics appeared on the field and then disappeared," says Gary Brackle. Anyone know what that would be for?

Hockey News: Sidney Crosby of the Pittsburgh Penguins is happy with their new third jersey because it replaces the blue jerseys that were bad luck for him. While wearing them he had a concussion and broke his jaw (thanks, Phil). … Junior hockey team the Plymouth Whalers dyed their ice pink (from J. Cristiano). … Yesterday, Paul posted about Scott Darling's striped pads. Reader Kasey Ignarski points out that Darling's mask includes logos for the Cubs, Bulls, and Bears.

Soccer News: All from Yusuke Toyoda: Chelsea's Oscar is wearing pink shoes with his wife's nickname stitched on the side. … "A couple of half/half jerseys on display in England this weekend, at Liverpool vs Hull and Manchester United vs Chelsea. Both were as popular with the Twitterati as you'd expect." … An English man named Chris Smith makes Lego models of soccer stadiums.

Pro and College Basketball News: The Cleveland Cavaliers' new video board at their arena is the largest HD scoreboard in any area in the country (thanks, Phil). … The 76ers will have 3D court-projection technology and they showed it last night in a demonstration (from Kurt Esposito). "¦ Saint Joseph's will honor Dr. Jack Ramsay this season with a memorial patch.

Grab Bag: New York's tourism bureau has produced a series of retro-styled posters aimed at getting locals to explore different neighborhoods in their own city (from Yusuke Toyoda). … Good article from a breast cancer survivor who's had enough of Pinktober (from Tom Currie). … "I saw this bedazzled Pittsburgh sports hybrid logo on a recent trip to the Burgh," says Gordon Blau. Now I know what I'm getting my cousin for Christmas.
• • • • •

What Paul did last night: Saw the new flick Birdman last night and really liked it. It's not perfect by any means (biggest flaw: It's a total testosterone-fest, with the male characters all pretty well fleshed out while the female ones are barely developed enough to qualify as two-dimensional), but it's a hell of a ride with several terrific performances, along with a very enjoyable technical gimmick.
As you've probably heard, Birdman is about a washed-up Hollywood actor who's trying to revive his career by directing and starring in a Broadway play, and it's really interesting to see the levels of acting that take place within the film — the difference between movie acting and stage acting. That's one of many good meta-layers within this film, which is definitely worth seeing.