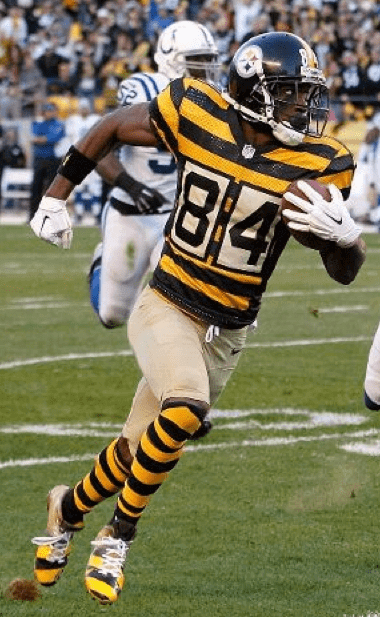 Heya — I'm back. Got home from Wisconsin on Saturday. It was a great, great trip (which I'll have more to say about in a day or two), but it's good to be home and I'm happy to be back in the saddle for Monday Morning Uni Watch. So without further ado:
• The Jets wore mono-green and, stealing a page from a recent TCU game, worked the uni into their game plan: While setting up for a kickoff return, the Jets "hid" an extra return man in the end zone by having him lie down in the grass, hoping the other team wouldn't notice (green grass + green uni = invisibility, or at least that was the idea). But these are the Jets we're talking about, so of course the trick play failed miserably.
• The Steelers wore their bumblebee throwbacks. I watched most of this game, and the Pittsburgh players looked great — except for cornerback William Gay, who for some reason wore purple shoes. Even if you don't hate purple as much as I do, I hope we can all agree that that's not a good look.
• Speaking of the Steelers: No photo, but Ben Roethlisberger tried a pooch punt yesterday (it was blocked) and I was surprised to see that he used his left leg. I went looking for additional examples and found that, sure enough, he punts left-footed — even though he passes right-handed. I wonder how rare that is.
• For the first time all season, the Titans wore a non-white jersey.
• Disturbing sight in Foxboro, as several Patriots players were wearing swoosh-emblazoned socks. I think that's the first time I've seen that in an NFL game. Grrrrrrrr.
• The Seahawks wore mono-gray. Still looks like just a dirty version of the white uni to me. They're 4-0 lifetime in that uni combo.
• With the Lions/Falcons game taking place in London, Fox's graphics team took the unusual step of creating soccer-style logos for each team. (More puzzlingly, Fox also ran a graphic in the first quarter indicating that the Bears needed a touchdown to win.)
• Another soccer-related touch at the Lions/Falcons game: team scarves.
• The Saints wore mono-black.
• Only one team wore white at home yesterday: the Bucs.
• From what I saw, there was little if any Pinktober gear yesterday. With only two more games left this month (tonight and Thursday night), we're almost done with this accursed annual ritual — and almost ready to start G.I. Joevember. Sigh.
(My thanks to Kyle Hanks, Mikhail Herrera, Yusuke Toyoda, and Scot Tsechrintzis for their contributions.)
• • • • •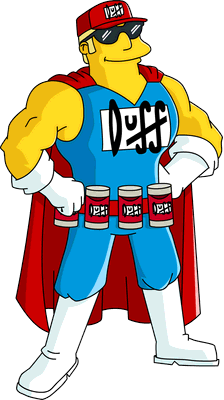 "Are you ready to get Duffed?" One of the oddities of this year's World Series is that both teams have a Duffy on the roster — infielder Matt Duffy for the Giants and pitcher Danny Duffy for the Royals. Not surprisingly, both of them have been nicknamed Duffman, which has led to some fun moments.
Matt Duffy, despite having made his MLB debut less than three months ago, already has Duffman bat knob decals. And when the Royals were in the process of being blown out by the Giants in Game 4 of the Series, the call went out for KC's version of Duffman.
And as long as we're talking about the World Series, here's an additional note: One of Fox's cameramen last night was wearing 2007 World Series sweatshirt. (My thanks to Phil for that last tidbit.)
• • • • •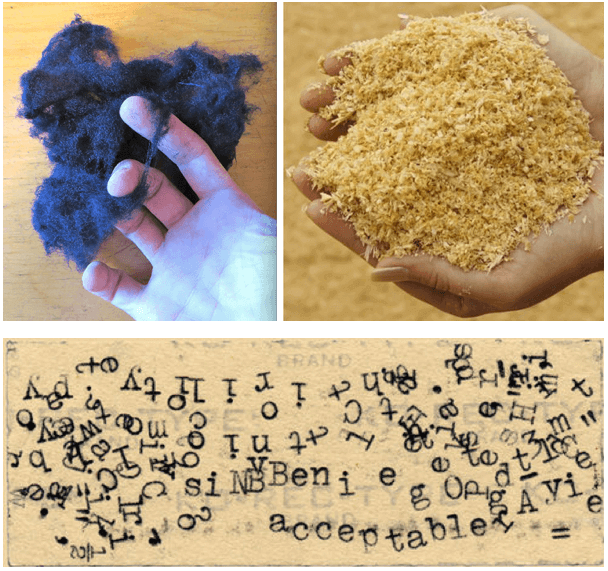 New project! What you see above, clockwise from top left, is some lacquer chip from an audio mastering plant, a handful of sawdust, and a well-used sheet of Ko-Rec-Type. All of them are examples of what I've decided to call outtakes — things that are removed from other things, or that document the removal of something from something else, and provide some element of transformation and/or surprise along the way. I've written an initial outtakes manifesto for the design website re:Form, and I'm pretty happy with it — I'd be much obliged if you'd take a look.
I feel like the concept of outtakes has lots of potential for additional exploration — maybe a follow-up article, maybe a blog, maybe a book. If you like the initial re:Form piece and have some thoughts or suggestions regarding outtakes, I'm all ears. Thanks.
•  •  •  •  •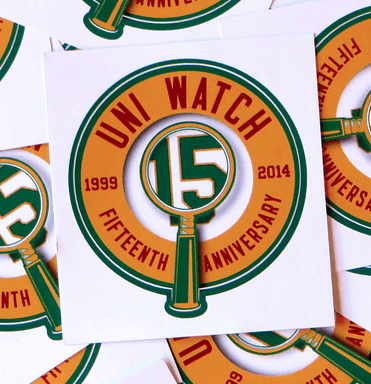 Sticker update: I came home from vacation on Saturday to find a bunch of Uni Watch 15th-anniversary sticker orders that had piled up while I was away. Those stickers will all mail out today. If you want to order your own stickers, look here. And remember, 15th-anniversary embroidered patches are available here.
Speaking of the stickers and patches, what are you folks doing with them? I'd love to see where you're sticking/sewing them. Send photos!
PermaRec update: I recently conducted an interview with Nick Yablon, who's an expert on the subject of time capsules. Really interesting stuff! Check it out here.
• • • • •

Baseball News: Really good look at the history of catcher's mask design (from Gordon Blau) "¦ Three Mets players visited a Tottenham Hotspur soccer match and were given Hotspur jerseys. "¦ When Nolan Ryan played for the Mets early in his career, he wore No. 30. But here's a rare shot of him wearing No. 34 (and with a small tear in his undershirt, tsk-tsk).

NFL News: Whoa, check out this crazy Patriots helmet design! Greg Riffenbugh says it's on display at Arrowhead Stadium in KC. Nobody has ever sent me a photo of that before. Anyone know more? "¦ Here's a weird one: Everything in this Houston Chronicle photo of Texans LB Brian Cushing is flopped (i.e., reversed, mirror image, etc.) except for his uni number. Wha..? (From Michael Stewart.) "¦ While vacationing in Wisconsin last week, I stopped in a shop that had this Cardinals helmet whose logo was studded with little LED lights. Never seen that before. "¦ Christopher LaHaye was at a friend's house and saw a Superdome-shaped bottle of Jim Beam. "¦ What's worse than dressing up as Ray Rice for Halloween, as a "joke"? Doing the same in blackface.

College and High School Football News: Here's the latest on the Arizona State face-painting controversy (from Patrick O'Neill). "¦ The Nazareth Academy Roadrunners, a high school team from Illinois, use a "Family" NOB (from Sydney Stancik).

Hockey News: Awesome news out of Chicago, where the Blackhawks recently called up goalie Scott Darling, who made his NHL debut last night. Why is this notable? Because Darling is the guy who wears the team's sock stripes on his leg pads. Would love to see more goalies do this (thanks, Phil).

NBA News: The Hornets will retire Bobby Phills's number this Saturday. This will mark the second time Phills has had his number retired by the Hornets — first by the original Hornets, who later moved to New Orleans, and now by the newly renamed Bobcats-turned-Hornets (from Yusuke Toyoda). "¦ Yesterday was the 30th anniversary of Michael Jordan's debut with the Bulls. If you choose to view Jordan's legacy in terms of his impact on sneakers, merchandising, branding, and so on, there's a new book on Jordan that includes a lot of quotes about that stuff.

College Hoops News: Who's that in the 1979-80 Sinclair Tartans hoops uni? None other than future world heavyweight champ Buster Douglas! "My father, Kevin O'Neill, coached Sinclair from 1968-1980," says Patrick O'Neill (aka Mainspark). "You can see him at far left in this 1968 team portrait, when the team was still called the Satans. As for Buster Douglas, I was the statistician for that 1979 team and became good friends with him. As this article indicates, he was a down-to-earth guy." Here's another photo of Douglas, this time with Patrick's dad.

Soccer News: A Danish entrepreneur is hoping to reduce girls' concussions with a smaller soccer ball. "¦ Christie Rampone celebrated her 300th game with the U.S. national team with a No. 300 jersey (from Yusuke Toyoda).

Grab Bag: Lots of spectacular vintage cycling attire on display in this slideshow. Highly recommended (big thanks to August Ventura). … Worst Pinktober move yet: two Bentleys and a Lamborghini rendered in you-know-what. "They remind me of giant bottles of Pepto-Bismol," says Andrew Hoenig. … In a related item, "I'm sick of the Pinktober bullshit but I do have to admit that Dale Earnhardt Jr.'s gloves look cool in pink," says David Firestone. "¦ Love these old 1911 lacrosse photos from Hanlan's Point in Toronto. Check out the roller coaster in the background! (From Will Scheibler.) … Happy birthday to our own Scott M.X. Turner, who designed the Uni Watch logo, the 15th-anniversary logo and all of our membership cards. Have a good one, Scott!
• • • • •
On a personal note: I am super-duper-fortunate to have such a great team working with me. Ãœber-thanks to Garrett, Mike, John, and, especially, Phil for keeping the site running smoothly while I was sampling the pleasures of America's Dairyland. You're all aces.