It's been an interesting year for the Mets' skyline logo. Back in January, uniform designer/historian Todd Radom discovered that the logo had originally been rendered in pink and black. Six months later he figured out why it had been pink and black. And then last month we had that kerfuffle about one of the buildings in the skyline being replaced by the Citicorp Center.
But now reader Steve Dodell (who was the first to alert me to the Citicorp skyline issue, so he's a bit of Mets logo savant) has pointed out another storyline regarding the logo — one that I really should have noticed myself years ago.
Let's start with the original logo rendering by cartoonist Ray Gotto, who submitted the winning entry in the team's logo design contest more than 50 years ago. It was unveiled on Nov. 16, 1961. Here's how it looked in The New York Times the following day: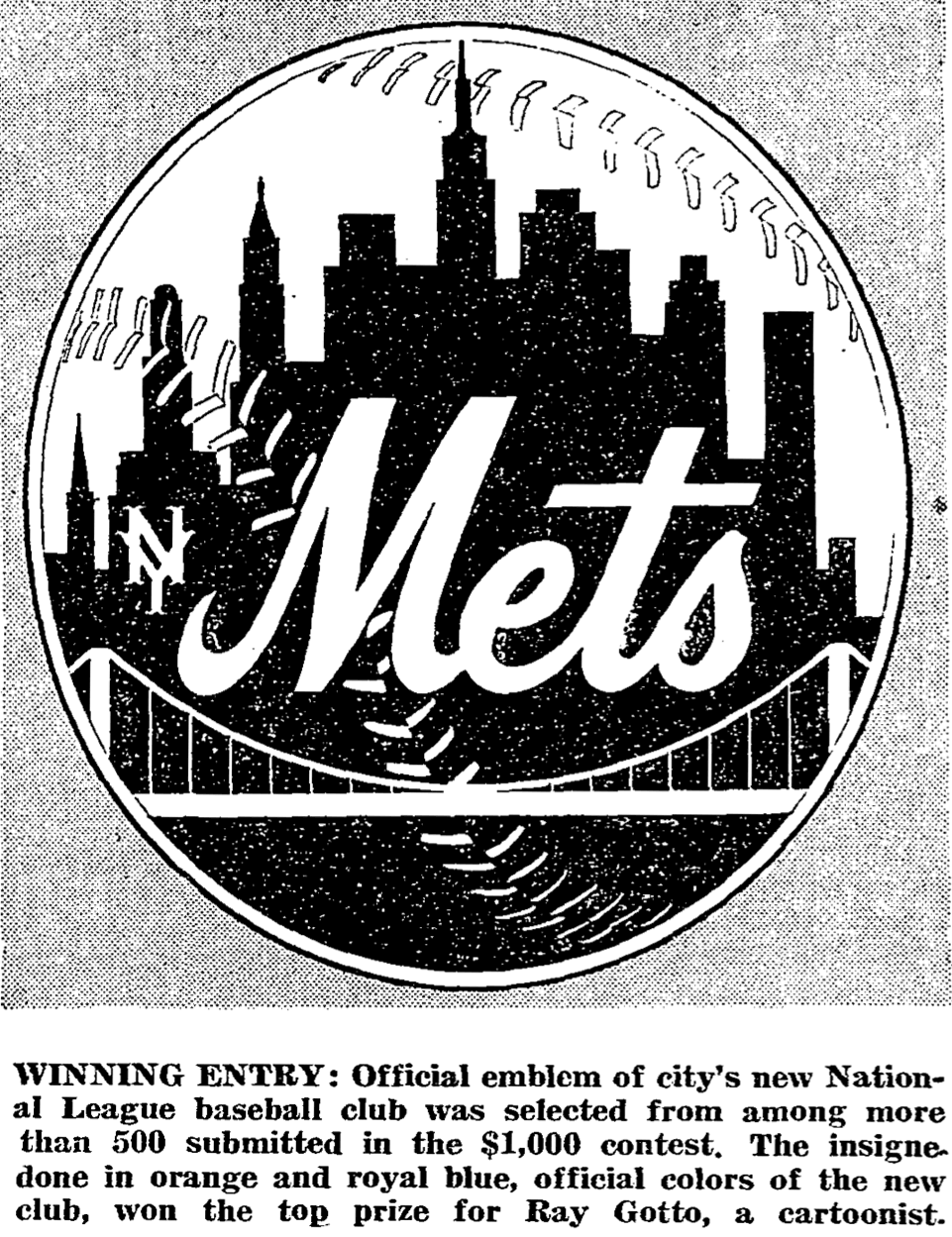 As you can see, the "Mets" script looks a bit thin in that version. Someone — maybe Gotto, maybe a graphic artist employed by the team — added a white keyline to it when rendering it in color, beefing it up to the more familiar proportions we're used to seeing today: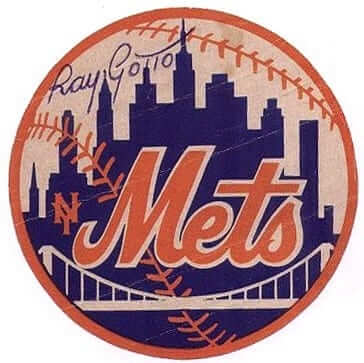 The thing is, that version of the logo — the one based on Gotto's original design — is not the one that's been used for most of the team's history. Let's compare the version I just showed you (we'll call that Version 1) to the one on this 1962 pocket schedule (we'll call that Version 2; click image below to enlarge):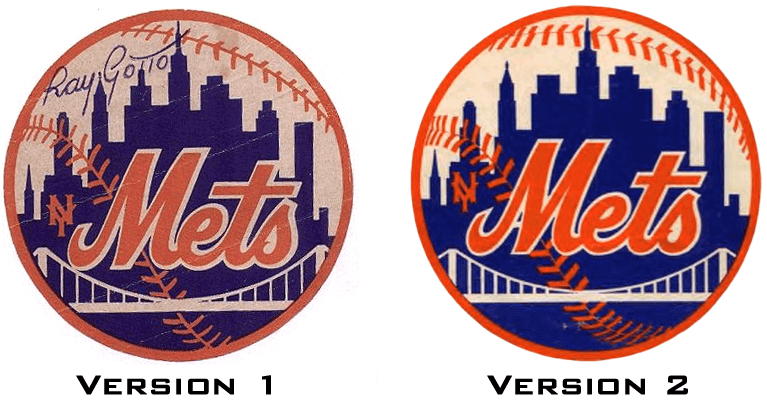 Leaving aside the color differences (we can write those off to printing variations, scanning/photo variations, fading, etc.), we can see that several tweaks were made as the logo transitioned from the first version to the second one:
1. The blue skyline silhouette was raised a bit.
2. The suspension bridge was made slightly smaller.
3. The script lettering was made slightly smaller. (The registration of the orange within the white keyline also shifted a bit, but that's something that has never been consistent throughout the team's history, so I'm not going to count that as a design change here.)
4. The arc of the baseball stitches was changed, and the stitch count was increased. The stitches themselves were also made a bit thicker.
5. The cross of the "t" was altered, making it shorter on the left side than on the right. This is probably the most significant change, because it carried over to the team's jerseys.
Now, you may be saying to yourself, "So they made an initial version of the logo based on Gotto's original rendering, and then they made some adjustments to it in time for the start of their inaugural season. They scrapped Version 1 and kept Version 2 — big deal."
But here's the thing: They didn't scrap Version 1 — at least not entirely. When Shea Stadium opened in 1964 (the team's third season), the scoreboard featured a display area that was supposed to provide photos and video replay (further info here). Unfortunately, it never really worked, so they just slapped the team's logo in there. And they used Version 1 of the logo — the one with the longer cross on the "t" and all the rest of Gotto's original details — as you can see in this photo from May 31, 1964 (click to enlarge):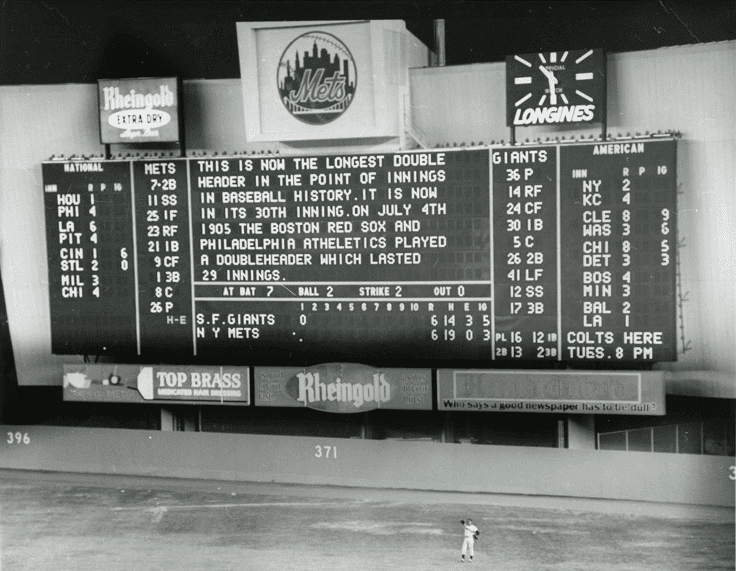 The Version 1 logo was still there on the scoreboard more than five years later, when the Mets defeated the Orioles to win the 1969 World Series (click to enlarge):
And it was still there nearly seven years after that, on Sept. 4, 1976, when this photo was taken (click to enlarge):
The scoreboard was overhauled in 1982, so the logo was definitely removed by then, but I'm not sure if it was ever updated in between 1976 and '82. I've done a fair amount of photo research and have also consulted a bunch of Mets experts, but so far no dice. My hunch, though, is that the Version 1 logo, with the longer cross on the "t," stayed in place through the end of 1981.
Meanwhile, did the Mets ever use Version 1 in any other capacity? I haven't been able to turn up any other instances of it, but I bet they're out there. After all, these are the Mets we're talking about.
Speaking of which: In a characteristically clueless move, the Mets have been misspelling Ray Gotto's surname as "Gatto" in their media guides and on their website since 1985. It's not Gatto; it's Gotto. And as Casey liked to say, you can look it up. So for nearly 30 years, the Mets have been misspelling the name of the guy who created the basis for their entire visual program. Idiots.
(Special thanks to Steve Dodell for bringing the scoreboard logo issue to my attention, and to Faith and Fear in Flushing blogger Greg Prince for the 1976 scoreboard photo.)
•  •  •  •  •  •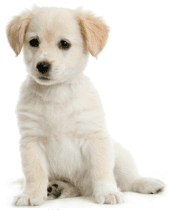 Two of my favorite things: My presence here on the site is going to be limited over the next two days and non-existent next week, but I think you'll cut me some slack when you hear what I'll be up to.
First, I'll be spending parts of tomorrow and Friday in Manhattan, where I'll be attending the taping of the latest edition of the Puppy Bowl. As usual, there will be other animals involved besides puppies, including kittens and something else that I'm not allowed to talk about yet. The whole thing is embargoed until late January, so I won't be able to talk about it or post any photos until then, but I expect to have a full-on cutegasm all the same. And I promise to share everything with you folks as soon as I'm allowed to do so. Big thanks to my friends at Animal Planet for once again inviting me to the taping.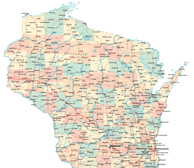 Then on Saturday I'm flying off for a week-long vacation in Wisconsin, my favorite place, where I'll be enjoying the Badger State's considerable autumnal charms. In addition to visiting friends, checking out cultural landmarks, and partaking of the Badger State's matchless roster of taverns, I'm also going to be mixing a bit of business with my pleasure by visiting at least one and possibly two places that I plan to write about. First, I'll be stopping in at the awesome FAST Corp., whose acronym stands for fiberglass animals, shapes, and trademarks. (Among other things, they make the Big Boy statues.) I was there once before, but that was way back in '96, so I want to see what they're up to these days. I'll get a tour of the grounds, interview the staff, and take some pics, all of which I'll cobble together into an article that should run next month on re:Form, the excellent design website to which I've recently been contributing.
I'm also hoping to arrange a stop at Ripon Athletic, which, oddly enough, I've never visited on any of my previous Wisconsin trips. Should make for a good entry here on Uni Watch. Haven't worked out all the details on this one yet, but I think we'll be able to work something out.
The site will still be open for business while I'm away, so things here should continue pretty much as usual. Also, my annual NBA season preview will run on ESPN at some point next week (probably on Weds. or Thurs., although that hasn't yet been finalized), and of course Phil will provide you with the link for that once it's ben posted.
The bad part is that I won't be able to write about the first few games of the World Series; the good part is that I'll be able to watch those games with my keister parked on various Wisconsin barstools, something I've enjoyed doing before (but not recently). Looking forward to that.
• • • • •
BuyMyStuff, BuyMyStuff, BuyMyStuff: It's been, what, nine whole days since the last time I bugged you to order a Uni Watch 15th-anniversary patch, sticker, or T-shirt. Also, this T-shirt has been popular-ish lately. And hey, didn't you make a New Year's resolution back in January — or maybe two Januarys ago — to join the Uni Watch Membership Program?
Of course you did.
• • • • •
PermaRec update: It's turning out to be a very good week for time capsules. Details over on Permanent Record.
• • • • •

Baseball News: Some Royals fans get points for honesty. Others get pointsfor weirdness. "¦ George Brett wore a powder blue jersey while throwing the first pitch prior to last night's O's/Royals playoff game in KC. Interesting that they had him wear that instead of a home white jersey. "¦ A Giants/Orioles World Series isn't looking too likely, but I'm still hoping for that match-up, if only because I really want to see an Adam Jones vs. Sergio Romo orange-striped hosiery hoedown in the Fall Classic. "¦ "I was flipping channels (I swear) and noticed a guy wearing a 1989 Cubs/Giants NLCS T-shirt on some show called Marry Me," says Chris Flinn. "¦ Longtime Ticker contributor Richard Paloma thinks the A's should have a "Swingin' A's" throwback as a permanent alternate uni. "¦ Want some first-class entertainment? Here's a disputed call during a 1984 Reds/Cubs game that leads to a humdinger of an argument and, eventually, a brawl. A doozy! "¦ Tom Konecny was watching Game 5 of the 1984 World Series and noticed that Padres 3B Graig Nettles's NOB was straight instead of vertically arched. Ditto for Ron Roenicke. Odd, especially for the Series.

Pro Football News: Someone at last Sunday's Bengals game was wearing a funny Pacman Jones jersey (thanks, Phil). "¦ 49ers QB Colin Kaepernick once again wore Beats headphones for his postgame press conference on Monday night, but this time he covered up the logos. "¦ NFL.com put together a slideshow with over 50 photos showing throwback uniforms going back to 1994. "There are some great photos I have never seen before," says the Hungry Hungry Hipster, "including the Bears trying to block a field goal in their vertically striped 1920s jerseys and the Browns wearing TV numbers on their helmets in 2007, which I never knew even happened." … Although it wasn't shown on TV, Monday night's Niners/Rams game featured some Ferguson protestors who unfurled various banners in the stadium. "¦ Oooh, check out this cool 1950s footage of the Racine Raiders, a semi-pro team that was founded in the 1920s and still exists today. "I think semi-pro football is a treasure trove of uni-centric information, and could be a goldmine if tapped into," says Shawn Nissen. "¦ Stephen A. Smith said he'd wear a Tony Romo jersey if the Cowboys beat the Seahawks, and he made good on that promise — but with an old Reebok jersey (screen shot by Sean Kneringer). "¦ An online poll has determined that the best high school football helmet in the state of Michigan is basically a rip-off of the Jags' first helmet. The best part of the article is when the team's former coach says, referring to the logo, "It kind of gave us our own identity." Uh-huh (from John Korinek). "¦ The Gridiron Uniform Database shows the 1983 Bears wearing two similar but distinct George Halas memorial patch designs. And sure enough, photos confirm that the patch worn with the white jersey had oddly pointy tips, while the one worn with the dark jersey did not. Nice how that last version had outlining on the "H," so it looked like a goalpost. Still, very odd that the two versions didn't match (thanks to Phil for reminding me about these patches, which I've always liked).

College Football News: Baylor wants its fans to do the stripe-out thing for two games in November (thanks, Phil). "¦ Ditto for Missouri. "¦ BeeYOOteeful throwbacks this weekend for Oregon. "¦ New "U! S! A!" costumes for Eastern Washington — except they're not really new. Yup, nothing says, "Patriotism" like ordering an old design out of a catalog. "¦ Seriously ugly Pinktober helmet for Air Force. "¦ Illinois will wear gray alternates on Oct. 25. Here are some additional photos and the matching helmet. "¦ This is pretty cool: an interactive timeline showing the evolution of TCU's uniforms (nice find, Phil). "¦ "My pal Whitney Cox is photographing up at Cornell U," says our own Scott M.X. Turner. "He forwarded me a pic of this mural showing the school's football team in the 1890s. Stripey goodness." Indeed.

Hockey News: The AHL's Adirondak Flames have apologized after a controversial skit involving their mascot (from Cort McMurray). "¦ Kudos to the crew at The Hockey News, who used Panthers goalie Roberto Luongo to create an infinite regression on the cover of their current issue (and kudos to Mike Engle for pointing it out to me).

NBA News: The Nets and Celtics will play a 44-minute preseason game, instead of the usual 48 minutes. Insert the obvious "That gives them four more minutes of commercials to run" commentary here. "¦ We don't yet know what the Heat's and Celtics' "Pride" Hubris uniforms will look like, but the shorts sure don't look promising. "¦ Mike Miller of the Cavs must've been pretty sure he wouldn't be playing in last night's preseason game, because he was wearing a ring (good spot by Andy Henderson).

College and High School Hoops News: New uniforms for UT-Arlington (from Casey Wieder). "¦ Here's Baylor's complete sweatback set for next year (thanks, Phil). "¦ "At our first meeting of the year for the Rhode Island board of International Association of Approved Basketball Officials, I picked up a copy of the 2014-2015 rulebook," says Joel Mathwig. "The following note appeared within the 'Major Editorial Changes' section, which set forth by the National Federation of State High School Associations: '1-12-1a: The ball "¦ its solid color shall be Pantone Matching System (PMS) Orange 151, Red-Orange 173 or Brown 1535, effective 2019-20." In other words, starting in five years, the ball can be any of three different colors. And what's the current rule? "The rule just states that the ball's 'solid color shall be the approved orange shade or natural color,'" says Joel.

Soccer News: The Portland Portland Timbers' new USL Pro minor league club, Timbers FC 2, will let certain season ticket-holders choose the club's game-day kits. "Also, the team's logo is full of historic references: Chevrons from '75, axe from MLS-era, and the '2' is rendered in the font used on the original 1975 NASL-era jerseys," says Erik Siemers). "¦ Man U wanted to have an additional sponsor for the back of the jersey but faced opposition from other Premier League teams. Adam Silver and Mark Cuban could not reached for comment (from Yusuke Toyoda). "¦ Also from Yusuke: Some British MPs want to ban Newcastle United's payday lender sponsor on kids' replica jerseys, just as liquor and gambling sponsors are currently banned.

Grab Bag: Converse is filing trademark-infringement litigation against 31 copycat sneaker makers (thanks, Phil). "¦ F1 driver Michael Schumacher's head injuries may have been caused by the GoPro camera mount on his helmet. "¦ Here's one guy's list of 10 teams that need to bring back their 1990s uniforms. "Some of these are not terrible suggestions," says Garrett. "¦ Here's a good assortment of sports-related maps and infographics (from Joey Breeland). "¦ The Color Mafia, or at least one corner of it, has declared that the Color of 2015 is a very nice pale green. Don't think I've ever seen that tone on a uniform, but I wouldn't mind seeing it. "¦ Possibly NSFW, if you're in an uptight office: Why is there a swoosh painted on this woman's nippe? Answer here (thanks, Phil). "¦ Last week I linked to Norway's cool new currency designs. Also cool: some of the designs that were rejected (from Yusuke Toyoda). "¦ Good story on how the T-shirt was invented.