So everyone went apeshit yesterday when Deadspin reported that the NBA's new TV deal (which, in case you missed it, you can learn about here) includes a provision that could facilitate the advent of corporate ad patches on NBA jerseys. The gist is that if a team wears a patch from an advertiser that would normally have bought a TV commercial during an ESPN- or TNT-televised game, that uni advertiser will also commit to running commercials during that game.
The Deadspin report begins with the statement "Advertisements on NBA uniforms are inevitable" and concludes with "[If you're opposed to uni ads], the NBA is not the hill to die upon. Retreat to another sport, so you may fight again another day." In other words, Deadspin thinks it's a done deal.
I beg to differ. Here's why:
1. The Deadspin report (and all the subsequent reports from other media outlets that trickled out yesterday afternoon) is based on this report from Sports Business Journal. In other words, Sports Biz Journal is the outlet that broke the story — everyone else just rehashed it. And how did the people who broke the story begin their article? Let's take a look:
If the NBA sells corporate advertising on game jerseys, which many believe is inevitable, network partners Turner and ESPN will get certain spending guarantees related to those contracts "" a development that was negotiated as part of the league's massive nine-year, $24 billion media deals.

But that's where the clarity ends, because the details of what the networks will receive "" and from whom "" remain as undefined as the league's future policy on selling jersey advertising.
Doesn't sound nearly as clear-cut as Deadspin indicated, does it?
In short: Yes, the league and its broadcast partners have created a mechanism that accounts for the possibility of uniform ads. But they haven't yet sorted out the details of that mechanism, much less activated it. Or to put it another way, the league is preparing for the possibility of uniform advertising. Thanks for the news flash, but we already knew that.
2. Several people I spoke to last week indicated to me that the league's new TV deal actually makes uniform ads less likely, because the NBA's TV partners wouldn't want their commercials to be competing with uniform ads. This newly reported provision is clearly an attempt to account for that, because the uni advertiser would also have to become a TV advertiser, so that should mollify the networks. But think about it from an advertiser's perspective: If you're already a uni advertiser, do you want to be forced to run TV commercials as well? Maybe you do — it would create a multi-faceted branding blitz, after all. Then again, maybe you don't want to be locked into a "Buy one, you must buy two" system. Faced with that requirement, maybe you just skip the uniform ads altogether.
Granted, we're talking about complex, high-stakes business maneuvering here, and there are clearly aspects of this storyline that don't play directly to my skill set. But I've done my share of business writing over the years, and it sure seems to me like Deadspin made an alarmist leap from the Sports Biz Journal story. Also, we've been hearing that NBA uni ads are "inevitable" for years now (and they've been discussed for nearly a decade), which means they're demonstrably not inevitable.
Will Adam Silver and his merry men eventually get their shit together on this? Maybe. But remember, this plan was already scuttled once before because the owners were too greedy to figure out how to divvy up the loot. Personally, I have faith in their ability to keep messing this up. #NoUniAds
• • • • •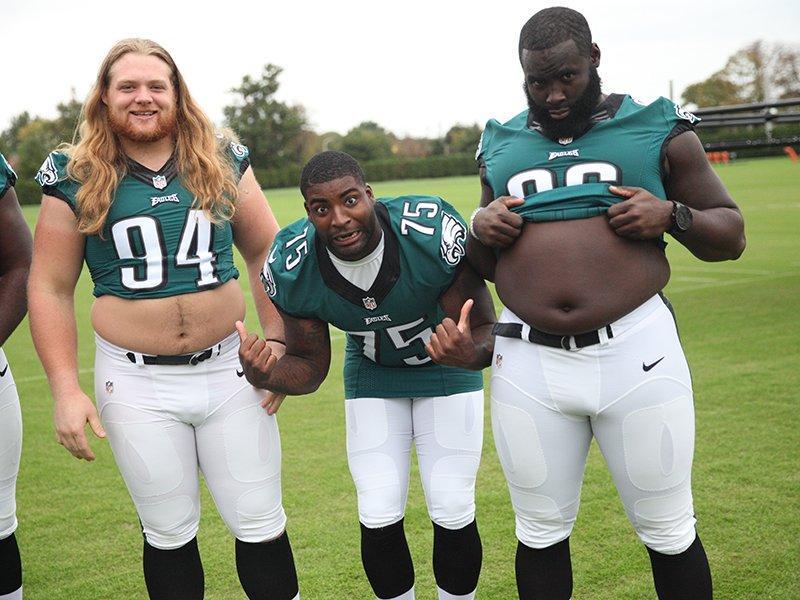 Click to make stomach even larger
The Eagle has finally landed: As you can see, the geniuses at Nike have finally figured out how to mix yellow and blue to create green, and thank the lordy for that — wouldn't have wanted to miss a great photo like the one shown above.
But don't get too excited just yet, because the Eagles have a bye this Sunday. Then they play on the road against the Cardinals (who'll presumably be wearing red) and Texans (who'll definitely be wearing red). So the Iggles won't have a chance to wear their new green jerseys until Nov. 10 — almost another whole month from now! — assuming the green dye doesn't bleed in the wash or something like that before then.
Meanwhile, reader Ernad Selimagic points out that Philly isn't the only team whose primary colored jersey has been scarce lately. Six weeks into the season, the Titans have worn white for every single game. Could there be a problem with their jerseys too? Hmmmmm.
•  •  •  •  •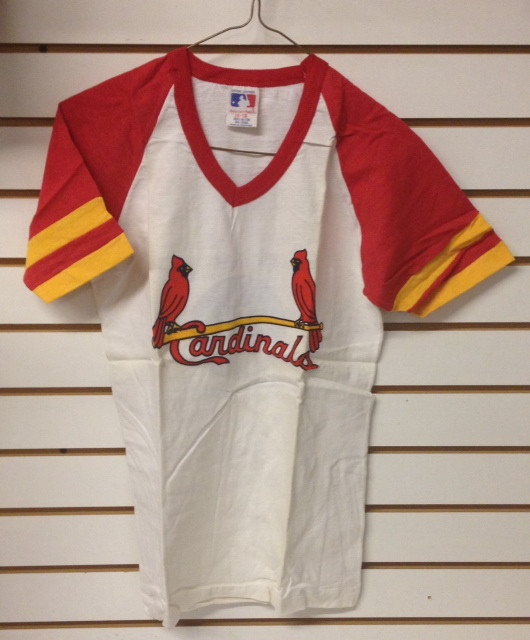 Collector's Corner
By Brinke Guthrie
With the Giants/Cards series moving to AT&T Park today, how about a 1980s DeLong Giants pullover and this 1970s-1980s Cardinals T-shirt with striped sleeves (shown above)? And speaking of the MLB playoffs, couple of KC Royals items here, too: a 1970s Royals glass (which looks an awful lot like non-Royal Reggie Jackson, even down to the Puma stripe on his left shoe) and a 1970s Topps plastic cap and ball mini-plaque. And if you're an O's fan, buy a batch of Esskay hot dogs and get this "Orioles Magic" seat cushion.
But hey, there's more to life than the MLB playoffs, so here are the rest of this week's eBay picks:
• Oh. My. God. No further words needed — just click here.
• Wow, a big haul of those large 1970s NFL helmet plaques. You often see these sold individually, but as a set? Wow!
• Never seen a Technigraph plaque for the Lions before. Hurry, this one ends tonight. Helmet itself looks perfect but the frame has some wear. Same seller also has a Bills plaque that has more wear and tear. Also found a Cowboys version, and it looks to be in perfect condition!
• This WHA Hartford Whalers tie is in perfect condition. One of the greatest logos ever IMO. [If you like that tie, you need to check out this Uni Watch entry from two years ago. "" PL]
• Check the retro logo on this 1960s Steelers glass. Pair it with this glass ice bucket.
• Great box cover artwork on this 1968 Ideal NHL game with the Blackhawks and Rangers.
• This looks like a Sears item to me — a 1960s Broncos scarf complete with the old bucking horse logo.
• Bucco Bruce lives on, emblazoned on this 1995 7-11 travel mug.
• Here is a pair of 1970s KC Chiefs mittens, just the thing for those cold December games at Arrowhead.
• Here's an entire 1970s NFL gumball helmet set complete with display board. And from the same period, here's a Raaaaaaay-duhz helmet buggy with a questionable stripe down the middle. Also found this Bengals gumball helmet– the picture's crappy, but you can see how they originally rendered the font- not even close.
•  •  •  •  •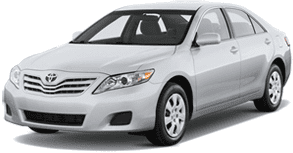 PermaRec update: A new Toyota Camry commercial (which I saw while watching an NFL game, so you've probably seen it too) has a surprising, if somewhat implausible, PermaRec-ish message. Get the full scoop over on Permanent Record.
• • • • •
Uni Watch News Ticker
By Garrett McGrath

Baseball News: The Diamondbacks already have a uniform and cap waiting for their new manager, Chip Hale. … At Friday night's ALCS game, the Orioles sold World Cup Budweiser beer that was past its freshness date, although it's hard to know how anyone could tell the difference (from Tommy Turner). "¦ "I got married on Sept. 27 and gave my groomsmen classic Red Sox stirrups," says Andy C. "They were a huge hit. Big thanks to Robert Marshall for the hook-up!"

Pro Football News: Not only did the Rams wear 1999 "Greatest Show on Turf" throwbacks last night, but their field also took part in the throwback party (thanks, Phil). … Rams WR Austin Pettis is from Anaheim, which presumably explains why he has a Mighty Ducks tattoo (from Mikey Brethauer). "¦ Yesterday Paul mentioned that the Eagles didn't wear any Pinktober accessories on Sunday night. Not only that, but the pink-trimmed wordmark on the field, which had been visible during the Temple/Tulsa game the day before, was gone by Sunday night (from Andrew Hoenig. "¦ The CFL's Montreal Als honored Anthony Calvillo yesterday by retiring his No. 13 and marking Percival Molson Stadium's 13-yard lines (from Leo Strawn, Jr.). … This 49ers fan is not number one (thanks for nothing, Phil). … "The Pegula family, who own the Sabres, are now the owners of the Buffalo Bills, and as such they've been presented jerseys on a few occasions now," says an anonymous Bills fan. "The thing is, they are the old neck roll versions, not the current version." "¦ Here's a video of Fox commentator Howie Long questioning why a player who delivers a dirty hit is fined less than a player who wears Beats headphones (from Jen Hayden). "¦ Coming this Sunday: the Chargers in powder blue and the Broncos in mono-navy (from Phil and Ron Ruelle, respectively).

College Football News: Oregon will wear 1994 throwbacks this weekend (from Chris Acquino). … "Purdue is a Nike school, but Purdue defensive coordinator Greg Hudson had a Majestic hat on in the first half of the game against Michigan State on Saturday," says Nicklas Lane. "After halftime, he was wearing a similar hat but obviously now a Nike hat. Do you think someone at Nike spotted the Majestic hat and notified Purdue?" … No pictures, but the Kansas University team is going against the norm in the college football uniform world. "You won't see any more funky uniforms. You're going to see blue and gray at home, white (tops) and white (pants) on the road," says KU defensive lineman Keon Stowers (from Derek Noll). … Reader Jared Buccola asked Fresno State if the team was going to wear anything special for their "Salute the Services" game on Nov. 1. They replied that the stars and stripes bulldog logo will be worn on a white helmet. … Rumor has it that Florida State is going BFBS against Notre Dame this weekend (thanks, Phil). … A Cincinnati jersey was missing its chest wordmark last weekend (thanks, Phil). "¦ Hmmm, did a new Texas Tech helmet just leak?

Soccer News: MLS announced that season ticket holders can get their faces in MLS jersey numbers next season. The kits will be worn in August by all MLS clubs (from Leo Strawn, Jr.). … The University of Nebraska at Kerney Women's Soccer club went Pinktober during their last game (from Jason Johnson). "¦ "During the Bosnia-Herzegovina vs. Belgium match. B-H striker Vedad Ibisevic was wearing something weird on his head," says Andy Bryson. "Turns out he took a header to the temple and he got cracked pretty good, so his other ear got taped up and apparently that headwrap was put on to keep everything in place. The injury happened 15 minutes in and he stayed in for the rest of the game after being patched up."

Pro and College Basketball News: The Hornets' home court design has a trippy honeycomb design (thanks, Phil). "¦ The Illinois media guide cover features an interesting "Illini" wordmark. "The 'LL' in is rotationally symmetric with the 'N,'" notes Greg Trandel (who clearly just wanted an excuse to say "rotationally symmetric," and who can blame him). "¦ Baylor's hoops program has switched from Adidas to Nike and has a new set of black alts.

Grab Bag: With the Pegula family owning both the Buffalo Bills and Buffalo Sabres, they have introduced the "One Buffalo" campaign, which features the words "One Buffalo" rendered in Bills and Sabres colors. … In this world nothing can be said to be certain, except death sports and taxes. So here's an interesting infographic on the taxes generated by sports salaries.