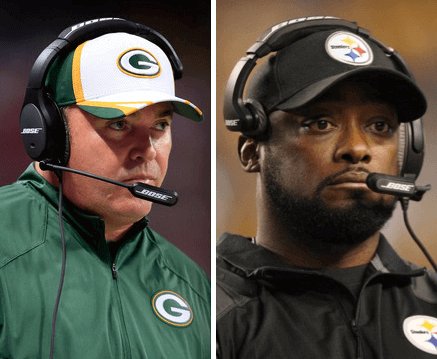 Just when you thought you'd analyzed every conceivable visual aspect of the NFL, along comes reader Omar Jalife, who's identified a fascinating detail that's more interesting than you might initially assume.
Here's what Omar's noticed: Of the 32 NFL head coaches, only 11 of them — about one-third — wear their headset microphones on the right side. Those coaches are John Harbaugh (Ravens), Ken Wisenhunt (Titans), Marvin Lewis (Bengals), Mike Smith (Falcons), Jim Caldwell (Lions), Ron Rivera (Panthers), Lovie Smith (Bucs), Bill O'Brien (Texans), Mike McCarthy (Packers), Andy Reid (Chiefs), and Chip Kelly (Eagles).
The other 21 coaches wear their mics on the left side: Jason Garrett (Cowboys), Gus Bradley (Jags), Jay Gruden (Washington), Doug Marrone (Bills), Joe Philbin (Dolphins), Mike Tomlin (Steelers), Bruce Arians (Cards), Tom Coughlin (Giants), Bill Belichick (Pats), Mike Zimmer (Vikes), Sean Payton (Saints), Mike Pettine (Browns), Jeff Fisher (Rams), Mike McCoy (Chargers), Pete Carroll (Seahawks), Dennis Allen (Raiders), Rex Ryan (Jets), John Fox (Broncos), Jim Harbaugh (49ers), Marc Trestman (Bears), and Chuck Pagano (Colts).
This got me thinking. I've never worn a headset with a microphone (I know some people use one for phone conversations, but I never have), so I asked myself which side I would use if I had to wear one. And I'm pretty sure I'd put the mic on the left side, because that's also the side on which I hold a telephone.
And why do I hold a telephone that way? Well, when I was growing up, the land-line phone in our house was set located/positioned in a way that made it much easier to hold the receiver on the left.
And why did my parents locate and position that phone in that way? Probably because the cord connecting the receiver to that phone was on the left side. In fact, the cord connecting the receiver to any land-line phone is almost always on the left side. If the cords on payphones have typically been anchored on the left side.
And why have phones historically been designed like that? Presumably because most people are right-handed, so the phone manufacturers figured it made sense to design a phone that made it easy to hold the receiver with your left hand so you can dial with your right hand.
Now, I happen to be left-handed. But, like most people, I hold the receiver in my left hand and dial with my right, because that's what I learned to do with that phone in my parents' house when I was growing up. Even when using my iPhone, I hold the phone with left hand and tap with my right. And I don't mind any of that one bit — feels natural to me (although I usually prefer to do most things with my left hand).
Granted, I've now gotten a bit off the track from our original look at NFL coaches' headsets. But I truly believe there's a connection between telephone design and the 2:1 ratio of coaches wearing their microphones on the left side. Thoughts?
Finally, you may have noted in those photos that three coaches — Tom Coughlin, Bruce Arians, and Lovie Smith — wear headsets with two speakers, not just one. Hmmmmm.
(Big thanks to Omar Jalife for coming up with this topic.)
•  •  •  •  •
Charting a uni designer's progression: Got a note yesterday from reader Joey Artigue, as follows:
I grew up in an artistic basketball family and thus have been designing uniforms since the early age of four. My dad worked for the Phoenix Suns and Arizona Diamondbacks for 16 years and I really loved to draw, so those teams were featured in a lot of my early designs. I rebranded my high school at 16 and interned with Sun Devil athletics through school, helping with the design of the pitchfork/Sparky rebrand.

Here's a fun video I put together showing the evolution of my work over the years. The pictures toward the end are the intramural jerseys I did for my fraternity. Oh, and the picture is not a leak (I wish it were) — it's a concept court I created to help me get my new job with the NBA's creative services department.
As many of you know, I love childhood uniform artwork, so I was excited to see Joey's early drawings. We may feature a full entry on his designs at some point down the road, but for now enjoy his video — it's fun:
• • • • •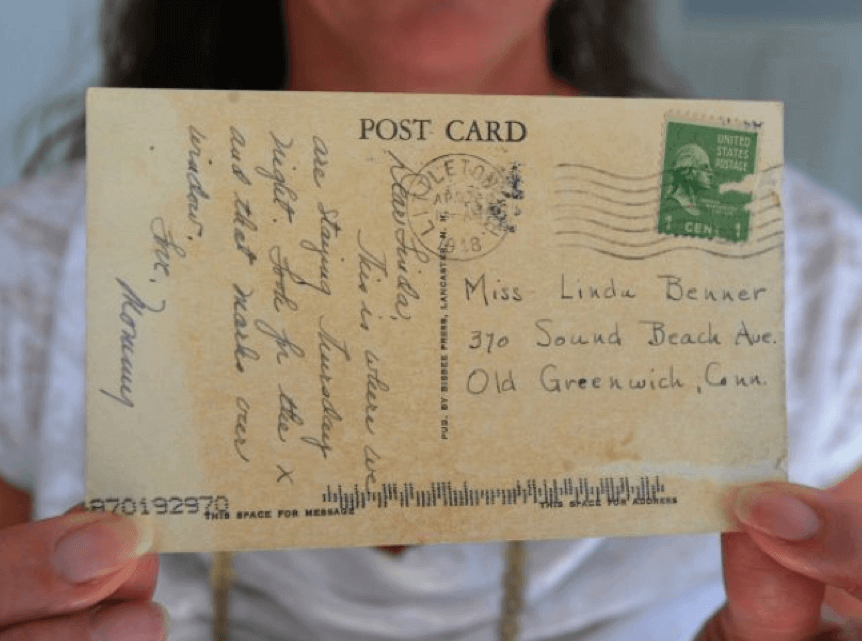 PermaRec update: The postcard shown at right was mailed and postmarked in 1948 but wasn't delivered until a few weeks ago. The woman who now lives at the address where it was delivered then set off in search of the original intended recipient. Learn more on Permanent Record.
Car light reminder: In case you missed it yesterday, I've written a piece about some odd details of car headlight and taillight design. Want to know which inconspicuous car lighting detail I've become obsessed with? Want to know which car's taillight reminds me so much of a Jolly Rancher that I want to lick it? Find out here. (And my thanks to everyone who gave nice feedback on this article yesterday.)
Anniversary merch reminder: Get yer Uni Watch 15th-anniversary stickers, patches, and T-shirts right here.
• • • • •

'Skins Watch: Powerful and entertaining 'Skins segment, featuring pro-'Skins fans and anti-'Skins Native Americans, on last night's segment of The Daily Show. Highly recommended viewing. … Two Native Americans are suing the city of San Francisco for being ejected from a ballgame earlier this year. The pair was apparently displeased with another fan who was wearing a headdress on American Heritage Night (from Patrick O'Neill). … The Washington City Council is considering a ban on Native American high school team names (thanks, Phil). … A DC law professor who helped get cigarette commercials banned from TV and radio back in 1970 now wants the FCC to restrict broadcast use of the 'Skins name because it violates FCC standards against indecency, profanity, and hate speech. Before you yell, "Censorship!," keep in mind that courts have consistently ruled that the electromagnetic broadcast spectrum is a finite public resource that can be regulated. That's why you can say "shit" and "fuck" on cable but not on broadcast, why you need a license to have a radio station but not for a podcast, why cigarette commercials aren't allowed on TV or radio, etc. Also, even if the FCC did ban the team's name from the public airwaves (which seems unlikely), the team could still keep the name. Broadcasters would just have to call them "Washington," which is what an increasing number of media outlets are already doing anyway. "¦ I was out and about last night, so I didn't see the Giants/'Skins game, but Phil Simms was reportedly going to avoid saying the 'Skins name (thanks, Phil). "¦ A 'Skins fan has created a site for fans to submit and vote on new team names/logos (from Yusuke Toyoda). "¦ Excellent article on Navajo Nation activist Amanda Blackhorse, who's been leading the legal challenge to the 'Skins trademark status (thanks, Phil).

Baseball News: Several readers noticed that Derek Jeter's cap last night had a white sweatband. "¦ Here's a Jeter collectible of a different sort: a baseball that Jeter signed when he was an eight-year-old Little Leaguer (from Jonathan Daniel). … With Jeter's No. 2 about to go out of circulation, here's a good article on retired numbers. … The single-A South Bend Silver Hawks are now the South Bend Cubs. … Here's a 1923 ad for the brand-new Yankee Stadium (from Jonathan Daniel). "¦ Great article + photos on Nats clubhouse/travel kingpin Rob McDonald (from Yusuke Toyoda). "¦ There's a new college summer team called the Holly Springs Salamanders (from Rodney Walker). … New York-o-rama: A Mets player wore a Knicks cap to a Yankees game. … While Jeter merchandises and sells everything in sight, let's hear it for Twins pitcher Phil Hughes, who's leaving an easy 500 grand on the table because, in his words, he "didn't think it was right." Bravo.

NFL News: A Pittsburgh-area cow born with a "7"-like stripe on its head has been named Baby Ben (from Eric Wright). … The Saints will wear solid black this Sunday (thanks Phil). "¦ Some fun old NFL TV graphics here (from Duncan Wilson).

College Football News: Big uni surprise last night in Stillwater, as Texas Tech wore a new white costume with a new helmet and Oklahoma State wore new metallic orange helmets — at least one of which, unfortunately, suffered badly chipped exterior finishes. None of this had been promoted beforehand — good for the schools for keeping a secret under wraps. "¦ Tennessee coach Butch Jones says any rumors about the Vols having an alternate helmet are false (thanks, Phil). "¦ Also from Phil: Old Dominion wanted to wear white at home as part of a white-out promotion, but their opponent, Middle Tennessee State, said no. … A Nebraska teacher wants the Cornhuskers to stop the longstanding ritual of releasing thousands of red balloons after the Cornhuskers' first touchdown because it amounts to mass littering. He's right. … Houston will mark the 25th anniversary of Andre Ware's Heisman trophy season by wearing 1989 throwbacks on Nov. 8 (thanks, Phil). … Cincinnati is adding an Ohio-shaped helmet decal for this weekend's game against Ohio State. … Here's the navy uni and chrome helmet that Fresno State will be wearing on Oct. 3 against San Diego State. … Throwbacks tomorrow for Virginia. … Tennessee fans will try to checkerboard the stadium for the Oct. 4 game against Florida (from Chris Flinn). … Purdue players have been wearing Iowa helmet logos this week during practice. Explanation here (from Jack Coyler). "¦ Speaking of Purdue, here's what they'll be wearing tomorrow. … 1984 throwbacks this weekend for Montana State (Phil, of course).

NBA News: German soccer star Mesut Özil was visiting the Denver Nuggets, so they gave him a jersey, complete with the umlauts on his NOB (from Graham Bakay).

College Hoops News: Boston College is bringing back NOBs. … Louisville's new unis have a very odd color-blocking on the shorts. Is this going to be a new thing for Adidas teams? "¦ Retro unis on tap for Kansas.

Soccer News: Bolton Wanderers launched a "military green" kit to mark the 100th anniversary of WWI and to raise money for wounded veterans. "The shirt has the words 'Lest we forget' embroidered on it and Laurence Binyon's poem 'For the Fallen' printed on the inside label," says Yusuke Toyoda.

Grab Bag: The big problem with the new iPhone: pocket bulge. "¦ New logo for the American Hotel & Lodging Educational Foundation. "¦ "Australian Rules football's version of the Super Bowl, known as the AFL Grand Final, is this weekend," says Leo Strawn Jr. "The halftime show for 2014 will feature Sir Tom Jones and Ed Sheeran, each shown here holding the other's Grand Final gift. Jones got a half-Swans/half-Hawks jumper with the year and his name sublimated on the back, while Sheeran was given a 'Sherrin' footy with the spelling changed to reflect his name." … Faaaaascinating article on how to tell if a letter is handwritten or robot-written. Strongly recommended (from The New Girl). … The Qatari women's basketball team, having forfeited one game due to FIBA's ban on hijabs, has now pulled out of the Asian Games altogether (thanks, Phil). "¦ Adidas has poached three designers from Nike for a new studio in Brooklyn (from Tommy Turner).
• • • • •

What Paul did last night: Even at the advanced age of 50, I'm still very much a fanboy. So I was excited last night to go see the latest installment of the live storytelling/interview series Ask Roulette, because the special guest this time around was David Rees, the guy behind such endeavors as the totally genius comic strip Get Your War On, the brilliant is-he-serious-or-is-it-an-act Artisianal Pencil Sharpening project, and the National Geographic TV show Going Deep With David Rees. Basically, he's a super-smart guy who makes cool shit happen. I was looking forward to seeing him up close and hoped I'd get a chance to tell him how much I like and respect what he's accomplished.
During the intermission, I went up to Rees and said, in true fanboy fashion, "My name's Paul, and I'm a big fan of your work." He thanked me, shook my hand, and that was going to be the end of it — I would have just gone back to my seat — but Ask Roulette host Jody Avirgan, who's a friend of mine, was standing nearby and said, "Oh, you two guys don't know each other? David, this is Paul Lukas — he does Uni Watch."
I was sort of mortified by this, and I started to say, "Jody, there's no reason David would be familiar with Uni Watch"¦" But before I could finish the sentence, Rees looked at me and said, "Wait — you're the guy who did Beer Frame?"
Beer Frame was my zine back in the 1990s. Turns out Rees was reading my stuff back then, plus he was reading Uni Watch way back in the Village Voice days. He appeared to be kinda geeked out to meet me. In short: He's a fanboy.
I don't mind admitting that this encounter left me with a big smile on my face for the rest of the night.