Phew — that was one busy day for the uni-verse! Let's go over what happened, in the order that it took place:
1. Okay, so this first item was actually mentioned in yesterday's Ticker, but I'm going to include it here anyway. On Monday night, Hawks forward Al Horford Instagrammed an image from a team photo shoot, which showed that the team is changing its chest insignia and shorts logo (click to enlarge):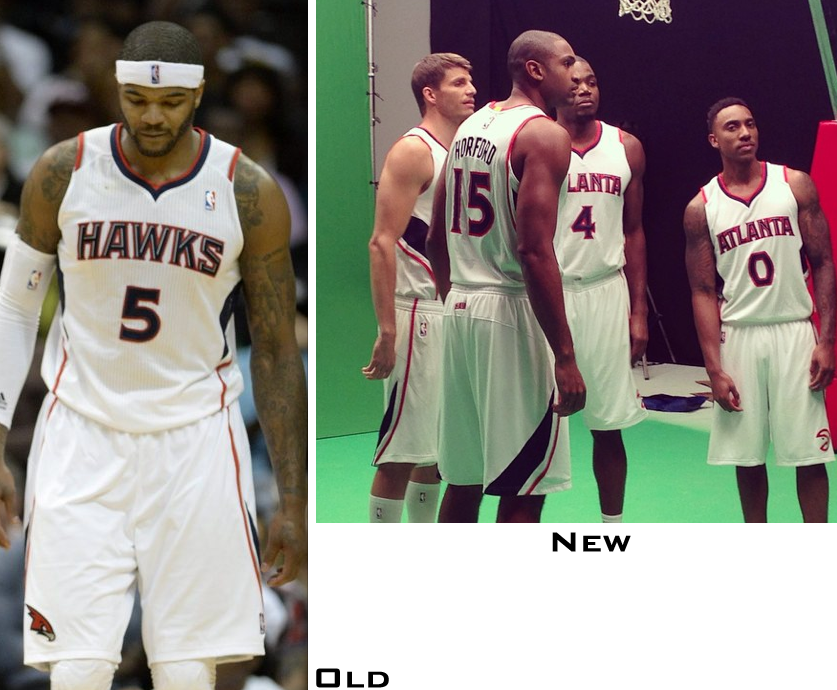 Pretty sure the team wasn't planning on revealing this news just yet, but hey, that's what happens sometimes with players and social media. Anyway: I didn't learn about it until I woke up on Tuesday morning (thanks, Phil), at which point I tossed it into yesterday's Ticker, but I didn't really give it much thought until later in the day, so let's count it as part of yesterday's news.
My general take on this one is that there's nothing wrong it, but it doesn't solve the Hawks' bigger problems. Further details in this ESPN piece, which I wrote yesterday afternoon.
2. I've known for the past week or so that the Pelicans were planning to release a red alternate jersey yesterday, but I wasn't allowed to talk about it. But my gag order become moot shortly before noon, when the design leaked. A few hours later, the design was revealed for real (click to enlarge):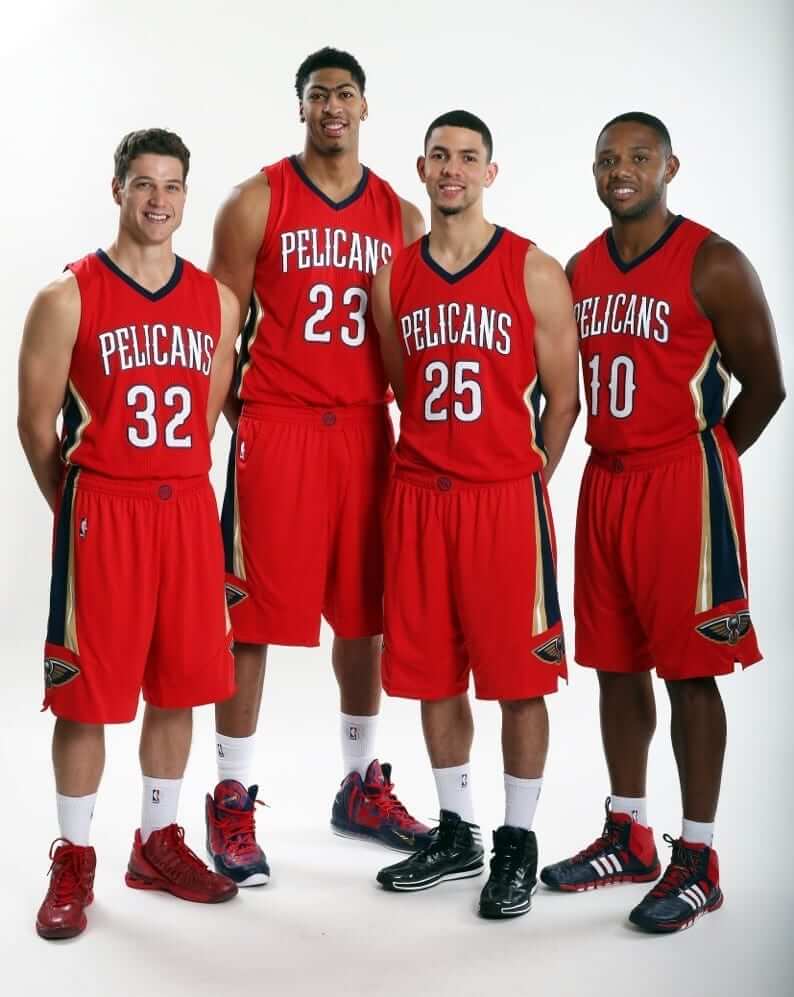 The Pelicans plan to wear this design on Opening Night. Further info here. Again, further details on my response to this design in yesterday's ESPN piece.
The unveiling, incidentally, took place at a school where Uni Watch reader Richard Hill happens to work. He took a bunch of photos and filed the following report:
The unveiling was followed by a junior "training camp" for middle school students. The four players on hand (Eric Gordon, Jimmer Fredette, Austin Rivers, and Anthony Davis) stuck around for over an hour and interacted with the students as they went through shooting, passing, and agility drills.

The players were great with the students. They participated in every drill, playing and joking around the with the kids at every opportunity. It was impressive to see professional athletes really take an interest in the kids and be an active part of a thing like this. It definitely made a lasting impression on the students I spoke with.
3. A few minutes after I became aware of the Pelicans leak, the Capitals unveiled their Winter Classic uniform: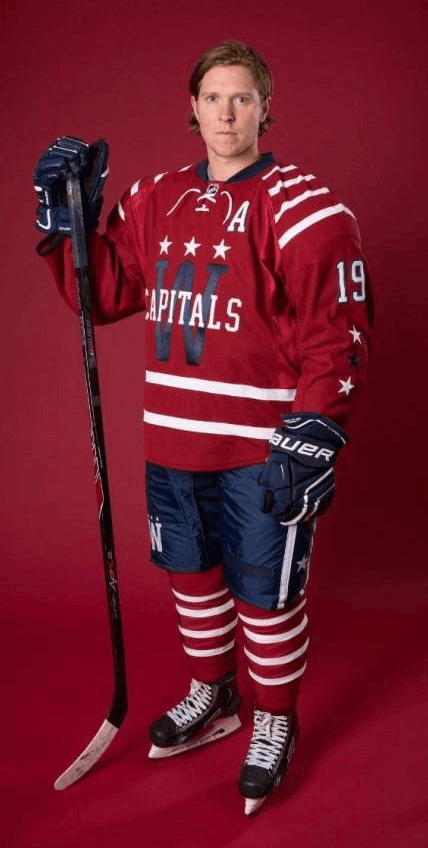 Here are some additional photos and details on the design process. One interesting tidbit: "The numerals on the backs of the sweaters and on the sleeves are somewhat larger than the norm for NHL sweaters. Larger numerals will be useful in a Winter Classic setting where the sightlines aren't as intimate as they are inside an NHL arena."
This is, obviously, a fauxback, so its retro elements feel a bit forced. And given my usual enthusiasm for striped deisgns, you'll probably be surprised to hear me say I don't much care for the shoulder stripes. I do like the chest insignia, though, and most of the other elements are okay. It's not a great design and it doesn't feel organic, but it'll be pleasant enough to watch for one game.
Also: Cross-dressing alert! The unveiling took place at National Park (because that's where the Classic will be played), so Alex Ovechkin donned a pair of Nats pants for the occasion: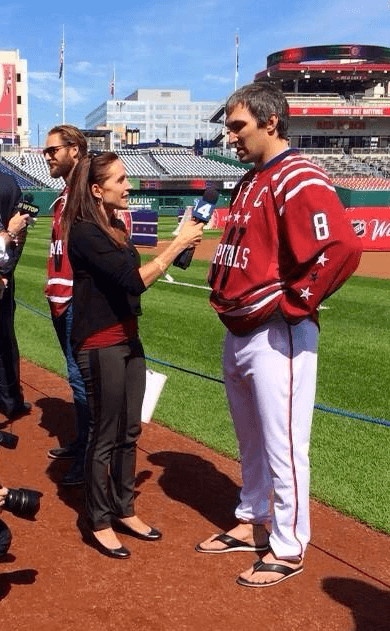 4. The final unveiling of the day came from the Mavericks, who unveiled the winner of their fan uni-design contest: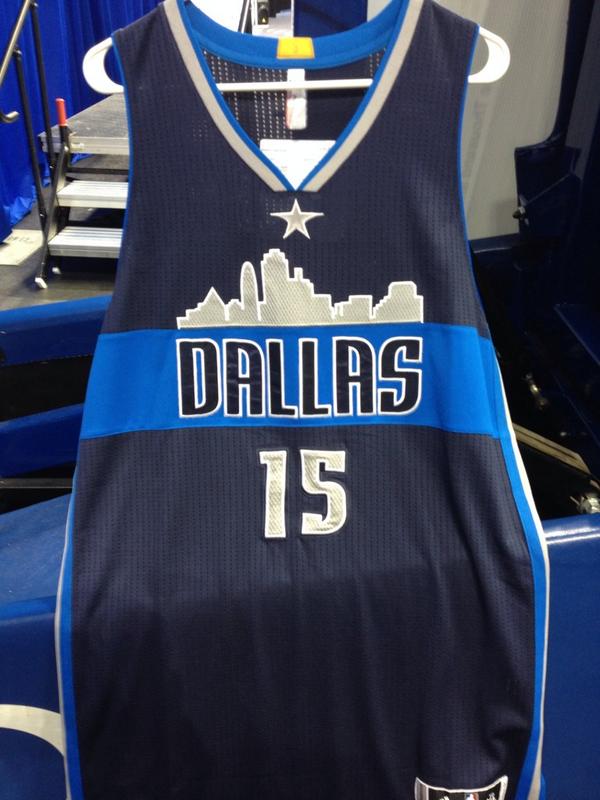 That jersey will be worn as an alternate in 2015-16 (but not this coming season). There are also white and green-accented versions that won't be worn next season, although they might be added to the mix in 2016-17 or beyond.
But there are some inconsistencies between the mock-up that the team released to the media yesterday and the prototype jersey that was shown at the unveiling:
As you can easily see, the color of the "Dallas" type doesn't match, and neither does the color or positioning of the uni number. Also, the skylines don't match — the mock-up shows Reunion Tower, while the actual jersey does not. I'll ask the team to clarify these discrepancies later today.
Meanwhile, a lot of people are grumbling that this design is a rip-off of the Nuggets' skyline jersey, but I've always viewed the Nuggets' design as being rainbow-centric at least as much as it's skyline-centric. And why should a skyline design be limited to only one team? I have no problem with it, and I generally like this design.
And there you have it — a somewhat uni-hectic day. My favorite thing about all this is that SportsLogos.net honcho Chris Creamer was covering the proceedings while juggling the demands of fatherhood:
I'd like to thank my kid for scheduling his daily nap during the Pelicans leak and Caps unveiling"¦ Mavs? Let's get this over with now please

— Chris Creamer (@sportslogosnet) September 23, 2014
And now if you'll excuse me, I have to take my 16-month-old to the petting zoo #Parenthood

— Chris Creamer (@sportslogosnet) September 23, 2014
One additional note: If you're wondering what I think about the Penguins' and Flyers' recently released alternate jerseys, you can find out in this ESPN piece.
•  •  •  •  •
Sticker reminder: High-quality vinyl stickers of the Uni Watch 15th-anniversary logo are now available. Details here.
• • • • •

Baseball News: "I saw this Pirates helmet in an antiques store in Toronto over the weekend," says Roch Smith. "Turns out it's a construction hard-hat made of fibreglass from the '60s. Looks like someone got their craft on back in the day." … The Padres' front office had Tony Gwynn-themed cycling jerseys made for a bike race promoting cancer research (from Brady Phelps). "¦ Anyone stupid enough to buy a really ugly Derek Jeter cap for $100 deserves to wear a really ugly Derek Jeter cap for $100. Good thing Jeter's such a humble guy who does everything "the right way," eh? (From Phil.) "¦ Reprinted from yesterday's comments: Scroll down a bit on this page to see an MLB logo I've never seen before. Anyone..? "¦ Kolten Wong of the Cardinals has his home state of Hawaii on his bat knobs (thanks, Phil). "¦ Dave Raglin attended last night's Nats game and spotted next year's 10th-anniversary logo in the program. Probably going to be a sleeve patch next year.

NFL News: Remember that pregame shot of 49ers RB Frank Gore that I ran on Monday? Royce Ector notes that Gore change his facemask, removed his visor, and changed his shoe color when the game started. "¦ Mascot makeover for the Seahawks (from Kyle Hanks). … The Bills and Raiders are tied for having the most black players on their respective rosters; more players come from California than from any other state; running backs are, on average, the shortest players and offensive tackles are the tallest. Those trivia tidbits and a lot more are available in the latest edition of the always-fascinating NFL census. Highly recommended. … Love the decal on this Packers equipment trunk (from Chris Wautel). … Clark Hunt's suite at Arrowhead Stadium is nicer than your house (from Jonathan Daniel). … Guaranteed argument-starter: a ranking of NFL teams, by team name. "¦ The Eagles are promoting this Sunday's game against the 49ers with an outdated Niners helmet (from Chris Long). "¦ Remember Jonathan Bostic's different-sized numerals in yesterday's Tickers? Some of you said that the 5 looked shorted because it was wrinkled. But then Chris Wade showed me this Brandon Marshall T-shirt with similarly mismatched numeral sizes, which in turn got me looking at Brandon Marshall jerseys. My conclusion: The 5 in the Bears' font is a little short.

College Football News: Yet another Virginia Tech helmet? Sure, why not (thanks, Phil). … Throwback helmets in the works for Virginia. … When Gettysburg College's new uniforms were unveiled, the pants were solid navy. Now that the season has started, however, the pants have a stray orange stripe (from Eric Wright). "¦ Purdue will be wearing those fan selfie helmets this weekend. "During Coach Darell Hazell's Tuesday press conference, he stated that his picture is not on the helmet," says Eric Johnston. "¦ I really like New Mexico's new white jerseys with turquoise trim (thanks, Phil). "¦ Blackout uni with a flaming helmet for Arizona State this Thursday (thanks, Phil).

Hockey News: In an encouraging move, the Flyers have scrapped their Ice Girls. Somewhat less encouraging is that Flyers fans apparently don't like that they can't ogle some free tits and ass during the ice clean-up. Boo-fucking-hoo (from Yusuke Toyoda). "¦ "I'm generally 'meh' about sports-themed weddings, but this Capitals/Flyers wedding is well thought out," says Yusuke Toyoda. "¦ Blackhawks goalie Scott Darling is wearing gear festooned with the team's signature stripe pattern (from Pete Woychick).

Pro and College News: Drawings of the Warriors' new arena look like a toilet. This comes right on the heels of the Cincinnati Cyclones' new toilet-flush logo. One more of these will make a bona-fide trend. … Lots of uniform options this season for Duke, including three white jersey options (from Leo Strawn Jr.).

Soccer News: Reprinted from yesterday's comments: The BBC is making a film about Stoke City's kit man (from Ian Macphail). … Here's an in-depth analysis of the new MLS logo (from Yusuke Toyoda). … Meanwhile, MLS fans have made their own team-specific versions of the new logo (from Benton Payne).

Grab Bag: Here's a video clip of a tour of Brooklyn and Queens signage typography (from Britton Thomas). … Syracuse's new logo — the city, not the school — is pretty embarrassing, even by tourism bureau standards. Wonder how much they paid some branding consultancy for that one. "¦ Aussie rules football note from Graham Clayton: "Back in 1990, Hawthorn player Jason Dunstall had his skill fractured during a game. After recovering, he played the remainder of the season wearing a helmet to protect his head." "¦ Happy Rosh Hashanah to all who are observing tonight.
• • • • •

What Paul did last night: Yesterday evening I went to the launch party for Jack Carlson's new book about rowing blazers. Try to imagine a jam-packed space crawling with refugees from an Abercrombie catalog shoot and/or an extras from an early Whit Stillman movie and you'll get the idea — Ivy/prep/WASP-o-rama. It was so crowded that I never even got to see Jack (sorry, Jack!), although I did manage to take some photos of people wearing rowing blazers (if you can't see the slideshow below, click here):
I also had a nice time chatting with Uni Watch reader Mathieu Santos, who recognized me and introduced himself. He scored major points by showing me his 1970s-style Bruins shoulder patch tattoo, but then he wussed out when I dared him to yell, "Bitcoin's a fraud!" while one of the Winklevoss twins was making a speech. Let's call it a push.
After the party I went downtown and saw a new movie called Art and Craft, which is a documentary about a guy who's really good at creating forgeries of fine art paintings and this kinda narc-ish art registrar who's obsessed with stopping him. The interesting thing is that the forger doesn't sell his fakes — he gives them away to museums, casting himself in the role of a great philanthropist (which may be unethical but is not illegal). He's very fragile-seeming, both physically and emotionally, and is clearly mentally ill, but he's a gifted painter and, more importantly, raises excellent questions about how we assign value to things, what's "real" vs. what's "fake," why so many people are so gullible, and so on. I really liked this film — highly recommended. If you live in NYC, it's at the Angelika. Here's the trailer: