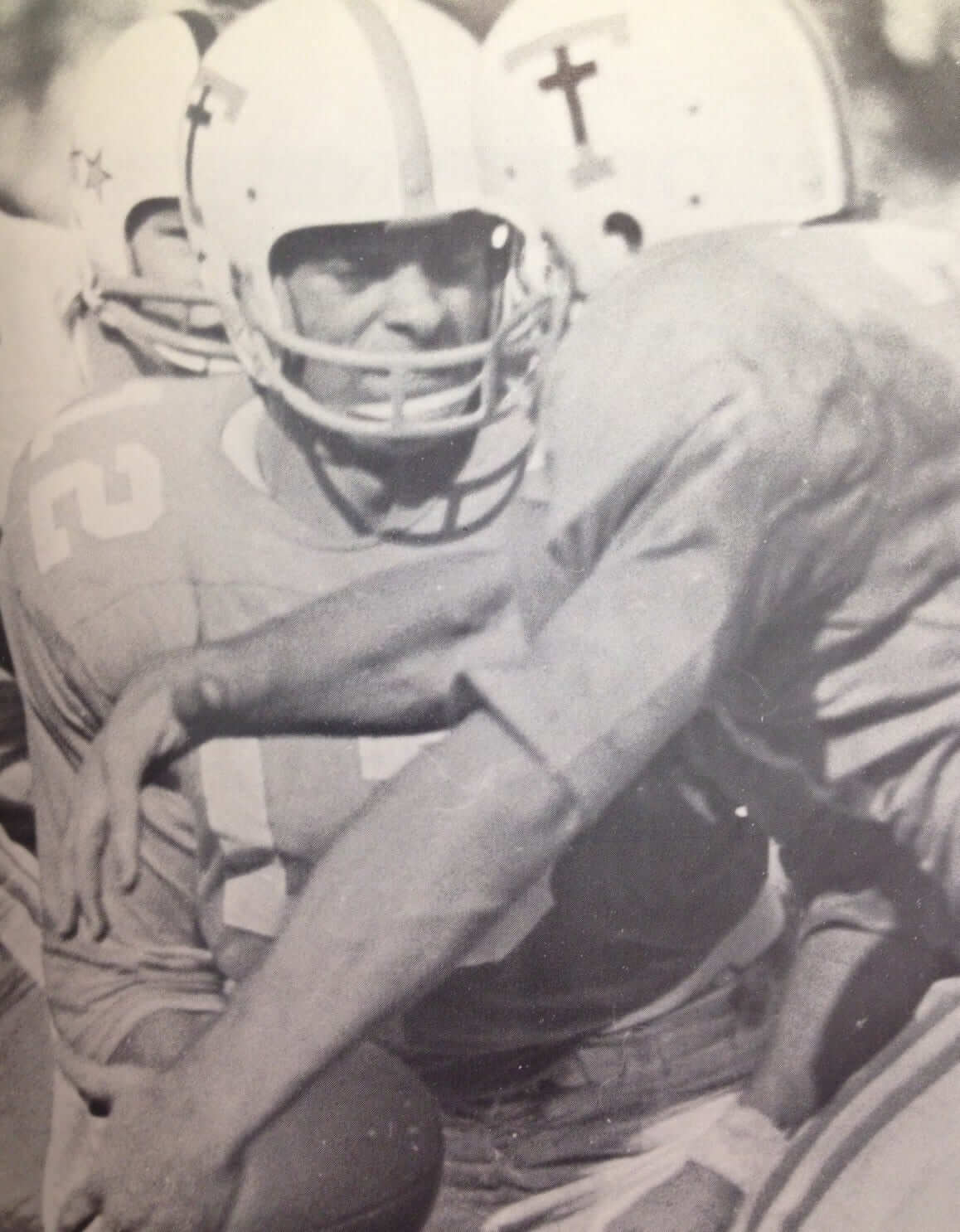 Courtesy of the Tennessee Athletics Dept.; click to enlarge
When I wrote last week about Arknsas State modifying a cross-shaped memorial decal due to Constitutional issues, several readers noted that the Tennessee had worn black crosses in 1965 after three coaches died in a car crash. Unfortunately, none of those readers was able to provide a game photo, but I recently procured one from Tennessee, as you can see above.
That's one of many examples teams and athletes wearing religious imagery, which is the subject of my new ESPN column. Check it out here. "" Paul
• • • • •
NFL Superhero Project
By Thomas Correia
Thanks for all the positive comments on last week's NFL superhero installmet. We're going to do this every Thursday, with superheroes representing the Thursday-night NFL match-up. Here's the one for tonight's Bucs/Falcons game:
With the focus being on the skull, Ghost Rider seemed like a good choice to represent the Bucs. To carry that through, the crossed swords became motorcycle handlebars. Also, I turned the orange football into the flames around his head and included the penance stare eyeballs. Lastly, the large sword holding the flag became Ghost Rider's chain weapon.
For the Falcons, I went with — duh — the Falcon. Using the throwback Atlanta logo is an ideal fit for the throwback look of the Falcon's original costume. Obviously, the name and the red, white, and black colors fit perfectly with both team and hero. All it really needed was a new head and to replace the claw with an arm. Wish they were all this easy.
Next week: Giants vs. Washington. Which characters do you think will represent them?
• • • • •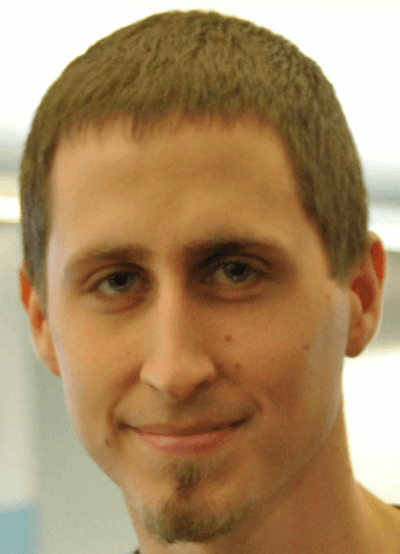 Mike's Question of the Week
By Mike Chamernik
We definitely like more than just sports aesthetics around here, of course. What's your favorite non-sports logo? I always loved the colors and simplicity of the Union 76 ball. I'm also fond of the 1970s and '80s Pepsi logo, the NBC peacock and Vinnie, the Vitner's Chips bag.
Any non-sports logos or characters that you hate? And, are there any logos that are so successful that they overinflate the product's value for you? For instance, Punchy makes me want Hawaiian Punch even though Hawaiian Punch is marginal at best.
As always, post your responses in today's comments.
•  •  •  •  •
Uni Watch News Ticker
By Mike Chamernik

Baseball News: Bryan Cranston did a commercial for MLB Postseason on TBS and he wore a bunch of uniforms for it. … Bud Parks attended the Orioles' division clincher Tuesday night and got a cap with the postseason patch on it. It's not a chromaflex patch, he says. … Umpire Joe West was suspended one game for grabbing Jonathan Papelbon's jersey during an altercation Sunday. … The Padres will wear brown this Saturday (from Brady Phelps). … Barstool Sports is selling an Orioles Natty Boh shirt. Check out Mr. Boh's stirrups. "¦ Speaking of the Orioles, here's a photo that shows some old versions of the cartoon bird that you might not have seen before (from Kevin Walsh). "¦ Astros OF Jake Marisnick dove for a ball last night and broke his belt. You can see it coming loose here. Someone had to run out from the dugout to give him a new one (from Sam Selker). "¦ Mariners 1B Justin Smoak has some kerning issues on his NOB (from Stephen Hayes).

NFL News: Nike suspended its endorsement deal with Adrian Peterson (from Phil). … The Dolphins are holding an aqua-out for Sunday's 4pm game against the Chiefs. "What makes this particularly interesting is that the Dolphins have not worn aqua jerseys at home for a day game since Joe Montana's final game, December 31, 1994 — the AFC Wild Card game, also against the Chiefs," says Bob Gassel. … Titans DE Derrick Morgan posted a photo on Instagram of him wearing black tights that have some sort of design on them (from Josh Williams).

College/High School Football News: Red jerseys for Cincinnati (from Phil). … A writer named Joshua Kagavi set out to find the jersey worn by Jack Trice, Iowa State's first black player, when he died after sustaining injuries during his first game in 1923 (from David Cline). … Rutgers will wear American flag helmets against Navy (from Phil). … Oklahoma will wear alternates Saturday (from Phil). … Fort Knox High School (Kentucky) is gearing up for Pinktober (from Josh Claywell). … Maryland is auctioning its Star-Spangled uniforms will all proceeds going to the athletic department's scholarship fund (from Phil). … SMU will wear chrome helmets against TCU. I say BFD.

Hockey News: The NHL will not have uniform ads. For now, at least (from Phil). … New logo (kinda) for the Regina Pats (from Phil). … The Rangers will wear jerseys with computer chips in them to track player movement and speed (from Phil). … In recent screenshots and clips from the NHL 15 video game, the Blues' jerseys have not been updated to the changes they made this summer. "In fact, they are wearing the uniform worn by the Blues pre-Reebokification (circa 1998-2007)," says Mark Richter. "Maybe EA knew about the switch to more traditional striping but didn't have the specifics in time, so just used the old uniform instead?" Perhaps the game will have a downloadable uniform update.

Basketball News: NBA 2K15 will allow gamers to add 3D renditions of their faces onto created players within the game. … Here's a cool interactive graphic on NBA travel (from James Comfort). … New court for UC Irvine (from Phil). "¦ "I play club team handball at Illinois State, and we practice in Horton Field House, which used to house ISU basketball until Redbird Arena was built in 1989," says Chris Frank. "During most of the year, they leave the old court out in the building for extra practice space. Tonight after practice I realized our only really good player, Doug Collins, played on that court and so I decided to take some pics."

Soccer News: MLS has unveiled its new logo. … The Los Angeles Galaxy has commissioned artists to create posters to commemorate each match this season (from Yusuke Toyoda).

Grab Bag: The French sports paper L'Équipe is holding a poll to determine the best-looking jersey in the French Rugby Union Championship (from DTE). … Brown will wear throwbacks in six sports in honor of the school's 250th anniversary (from Joel Mathwig). … The Rugby Football Union is being criticized for incorporating the Victoria Cross into its new kit (from Eric Bangeman). … Star Wars: Episode VII will reportedly rely more on practical effects rather than CGI, so the actor who plays C-3PO will wear the character's costume on the set (from Brinke). … Great shot of KISS playing touch football in the mid-1970s (from Jim Vilk). … Members of the Republic of China Military Police go through insane amounts of discipline to maintain their uniforms, posture, and form (from Brinke). … Burger Kings in Japan are releasing a BFBS burger (from Kary Klismet). … "Here is the 1975 Scanlens footy card for Ken Fletcher of Essendon," says Graham Clayton. "Note the orange shorts, which are definitely not official uniform." … Mental Floss compiled a list of "strange and wonderful" niche blogs, and Uni Watch didn't make the cut. Perhaps we're not strange, wonderful or niche-y enough.