An odd little storyline unfolded last night on social media, as fans noticed a subtle change that had been made to the Mets' classic skyline logo. Here, see if you can spot it (ignore the color differences and the trademark symbols):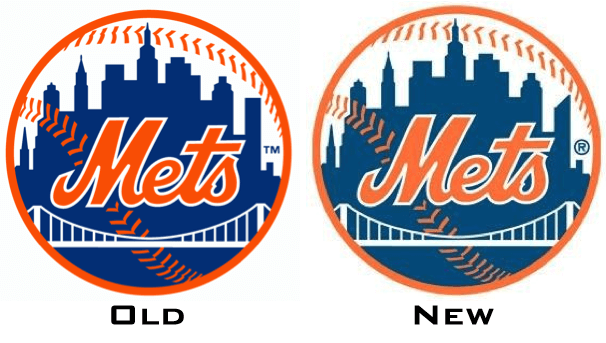 Can you see it? Look at the blue skyline, and zero in on the building just to the left of the trademark symbol. In the old version, the top of that building is squared off. It represents the United Nations building. In the new version, the top of the building is diagonal. And what might that represent, you ask? If you're a New Yorker, you probably recognize it. For the rest of you, here, take a look.
That's right. The Mets adjusted their logo to include the signature building of their stadium's corporate sponsor. It's disgusting. No, wait, it's pathetically predictable. Okay, it's both.
I'm going to shift into FAQ mode now:
Is that, like, an official change to the team's official logo?
Apparently not. The MLB Style Guide still shows the classic version.
So where is the Citi-fied version of the logo being used?
On social media. For the past few days it was being used as the avatar on the team's Twitter and Facebook pages. After a bunch of fans and bloggers noticed it last night and began chattering about it, the Twitter avatar went back to the proper logo and the Facebook avatar was changed to a white flag (I made a screen shot of that, in case they change it again this morning), perhaps a tacit admission from the team's social media staff that they couldn't slip a rogue logo past us. Update: I'm now told that the white flag is the default icon for a Facebook page when no image is designated.
So they just created that logo a few days ago and swapped it in on social media?
It's more complicated than that. They apparently uploaded that image to Facebook on Nov. 11 of last year, although they didn't necessarily start using it as an avatar then. So this logo has definitely been floating around for a while, although it's not clear where or how or to what extent it's been used.
So that building with the diagonal top "" that's Citigroup's corporate HQ?
That's the weirdest thing about this. Quoting here from Wikipedia:
In 2001, Citicorp sold its controlling stake in the building for $755 million (cost of building adjusted for inflation: $569,794,069) to Boston Properties. Citigroup relocated its headquarters to 399 Park Avenue.

In 2008, building owner Boston Properties began the process of renaming the tower "601 Lexington Avenue." Renovation of the lobby resulted in relocation of the tower's entrance from 53rd Street to Lexington Avenue. All signage for Citigroup was removed from the building and surrounding block.
So even though the building is still colloquially associated with Citi (everyone still calls it the Citicorp Building or Citicorp Center), Citi no longer has anything to do with it. It's sort of like how Chrysler no longer has anything to do with the Chrysler Building, but it's still the Chrysler Building.
If Citi has nothing to do with the building, why would the Mets want to add it to their logo?
Good question.
Could this just be a low-level employee having fun, and maybe he doesn't even realize that Citi is no longer tied to the that building?
That's one possibility, sure.
Even if the team really did change its official logo to include the building, would that be so horrible?
I think you all know how I feel about the relentless incursion of corporate culture, branding, and sponsorship into every facet of American life. So yeah, if the Mets changed their logo to accommodate Citi, I think that would be pretty despicable (just like I think it's pretty awful that the Brewers' "M" logo is obviously based on the Miller Beer script).
But you just said yourself that Citi isn't tied to that building anymore!
I know, I know! That's the what's so odd about all this.
Fucking Mets — they can't even sell out properly.
(Special thanks reader Steve Dodell, who was the first one to bring the logo change to my attention, also to Phil and Mets Police honcho Shannon Shark for their assistance on this one.)
•  •  •  •  •
Collector's Corner
By Brinke Guthrie
Ah, NFL TV show opens from the 1970s. Who can forget the terrific intro for Monday Night Football with How-ard, Frank, and the Danderoo? (And here's an extended version of that song, called "Score," by Bob's Band.) Something about that music has stayed with me all these years, and I still get a shiver hearing it, 'cause right after that, it's time to play. I feel the same way about this later MNF theme and this CBS "NFL Today" open. Timeless stuff.
With all of that in mind, this 1970s CBS Sports shirt would fit right in with those Sunday-morning CBS pregame shows, eh? Or this 1970s crew jacket for ABC's MNF.
Here are the rest of this week's vintage finds:
• Terrific styling on this 1970s Chicago Blackhawks jacket! But then, it's a DeLong.
• Strange to see a white St. Louis Cardinals baseball helmet, of undetermined origin date. This was a Hot Wheels promo item.
• Vintage NFL logos adorn this 1967 framed Coca-Cola ad.
• Helmet Buggy Alert! This one's for a 1970s NY Football Giants, with the GIANTS logo on the side.
• According to the listing this NBA watch belonged to a former NBA ref.
• Colts fans, Namath was right. But you can still commemorate that legendary Super Bowl with this cool pennant. [Love how the player on the pennant is clearly from an old college football illustration. "" PL]
• I like the MLB patch on this 1970s-1980s Cubs jacket from an unknown maker.
• Love the classic look of the 1970s double-bar facemask on this L.A. Rams serving tray.
• Nice mixed assortment of 1970s NFL and MLB plaques from Kentucky Art. I had this very Bengals plaque, too.
• Weird to see the name under the number on this 1969 Sam Huff throwback.
• Anything Denny McLain-related is always pure gold, and that goes double for this McLain latex paint can. Autographed, no less! [Knowing Denny, the "latex" was probably watercolor and the autograph was forged by the clubhouse kid. ""PL]
• Lone Star Staters, customize your car with this 1980s Houston Oilers hood ornament.
• • • • •

Baseball News: The Mets held a pregame ceremony yesterday to honor their top minor league players of the past season, all of whom wore No. 14 jerseys. I get it, it's 2014, but come on — that number's retired and doesn't belong on a Mets jersey (from Todd Radom). "¦ The padded cap worn by Padres reliever Alex Torres is going to the Hall of Fame. "¦ "I tied the knot on Aug. 31 and supplied my groomsmen with a set of jerseys made by David 'Frosty' Frost, says Mike Colvin. "The premise was each man's last name in Dodgers script with an 8 in front and 31 in the back, to be worn at the rehearsal dinner. This led to more than one 'Why are they all wearing Mike Piazza jerseys?' We also had a custom cake featuring my Giants and Heather's Steelers, in memory of one of our first dates (and a bitter home loss)." "¦ Jacob deGrom, he of the long tresses, was pitching for the Mets yesterday, so Mr. Met got long hair to match.

NFL News: See that Radisson logo on the Vikings interview backdrop? You won't be seeing it anymore, at least for a while. "¦ Yesterday I Ticker-linked to that awesome NY Giants letterhead from 1943. Here are some great photos of Harold Gutke, the player being offered a roster spot in the letter (big thanks to Alan Kreit). … Reprinted from yesterday's comments: Robert Griffin III had to turn his "Know Jesus, Know Peace" T-shirt inside-out at Sunday's postgame press conference because the tee wasn't a Nike product. Douchebags (from Rob Daniel). … Here's a really good view of how many of the Bears were wearing white tights with striped leg-warmers, not socks, on Sunday night (from Scott Thomas). "¦ Latest evidence that jerseys make fans act like morons comes from yesterday's column by Peter King. Key quote: "As veteran Panthers scribe David Newton pointed out, not many fans own [convicted domestic abuser Greg] Hardy jerseys anyway. One who does: Randy Samuelson of Charleston, S.C. 'I thought about not wearing it,' the 62-year-old Samuelson said. 'But the home team is in white, and gotta support them no matter what'" (from Hugh McBride).

College Football News: Some Iowa fans don't like the design of the school's new live mascot (from Nick Pfeiffer). … "As a four-year letterman of Auburn University's football program (06-09) and an avid supporter of AU's athletic department in general, I periodically receive a letter entitled Auburn Athletics Confidential, which comes directly from the desk of Athletics Director Jay Jacobs and is aimed at keeping program stakeholders up to speed on certain aspects of the athletics department," says Andrew McCain. "The most recent letter addressed Auburn's uniforms: 'I get asked when Auburn might come out in orange jerseys or pants,' Jay writes. 'The answer is not anytime soon. Why would we?'" … A trucking company called South East Carriers has a logo that looks a lot like the SEC logo (from Grady Harmon). "¦ New memorial decal for the Coast Guard Academy. "¦ This is interesting: UNC has a player from Canada and another from the Ivory Coast, and those players will now wear helmet decals of their native countries' flags. Is that a college football first? "¦ Don Schauf was looking at the Cal Stadium on Apple Maps and was surprised to find that the satellite image caught the field installation in progress.

Hockey News: The Capitals will unveil their Winter Classic jerseys on Sept. 23. … Flyers goalie Steve Mason's new mask design features a zombie version of Al Capone (from Andrew Rader). … This article has some uni-numerical fun regarding Jesper Fast of the Rangers: "Fast was a little sheepish when told that he, Steven Stamkos, and John Tavares all wear No. 91 now in the National Hockey League. 'Please don't compare me to those guys,' laughed the 22-year-old Swede. 'The Rangers called me this summer and offered a bunch of different numbers because Lee Stempniak took (number) 12 (which Fast wore last season),' Fast explained on Monday. 'They were all high numbers, 40's and higher, so I chose No. 91 because I was born in 1991 and it's the only one that had any connection to me'" (from Chris Flinn). "¦ Predators goalie Pekka Rinne's new mask has a Gladiator theme (from Daniel Lavender).

College Hoops News: New uniforms for Drake. Man, when's the last time you saw a team switch to that Lakers-style wishbone collar? "¦ New unis for Arizona, too — blue and red.

Soccer News: FC Bacelona's new third strip features two different shades of yellow (thanks, Phil). "¦ New third kit for Manchester City (from George Chilvers).

Grab Bag: Crazy mix of NOB fonts in this photo of Massachusetts State Police trainees (from Brian Mazmanian). … You probably heard about the controversy involving Urban Outfitters' "blood-stained" Kent State sweatshirt yesterday. Here's the latest on that. … The new England rugby shirt features rubber grips along the chest area (to keep the ball from bouncing) in the shape of Victoria Cross, a British military medal (from Yusuke Toyoda). … Students at a New York City high school are protesting the school's new dress code. … You like a mud game? Then you'll love this. That's from the 1963 Rugby League grand final between St. George and Western Suburbs. "Due to heavy rain the week before, the Sydney Cricket Ground was an absolute quagmire, and it became impossible to distinguish one team from another," says Graham Clayton. "¦ A Minneapolis woman want to turn the Metrodome's roof into mittens (from Zach Wartes). "¦ Wichita's new indoor football team will go belly-up in a year or two, guaranteed will be called the Force.
• • • • •
FYI: Today I'm going to be part of a discussion panel for an NYU sports business class. We'll be discussing the excellent "30 for 30" film Untucked, which of course is right up my alley. Between that and some errands that I have to run, I'll be off the grid from about 11:30am until this evening, so everyone play nice while I'm out. See you tomorrow.