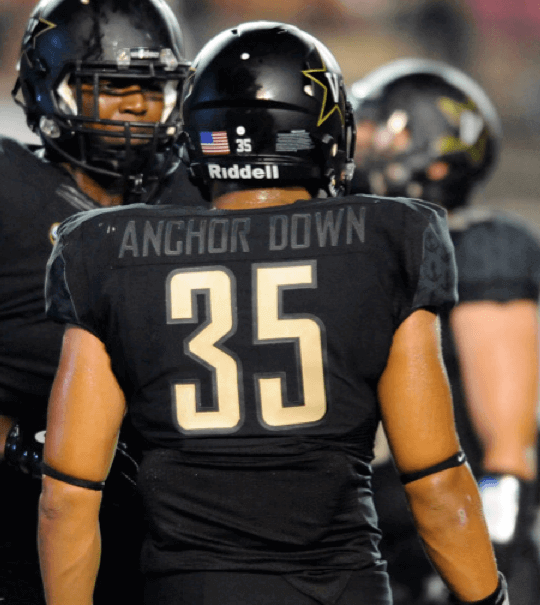 Paul here. I'm returning to the site today, then webmaster John Ekdahl will have tomorrow's content, and I'll be back for good on Monday.
So: The controversy regarding Vanderbilt's "Anchor Down" jerseys was resolved yesterday. In case you're not familiar with the backstory, here it is: Except for the military academies, the NCAA no longer allows SOBs (slogans on back). This came up about two weeks ago, when USF announced plans to use "The Team" on its nameplates and then backtracked a day later after learning of the SOB prohibition.
So there was lots of curiosity and confusion when Vanderbilt unveiled a set of jerseys with an "Anchor Down" SOB just prior to Thursday night's season-opening game against Temple. Weren't they going to be penalized for the use of the slogan?
Yes, as it turns out. Referee Ken Williamson announced that Vandy would lose one timeout per quarter. But then Vanderbilt officials showed Williamson an email printout, which apparently indicated that Vandy had sought and received permission to wear the slogan. So Williamson restored the lost timeout and the game proceeded.
That left people with a lot of questions, the biggest of which was why the NCAA would bother to have a rule if they weren't going to enforce it.
That question was answered yesterday afternoon by SEC communications director Chuck Dunlap, who issued the following statement:
A miscommunication resulted in Vanderbilt wearing jerseys during its football game Thursday night that are not permissible under the NCAA football uniform regulations. Before production of the jerseys, Vanderbilt sought approval of the jersey design from the NCAA, which included the words "Anchor Down" on the back panel. The NCAA responded with written approval of the design as presented and Vanderbilt proceeded with the jersey production, assuming the approval was applicable to the slogan as well as the colors and overall design in the submitted layout.

NCAA football regulations do not permit the use of slogans on jerseys. Vanderbilt was originally penalized for the jerseys during the game and after being shown the written correspondence, the head referee also interpreted the correspondence to mean the slogan had been approved. Vanderbilt has been notified it cannot wear the slogan on its jersey for future games and has agreed to comply.
In other words, the NCAA approved the base design but not the SOB, and Vanderbilt officials and Williamson both misinterpreted that. It would be great to see Vanderbilt's original submission and the NCAA's response, just so we could see the full chain of (mis)communication here, but that's obviously not going to happen (unless someone in the Vandy athletics dept. wants to leak something my way, hint-hint).
Lost in all the hubbub is the fact that the black-on-black "Anchor Down" lettering looked like shit, and that Vanderbilt lost, 37-7, thereby reinforcing the lesson I always like to remind people of: If you dress like a clown and win, you look like a winner; if you dress like a clown and lose, you just look like a clown.
Meanwhile, wondering why Mississippi State gets to wear "Hail State" on the front of its jersey? It's apparently because that slogan is on the front, not the back.
+ + + + +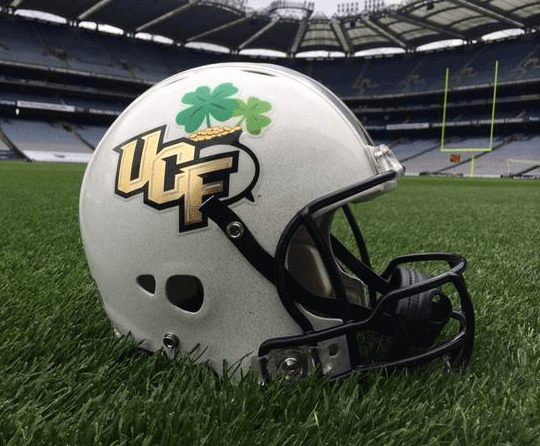 This is pretty cool: UCF and Penn state are facing off today in Dublin, and the Knights are marking the occasion by adding some shamrocks and a pot of gold to their helmets. No word yet on whether Penn State is planning anything similar, but I think it's safe to say that any gesture from the Nittany Lions would be much more subtle — a small shamrock decal on the back of the helmet, say.
As long as we talking college football, here's a bunch of additional news on that front: New uniforms for Kennesaw State. "Looks like Tour de France meets NASCAR," says Douglas Ford. … NC State is retiring Mario Williams's number (thanks, Phil). … Here's a cool look at all of Florida State's helmets through the years. … UTSA wore mono-white last night (thanks, Phil). … Speaking of mono-white, that's what Ohio will be wearing today. … Blackout uni on tap today for Missouri. … Houston is adding memorial decals for former players Robert Newhouse and Sam Hairston. "¦ New uniforms for Long Beach Poly. "¦ NIU has yet another new uni design, this time in solid white (thanks, Phil).
+ + + + +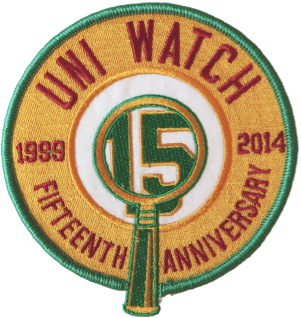 Patch reminder: If you haven't yet purchased a Uni Watch 15th-anniversary patch, there's no time like the present. And for those of you who've already bought one, have you sewn it onto anything? If so, please send me some photos — I'd love to see how the patch looks on your jersey, jacket, or whatever.
+ + + + +

Baseball News: The Angels wore 1970s throwbacks last night. Additional photos here. "¦ New logo and uniforms for the 2015 Holiday League All-Star Game (from Kevin Olivett).

NFL News: Here's a bunch of interesting and entertaining NFL maps (from Kyle Hanks). … Bears safety Ryan Mundy is considering legal action against Schutt after suffering a cut to his head during a preseason game (from Tommy Turner). "¦ Wayne Koehler notes that the Bucs wore four different uni combinations in their four preseason games.

Grab Bag: New CFL uniforms for the Calgary Stampeders. … Speaking of the CFL, the RedBlacks and Alouettes went color vs. color — or is that colour vs. colour? — last night (thanks, Phil). … Abercrombie & Fitch is removing the logos from its clothing. Let's hope that starts a trend that extends to the uni-verse (thanks, Brinke). "¦ New logo for Hershey, and some folks think it's crap — literally. "¦ I couldn't find a photo showing this, but several readers say that there was a "Share a Coke with Tony" bottle of Coke on the table during Tony Stewart's press conference yesterday — the one where he was talking about, you know, the death of another human being. Douchebags. "¦ Totally love this tag, which comes from this vintage varsity jacket. "¦ PGA caddies wore memorial black caps yesterday in memory of Angela Bennett, the wife of Matt Kuchar caddie Lance Bennett, who died on Wednesday (from Richard Stover).