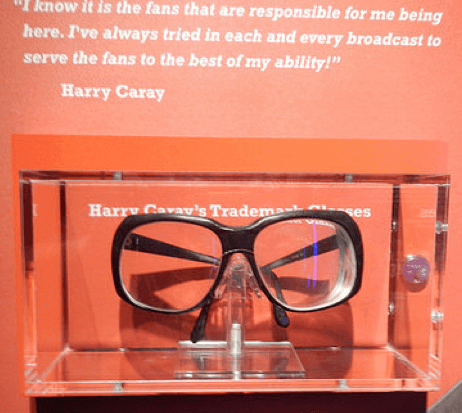 [Editor's Note: Today we have a guest entry from David Firestone, who recently paid a visit to the Chicago Sports Museum. "" PL]
By David G. Firestone
Harry Caray's Italian Steakhouse opened in 1987 and has become a Chicago institution. Recently, Harry Caray's came up with a new plan to attract visitors: the Chicago Sports Museum, a 6,000-square-foot facility filled with memorabilia cases and interactive exhibits.
One of the first things you see when you walk in is this championship ring display, centerpiece of which is a salesman sample ring for William "The Refrigerator" Perry. As you'd expect, the ring is huge, a whopping size 25. You can put your finger inside it and see how big it really is.
Behind that is a display, featuring lockers with game-used memorabilia from each of the "Big 5" teams in Chicago — the Cubs, White Sox, Bulls, Bears, and Blackhawks. On a nearby wall are two lockers, one dedicated to Scottie Pippen and the other to Michael Jordan, and a shoe display with shoes from some of Chicago's best basketball players.
As you walk through, you get to the Forensic Sports exhibit, which uses CSI-style methods to, show that, as the museum puts it, "things are not always as they appear." They have Sammy Sosa's corked bat and a display to examine the entire X-ray of the bat. Next to that is a series of vintage baseballs that are sliced in half, to show how the inside of a baseball has evolve. There are also some balls that are too historically important to be cut in half, so for those there are X-rays of what is inside. They also have pucks from the 2010 Stanley Cup Finals and Harry Caray's trademark glasses
As you exit the forensic exhibit, you come out to the Fan Zone and Hall of Legends. In the Fan Zone, you can take photos in a photo booth, answer trivia questions, and record a video of yourself broadcasting a game. My favorite part of this exhibit is the display of microphone flags on a nearby wall.
The Hall of Legends is set up with a number of Xbox Kinect-style interactive games featuring Chicago sports legends, such as an "All-Star Home Run Contest" with Hall of Fame White Sox slugger Frank Thomas and a "Quarterback Challenge" where players must avoid getting sacked by Bears Hall of Famer and Super Bowl XX MVP Richard Dent.
At the far wall in this exhibit is a series of display cases featuring memorabilia from Chicago sports legends and some from forgotten events. There is too much great stuff to discuss here, so I will let the pictures speak for themselves [if you can't see the slideshow below, click here]:
The last thing inside the museum is the Superstitions and Curses exhibit. This display is a bit different. It is dark, and in a stone-lined room, and discusses curses and their artifacts. The major item in this room is the Steve Bartman ball — or what's left of it. This was the ball that Steve Bartman knocked away from Moises Alou in 2003. It was famously blown up by Harry Caray's. There are a number of other unusual items here, ranging from props from Back to The Future to bottles found buried under Wrigley Field. Here's an assortment [if you can't see the slideshow below, click here]:
As you exit the museum, you walk down a hallway where there are a number of additional displays featuring more items from subjects related to Chicago sports, including the 1981 Soccer Bowl, Ryne Sandberg, Chicagoland Speedway, Mark Grace, and Gabby Hartnett, among several others. You can then go have dinner at Harry Caray's 7th Inning Stretch and have your $6 museum ticket price subtracted from the bill — a nice touch.
+ + + + +
Jaime Town: Paul here. If you want an indication of just how far uni-watching has come, consider this example: Two nights ago, Braves reliever Juan Jaime's NOB had an upside-down "W" instead of an "M." Not only did the Braves' broadcast crew pick up on this, but MLB's internet team saw fit to isolate this uni-centric interlude as one of its featured video segments of the game (if the video embedded above is being balky, you can view it here), both of which would once have been unthinkable. Slowly but surely, people, the rest of the world is coming around to our way of seeing things.
+ + + + +

Baseball News: The Tigers wore Tigres jerseys yesterday. … The San Jose Giants wore Italian Night uniforms last night (thanks, Phil). … Cubs prospect Javier Baez is still wearing that backwards helmet logo. I asked the team about it a while back but got no response. "¦ Here's a soda display of the Brewers' ball-in-glove logo (from Michael Biala). "¦ Coupla weird things about this photo of MLB all-stars touring Japan in 1979. For starters, why were so many National Leaguers (aside from the Pirates, duh) wearing pillbox caps three years after the National League's centennial? And why was a Tiger wearing a pillbox cap? (From Bobby Lane.). … Very nice striped stirrups for the DuPage Hounds of the Midwest Collegiate League, although it's too bad about the BP-style jersey (from Steve Johnston). … Scott Van Slyke of the Dodgers was wearing BP cap and Ninja Turtle glasses in the dugout as last night's game stretched into extra innings (from Allen Yelent). … Interesting story about Jason Giambi of the Indians giving up No. 25 so it can be unofficially retired for Jim Thome (from Michael McLaughlin ). … Pete Rose's old spring training locker is still down in Tampa, where the Reds used to train (from Mike Edgerley).

NFL News: Reprinted from yesterday's comments: Just in time for the latest round of inductions at the Pro Football Hall of Fame, here's a good video report on the making of the Hall's gold jackets (from Kyle Allebach).

College Football News: Illinois's season tickets show the team's uniform history (from Brad Kruizenga). "¦ New uniforms for Navy. Here's how the jersey looks on QB Keenan Reynolds, and here's a rear view (thanks, Phil). "¦ Reprinted from yesterday's comments: Ole Miss will wear this helmet against Memphis on Sept. 27 to mark the 25th anniversary of Chucky Mullins's injury (from Alex Yarbrough). "¦ New uniforms for Georgia Southern, which is now in the Sun Belt Conference for the first time (thanks, Phil). … The Adidas tire tread thing has now spread to high school football. Tha's Beech High School in Hendersonville, Tennessee (from Jerry Lawless).

NBA News: If you're looking to read the tea leaves about the Cavs trading Andrew Wiggins, there's this: The NBA shop has stopped selling Wiggins's jersey (from Leo Straw Jr.).

Grab Bag: New uniforms for Connecticut judicial marshals. "¦ Jared Reback found something odd — an "NHL Division Champions" cap that doesn't include a mention of any team.Good article on endurance auto racing helmets. "¦ This article about the upcoming World War II movie Fury includes the following: "The fetish for authenticity [during the movie's production] extended to uniforms. Most were tailor made, and battered, to avoid falling back on rentals that might be familiar to those who had seen them in films stretching back to Battle of the Bulge (1965), but which had little connection to the real tankers' weathered gear, or to the surprisingly sophisticated camouflage worn by the Germans."