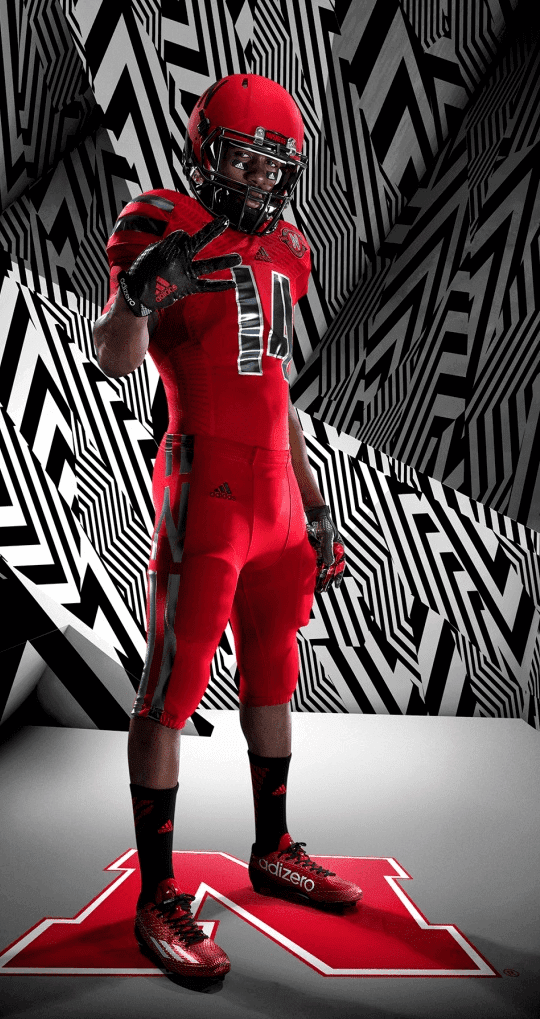 Click to enlarge and see additional views
Paul here, pinch-hitting for Phil this weekend. A few days ago we were told that Nebraska would likely have an alternate uniform this fall. Yesterday that uniform was revealed, and boy is it a mess. It'll be worn for the homecoming game on Sept. 27 against Illinois (who, if there's any justice, will wear solid orange).
The standard line, of course, is that this type of design is geared to appeal to 17-year-olds. But it turns out that it's popular with at least one middle-aged guy.
+ + + + +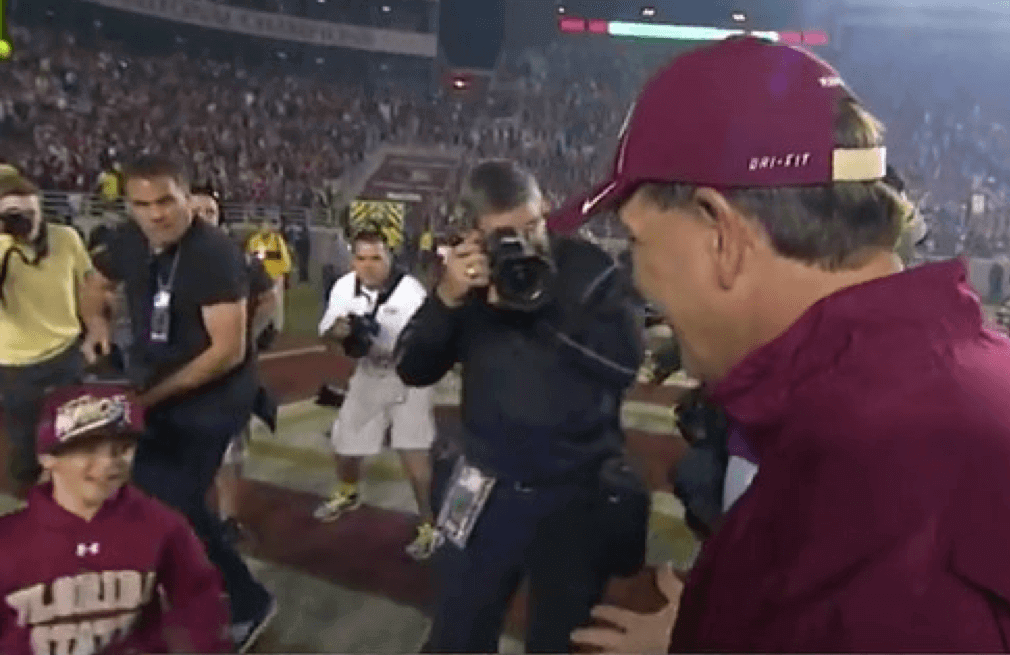 Click to enlarge
What you see above is Florida State coach Jimbo Fisher about to hug his nine-year-old son, Ethan, after the Seminoles' victory over Miami last Nov. 2. As you can see, young Ethan — did I mention that he was nine years old at the time? — was wearing an Under Armour sweatshirt.
That apparently didn't sit well with the corporate automatons at Swooshie HQ, one of whom — a guy named Mark Dupes, although we'll just call him Douchebag of the Year from now on — promptly dashed off the following email to the FSU athletics dept.:
Hey got a text from the USA Director of Sports Marketing last night telling me of how good things look w FSU and our players and sideline staff, exposure for the Brand was exceptional. Then 5 min later I rec a new message…Said ABC cameras were on Jimbo and his Son [at] end of the game…His son was Wearing Under Armour FSU sweatshirt! Ouch. Can we please ask Jimbo to eliminate that from the son's wardrobe in the future! Let me know if I can help w anything. Thx guys. MD
I happen to remember how nice the sports world was when uniforms and sideline gear didn't have maker's marks, so there was no cretin from corporate HQ breathing down everyone's neck about "exposure for the Brand." For those of you who are too young to recall that time, I feel sorry for you. But not as sorry as I feel for all the folks who have to deal with "people" like Mark Dupes the Douchebag of the Year, or for young Ethan Fisher, who learned a disgusting corporate lesson at a very early age.
+ + + + +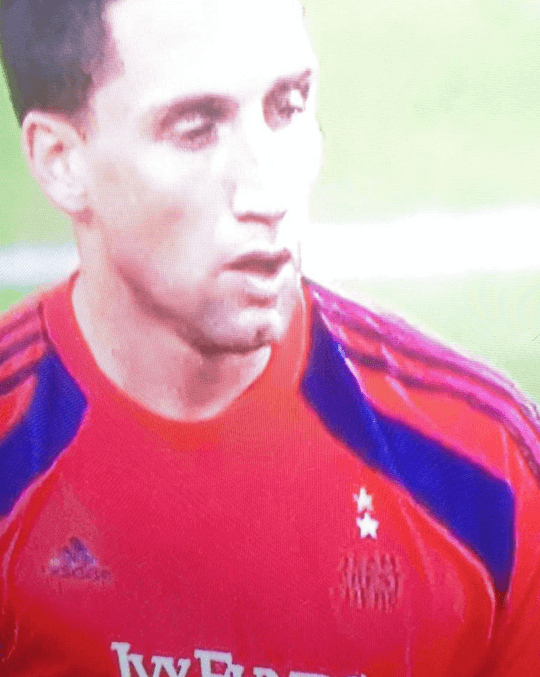 Bizarre scene in last night's Sporting KC vs. Philadelphia Union game, as KC's goalkeeper was missing the team's crest on his jersey, revealing a helpful note that read, "Team Crest Here." Who knew?
Now we just have to find out if "Corporate Branding Here" is underneath the Adidas logo.
+ + + + +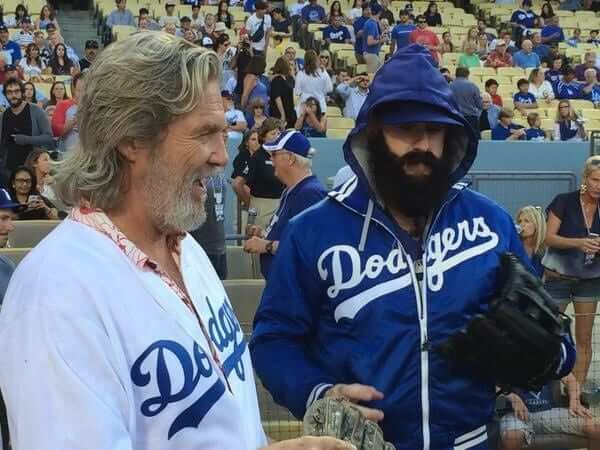 A source who prefers not to be named checked in last night with the following:
Brian Wilson wore a vintage satin Dodgers Starter jacket [instead of a standard Majestic jacket] to catch the first pitch from Jeff Bridges. I think he wore it in the bullpen too, although I'm not positive. Obviously, this violates all the MLB on-field attire rules. I don't think anyone noticed because, well, it's a blue and white Dodgers jacket!
+ + + + +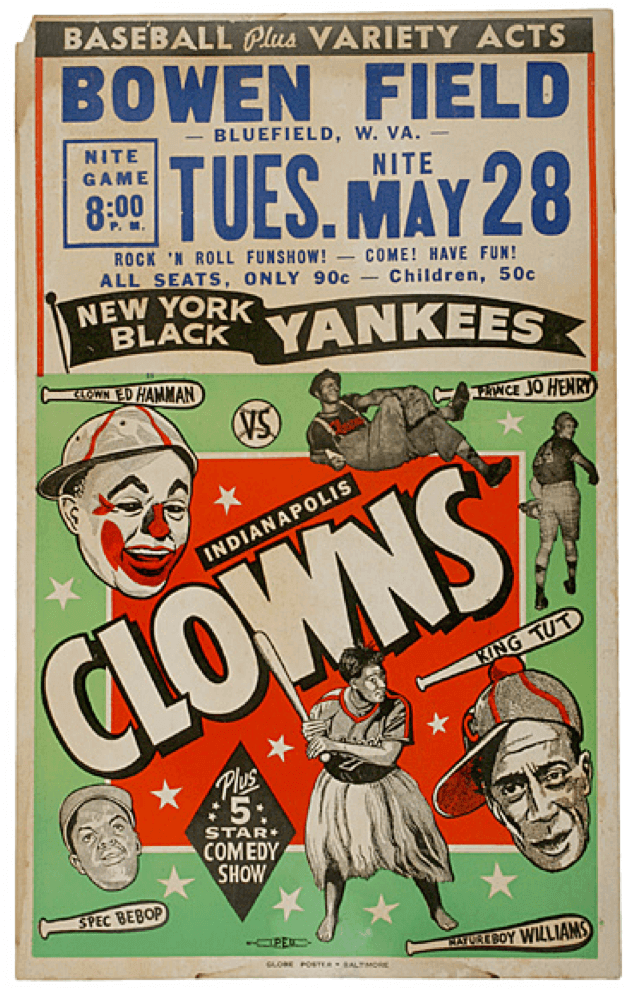 Click to slightly enlarge
Holy moly, look at this amazing Negro Leagues promotional poster that reader Ben Fortney sent my way yesterday. Interestingly, it dates back to 1956 — nearly a decade after Jackie Robinson had broken the color barrier. The Negro Leagues were pretty well running on fumes by then, which is presumably why the bill also included "variety acts." I love that the festivities included a "rock 'n roll funshow!" Also love that there were players named Spec Bebop and Natureboy Williams (who apparently played in a skirt).
+ + + + +
If you can't see this slideshow, and/or to see in gallery form, click here
Most of you don't know this, but Phil is an avid photographer — and a damn good one. The reason I'm filling in for him this weekend is that he's busy selling some of his photos — the five shown in the slideshow above — at the annual Guild Hall Clothesline Art Sale. Great work, buddy — I know you hate selling things, but I have a hunch those are gonna move.
+ + + + +

Baseball News: The Twins wore their red BP jerseys for last night's game against the White Sox. "The only other time I'm aware of the Twins wearing BP jerseys during a game was on July 6, 2005, against the Angels, due to the heat," says Jeff Barak. "They opted for their lighter-weight navy BP jerseys, which had no red trim around the neck, front placket, or sleeve cuffs. There were no names on back and the numbers were actually three-color, a rarity for the Twins." … The Brooklyn Cyclones wore Irish Night jerseys on Thursday. … The Bowling Green Hot Rods will be wearing G.I. Joe costumes on Thursday. "That also happens to be the team's 'Thirsty Thursday' promotion," says Josh Claywell. "Because nothing screams military appreciation like cheap beer." … Check this out: Dave Kingman taking BP with an Alcoa aluminum bat (from Matt DeLeon). … Post-trade deadline uni number assignments from the A's, as reported by Richard Paloma: "Jon Lester gets his No. 31 that he wore with the Red Sox. Jonny Gomes, who wore 31 last time he was with the A's, now has No. 15. With Jeff Samardzija now wearing No. 29, which is what Sam Fuld wore earlier this year, Fuld is going to wear 23." … Speaking of uni numbers and trades, here's a great query from Richard Craig, who writes: "On Thursday the Cubs traded Emilio Bonifacio to the Braves. With the Cubs his uniform number was 64; with the Braves he's wearing No. 1. Is this the largest trade-related numeric drop in baseball history?" Love that question. Anyone know more?

College Football News: New helmet for D3 Westminster College (from Dwight Ternes). … Here's the patch that LSU and Wisconsin will be wearing for the Texas Kickoff game. Interestingly, the lettering is similar to the Texas Rangers' chest insignia!

Hockey News: In my recent ESPN column about league logos on uniforms, I said that the NHL had never publicly identified the designer of its shield logo. A league spokesperson has now informed me that the current iteration of the shield was designed by NHL Senior Design Director Paul Conway. … The Grand Rapids Griffins are having an alternate jersey design competition (from P.K. Richardson). … New jerseys and a fun dragon mascot for the ECHL's Indy Fuel (from Greg Hotopp). … Here's a series of GIFs showing the uni evolution of each NHL team.

Basketball News: Nike has officially unveiled the USA basketball uni that we all saw leaks of a while back. … "Xavier is down in Brazil right now, doing one of those tune-up/goodwill tours, and they apparently have some new unis for this event," says Ryan Sheldon. "Also, Xavier finally decided on a new court design that will include the Cincinnati skyline."

Grab Bag: England's women's rugby team knows what I like (thanks, Phil). … I think we've seen this before, but just in case: Here's a cool T-shirt that shows three great No. 34s in Houston history — Earl Campbell, Nolan Ryan, and Hakeem Olajuwon (from Colin Sherrod). … Marvel Comics is outfitting the Australian rugby league this weekend (thanks, Phil). … Two rugby teams are going with bright green alternate kits: Cardiff Blues and Munster. "Looks like it's a new trend," says Adam Ingle. … New camouflage pattern for the U.S. Army (thanks, Brinke). … In a related item, here's a history of military camouflage. … Hawaii Pacific University whose teams were formerly known as the Warriors, will now be known as the Sharks (from Bill Sodeman). … The Manly-Warringah Sea Eagles of the National Rugby League in Australia wore their yellow and blue alternate strip during their victory over the Brisbane Broncos this weekend (from Graham Clayton).
+ + + + +
Question: What do you folks think of today's format — several short items with big photos, instead of one primary article?