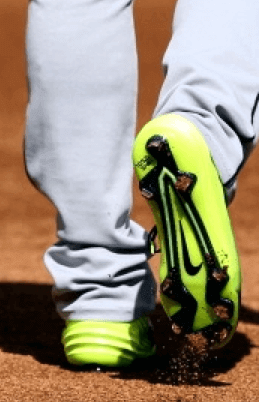 First things first: If you're looking for coverage of yesterday's NBA leaks — plus a new leak I provided myself this morning — please look here. Thanks.
Now then: Let's talk about last night's MLB All-Star Game. The visual theme of the game was clearly DayGlo — DayGlo batting gloves, DayGlo shoes (a shitload of them, as you'll see in a minute), DayGlo arm sleeves, and a lot more. But here's the beauty part: That particular color is apparently the same as the green screen behind the plate (or at least close to it), so at one point Charlie Blackmon's batting gloves were partially blacked out. Too bad that didn't happen with all the other DayGlo gear.
As for the Twins-inspired caps, I didn't care for them. Even though some of them looked fine on their own terms (A's, Jays, a few others), I didn't like having every team stuck into the same template. And a few of the designs were hideous (Mets, Rockies, etc.).
Other notes from the game:
• In keeping with recent practice, all American League players wore their home whites and all National Leaguers wore their road grays. Since the Marlins haven't worn gray all season long and also didn't wear gray last season, that put Giancarlo Stanton and Henderson Alvarez in the unusual position of wearing gray for the first time since 2012.
• The All-Star Game sleeve patch forced David Price of the Rays to wear his Don Zimmer memorial patch on his chest: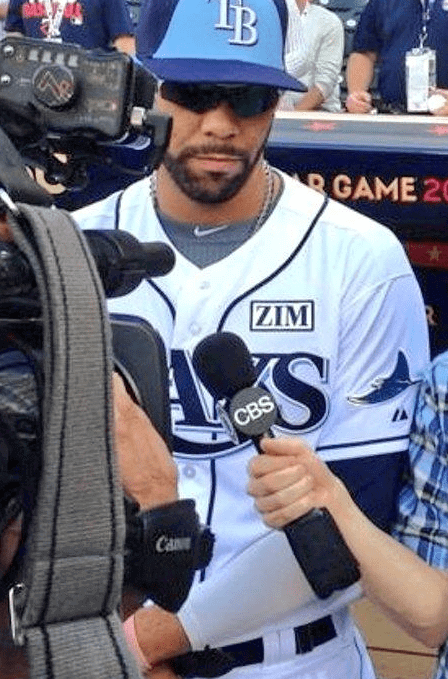 • Ditto for the Ralph Kiner and Frank Cashen memorial patches on Daniel Murphy's Mets jersey: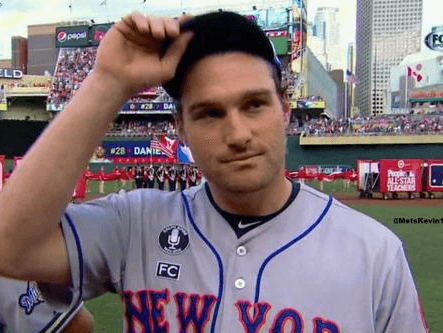 • At one point they briefly showed Adam Jones of the Orioles in the field, and I could see that he had a small inscription on his cap. Later on I learned that it was "TG19" — a little memorial for Tony Gwynn.
•  Dee Gordon of the Dodgers was wearing a Derek Jeter armband and a "WWJD" bracelet (you can't see all the letters, but it definitely matches this style). I'm sure the "J" stood for "Jeter," right?
• Jeff Samardzija (voted onto the National League team by the players but ineligible to play because he was traded to the As's shortly before the game) was introduced with the National Leaguers and wore an N.L. BP jersey and a generic ASG cap. But once the game started, he wore A's gear and sat in the A.L. dugout, as you can see in the center of this shot.
• Very few high-cuffed players in this game, unfortunately. One of them was Cardinals pitcher Pat Neshek, who wore striped socks.
• How often do you see the shape of a state mowed into the outfield grass?
• Miguel Montero of the Diamondbacks had special bats made. The yellow-blue-red pattern on the barrel mimics the national flag of Montero's native Venezuela.
• Here's the pin that was handed out to the media.
• If you care about the players' walk-up music, today's your lucky day.
• Someone on the CBS News social media staff had a very bad night.
• And of course there were all the players wearing atypical shoe colors, including Jose Altuve (orange and DayGlo), Charlie Blackmon (DayGlo — sorry, no photo), Starlin Castro (DayGlo), Aroldis Chapman (DayGlo), Tyler Clippard (DayGlo), Yu Darvish (red), Josh Donaldson (DayGlo, plus a matching arm sleeve), Freddie Freeman (normal shoes but with DayGlo laces), Carlos Gomez (DayGlo), Greg Holland (DayGlo), Derek Jeter (white), Adam Jones (DayGlo), Scott Kazmir (gold), Ian Kinsler (DayGlo), Jon Lester (DayGlo), Andrew McCutchen (DayGlo), Glen Perkins (DayGlo), Alexei Ramirez (DayGlo), Aramis Ramirez (DayGlo), Max Scherzer (DayGlo), Alfredo Simon (DayGlo), Giancarlo Stanton (DayGlo), Huston Street (DayGlo), Kurt Suzuki (DayGlo), Mike Trout (rainbow trout-patterned [here's an in-game look], although for some reason he had changed to orange footwear for the postgame festivities), Troy Tulowitzki (a particularly brutal combination of purple and DayGlo), Chase Utley (light blue), and Adam Wainwright (silver-ish). I'm sure there were others I missed.
One final note: For those who've been wondering why today's entries both had a "jump," it's because I wanted to make it easier for someone who came to our home page to see that we had more than one entry today.
(More thanks than I can possibly express to Phil, who was feeding me info all night long. Thanks also to Andrew Cosentino, Brinke Guthrie, and Stetson Pevear for their contributions.)