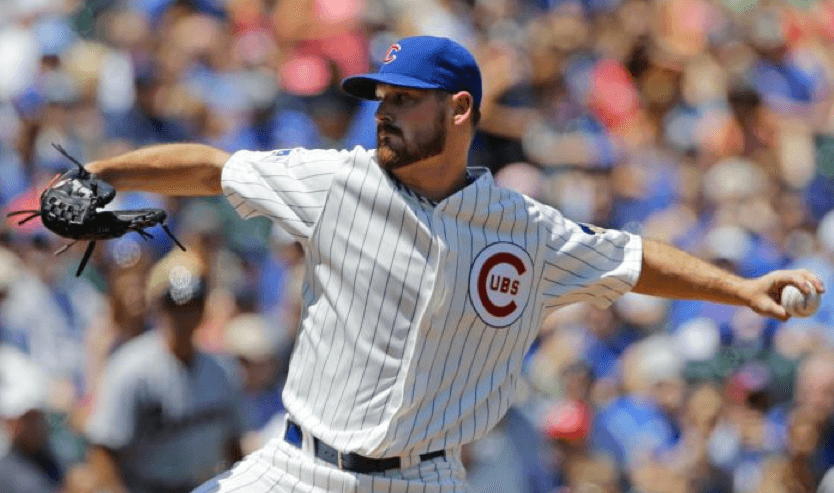 For all of today's photos, you can click to enlarge
The Cubs held their latest throwback game yesterday, this time turning back the clock to 1969 while hosting the Braves. The basic uni designs are shown above — not bad, right? Now we'll delve into the nitty-gritty of some of the details.
From what I could see, almost all of the Cubs went high-cuffed, but only some of them wore stirrups: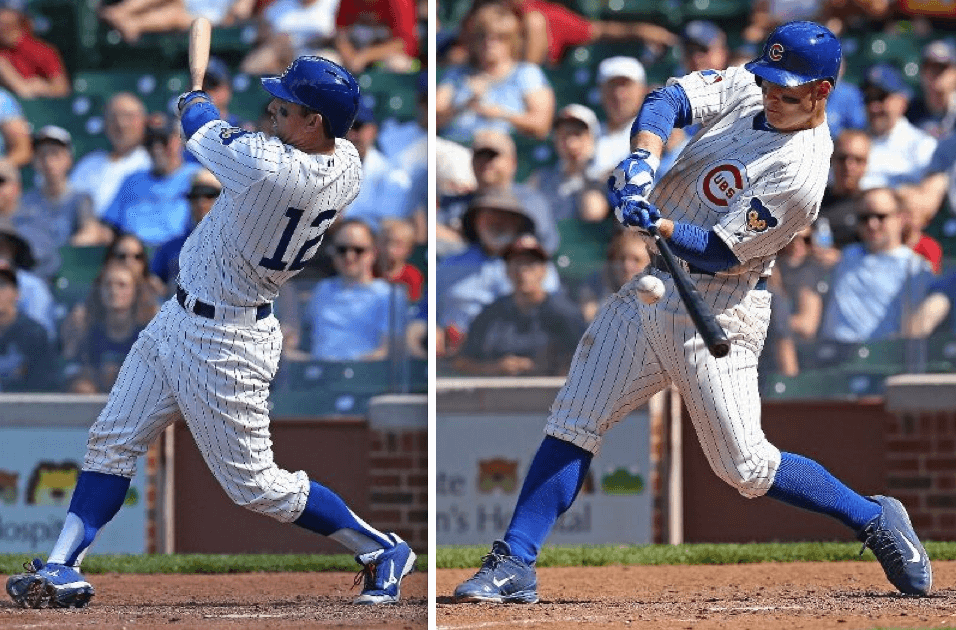 One Cub who didn't go high-cuffed: outfielder Justin Ruggiano. Even worse, he wore his regular white pants, instead of the cream-colored throwback pants: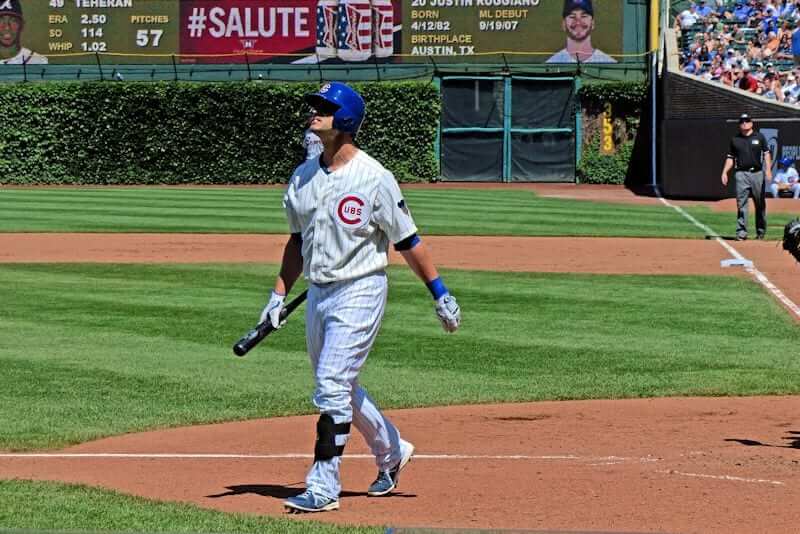 The Braves, meanwhile, didn't bother with high-cuffery and just went with the pajama look — disappointing: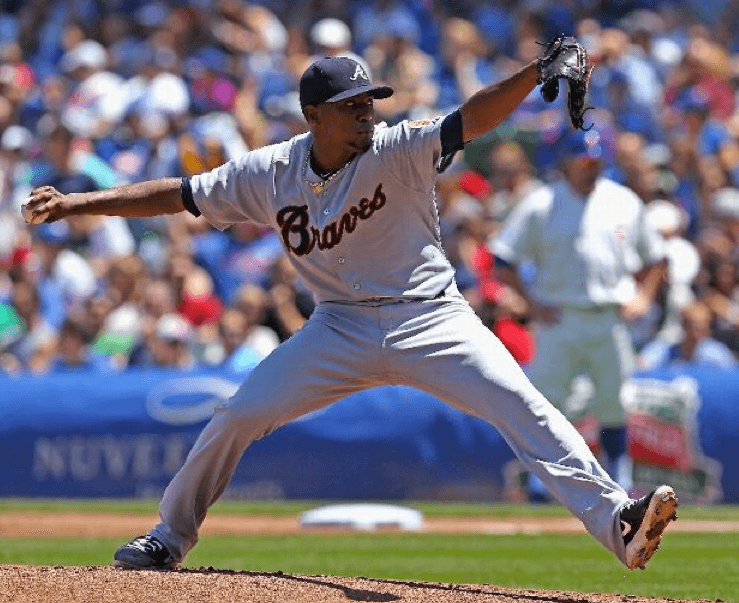 One of my favorite elements of this Cubs uni is the left-sleeve patch: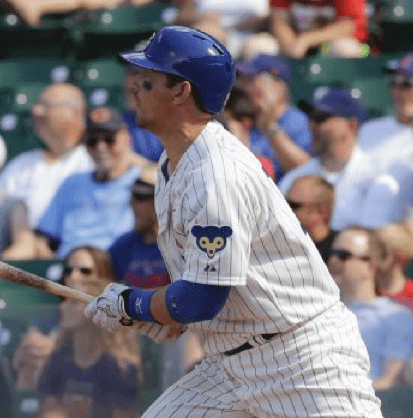 Speaking of patches: This being 1969, figuratively speaking, the Cubs wore the MLB centennial patch on the right sleeve. But the Braves, surprisingly, did not: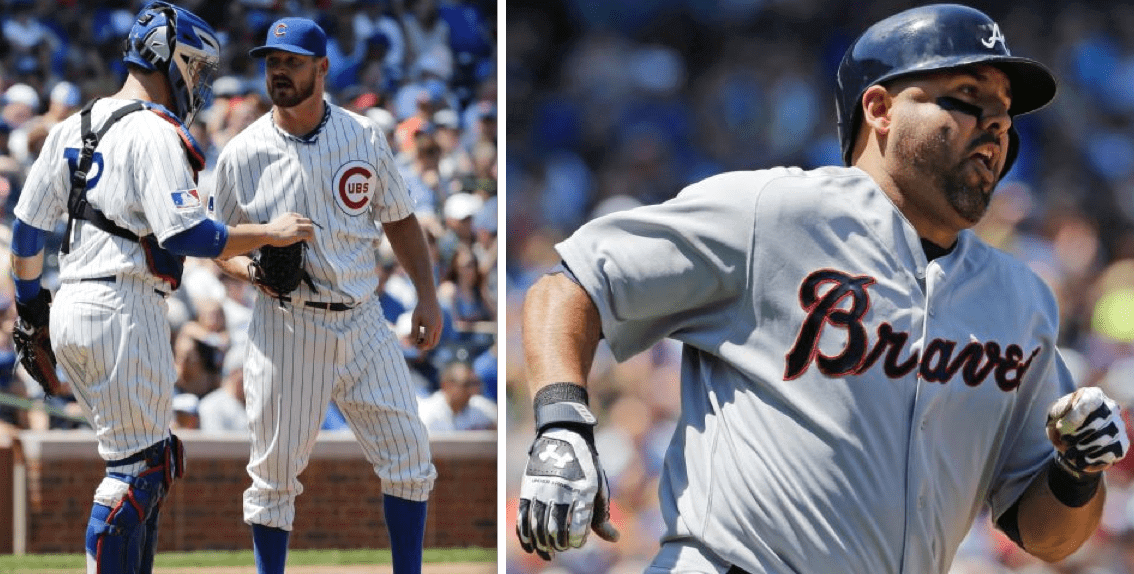 The Braves did, however, wear their Indian head patch on the left sleeve (which I'm fine with, because it's historically accurate):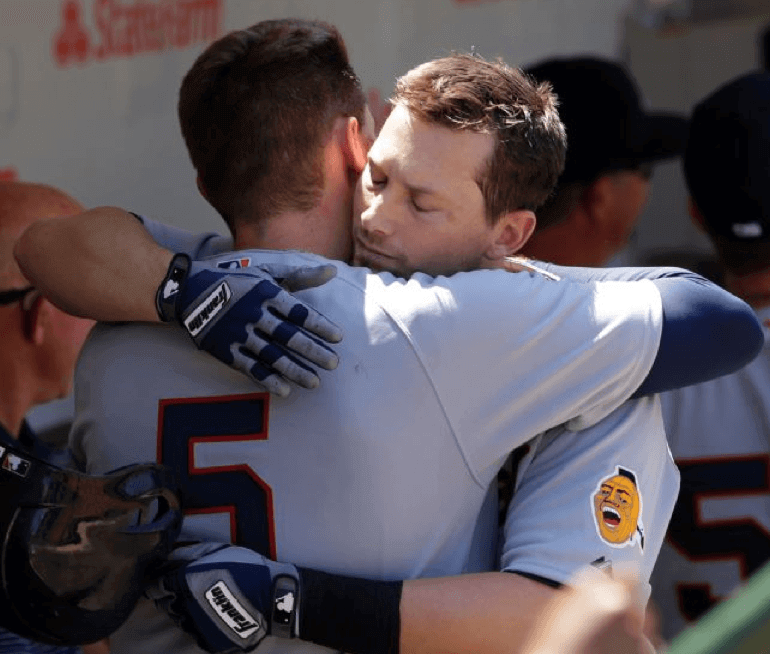 The Indian head logo, along with the Cubs' throwback logo, also appeared on the bases:
I'd been hoping that the Cubs would include a period-appropriate detail — the handwritten uni numbers that were inscribed inside the team's batting helmet logos back in 1969:
It's such a simple thing — would've been easy to do. Unfortunately, they didn't bother with it: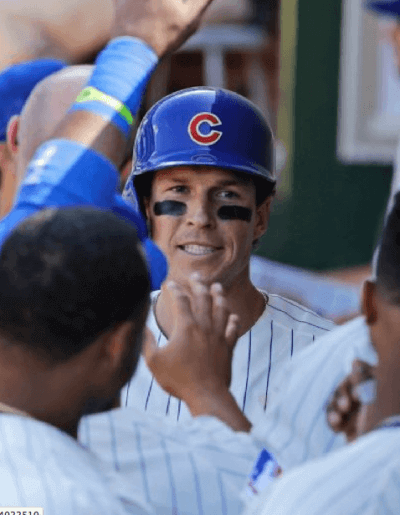 The Cubs' next throwback game will be on July 27, when they'll wear the 1978 reverse-pinstriped road blues.
(My thanks to readers Chris Mayberry and Mike Monaghan for their contributions to this section.)
+ + + + +
Some uni-watching from the booth: During yesterday's SNY broadcast of the Marlins/Mets game, there was a social media promotion in which fans were asked to name their favorite Mets uniform. That prompted a bit of uni-centric dialogue between play-by-play man Gary Cohen and color analyst Keith Hernandez, as follows:
Keith Hernandez: What's your favorite, Gary?
Gary Cohen: I have always been — and this goes back right to the beginning of the franchise — I've always been partial to the road grays with the block "New York." I love that look.
Hernanez: I like the homes that are kind of the cream color. Not the stark white.
Cohen: Not these [that they're wearing today] — these are the snow whites. You like the cream with the pinstripes.
Hernandez: Yes.
Cohen: That's the most traditional of the home uniforms.
Hernandez: The San Francisco Giants have that same white [i.e., cream] on their home whites. It's a nice look.
Cohen: You know, the Giants don't put names on their home uniforms. The Mets tried that briefly for maybe one or two years, right around 2000 or '99 [it was for one season, in '99 "" PL]. Fans didn't like it and they put the names back on. I do like the blue jerseys — I think that's been a nice addition. And I know a lot of people didn't like the black, but I liked the road black — again, the road with that "New York" on it, I thought that was really a nice look. There's one uniform change I'd like to see the Mets make: I'd like to see them go back to the all-blue cap, instead of the orange button on the top.
Hernandez: Yes.
Cohen: The orange button — not a fan.
Hernandez: Only the Dodgers can get away with that. The white button on top.
Cohen: You probably don't remember this, because you weren't here then, but in the mid-'90s — it might've been '96 — the Mets went to a white cap. They wore 'em for I think a half a dozen games, and it was just such a terrible look that they immediately eliminated it. It was supposed to be something they wore frequently, and it just — they just looked like ice cream men, like Good Humor men. If you look, there's a great Rey Ordoñez highlight video out there, with some of Rey's unbelievable defensive plays — they put together a compilation video — and he's wearing the white cap in a bunch of those.
Hernandez: I don't remember that.
(My thanks to reader Steve Hom for alerting me to the Cohen/Hernandez dialogue.)
+ + + + +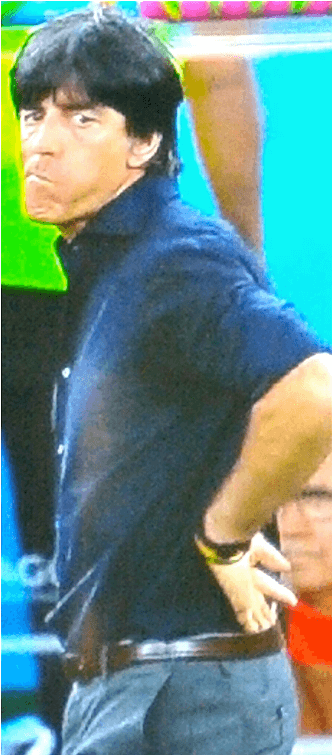 And you thought I wouldn't have any World Cup coverage: Sure, Joachim Loew coached Germany to World Cup title, but that's outweighed by the fact that he also missed a belt loop on his pants yesterday (you can click on the photo at right to enlarge). A national disgrace!
(My thanks to a certain anonymous reader for this completely brilliant observation, which is easily my favorite thing about today's entry.)
+ + + + +
Radio days: I talked about college football uniforms on the Phoenix radio station KJZZ the other day — here's the audio.
I also had a small role (which was mostly drowned out by the audience) in the "Bluff the Listener" segment of this past weekend's installment of the NPR show Wait Wait Don't Tell Me. Listen here.
+ + + + +

'Skins Watch: If you think the controversy over the 'Skins name is (a) a new or recent thing, or (b) the product of white liberals, here's a good article showing why neither of those things is true (from Anthony Nuccio).
Baseball News: Mets All-Star representative Daniel Murphy will be using this bat knob decal for his bats at the All-Star Game. The design references the brick pattern at Target Field. "¦ "What If" Night coming this Thursday for the Kenosha Kingfish (from Kevin Thoms). "¦ We've all seen T-shirts that mimic a jersey, but check out this 1970s photo of a kid wearing a T-shirt that also mimics an undershirt and the top of the pants. I grew up in that era and don't recall seeing anything like that. Anyone else? "¦ "On a Fox Sports special, this Rays player (didn't catch his name) was speaking to a school while wearing his fauxback hat and home whites," says Austin Gillis. "Interesting look." "¦ The Seibu Lions have slits cut in their jersey armpits. Looks like the guy on the right was wearing a sleeveless undershirt (from Steve Vibert). … White Sox pitcher John Danks's jersey appeared to be darker than his pants yesterday. "Not a shadow or sweat issue," says Jen Hayden. … Here's a buncha photos from the Futures Game, which was played yesterday. "¦ Mets OF Chris Young has gone high-cuffed all year, but yesterday was the first time he wore stirrups. Looks like the one on his left leg was backwards. … Here's a look at the visual history of the Lehigh Valley IronPigs. "¦ "Reds rookie Kristopher Negron is wearing a camo elbow pad," says Joanna Zwiep. "I couldn't find a picture of him wearing it with the Reds, but it appears he was wearing it in the minors as well." … Also from Joanna: Reds pitcher Johnny Cueto, who's usually a pajamist, went high-cuffed yesterday. "¦ The Dodgers began wearing their red numbers in 1952 (in case you missed it last fall, here's the story of how they started wearing them), and the Braves began playing in Milwaukee in 1953. So how come there are no red numbers in this photo? "I'm assuming it was a spring training game," says Bob Gassel "" a plausible explanation. "¦ This might be a first: Yasiel Puig has gotten an All-Star Game haircut (thanks, Phil). "¦ Kyle Shultz and his wife recently adopted a puppy and named him Dodger, so they made him a Dodgers-themed doghouse. Does anyone else out there have a team-themed doghouse? "¦ Someone at yesterday's Giants game was wearing a No. 138 jersey. "No idea why," says Eric Garment.

NFL News: A bunch of ex-49ers and other retired NFLers got together for a flag football game at Candlestick Park on Saturday. The jerseys had a Hewlett Packard ad patch on the right sleeve and a commemorative patch on the left. Lots of additional photos here and here (thanks, Brinke). "¦ You might know that the Vikings occasionally wore purple pants in the early to mid-1960s. But did you know that the purple pants had white belts?

NBA News: Oh baby, look at Tommy Heinsohn in this old Celtics warm-up suit. "¦ If you're a Bucks fan and/or an Atari fan, you'll like this. It's available for sale here (thanks, Phil). "¦ "Here's what the NBA would look like if all the league's players played for their hometown teams, as LeBron will once again be doing. "Not an exact science (it goes by both hometowns and birthplaces, which can be contradictory), but a fun way to kill five minutes," says Mike. "¦ Derek Hinatsu notes that the Blazers' summer league unis have a new number font. Hmmm — a sign of things to come, perhaps? "¦ Glen Rice Jr. has his dad's old uni number, 41, tattooed on his calves (thanks, Phil).

Soccer News: Adidas has updated its Germany kit to add another star, reflecting yesterday's World Cup win (thanks, Phil). "¦ DeAndre Yedlin of the Sounders lost one of the stripes on his Adidas chest logo last night (thanks, Phil). "¦ Germany's Mesut Oezil wore his socks with the Adidas logo in the front instead of the back yesterday (from Kenny Ocker). "¦ Looks like the World Cup's "Best Keeper" award is Adidas-sponsored, and the winner just happened to be from an Adidas-outfitted team. "Would have been interesting if a non-Adidas team (or a non-Adidas-sponsored player) had won," says Zack Kurland.

Grab Bag: "After my grandfather passed away, I came to possess some of his old postcards," writes Joanna Zwiep. "As a Dutchman living in the U.S., he was an avid international radio listener. He would often write in 'reception reports,' and then the stations would send a postcard back with confirmation. One station, Deutsche Welle, sent him a couple sports-related postcards — one related to the 1972 Munich Olympics and the other showing Tip and Tap, the mascots for the Weltmeisterschaft (WM), or 1974 World Cup." "¦ Unusual shoulder/sleeve striping on this vintage varsity jacket. Don't think I've ever seen that format before.
+ + + + +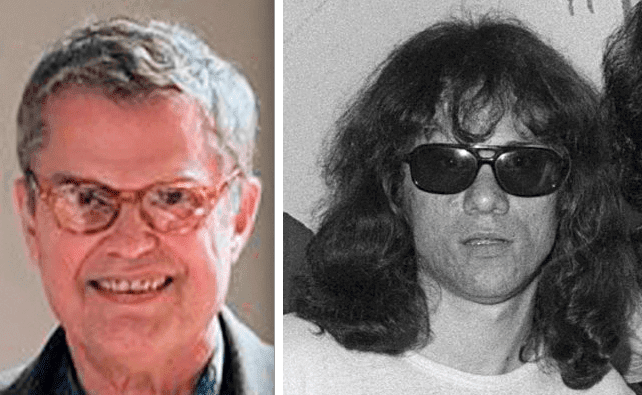 Break out the black armbands: My favorite artists tend to be equal parts revolutionary and classicist. That description fits the jazz bassist Charlie Haden and the punk drummer/producer Tommy Ramone, both of whom passed away over the weekend.
From his early work with Ornette Coleman's groundbreaking ensemble and then with Keith Jarrett, to his own Liberation Music Orchestra, Haden was always part of the avant garde, but his playing had a melodic lyricism that always made his work extremely accessible, at least to my ear. As for Tommy, he was the secret brains behind a lot of the Ramones' best work as they rewrote the book on what rock and roll could sound like and stand for, and it's no accident that the band's three perfect records are the three that he played on.
I never met either of these chaps, but I'm a longtime admirer of both and was very sorry to hear of their passing. RIP.