With the MLB All-Star game approaching, reader Steve Sale has provided some interesting tidbits about a pair of All-Star sleeve patches from years past. Let's start with the 2002 ASG, which was played at Miller Park in Milwaukee (click to enlarge):
The version on the left is the design the Brewers wore throughout the 2002 season. The one on the right — which doesn't have the Miller Park roof design and replaces the "Brewers" banner with "MLB" — is what players wore for the ASG. I hadn't been aware of the two distinct designs. (Incidentally, the Brewers had two players on the National League All-Star squad that year: Jose Hernandez and Richie Sexson. Which version of the patch did they wear? I'm pretty sure they wore the "MLB" version, although I haven't been able to confirm that.)
The situation was similar in 2011 (click to enlarge):
The team-branded design on the left is what the Diamondbacks wore during the 2011 season, and the MLB-branded version — which, interestingly, has a gold border than the other one lacks — is what players wore during the ASG. And this time I've confirmed that the D-backs' All-Star players wore the MLB version of the patch.
Not sure if there are other examples of this, but it's definitely not a standard thing. This season, for example, the Twins are wearing an MLB-branded ASG patch, and that's presumably what all players will be wearing for the ASG next Tuesday. (A Twins-branded version of the logo does exist, but the Twins aren't wearing it.) And last year's All-Star patch didn't include the word "Mets" or the "MLB" lettering.
In short, there doesn't seem to be much rhyme or reason to the ASG patch protocol. If anyone knows more about the thinking that goes into this, I'm all ears.
+ + + + +
Speaking of All-Star logos, yesterday the NBA released the logo for next year's All-Star Game, which will take place in New York. Take a look: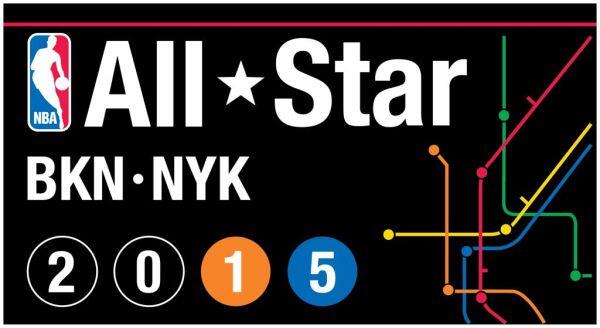 A few notes and thoughts:
1. The design is obviously intended to mimic the graphics and signage from the New York City subway system — a nice idea, although I don't understand the red horizontal line across the top. That line is always rendered in white.
2. The slam dunk and other skills competitions will take place at the Barclays Center in Brooklyn (i.e., a few blocks from my house), while the ASG itself will be held at Madison Square Garden. So that explains why the Nets' and Knicks' abbreviations both appear. The thing is, when I see "BKN," I don't think "Brooklyn Nets" — I just think "Brooklyn." So the parallel between "BKN" and "NYK" doesn't really work.
3. The use of the two arenas is also why the "20" is in Nets colors and the "15" is in Knicks colors. But the "20" color scheme doesn't say "Nets" to me — it just feels like it fits in with the logo's larger black/white color scheme. In other words, I see Knicks colors here but I don't really see Nets colors — another attempted parallel that doesn't quite work. (There are also two team-specific variations on the logo, one for the Knicks and one for the Nets.)
4.  Moreover, rendering the "1" in orange and the "5" in blue will cause major cognitive dissonance for NYC residents, because we're used to seeing subway lines depicted in very specific colors.
5. Would it have killed them to use the proper subway font?
Granted, items 1, 4, and 5 are the kinds of things only a New Yorker would care about. To a non-New Yorker, the logo will clearly be subway-evocative, and that's probably enough. Still, that makes me wonder if (m)any previous ASG logos had flaws that a local resident would pick up on, and if I just never noticed because I wasn't savvy enough about the local culture.
+ + + + +
Membership update: We don't create vertically oriented membership cards, but we decided to do one for Todd Delk's 2009 Man U treatment (shown at right) because of that vertical stripe above the NOB. If we had done it horizontally, the stripe would have eaten up so much space that the uni number would have been pretty small.
As always, you can order your own membership card here, you can see how we make them here, and you can see all the cards we've designed so far here.
+ + + + +

Radio news: I don't much care for the NPR radio show Wait Wait Don't Tell Me, except for the "Bluff the Listener" segment, in which a contestant has to guess which one of three implausible-seeming news stories is real (the other two are fake). They reveal the answer by playing a recorded snippet of an interview with a person connected to the real story.
Yesterday I got a message from one of the show's producers, asking if he could interview me for the "Bluff the Listener" reveal on tomorrow's installment of the show. I agreed, so if you happen to be listening to Wait Wait Don't Tell Me tomorrow, you'll hear me revealing which of the implausible-seeming news stories is real. Obviously, I can't tell you about the story or my connection to it, but I think most Uni Watch readers will be able to solve this one pretty easily.
I also recently taped an interview for KJZZ Public Radio in Phoenix — they wanted to talk about college football uniforms. I believe that segment is going to run sometime today, or maybe tonight. I'll link to the audio once it's available.
+ + + + +

'Skins Watch: I think it would be fair to say that this Cleveland-area Walmart has no issues with Chief Wahoo (from Kevin Tiessen). "¦ The Giants are considering a ban on "culturally inappropriate attire at AT&T Park (from Patrick O'Neill). … Here's the latest on that Pennsylvania high school whose student newspaper editors want to stop using the word "Redskin," even though their principal has overruled them. "¦ The DC City Council is going to bestow an honor on Robert Griffin III but will not mention his team's name (from Bryan Martin Firvida).

Baseball News: All-Star Game fun fact: Due to a mix-up at the 1999 ASG, Sean Casey wore a jersey that he himself had autographed the day before. Casey tells the story in this radio interview (from Mike Slavonic). "¦ Love this shot of Ted Williams checking out how his autographed gloves were made (from Jonathan Daniel). "¦ Pirates All-Star Josh Harrison doesn't know what position he'll be asked to play at the ASG, so he's bringing four different gloves — two infield, two outfield (from Harrison Hamm). "¦ Just what the world's been waiting for: super-ugly shoes and batting gloves for the home run derby. "¦ "I think it's kind of embarrassing to have the USA softball team wearing pink in international play," says Nate Rischall. "And the umps, too." They USA team was also wearing these flag-based batting helmets (screen shot by Michael Bialas). "¦ The Reds and Cubs went color-vs.-color yesterday, which looked particularly vivid when the benches emptied for a 10th-inning scuffle. "¦ We've seen a fair number of RNOBs over the years, but I think this one might have the highest Roman numeral we've seen so far. That's Josh Whitaker V of the Sacramento River Cats (good one from Aaron Wiens).

NFL News: The Chiefs' website is providing a team-by-team look at old AFL helmets. First up: the Oilers. … Check this out: In this 1967 Saints/'Skins game, the 'Skins lettering in the end zone was oriented to face toward the crowd, instead of toward the center of the field. Never seen that before (good spot by Chris Rocco). … The 49ers' new stadium now has an inaugural-season logo. Not yet clear if it'll be worn as a patch (thanks, Brinke). … Also from Brinke: Niners kicker Phil Dawson was wearing Phiten-logo socks the other day. … The NFL has mandated that goalposts must extend five feet higher this season, which is causing headaches for teams.

College Football News: New helmets for USC? Maybe (from Glenn Tanner). "¦ Here's one of those "behind-the-scenes" videos, this time for Notre Dame's new gear (from Charlie Kranz). "¦ Students at Western Michigan have designed a sensor to measure the force of impacts on a football helmet.

Hockey News: The AHL is adopting a new rule that calls for a penalty if a player's helmet comes off and he doesn't immediately put it back on or leave the ice. "¦ Oh baby, look at this old newspaper clipping that shows all sorts of proposed North Stars logos (from Jimmy Lonetti).

NBA News: Here's a better look at the USA's FIBA uniform (thanks, Phil). … New "30 Years in Sacramento" logo for the Kings (from Aaron Davis). "¦ Got 10 or 15 minutes and a strong stomach? Check out how the Nike people tried to buy themselves a LeBron James puff piece from a magazine and then tried to bully the writer and the magazine when it didn't turn out to their liking. The whole thing is disgusting.

Soccer News: The ball for the World Cup final will be green and gold (from Jeremy Brahm). "¦ New kit for Manchester City. "¦ New home kit for Montpellier (from Brett Stone). "¦ No matter which team walks away with the World Cup title on Sunday, Adidas is already the winner (thanks, Phil). "¦ This is pretty good: proposed SEC soccer kits (from Michael, who didn't give his surname). … Here's the official poster for next year's Women's World Cup (thanks, Phil). … Also from Phil: New kit for Arsenal. Further info and analysis here. "¦ A mother bought her kid a Luis Suarez Liverpool jersey but now wants a refund from the club because he's rumored to be leaving soon (from Yusuke Toyoda). "¦ Also from Yusuke: Here's a good piece about how a Nike designer got into soccer kit design. "¦ Rex Henry created a chart showing all the World Cup uni match-ups, and another showing all the uniforms organized team by team. "¦ New kits for Athletic Club Bilbao (from Ryan Maquiñana).

Grab Bag: The PGA has a kids' program called the PGA Junior League, in which the young participants wear jerseys. "¦ Speaking of kids, a new study indicates that the thing that attracts kids to sports is, simply, fun. Key quote: "Swag, such as having cool jerseys or the latest sports gear, or winning medals was rated as the least important determinant of fun." … Brinke has written a short piece on the old Ellesse tennis brand. … Adidas shirt or "Muslim prayer rug"? You be the judge (from Peter Hoelter). … Golfer Jason Dufner is wearing a memorial patch on his golf bag for former Auburn tight end Philip Lutzenkirchen (thanks, Phil). … I lovelovelove this: a brilliantly niche-specific wesbite devoted to — wait for it — screen shots of people wearing wristwatches in movies (major thanks to the Hungry Hungry Hipster). "¦ Walmart will add a new logo to products made by women-owned companies. "¦ Reprinted from last night's comments: Good article on golf tee markers (from Dan Pfeifer). "¦ New costume for Batgirl (thanks, Brinke).