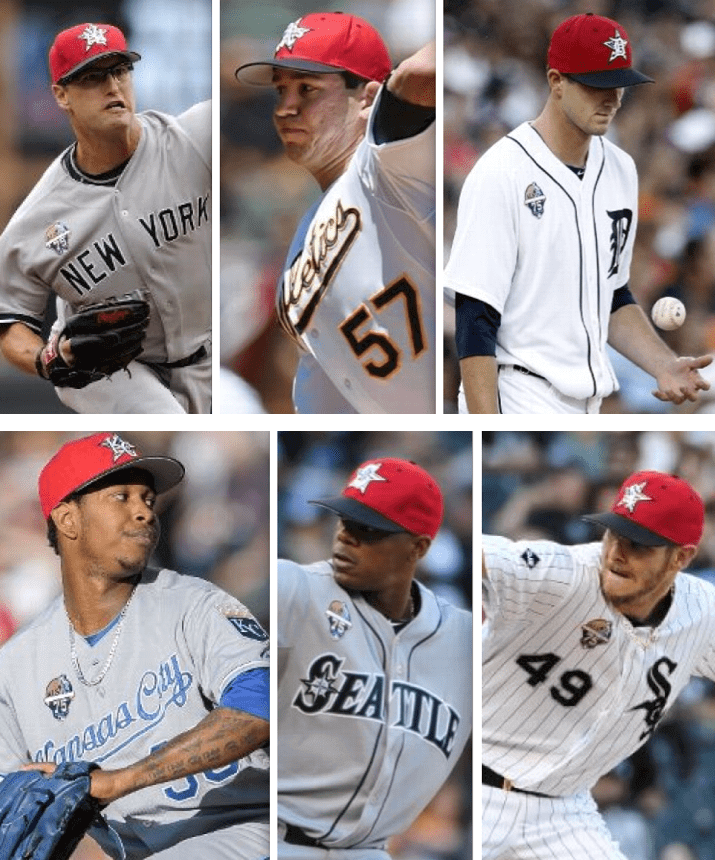 Click to enlarge
Paul here, pinch-hitting for Phil this weekend. Yesterday was Independence Day, so MLB honored the founding fathers by floating a new line of merch having teams wear really stupid caps. As you can see above, the American League caps were particularly problematic, because red clashes with so many teams' color schemes. The N.L. caps, which were navy, were just as stupid but not as visually jarring. (The Blue Jays skipped the stars/stripes silliness and just wore their maple leaf caps, which made no sense and looked awful besides.)
Two other star/stripes items:
• Giancarlo Stanton, as he had promised, once again wore his flag-based arm sleeve last night. He had previously worn it on Memorial Day.
• Someone on the Tigers — not sure who — wore creative socks during pregame warm-ups.
Meanwhile, all MLB players, coaches, and umpires wore patches honoring the 75th anniversary of Lou Gehrig's "Luckiest man" speech yesterday. The standard placement was the upper-right chest, but reader Steve Dodell notes that Yankees outfielder Ichiro Suzuki wore it on the left side. (Interestingly, the Yanks had also worn the patch two days earlier, and Ichiro had it on the proper side for that game.)
And then there was Justin Upton of the Braves, who — well, here, see for yourself (click to enlarge):
Memo to MLB: Maybe you should think about sewing those patches on, instead of just using adhesive.
(Big thanks to Phil for his contributions to this section.)
+ + + + +

'Skins Watch: Remember the Native American activist who came face-to-face with the Indians fan wearing redface a few months ago? Here's an article about him (the activist, not the fan), which includes details on some accusations that have been leveled against his nonprofit group (thanks, Phil). "¦ During last Wednesday night's Mets/Braves game, SNY cameras spotted this guy in the stands. Mets play-by-play man Gary Cohen said, "That kind of thing is generally frowned upon now — everywhere but here."

Baseball News: Minor league teams wearing flag-based costumes yesterday included the Gwinnett Braves and Kalamazoo Growlers. … The Mets' Frank Cashen memorial patch made its on-field debut last night. … Check this out: Walter Payton in a Cubs jersey (from Barry Brite). … For reasons that aren't clear (at least to me), the Twins wore their road alternate at home on Thursday night. Have they been doing this all along and I just never noticed? … This is completely awesome: Baseball footage from the 1956 Olympics, where baseball was a demo sport. Look at those uniforms!! (Tremendous find from Cort McMurray.) … Was Steve Garvey wearing a green Dodgers cap, or was it just the lighting? (From Steve Hom.) "¦ One good thing about having Bryce Harper back off the DL: these stirrups. "¦ The Yomiuri Giants' first victory was on July 3, 1936, so they had a pregame ceremony on Thursday featuring all their previous uniforms (from Jeremy Brahm).

NFL News: Quick quiz: When's the last time the Packers wore white at home? Answer: They did so twice in 1989 but haven't done it again since. Should they do it again, or is that a heretical thought? (Thanks, Phil.)

College Football News: Miami has updated the Florida outline decal on the back of its helmet, with the U now replacing the star. Here's how it looks on the orange and green helmets (thanks, Brinke). … Hmmm, is this Under Armour's new football design for Navy? (From Michael Korczynski.)

Hockey News: Here's a look at what appears to be an early Blue Jackets prototype (thanks, Phil). … Check out this shot of Canadian tennis player Eugenie Bouchard in a Canadiens jersey (thanks, Brinke).

NBA News: Based on a leak from KSEE-TV anchorman George Takata, who also happens to be a huge Kings fan, the Kings will apparently have new jerseys this fall. (And in a lesser development, new caps for the Warriors.) … Interesting to see that the Celtics are selling a green shirsey with "Boston" on the front, given that their green road jerseys have "Celtics."

Soccer News: New kit for West Ham United. … Good interview with one of Puma's typography designers (from Pete Woychick). … Soccer players usually switch jerseys at the end of the game. But Neymar did a jersey swap at halftime of yesterday's Brazil/Colombia match, so he got a new jersey for the second half (screen shot by Jared Buccola).

Grab Bag: Love the block-shadowed, vertically arched lettering on this vintage basketball jersey. "¦ Texas Gov. Rick Perry has stopped wearing cowboy boots. … Fashion designer Vivienne Westwood has come up with new flight attendants' uniforms for Virgin Atlantic (from Tommy Turner). … Roger Federer thinks Wimbledon's all-white clothing rule is too strict. Further info here (thanks, Brinke). "¦ And here's a slideshow of past Wimbledon-in-white attire. … The Santa Barbara Fire Dept. wore camouflage for July 4th, presumably so the fire couldn't see them (from Jack Martinez). "¦ The CEV — that's short for Confédération Européenne de Volleyball — and Mizuno have introduced a new volleyball for the 2015 CEV Champions League (from Jeremy Brahm). … People posted all sorts of fun July 4th-related items on Facebook yesterday. My favorite, by a mile, was this one.