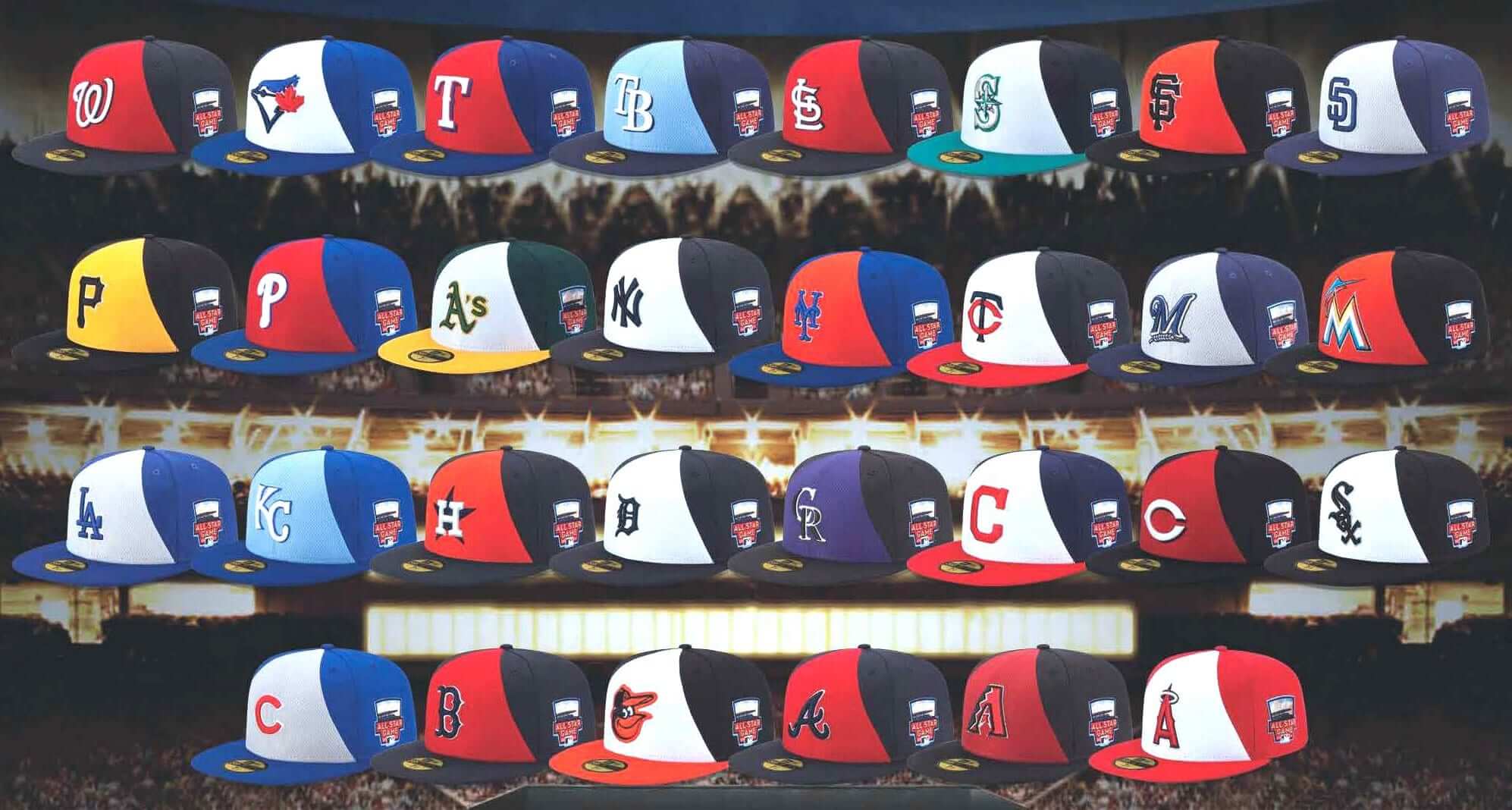 Click to enlarge
When I was 10 or 11 years old, I made the all-star team of my local youth football league, and I remember being really excited about how the game would look. "It'll be so neat to see the players from all the different teams wearing their regular uniforms," I told my father. "Just like in the baseball All-Star Game!"
That's one of the things I've always loved about the MLB All-Star Game. The players wear their regular uniforms, creating a crazy quilt of colors and designs. It's so much better than the one-off all-star uniforms trotted out each year by the NFL, NBA, and NHL, which are always terrible. (Remember when the NBA briefly experimented with having the all-stars wear their regular team uniforms in the late 1990s? Wish they'd stuck with that.)
But now MLB is chipping away at the game's unique look. When the all-stars take the field on July 15 at Target Field in Minneapolis, they'll all be wearing caps modeled after the Twins' late-1970s batting helmets (see above). The party line is that this is a way of honoring the host team, but we all know it's just about foisting yet another line of merch.
And how do they look? A mixed bag. Some of the designs are pretty nice (A's, Angels, Mariners, Blue Jays), others are awful (Rockies, Braves, Phillies, Yankees). Most would be okay as BP caps, although that assumes that there's anything okay about BP caps to begin with, which there isn't.
Here's a closer look at all 30 designs (if you can't see the slideshow below, click here):
But leaving aside the merits of the individual designs, I think forcing all the game caps into the same template is a huge mistake. In recent years, MLB has used the host team as inspiration for the Home Run Derby jerseys and caps, and that's fine — a nice nod to the home club. But templating the game caps is different. For one thing, it makes everything feel too generic, too undifferentiated. For another, it creates contextual problems — for example, why would you want to impose a 1970s template on teams like the Marlins, D-backs, Rockies, and Rays, which didn't even exist in the 1970s?
And yeah, I realize the All-Star Game is just an exhibition, but not all exhibitions are created equal. Think about the other Big Four all-star games — the players dress like clowns and generally play like clowns. There's no defense and it's just a showboater's showcase. The MLB All-Star Game is still, for the most part, a competitive enterprise. Part of that is because the game of baseball still boils down to the one-on-one match-up of batter vs. pitcher, and people in one-on-one match-ups tend to stay competitive, even in exhibitions. But part of it is also, I would argue, because MLB's all-stars are wearing their regular team uniforms instead of ridiculous costumes. If you start to dress them in a way that sends the subliminal message that the game shouldn't be taken seriously (which I think is the message being sent by these caps), then they may very well receive and act upon that message.
Meanwhile, if you're, say, a Mets fan, is this really the cap you want to see David Wright wearing (or Jon Niese, or whomever) when he represents the team? Is this really the cap anyone wants to see Derek Jeter wearing in his final ASG? And if they're coming up with new caps for the ASG, can new jerseys be far behind?
All in all, disappointing.
A few other thoughts:
1a. The Orioles' ASG cap is almost the same as their regular game cap, but the front panels have slightly different shapes (click to enlarge):
I'm pretty sure some of the other ASG caps are very similar to their respective teams' BP caps (Tigers? Padres?), but I just can't make myself look up BP cap designs to check.
1b. Another distinction between those two Orioles caps is that the squatchees don't match. The regular season cap follows the basic protocol that if an MLB cap has a contrast-colored brim, the squatchee color usually matches the brim, not the crown. But that's not the case with these ASG caps.
2. The Bosox design is similar to that alternate cap they had back in 1974: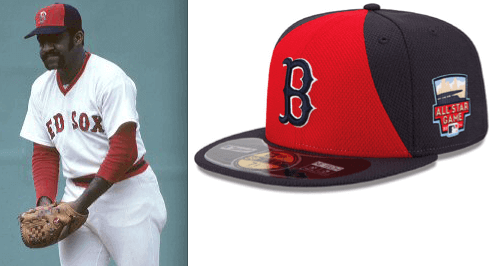 3. Will there be Twins-themed batting helmets to match the caps? I'm trying to find out — stay tuned.
4. Next year's MLB ASG is in Cincinnati. What aspect of the Reds' headwear history will they base the template on — the 1990s pinstripes, perhaps?
+ + + + +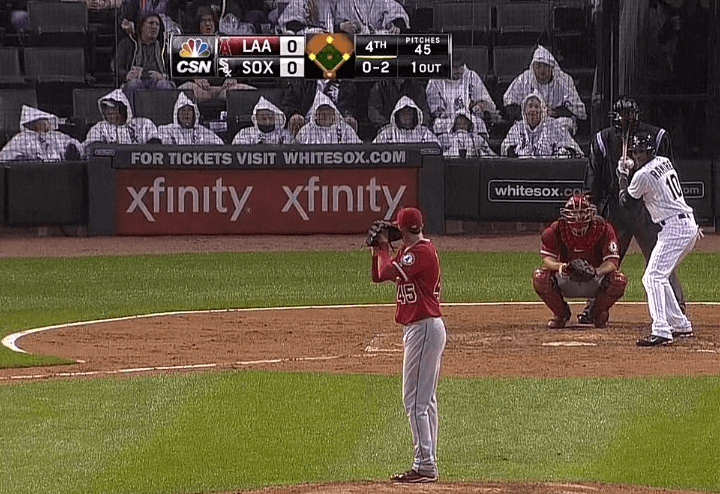 Click to enlarge
Putting the "White" in "White Sox": Mike gets credit for this one, as he originally had it slated for today's Ticker, but I thought it was too good for Ticker status. So: It was cold and drizzly last night in Chicago, so the White Sox gave out white hooded ponchos for the game against the Angels — a nice gesture that had the inadvertent effect of making U.S. Cellular Field look like the site of a Klan rally. Yikes.
When I posted that photo on Twitter this morning, one person wrote, "I just keep cringing when I think that, at some point, there were three strikeouts and some very unfortunate signage."
+ + + + +
ESPN update: It took a while, but my ESPN column on uni-related news that took place while I was away on vacation is finally up.
+ + + + +
Motown classics: Got a note yesterday from reader Steve Vibert, as follows:
I wrote you a few months ago about my baseball teammate, Tony Cocchi. As you know, he's a huge memorabilia collector and investor.

He knows I love the Detroit Tigers, so after our game on Saturday, he showed me a few of his Tigers jerseys, one of which was a Charlie Gehringer 1939 road. Of course, I had to try it on"¦so I did. He also had a restored Al Kaline 1969 road and an original Kaline 1974 road. I attached several images of them:
It was a dream come true that I could get my all-time favorite Detroit Tiger road uniforms in one place, lined up before me for a photograph. It was an awesome treat, and I thank Tony for putting it all together for me!
+ + + + +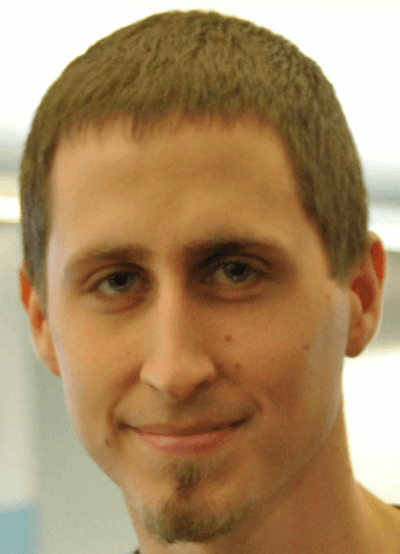 Mike's Question of the Week
By Mike Chamernik
In fourth grade, I did a book report on Willie Stargell (his 1974 biography was in our library, for some reason), so I dressed up as Pops for my presentation. I carried a mini baseball bat and wore baseball pants, a Pirates shirt, and a Pirates cap. Everyone in my class was impressed. I didn't go all-out in my costume, but the fact that I had Pirates gear as a kid in Illinois is semi-remarkable. I'm telling you, I've always loved sports merchandise.
So here's this week's question: Have you ever dressed up as a pro athlete or anyone sports related for Halloween, a costume party, a game you attended, or any type of function? If so, what did you do?
+ + + + +
Tick-Tock: Today's Ticker was compiled and edited by Mike Chamernik.

Baseball News: Mets reliever Carlos Torres wore a Day-Glo undershirt two nights ago. "¦ Nationals reliever Drew Storen designed an elevated bench that allows the bullpen to see the field better at Nationals Park (from Marty Langley). "¦ The Harrisburg Senators wore flag desecration uniforms last night, and the Binghamton Mets will do likewise this Friday (from Mike Wissman and Phil, respectively). "¦ A pitching arm sleeve is being developed in hopes of lessening the frequency of arm injuries (from Jason Hillyer). "¦ The Yankees jumped the gun on the Lou Gehrig "Luckiest man" speech 75-anniversary patch by wearing it yesterday. All MLB teams will wear it tomorrow. "¦ On Friday the Mets will add a Frank Cashen memorial patch. It will just feature his initials, but Phil came up with a much better design. "¦ Here's one of the all-time great sleeve patches. It's from this vintage U. of Iowa jersey. "¦ Check this out: American flag camo jerseys. So patriotic. "¦ Michael Krashes went to see a Cape Cod League game and saw that everyone on the Harwich Mariners wore stirrups. "¦ Syracuse Chiefs fans who get a tattoo of the team logo are rewarded with free tickets for life (from Kevin Kleinhans). "¦ Also from Kevin: Red Sox color man Jerry Remy lost his tooth mid-broadcast and tried to reinsert it into his mouth.

NFL News: Look at this cool Jaguars winter coat that Jared Pike has owned since 1994. "My grandparents lived in Jacksonville, so when the Jaguars came into existence, I became a fan and got my hands on every piece of apparel or merchandise with the logo," he says. "When I found this ski-style winter coat, I was overjoyed — partly because I was a fan, and partly because I love the irony that no one actually living in Florida would ever need a coat like this." "¦ Here's the inaugural season logo for Levi's Stadium (from Phil). "¦ Hmmm, do the Buccaneers' practice jerseys have numbers on the numbers? (From Kevin Kleinhans.)

College Football News: Louisville will wear all-black uniforms for its season opener against Miami (from Phil). "¦ Here's a nice gallery of Oklahoma uniforms from over the years (from Phil). "¦ Mississippi State will wear maroon tops and helmets with white pants for its season opener against Southern Miss (from Phil). "¦ NFL.com rated the best uniforms in college football (from Chris Flinn). "¦ Ohio State has a 125th season logo. "I thought it was pretty interesting because it includes the helmet stripe which Nike has made Ohio State Football's identity and numbers from the 1940s uniforms, which Nike used for the 2nd Pro Combats Ohio State wore against That Team Up North in 2007," says Ryan Robey. "Interesting logo to celebrate the 125th season."

Hockey News: While searching for a new Twitter banner background, I came across a bunch of pics of the rapper-producer Lil Jon posing with the Stanley Cup. "¦ New number assignments for the Canadiens (from Mike Engle).

NBA News: Are the Sixers tweaking their logo? It reminds me of what the Clippers did a few years ago. … The Bucks' retired number banner for Bob Lanier lists the wrong first season for his tenure with the team (from Tom Farley).

Soccer News: This year's World Cup has been great, though it's been missing vuvuzelas. Luckily, you can enjoy Uni Watch (or any site) with the rhythmic hum of the melodic plastic horn in the background. "¦ Portugal's Sporting Lisbon has new jerseys, switching from Puma to Macron (from Joey Bertao). "¦ New kits for Fulham FC (from Phil). "¦ New kits for Liverpool, Queens Park Rangers, FC St. Pauli and Benfica (from Phil). "¦ The Chicago Fire will wear American flag-patterned numbers (from Phil). "¦ Here's an article on how goalie gloves have gotten huge over the years (from Yusuke Toyoda). "¦ Also from Yusuke: Luis Suarez was banned from even entering the stadium but Uruguay still laid out his uniform before Saturday's game against Colombia.

Grab Bag: The maple leaf is a popular element in Canadian sports logos. "¦ Jerry Kulig went to the Vatican and saw some guards in fantastic uniforms. "¦ Folks in Ireland are making Game of Thrones thrones out of old hurleys (from Michael Clary). "¦ Mike Hall was watching The Leftovers and noticed the police chief's flag patch is facing the wrong direction. "¦ The Melbourne Rebels wore some loud jumpers against the Queensland Reds last weekend (from Eric Bangeman).
+ + + + +
Uni Watch Hit Parade: Paul here. The current Eels album, The Cautionary Tales of Mark Oliver Everett, is uneven and won't go down as one of their best efforts. But it has several excellent songs, one of which — an austere, doomy lament called "Agatha Chang" — sounds like an instant classic. Dig:
+ + + + +
Happy Independence Day to all who'll be observing the holiday tomorrow. If you have to work, thanks for keeping the world spinning along while the rest of us enjoy the day off. The site will be open throughout the weekend, but content will be light. Enjoy your weekends!