Click to enlarge
Oklahoma released a new set of alternate uniforms yesterday. According to the press release, these uni will "occasionally supplement" the team's standard home and road looks, which remain unchanged. The new designs "won't be something we do constantly, but it will be a nice change-up," said Coach Bob Stoops. That sounds like a refreshingly restrained approach.
Quick assessment: The collars, number font, and red "horns" on the white jersey are all miserable, and the "wood grain" details on the jersey and helmet are the standard Nike gimmickry. I do like the white helmet, though. In short: Not awful, but why would anyone choose these over the home and road primaries? (Lots of additional photos and info here.)
Meanwhile: New ESPN column today — my take on several of the uni-centric news stories that broke while I was away on vacation. Link coming soon.
+ + + + +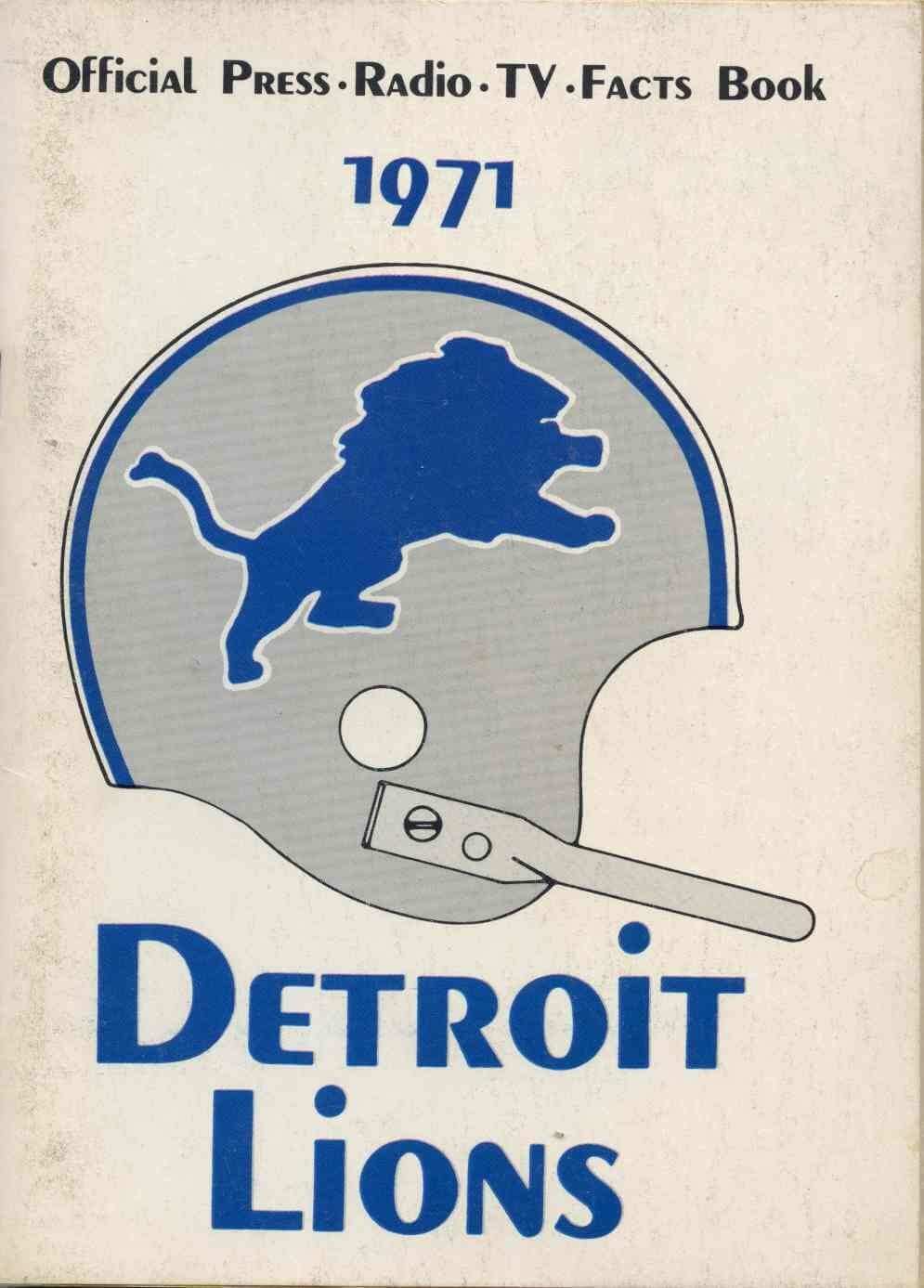 Collector's Corner
By Brinke Guthrie
There's an obscure typeface-related reason why this 1971 Detroit Lions media guide leads off this week's CC. That font is called Peignot, and it was developed in 1937 by artist A.M Cassandre. It's used in The Mary Tyler Moore Show's classic opening sequence, along with the Beatles movie Help!, the ABC Movie of the Week from 1969-1975, the movie Love Story, and others. I showed my wife, Cindi, the Lions guide and said "What does that typeface remind you of?" Without hesitating, she said, "Mary Tyler Moore." I'm very proud.
Moving along to other finds:
• Now this is one trippy Wilson NFL football. That's what happens when you get the Peter Max treatment.
• You too can be a KC Royal Rooter with this 1970s mesh tee — as long as you're a kids size M, that is.
• Here's a great Atlanta Falcons helmet medallion from 1970, still in the packaging. Has an adhesive strip on the back. And only $12.50? Too bad they ended the listing.
• This 1950s Green Bay Packers watch needs a little TLC on the case, but otherwise looks good.
• Here's a late-1960s (judging from the 'Skins spear helmet) NFL hand warmer — just the thing for those December games at the Met and Lambeau Field.
• Classic-looking 1970 San Diego Chargers poster. There's a similar visual vibe on the cover of this 1970 Detroit Lions media guide.
• Before the Internet, if you wanted NFL info, you got it in MAGAZINES and BOOKS- like Frank Gifford's 1967 NFL/CBS Football Guide.
• Here's a "Challenge Football" game game 1972. Is that your guy Kenny Willard on the cover there, PL? [Sure looks like it! "" PL]
• This 1970s Yankees bullpen buggy is still sealed in the package, and can be yours for under $50. (I'm not sure the Yankees actually used a bullpen buggy during this period, but they did use did use this famous bullpen car.)
Seen something on eBay or Etsy that you think would make good Collector's Corner fodder? Send your submissions here.
+ + + + +
Let it bleed: I began donating blood after the Sept. 11 attacks in 2001 and have kept at it ever since. Here in NYC, they let you donate every two months (I don't know what the rules are elsewhere), and I always make a new appointment as soon as I'm eligible for one. As long as you're okay with needles, which I am, it's a very easy way to be a good person — doesn't take much time, doesn't cost anything, and you get free Lorna Doones at the end.
Now I've apparently hit some kind of milestone, as you can see from my new donor card, which arrived unexpectedly in yesterday's mail. There's something hilarious about it — "The Gallon Club," it sounds vaguely pornographic. Frankly, after nearly 13 years of bi-monthly donations, I kinda thought I would've hit a gallon a long time ago, but whatever — I was never keeping score, even if the people at the Blood Center were.
Do you donate blood? If you don't, please consider it. Like I said, it's a very easy way to be a good person, and it really does make a difference in people's lives.
+ + + + +

'Skins Watch: I keep seeing all these articles analyzing whether a 'Skins renaming would or wouldn't result in a financial windfall based on new merch sales. Personally, I don't care, because there should never be a price on doing the right thing — a sentiment anyone should be able to embrace, no matter which side of the debate you're on or how you define what "the right thing" is. … Interesting piece by the son of former Washington Bullets owner Abe Pollin, who has some advice for Daniel Snyder on how to handle the renaming of a franchise (thanks, Phil). … Reprinted from yesterday's comments: Teen-aged members of the Spokane Tribe in Washington State attend a high school whose teams are called the Redskins, and they're totally fine with that.

Baseball News: Yesterday was Canada Day, so the Blue Jays wore red BP-style jerseys. Not a good look, especially for players who went high-cuffed. Lots of additional photos here. "¦ Check this out: Paul Derringer and Bucky Walters from the 1939 Reds wearing two different jersey logos. Turns out both logos are shown in Dressed to the Nines, but it's odd to see both of them being worn at the same time (from Tom Shieber). "¦ I think we've seen this before, but once more won't hurt: Sandy Koufax at a 1984 old-timers' game. Still had perfect stirrups! (Thanks, Phil.) "¦ Yankees 2B Brian Roberts's shoes sure look more than 50% white (from David Feigenbaum). … Bryce Harper and Ryan Zimmerman of the Nats: both wearing sliding mitts in the same photo (from Jonathan Daniel). … You probably know that Lou Whitaker forgot to bring his jersey to the 1985 All-Star Game and had to use an off-the-rack replica with a Magic Markered number. He talks about that in this interview (from Todd Shepard). … Check out the cap the A's are giving away for Jewish Heritage Night (from Richard Paloma). "¦ Flag-desecration unis for the Tri-City ValleyCats (from Dick Holbrook). "¦ Speaking of the flag-desecration thing, Johnny Gomes of the Red Sox decided to "support" the USA soccer team by wearing this costume (thanks, Phil). "¦ Cubs starter Edwin Jackson — who, as I mentioned yesterday, is concerned that his road uniform is shrinking in the laundry — went high-cuffed last night. He's usually a pajamist (from Matt Shepardson).

NFL News: The NFL has confirmed that unorthodox, "intimidating" facemask styles pose a safety risk, which means bad news for Khalil Mack and maybe Justin Tuck. … Schutt's football helmet camera, which many NFL and NCAA teams use, is now available for retail sale.

College Football News: Latest school to go with a matte helmet shell: Iowa State. Additional views here (thanks, Phil). … New uniforms for Knox College (from Jackson White). "¦ New helmet design for Johns Hopkins (from Robert Turning).

NBA News: Why did Magic draft pick Aaron Gordon pick double-zero as his uni number? Here's why (from Erik Morris). … Mental Floss's latest uni-related quiz is about signature sneakers (from Jason Hillyer). … The Sixers' new practice jerseys have "Phila" on the chest.

Soccer News: Good piece on Nike's World Cup jersey fonts (thanks, Brinke). "¦ For yesterday's Belgium/USA match, the Belgian jerseys featured the American flag (screen shot by Leo Strawn Jr.). "¦ Totally awesome World Cup illustrations in this newsgame — don't miss (from Comrade Robert Marshall). "¦ The rest of these are from Yusuke Toyoda: Menswear design Paul Smith designed a soccer ball, but with one catch: You can't kick it. "¦ Belgium's Vicent Kompany wore the standard FIFA-issued captain's armband yesterday. He had previously worn one with a Belgium flag pattern. "¦ Romelu Lukaku exchanged jerseys with Tim Howard after last night's game, and Howard wore Lukaku's jersey (inside-out) for post-match appearances.

Grab Bag: Here's a company that makes generic but good-looking basketball shorts (from Michael Goldemberg). "¦ New York City's annual Gay Pride Parade, which took place on Sunday, featured Boy Scouts wearing rainbow neckerchiefs. … My friend Robin Edgerton found this linen cap with built-in sunglasses at an estate sale. "¦ New uniforms for the Wisconsin marching band (from Nicole Haase). … This is pretty cool: Style guides and other logo-related resources for a variety of brands (nice one, Brinke). "¦ Also from Brinke: Nick Kyrgios's performance at Wimbledon may result in a sponsorship windfall.