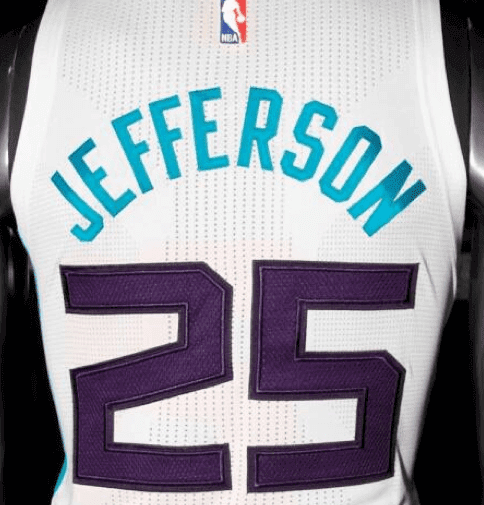 Let's get the basic stuff out of the way quickly: The Hornets unveiled their new uniforms yesterday (there's a good slideshow on this page). I like the home design quite a bit; I'm less fond of the road and alternate designs. You can get a fuller sense of my thoughts in this ESPN piece that I wrote right after the unveiling. (It's worth noting, by the way, that the final designs are essentially the same as the descriptions and mock-ups that were leaked here on Uni Watch back in January.)
Now let's get down to the nitty-gritty: Arguably the most interesting aspect of the design — at least for people like us, if not for the more casual fan — is the placement of the NBA logo. As you can see above, it's on the back of the jersey instead of in its familiar upper-chest position. Almost immediately, readers started asking if this was a league-wide thing, and some conspiracy-minded folks began suggesting that it was probably a way to clear more space on the front of the jersey for Adam Silver's cherished advertising patches.
My initial reaction to this was skepticism. By my count, 18 of the 30 NBA teams have a team logo in that same spot, so those teams presumably wouldn't be able to put the league logo there. Either that or all those teams would need to revise their rear-jersey designs pronto.
I asked the Hornets if the logo placement was a Charlotte-exclusive thing, or a league-wide thing, or an optional thing, or what. Their communications director told me he hadn't even noticed the change. He said he'd look into it but was, understandably, a bit busy yesterday (the Hornets had a lot of promotional events tied to the unveiling), and I never heard back from him.
So I also asked the NBA. Didn't hear anything for several hours, but then in the late afternoon a league official pointed me toward a just-posted Bloomberg News story indicating that the league logo was moving to the back of all jerseys next season for "stylistic reasons."
As you can see, the Bloomberg article hints at a connection between the logo repositioning and the eventual rise of jersey advertising, but that's all it is — a hint, a speculation. So I asked if the league could comment on that speculation, and/or if the league could explain a bit more about the "stylistic reasons" that led to the change. I was told that there would be no further comment.
I also asked if the teams that currently have a team logo on the rear neckline would be scrapping those logos and replacing them with the NBA mark. "Yes," I was told. The Nets announced that they'd be doing just that a few hours later. (I summarized all this in this ESPN news story.)
So that's where we stand. From a strictly aesthetic standpoint, the logo doesn't work well on the back. Yeah, MLB puts its logo in that same spot, but the MLB logo is horizontal, while the NBA logo is vertical. It pushes the NOB and number down too far. Of course, teams that have put their own logos in that spot had already moved their NOBs down too far, but now the whole league will be doing it.
On the plus side, the fronts of the Hornets' jerseys look nice and clean without the added clutter of the league logo, although I'd say the improvement on the front doesn't match the diminishment on the back.
More importantly, the jerseys might soon have a new kind of clutter, in the form of ad patches. Last we heard, those had been back-burnered, but maybe they're back in play, which of course would be tremendously disappointing.
I've said it before, but it bears repeating: Corporate advertising on uniforms is completely unacceptable. The uniform already stands for a brand — the team's brand. There's a difference between profit and greed. The world already has too much advertising, and the NBA isn't exactly hurting for cash. If you agree, contact the league, contact your team, tweet at them, the whole bit, and tell them #NoUniAds.
+ + + + +
Magazine reminder: In case you missed it yesterday, you can now order your favorite magazines from the Uni Watch Magazine Shop. Full details here.
+ + + + +

'Skins Watch: The Seattle Times is the latest newspaper to boycott the 'Skins name. They have lots of company in that regard. … More former 'Skins players weighing in on the name issue: Joe Theismann seems to have accepted that a name change is inevitable and Chris Cooley thinks it's all about "white liberal guilt" (from Phil and Tommy Turner, respectively). "¦ People have been joking about changing the team's logo to a redskin potato for at least 27 years — and it still isn't funny (from Yusuke Toyoda). "¦ Really good piece on the history of Chief Wahoo — recommended reading (from Robert Silverman).

Baseball News: July 4 will be the 75th anniversary of Lou Gehrig's "Luckiest Man" speech, so MLB teams will be wearing this patch (further details here). This is the second time that MLB has uni-commemorated Gehrig's speech — back in 2009, teams wore this patch on July 4. "¦ There's a Tony Gwynn statue at Petco Park. Check out the scene there two nights ago (thanks, Phil). "¦ Lots of U.S. Marines baseball team jerseys shown in this discussion thread (from Jonathan Daniel). "¦ Ripken Stadium has repainted its outfield wall "Ripken Orange." Photo here and here (thanks, Phil). … The Cubs' latest throwbacks, to be worn this Sunday, will be from 1953 (thanks, Phil). "¦ Congressman Tim Bishop's district — which happens to be the Long Island district I grew up in — includes the U.S. Merchant Marine Academy, so he'll be wearing one of their baseball jerseys for next week's Congressional baseball game (from John Kimmerlein). "¦ The County of San Diego has re-installed its giant Tony Gwynn jersey (from Brady Phelps). "¦ A couple of Mississippi players were dressed up a Ninja turtles last night (from Coleman Mullins). "¦ A new bar in Minneapolis is using a Mets-inspired logo. "The bridge shown in the logo is the Stone Arch Bridge," says Sara Schieve.

NFL News: The Steelers will have a memorial patch for Chuck Noll, although there's no design yet. I'm a bit surprised that they're going with a patch instead of a helmet decal, since their jerseys already have the team logo patch, plus they'll be wearing the Super Bowl IX anniversary patch for one game. That's gonna be a very crowded jersey. Good thing the Steelers don't use captaincy patches. "¦ The Silverdome is being sold off piece by piece.

College Football News: Interesting piece about the psychological thinking that went into Kansas Wesleyan's new uniforms (from Chris Mycoskie). … Eastern Michigan's new field is gray. Woof!

Hockey News: "I was at Disneyland recently," says Hiatt Werling. "On the wall of one of the buildings in Tomorrowland, there's a hockey player in an old Mighty Ducks jersey, which I thought was a funny little wink to Disney's old sports enterprise. The baseball player in dark blue and periwinkle could possibly be an allusion to the Disney-owned Anaheim Angels as well." "¦ Speaking of the Ducks, new mask in the works for Frederik Andersen. "Is the sweater the Lego-man is wearing a sign of things to come for Anaheim's sweaters?" wonders Kyle Snoke.

NBA News: The Hornets weren't the only NBA team making news yesterday. The Rockets unveiled a new secondary logo. Insert "home run" jokes here. Or human resources.

Soccer News: You've heard of postgame jersey swaps? Here's a new one, at least to me: a pants swap (thanks, Phil). "¦ Arjen Robben of the Netherlands wears orange tape in place of his wedding band. "Using the right hand for the wedding band is consistent with European custom," says Mike Engle. … Speaking of the Netherlands, Memphis Depay wears his first name on his jersey as a tribute to his mother. "His Ghanian father left his Dutch mother when he was four years old," says Michael Duffy. … Drew Arnson notes that Puma's World Cup jerseys seem to be more form-fitting than the other manufacturers'. … Here's a look at hidden symbols in World Cup uniforms (thanks, Phil). "¦ The remaining items in this section are all from Yusuke Toyoda: Wesley Morris of Grantland has done a World Cup sartorial review. "¦ FIFA has banned Beats by Dre headphones from World Cup venues, which may have helped their popularity. "¦ Hee's a story on how the soccer replica jersey market was created in 1974.

Grab Bag: Here's an interesting case of mistaken identity. "¦ Does Germany need a new flag? One German thinks so. "¦ One of the many reasons I love Wisconsin: supper clubs. Now there's a movie about them (big thanks to Lance Smith). "¦ The MLL All-Star Game will feature blackout uniforms (from John Ogle). "¦ Here's a close look at a helmet that a guy designed for his fantasy football team (from Adam Francis Duffy).
+ + + + +
Outta here: Tomorrow morning the New Girl and I will be flying off to Nova Scotia, where we'll be spending the next week or so. I won't be checking email much while I'm away, if at all. Phil will run the site in my absence, and an exciting program of content has already been planned for your reading enjoyment.
Enjoy the summer solstice, and be nice to Phil, Garrett, Mike, and Ek while I'm gone. I'll be back in the saddle on June 29 — see you then.