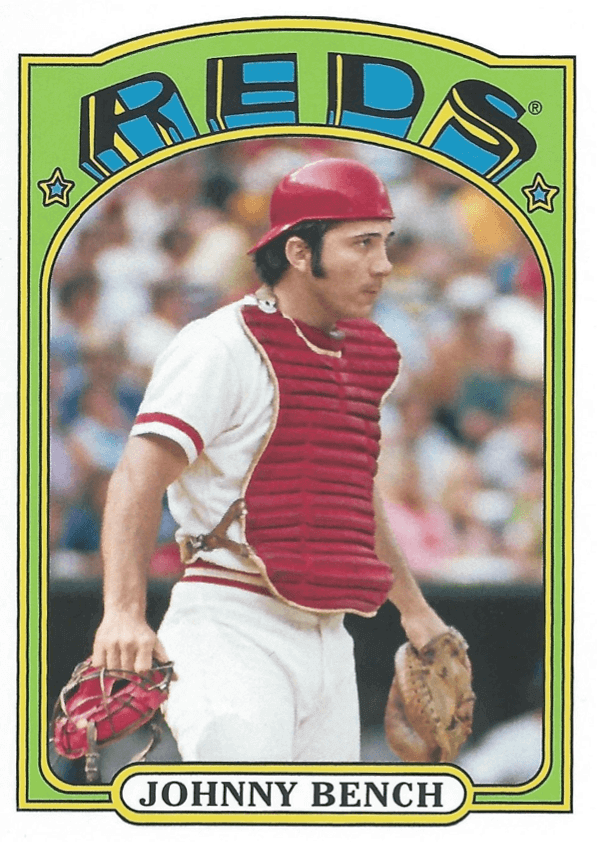 Current MLB rules require catchers to wear a helmet under their masks (except for those who wear the goalie-style mask, which basically is a helmet). When I was growing up in the 1970s, however, that rule hadn't yet been enacted, and most catchers still wore a cap. One of the few exceptions was Johnny Bench, shown above, who always wore the helmet. And in this article from a few months ago, he claims to be the first catcher ever to have done so.
That's one of the fun tidbits in my latest "MLB Firsts and Lasts" column, which is up now on ESPN. "" Paul
+ + + + +
And now a reminder from Phil: Last year, you guys may remember we had a very special Father's Day edition of Uni Watch, where I invited readers to send in a photo and brief writeup (50-100 words, give or take) of their Dads in Uniform. It was a great feature, and one I'm going to repeat this year.
The genesis for last year's post came from Cort McMurray, who wrote me with the following:
Hey, Phil:

I was thinking it would be kind of cool to invite Uni Watchers to share photos of their dads in sports uniforms this Sunday.

The attached image is my dad, circa 1956, running the 880 for the North Tonawanda High Lumberjacks.

Dad died in 1979 "" I found this photo two years ago, while doing some research at the Historical Society of the Tonawandas.

I think you may have done something like this in the past. Feel free to use this image, if it fits your plans for the weekend.

Cort
I'll again be running the special Father's Day edition of Uni Watch this coming Sunday, and I want to include as many photos and thoughts of your dads as possible. So if you'd like to be a part of this, please email me by this Friday with a photo of your dad in uniform (any kind of uniform) and a short writeup (50 to 100 words) and I'll be pleased to include it. Thanks.
+ + + + +
Membership update: Half a dozen new designs have been added to the membership card gallery (including Eric Hodges's Georgetown basketball treatment, shown at right). We're now totally caught up on orders and have two slots available in the current production batch, which means the next two people who sign up will get their cards very quickly.
As always, you can sign up for your own custom-designed card here, you can see how we make the cards here, and you can see all the cards we've made so far here.
+ + + + +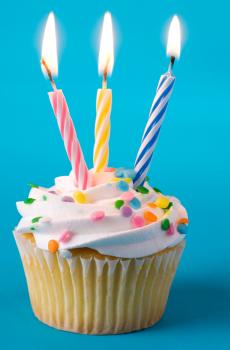 Gridiron Uniform Database turns three: Uni Watch isn't the only uni-centric site celebrating an anniversary. The Gridiron Uniform Database, a labor of love by longtime Uni Watch readers Tim Brulia, Rob Holecko, and Bill Schaefer, turns three years old today. It's a great site — if you haven't explored it, you should. One of the best things about it is that Tim, Rob, and Bill are constantly looking to expand the site's scope and doing more research to make their visual databases as accurate as possible.
Speaking of which, they've recently discovered a something that will rewrite a portion of the Bears' early visual history. There's a hint of it in this blog post, and they'll have more to say about it here on Uni Watch this Saturday. Stay tuned.
+ + + + +
Book shout-out: A little over a year ago I was contacted by a writer named Dave Zweig, who said he was writing a book about people who do essential work but generally toil anonymously, without getting any credit or acknowledgement. He wanted to interview me about teams that go NNOB, subordinating their players' identities to the larger identity of the team.
The resulting book — called Invisibles: The Power of Anonymous Work in an Age of Relentless Self-Promotion — has now been published, and it's really interesting. Lots of good stuff about all sorts of people who work in relative obscurity, including U.N. interpreters, anesthesiologists, rock and roll guitar technicians, and other people whose work tends to be noticed only when they do something wrong.
There is indeed a small section about NNOB uniforms, which includes a few quotes from me, but the whole book is worthwhile. I have no stake in its sale or promotion — I just think it's a good project. You can purchase it here.
+ + + + +
Design contest final call: Today's the last day to submit an entry for my latest ESPN design contest, which is to redesign the World Cup soccer ball. I've received surprisingly few submissions so far, so you're not facing much competition here, people — take a shot at it! Get the full scoop here.
+ + + + +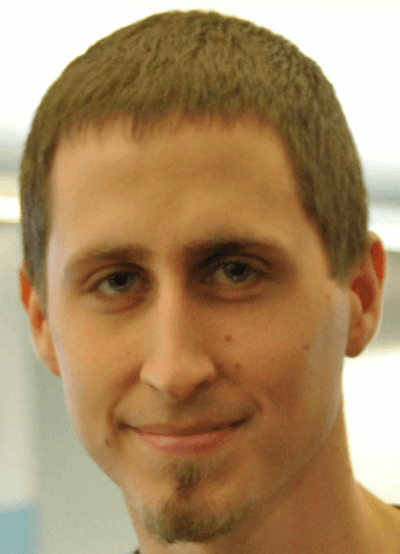 Mike's Question of the Week
By Mike Chamernik
Like everyone else, I love free stuff. So when I'm considering which pro sporting events to attend, I always look at the promotional schedule. If the White Sox are handing out garden gnomes or the Brewers are giving away Rickie Weeks bobbleheads to the first 15,000 fans, then I'm getting to the ballpark two hours early. I've gotten a good amount of free gameday souvenirs over the years, from bobbleheads to koozies, from drawstring bags to bomber caps. I keep all of it.
What's your favorite type of gameday promotion? What's your favorite item you've gotten? What's the oddest souvenir you've received?
+ + + + +
Tick-Tock: Today's Ticker was compiled and written by Mike Chamernik.

Baseball/Softball News: This is extremely cool: When the Lakewood BlueClaws were created in 2000, another proposed nickname for the team was the Pine Barons. So on June 22, in a "What If"¦" promotion, the BlueClaws will wear Pine Barons uniforms (thanks, Kevin Clark). "¦ Here's a look at all of this year's stars and stripes caps. Unclear why the Rays' cap isn't in the American League style. "¦ MLB is selling stars and stripes jerseys, but Paul confirmed that they will not be worn on the field. We're on pace to see some real patriotic uniforms in a few years (mock-ups by Joe Mueller). "¦ "Found this photo of Phil Tomney of the 1888 Louisville Colonels," says Jonathan Daniel. "It came from an Old Judge Tobacco card. Looks like it has sliding pads built into the pants." "¦ New outfield grass design for the Red Sox (from Phil). "¦ The Rangers zinged the Miami Heat last night (from Phil). "¦ Jayson Werth's bobblehead uses real hair for its beard (from Yusuke Toyoda). "¦ Derek Jeter has a white sweatband in his cap, instead of the standard black (from Phil). "¦ Grayslake Central (Illinois) High School has some excellent uniforms — cream fabric, the stirrups have stripes and logos, and white shoes (from Jackson White). "¦ Rubby De La Rosa's NOB is in all caps with spaces (from Andy Chalifour). "¦ The Padres created at least one Johnny Manziel jersey (from Phil). "¦ The jersey Gregory Polanco wore in his MLB debut was sold for $26,100. "¦ The Reds wore their camo alternate uni last night (from Phil). "¦ The Rainier (Oregon) Columbians softball team wore pink Ks on their batting helmets to honor a school secretary that died the week before the state championship game (from Alex Allen). "¦ I love pocket schedules, and my new hobby is collecting out-of-town pocket schedules over the mail. In 2012 I sent out to a Bay Area radio station for a few A's schedules, and last year I went to the Royals site and asked for five Royals schedules. A few months ago I asked the Royals, Twins and Dodgers to send me some schedules (they were the only teams that had a section on their websites for that) and on Friday the Dodgers responded. Cool stuff!

NFL News: I'm just an underling at Uni Watch, but I don't care — I'm making an executive decision: This, the fourth installment of Football as Football, is the last time I will Tickerize NFL logos reimagined as soccer crests, as Star Wars characters, as Disney figures, or any adaption to pop culture aesthetics. I just think the concept is way too played out by this point. Are you with me? "¦ It looks like it takes 11 cameras to capture a player's likeness for Madden 15 (from Brady Phelps). "¦ Jim Harbaugh, former wearer of cheap, ill-fitting pants on the sidelines, is now endorsing Dockers (from Brinke). "¦ Jeremy Edom found a Titans helmet for sale in a Colts online shop. Charge your phone, bro. "¦ The Buccaneers have inconsistencies among players with the logo on their new helmets. "Some appear to be very close together on the crown of the helmet," says Wayne Koehler, "while others show a large gap (may just be different size helmets). Some look like they don't line up."

College Football News: Looks like the Badgers will have an all-red set this year (from Phil). "¦ An array of new ACC patches for Virginia (from Steve H). "¦ "On Tuesday, The Daily Show aired a segment on the unionization of Northwestern's football team," says Laurence Holland. "The segment featured former Northwestern QB Kain Colter, the co-founder of the union, lining up in his Northwestern duds against a team in a silver uniform that was suspiciously Oregon-esque. But the rest of his offense was also in silver! A little creative Googling revealed that they are the Colorado Greyhawks, a semi-pro team that helped out with the shoot." "¦ Since Notre Dame is switching to Under Armour, the school is selling leftover Adidas gear at a discount (from Blain Fowler).

Hockey News: "I've been watching the AHL Calder Cup Finals between the Texas Stars and St. Johns IceCaps," says Garrett Heller. "Starting in Game 1, the Stars' jerseys had the CCM logo rather than the Reebok logo. But St. Johns still has the Reebok logo. I had herd rumors around the hockey world that Reebok was going to phase its name out and replace it with CCM, so this further fuels that rumor." "¦ Great shot of the old Blackhawks jerseys in this photo gallery of Chicago in the 1940s (from Anthony Giaccone).

Soccer News: Just in time for the World Cup, Bill Radocy created a viewer's guide "" rosters, stats, kits, team histories and TV listings! "¦ Here's the history of Brazil's kit (from George Chilvers). "¦ Louisville City FC scrapped its proposed logo and is holding a design contest to replace it (from Jason Goede). "¦ Unsure of what to think of the teams in the World Cup? Here's every country's American pro or college sports team equivalent. "¦ Some controversy Down Under after a balloon maker created an inflatable Christ the Redeemer wearing an Australian team shirt to promote a sports book website. … WWE Superstars wore their native countries' jerseys and wished their teams luck. "¦ Landon Donovan isn't on the U.S. team, but his jersey is still featured at Nike stores (from Tommy Turner).

Grab Bag: Grantland made a 30 for 30 short on Milwaukee's Mecca Arena court (from Yusuke Toyoda). … Even if you're not a cycling nut, these posters are still really cool (from Sean Clancy). "¦ Anyone know why Last Week Tonight host John Oliver would be wearing a 1st Cavalry pin? (Good spot by Coleman Mullins.) Update: Dane Drutis says the pin is because Oliver's wife was a member of the 1st Cavalry in Iraq.