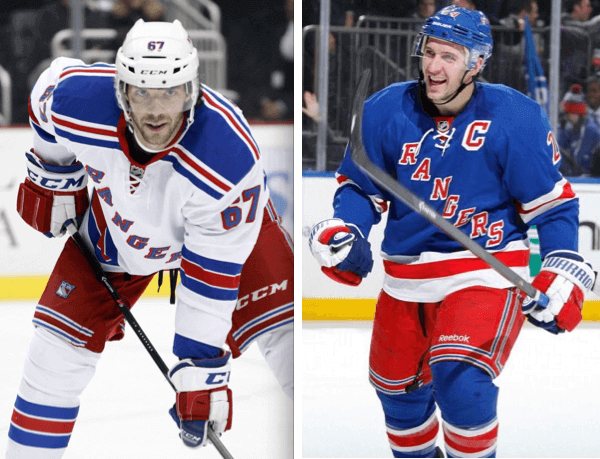 I was watching Game 1 of the Stanley Cup finals the other night and was struck, as I often am, by how beautiful the Rangers' road uniform is. The red and blue tones really pop on the white jersey and socks. I'm much less fond of their blue home uni, which I think is rather blah by comparison. It feels like a weak knockoff of the white design.
I've always thought this about the Rangers' two uniforms, all the way back to when I was a kid. Of course, back then the white uni was worn at home and the blue one was worn on the road. That arrangement ended in 2003, when the NHL changed its uni protocol from white at home to color at home.
Many Uni Watch readers over the years have said that they prefer the old white-at-home arrangement. Some readers even make of point of saying, "as God intended" whenever referring to the white-at-home era.
But that apparently wasn't what God intended prior to the 1970-71 season. Many younger fans don't realize that NHL teams wore color at home up until then. Hell, that's why the Rangers are nicknamed the Blueshirts and the Broadway Blues — because they wore blue at home for decades. So when the NHL switched to color at home in 2003, they were actually changing back to the league's original uniform protocol. In fact, if you go back to the league's early days, many teams didn't even have a white uniform.
Now, I happen to prefer the white-at-home format myself. Part of it, I'm sure, is that it's what I grew up with and got used to. But there's more to it than that. If we look at all of the current NHL uni designs, I think every team looks better in white. Every single one. One reason for this is that the pants on the white unis always provide a measure of contrast, while some of the colored unis are essentially monochromatic, which doesn't provide as much visual interest. Yes, I realize some colored uniforms do have contrasting pants, but I still find those uniforms less satisfying than their white counterparts.
With all of this in mind, here are some questions for you folks to consider:
.
For that last question, I'm particularly interested in hearing from readers who are, say, 20 years old or younger, because those readers have grown up in the color-at-home era — it's the system they're familiar with. So let's repeat that question only if you're 20 or younger:
+ + + + +
Design contest reminder: I'm currently taking submissions for my latest ESPN design contest, which is to redesign the World Cup soccer ball. Get the full scoop here.
And speaking of the World Cup: As you may have noticed, reader Trevor Williams has become our go-to guy for soccer news. He was kind enough to be my co-writer for an ESPN piece ranking the World Cup kits.
+ + + + +

Baseball News: The Brewers and Twins once again wore 1980s throwbacks last night, just as they did earlier in the week. But this time the game was in Minnesota, so the home team was wearing road unis and vice-versa. "¦ The cap that the Nats are giving away on Aug. 15 will have a built-in bottle opener. I eagerly await the Swiss Army Knife cap (from William Yurasko). … I already knew that the bumblebee-era Pirates used larger NOB lettering for surnames of three or four letters, but it's still jarring to see it. That shot comes from this photo blog, which is full of great photography, including lots of great uni images (big thanks to Scott Kneeskern). … The Lotte Giants — that's a Korean team — wore camouflage uniforms yesterday (thanks, Phil). … The American Mustache Institute isn't happy about the White Sox telling Chris Sale to shave his beard (from James Poisso). … The Padres have already had three different players wearing No. 40 this season (thanks, Phil). … Double-whammy: Dan Geraci was caught on TV weaing a Cubs track jacket over a Mets jersey the other day. "I planned on wearing the jacket under the jersey when we got to the stadium — which never happened due to me caring less after having a few 312s," he says. … The Fort Wayne TinCaps are having a jersey design contest for their "Stand Up to Cancer" Night. "¦ How do you celebrate your 65th wedding anniversary at the ballpark? Like this (thanks, Phil). "¦ Also from Phil: The Memphis Redbirds are doing the Memphis, Egypt thing again this Saturday. … Very interesting article on the relative merits of hockey-style vs. traditional catcher's masks.

NFL News: Check out this super-cool Bills-themed motorcylce helmet. I lovelovelove that they painted the facemask onto the shell (from Timothy Tryjankowski). … The new version of Madden will including 49ers QB Colin Kaepernick's tattoos. … Here's the Super Bowl 50 Host Committee logo.

College Football News: Looks like UCLA may be going back to the Clarendon font. Now if they could just restore the full UCLA stripes (thanks, Phil). … As you know, NCAA schools don't sell jerseys with their football players' NOBs. But now Arizona, Northwestern, and Texas A&M are going further: They're going to stop selling jerseys with players' numbers.

Hockey News: Whoa, check out Miss Hockey of New York, 1928! That comes from an excellent Todd Radom piece about the Rangers' "lost" uniform era. … Speaking of the Rangers, my recent ESPN column mentioned that the New York Rangers are the only team I could think of whose drop shadow goes down and to the left, but some commenters have come up with three additional examples: the 1967-68 Penguins (here's the rear view), the the current Pitt football team, and Wisconsin's motion-W. … Here's a photo of Kings goalie Jonathan Quick as a Little Leaguer — sponsored by Jewish War Vets! (Nice one from Pete Woychick.) "¦ Here are the second and third installments of those Simpons-ized NHL team logos (from Seth Moorman).

NBA News: Here's how the NBA Finals patch looked last night on the Spurs' and Heat's jerseys. … The Hornets' new mascot, Hugo the Hornet, has his own logo. "Do any other sports mascots have their own unique logos?" asks Mark Collins. … And Duncan Wilson points out that Hugo also has the North Carolina Blue Cross logo on the cuffs of his gloves — mascot logo creep!

Soccer News: "Microsoft is revealing some sort of Xbox One app to go along with the World Cup, and they've been using a promo image allegedly showing a match between Brazil and Croatia," says Justin Dilks. "But if you look closely, the two teams shown are actually the New England Revolution and Seattle Sounders FC. Presumably they were chosen for their similar colors." … Nike's World Cup gear for the USA was not made in the USA (thanks, Phil). … Here's a design competition for an unusual soccer team representing a group of exiles trying to get back to their homeland in the Chagos Islands (from David Vine). "¦ New home kit for Paris Saint-Germain (thanks, Phil). "¦ Also from Phil: New 50th-anniversary logo forthe Marquette soccer team and a new logo for the Colorado Springs Switchbacks.

Grab Bag: UPS drivers who maintain an accident-free record for 25 years get a sleeve patch (from Tommy Turner). "¦ Also from Tommy: Really interesting article on the challenge of designing and manufacturing a perfect T-shirt. … New jerseys for — wait for it — the USA Quidditch Team (blame Phil). "¦ Aussie football news from Simon Alp, who writes: "In tonight's AFL match, Carlton (home team) ran out onto the field wearing their away white shorts. They then left the field and a box of blue shorts was shown being delivered to the field entrance. Then they changed into the blue shorts." "¦ A big bakery operation is offering bread rolls shaped like various sports balls. Love that domain name (from Chris Cruz).