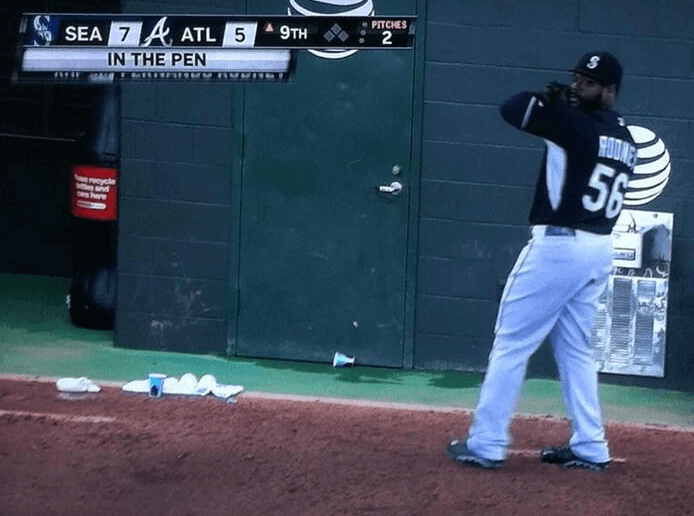 The Mariners wore their navy alternates last night. But closer Fernando Rodney accidentally wore his BP jersey, which, as you can see above, became apparent when he began warming up during the top of the 9th.
This could have made for a fun situation on the mound. Unfortunately, Mariners PR guy Jeff Evans spotted the looming snafu (either on TV or on Twitter, where it was being discussed — not sure which) and called the Seattle clubhouse to have them get Rodney into a proper jersey, much to team marketing VP Kevin Martinez's relief. The top of the 9th was delayed while Rodney changed jerseys, and then he promptly closed out the game, prompting Evans to suggest that the whole team wear BP tops for today's game. Further info on the whole situation here.
Some other MLB developments from last night:
• Last week I noted that the Braves had changed the logo on their road helmet. Last night was their first home game since then and, sure enough, they changed the home helmet logo too.
• The Brewers and Twins both wore 1980s throwbacks. (I initially wrote that this game took place in Minnesota, with the Twins wearing road throwbacks at home, but that was wrong — the game was in Milwaukee. The teams will be wearing these same uniforms in Minnesota on Thursday, however.)
• Much-hyped Astros prospect Jon Singleton made his MLB debut last night, so the Astros posted a photo of his jersey. Just one problem: The "N"s were upside-down (they should look like this). At first I thought, "Eh, maybe that isn't the jersey he actually wore." But it was.
• Ryan Zimmerman of the Nats, recovering from a broken thumb, was wearing something like a mitten, or an oven mitt, while running the bases.
(Big thanks to Phil for his multiple contributions to his section, and also to Kevin Gee for the Singleton item.)
+ + + + +
Click to enlarge
Banner Day: This was the scene yesterday afternoon at Uni Watch Gardens (aka my backyard), as I picked up our new 15th-anniversary banner from the printer and took it out for a test drive. Looks good, right? It's four feet square and was manufactured by Rolling Press, the eco-friendly printer that also prints our membership cards.
The banner will be prominently displayed at our Uni Watch 15th-anniversary party, which will be taking place next Tuesday, June 10, 7:30pm, in the back room at Sheep Station.
And as long as we're talking about anniversary stuff, reader Conn Nugent picked up a Uni Watch 15th anniversary T-shirt and had his daughters Molly and Isabel model it (click to enlarge):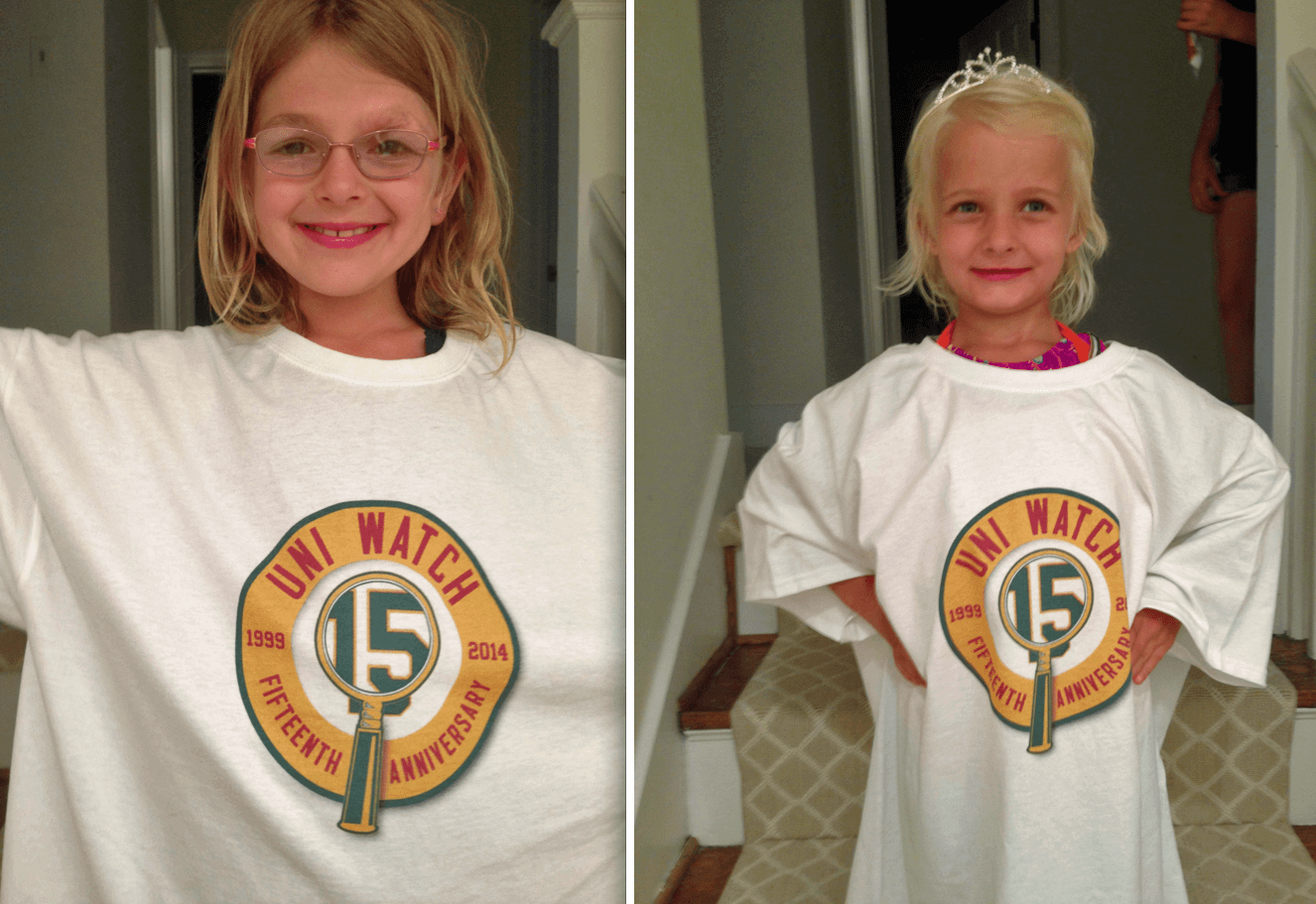 I'm assuming it will fit a bit better on Conn. If you want a shirt like this for yourself, they're available here.
Also, one last call: If you're interested in having that anniversary logo rendered as an embroidered patch, please shoot me a note. Thanks.
+ + + + +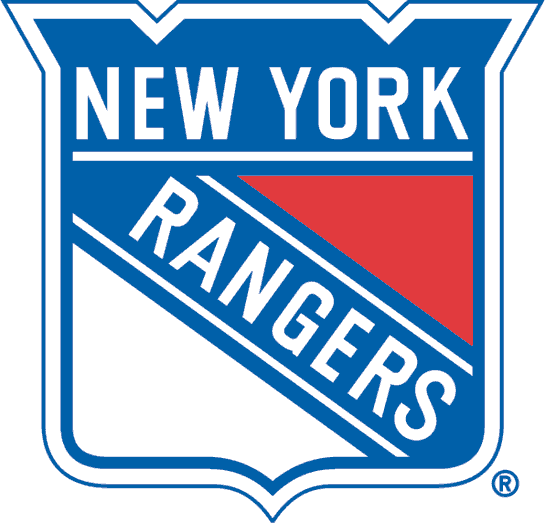 Drop the puck: With the Stanley Cup Finals beginning tonight, my latest ESPN column takes a close look at the Rangers, whose uniforms are quirkier than they seem at first glance. Check it out here.
+ + + + +

'Skins Watch: Latest celebrity to check in on the 'Skins issue: Dan Rather thinks they should keep the name (thanks, Phil). … People on the pro-'Skins side of the debate often say, "They've had this name for 80 years and now all of a sudden it's a problem?!" That's a flawed argument, because it falsely assumes that societal norms never change and that the status quo is somehow self-validating. But even if that argument were intellectually sound, it turns out that the 'Skins name was a hot topic at least as far back as 1972. Lots of great stuff there — recommended (from Robert Silverman). … A Canadian high school is changing its team name from Redmen to Redhawks (thanks, Phil).

Baseball News: Kudos to painted glove artist Sean Kane, who's having five of his gloves (including these two) exhibited this summer at the Negro Leagues Baseball Museum. … The White Sox front office told pitcher Chris Sale to shave his beard because it was "too raggedy" (from James Poisso). … "I was shooting some documentary footage in the Durham Bulls' front office a few days ago," says Jay Jennings. "When I stopped in GM Mike Birling's office, he was going through massive piles of jersey nameplates. He thinks he has one for every Bull in recent memory. By the way, he said he's also a Uni Watch fan." … The Reds' 1961 yearbook included a cool uniform ad from McGregor (from David Goodfriend, who also photographed a bunch of his old yearbooks, programs and caps). … Fun piece about how old baseball cards showed players wearing windbreakers under their jerseys (from Robert Silverman. … Who's the tyke in the mismatched Little League uni? None other than Johnny Football Baseball. Yup, that's Johnny Manziel (or at least that's what Dave Elbrecht told me). … Love the endearingly clunky typography on this old plumbing and heating union baseball jersey. "¦ Not sure what these mini-jerseys were for, but they're pretty cool (Phil again). "¦ Phillies closer Jonathan Papelbon was wearing the wrong pants during pregame warm-ups on Saturday (from Harrison Tishler).

NFL News: Here's why Cardinals QBs were wearing those black helmet stripes the other day (thanks, Phil). … Mako Mameli has spotted lots of players wearing the SpeedFlex helmet, including Raiders rookie CB Keith McGill, second-year LB Sio Moore, and third-year LB Kaelin Burnett, Cardinals fourth-year LB Keenan Clayton; Broncos fouth-year DT Marvin Austin, third-year DE Derek Wolfe, fourth-year LB Von Miller, rookie LB Corey Nelson, and oft-concussed WR Wes Welker. "So it appears to be catching on with relatively young defensive players and at one veteran offensive player," says Mako. "So far I haven't spotted a single player wearing a SpeedFlex at Chiefs, Chargers, Seahawks, or Jaguars OTAs." "¦ The Bucs will be giving away a Derrick Brooks bobblehead on Sept. 14 (from Kyle Speicher). "¦ Paul Deaver was watching the 1963 AFL championship game and noticed that the goal line had a "0" marker, instead of a "G." "¦ Hmmm, why would a Czech roller hockey goalie be wearing the Ravens' alternate logo on his pads? That's Jozef Ondrejka, who plays for the team Piestany SHK 37.

Hockey News: The NHL's online shop was accidentally selling overpriced polyester shirts for a less outrageous price the other day and then cancelled most of the orders when they realized the error. Alan Kreit was one of the lucky few whose orders will be honored. … "Looks like the Canadiens alumni (with some invited Expos) have a softball team," says Mike Engle. "Looks like this year, the jerseys are fake-sleeveless, with a Habs logo on the right sleeve and the Canadian Tire (sponsor) logo on the left sleeve. Also in the same article, a really cool shot of ex-Hab Patrice Brisebois playing softball in what appears to be the mid-1990s." … "I was watching a replay of Game 6 of the 1994 Stanley cup Finals and noticed that 90% of the crowd was wearing white shirts," says John M. "Do you know how far back color-outs go for big playoff games?" Nope. Anyone? "¦ What if NHL team logos included Simpsons characters? (From Seth Moorman.)

Pro and College Basketball News: Here's an updated schematic of the Hornets' new practice court design. And while we're at it, here's their draft cap (thanks, Phil). "¦ New court design for East Carolina (thanks, Phil).

Soccer News: Fake jersey unveiling, followed by a real one, for Ajax (from Mark Coale). … New ball design for the German Bundesliga. " It's basically a souped-up variant of the World Cup 'Brazuca' ball," says Bernd Wilms. … Speaking of the World Cup balls, here's a look at the factory that makes them (thanks, Brinke). … Here's Chris Creamer's look at the Group A World Cup uniforms. … New kits for AC Milan (thanks, Phil). … New away kit for Benfica and new kits for Brentford and Walsall. … Chelsea midfielder Eden Hazard recently changed his uni number from 17 to 10, so the team is offering a free exchange to fans who bought his jersey. "I haven't seen this for an active player with the same team before," says Jason Christie. "¦ A British soccer player has been reunited with his long-lost jersey after 36 years (from John Hollomon). "¦ Hmmm, is a keeper allowed to wear the same color as the opposing team? (Thanks, Phil.)

Grab Bag: Here's a poster showing notable golf holes in the USA. … Reprinted from yesterday's comments: Interesting article on why the U.S. military has so many different camouflage patterns. … How old are the world's oldest pants? This old (from David Firestone). … New font in the works for the Apple operating system (thanks, Brinke). … Oooh, check out these neato pro cyclist figurines (from Sean Clancy).
+ + + + +