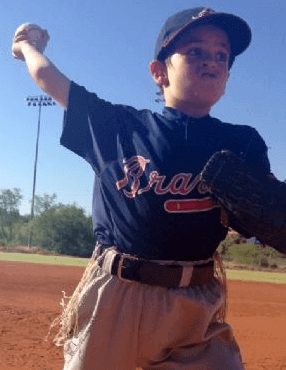 The boy shown at right is Yossi Lipskier, a nine-year-old who plays on a Little League team in Arizona. As you can see, he's wearing tzitzit — the knotted fringes attached to the corners of the prayer shawl worn by observant Jewish males. Yossi, the only Jew on his team (and, according to his father, probably the only one in his league), wears the shawl under his jersey with the tzitzit exposed.
That recently led to a remarkable sequence of events at one of Yossi's games, as his father explained in a email to COLive, a Jewish-oriented news service. Here's the key passage:
The game was going fine, with Yossi (as always) very actively participating and very much looking forward to his "at bat." As he came up to bat, the umpire happened to notice that Yossi wears two uniforms: his team uniform, and also the fringe undergarment uniform of every male Jew — tzitzit.

And then, for the first time, the umpire insisted that Yossi remove his tzitzit [because] it could produce some type of "interference or unfair advantage."
Although no further explanation is given for the ump's decision, I'm assuming he was invoking the same rule that's applied against excessively baggy uniforms, the rationale being that this would make the batter more likely to have his uni nicked by a pitch. While the rule makes sense, it seems absurd to apply it to a Little Leaguer's religious attire, no?
Yossi told the umpire why he was wearing the tzitzit, but the ump insisted that he remove them. Yossi, sticking to his principles, opted not to play rather than remove the tzitzit. Then — and here's the beauty part — his teammates supported him by choosing not to play either. They said they'd rather forfeit the game than play without Yossi. How awesome is that?
After a quick powwow between the coaches and the ump, Yossi was allowed to wear the tzitzit after all and the game proceeded — a good lesson for all involved. Yossi now joins the ranks of other athletes whose uniforms have included some accommodation for their religions, including the Christian high school basketball players who wear long pants to maintain a look of modesty, the Muslim sprinter who wore a hijab, and the Jewish college hoops player who wore a yarmulke.
This raises some interesting questions, though. Little League is one thing, but what if a college or professional ballplayer wanted to wear tzitzit? Should the rule be more strictly applied? Should an exception be carved into the rule, so that a pitch hitting the tzitzit wouldn't count as being hit by the pitch? And what about other religious garments and customs — what allowances should be made for them? Would a Sikh ballplayer, who under normal circumstances would maintain a beard, have to go clean-shaven if he ended up being acquired by the Yankees, who famously don't allow beards? All good food for thought.
(Special thanks to Phil for bringing Yossi's story to my attention.)
+ + + + +
Collector's Corner
By Brinke Guthrie
There it is. The Big One. The Holy Grail. The White Whale. The "¦ whatever. For a semi-retired bobblehead collector like me (we're downsizing a lot, and I have no space), this is still The Ultimate. Mike Krukow (left) and Duane Kuiper, aka "Kruk 'n' Kuip," are legendary Giants announcers. This bobble was not a stadium giveaway — back in 2003, it was available via a newspaper ad for around $25. I didn't go for it as I had just got laid off at CNET and didn't want to spend the money — a major an error on my part.
They now go for $250-$500 a pop. And only a few thousand made, as opposed to the usual 40K for stadium giveaways. They've resurfaced as part of a wine stopper set, but never as a reissue. Yet.
And here it is for just $320. But, hey — free shipping!
Okay, enough about my Giants/bobble obsession. Here's the rest of this week's eBay haul:
• Haven't thought of these in decades but I had 'em — a set of small "Super Ball" type rubber balls with photos of MLB players in them!
• Want a truly massive set of NFL fridge magnets? Well, look no further.
• This seller is offering a 1960s Continental Football League baseball cap.
• Nice-looking artwork on this 1960s NFL Wilson football gear set box, featuring "Famous Players" Griese and Sayers.
• The Ray-duhz logo is shown on the crown of the helmet, instead of on the sides, in the cover illo of this 1960 game program.
• Ah, here we have one of the popular late-1960s/early-1970s helmet banks that popped up in all NFL markets, it seems. Never seen a Baltimore Colts one before!
• Paul, is that your guy Ken Willard on this 1960s 49ers print? [Hmmmm. He did wear No. 40, but he was also 6'2″. So if that's him, then those linemen must have been HUGE! "" PL]
• Dave Boss Alert! Dan Reeves, No. 30 of the Cowboys, featured in this poster.
• Speaking of The BossMan, here's a 1960s NY Jets poster.
• From reader David Firestone, here's a rare racing suit worn by Tom Cruise in the movie Days of Thunder.
• And from reader Brett Baker, a Nebraska Cornhuskers marching band cap.
Seen something on eBay or Etsy that you think would make good Collector's Corner fodder? Send your submissions here.
+ + + + +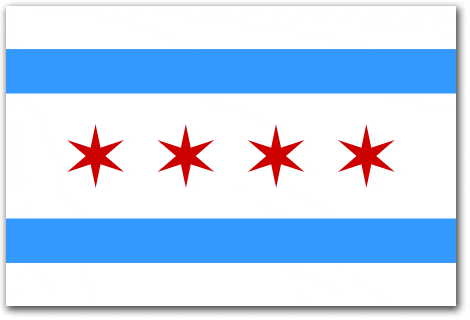 Chicago reminder: All you Chicago-area readers, remember that there's a Uni Watch party coming up this Saturday, June 7, 6pm, at the Black Rock Bar. And now that the Blackhawks have been eliminated, you won't be busy that night and will need to drown your sorrows, so come on out and meet intern Mike "Question of the Week" Chamernik, Comrade Robert Marshall, Jimbo Huening, Marty Hick (visiting all the way from St. Looie), and the rest of the Chi-town crew. Wish I could be there, but mainly I'm hoping you'll be there.
And while we're at it, all NYC-area readers are hereby reminded that we'll be having a Uni Watch 15th-anniversary party one week from tonight — Tuesday, June 10, 7:30pm, in the back room at Sheep Station. Phil and I look forward to having you buy us a few rounds seeing you there.
+ + + + +
Today's Ticker was compiled and written by Garrett McGrath.

Baseball News: On Saturday, we shared some information on the Marlins 1949 Sun Sox throwback uniforms that will be worn on June 8. Here is a little more background on the Sun Sox's history (thanks, Phil). … At the same game, the Cubs will be honoring the All-American Girls Professional Baseball League, popularized in the 1990s by A League of Their Own, by giving out these bobblehead statues (from Tim Hanlon). … The House that Clemente Built: Here's a wonderful 1960s rendering of Three Rivers Stadium as a purely baseball stadium before it was reconsidered, and eventually constructed, as a multi-sport facility. … Justin Verlander's brother Ben plays for the West Michigan Whitecaps, the Class A minor league Detroit Tigers affiliate, and posted a photo of himself in his Social Media Night uniform on May 29. At least tucked in looks a little better, when you can't see all of the strange multicolored boxes (from Michael Bailey). … Not uni-related, but last night's Brewers game started at 6:20pm instead of 7:10pm, in honor of WTMJ Radio Night. The station is at 620 on the AM dial (thanks fellow intern, Mike).

NFL News: Broncos' unused championship gear has been donated to Africa (thanks, Phil). … Yesterday's MMQB featured a uni-numerical mismatch between jersey and helmet (from Jonathan Ford). … Here's the story behind the first playbook wristband, worn by inexperienced Baltimore Colts QB Tom Matte (thanks, Brinke). … What is this black stripe down the middle of these Arizona Cardinals helmets? Intended for QBs at training camp only, or is the team making a change?

College Football News: Northwestern posted this video yesterday showing of a variety of different uniforms for next season (thanks, Phil).

Soccer News: Aston Villa shared their new 2014-2015 home and home keeper kits (thanks, Phil). … Detroit City FC, a fourth division club, will promote Motor City Pride with a rainbow equality symbol on its shirt (from Yusuke Toyoda). … Real Madrid posted official pictures of their 2014-2015 home and away kits. … Here is the new Big 12 Conference logo on Iowa State University's soccer field. … Trevor Williams has outdone himself — all the rest of this news is from him: Official release of the home and away Bosnia and Herzegovina 2014 World Cup kits. … Non-World Cup Nations: Home and away 2014 kits for South Africa and home 2014 kit for Uganda. … English teams: Aside from Aston Villa's official release above, we have: Tottenham Hotspur's third kit leaked, official release of Queens Park Rangers home, away, and third kits, and official release of Blackpool's 2014-2015 third kit. … Spanish teams: Real Madrid goalkeeper kit for next season, Atlético Madrid's Nike home kit, and Rayo Vallencano 90-year anniversary kits. … German Teams: Karlsruher SC home shirt for 2014-2015 season and the Dynamo Dresden home kit which was voted on by fans. … Other club teams: Salamanca Unionists CF shirt with an Atlanta Hawks "Pacman" type crest, official launch for AS Roma's home kit, FC Porto's beautiful home but horrendous away kits, Zenit St. Petersburg's leaked home kit, and Aberdeen's home kit.

NBA News: Charlotte Hornets guard Jeff Taylor posted a picture of the new practice facility and center court logo (thanks, Phil). … The NBA is releasing 1,946 pairs of their own sneakers to celebrate the league's 68th anniversary (I see what you did there). As you can see, no information on who is producing but it is safe to say that they are ugly and a terrible way to spend $119 (from Kyle Hanks). "¦ Cork Gaines points out that the Lakers have won exactly zero playoff games since adding those stars with the incorrect apostrophes to their court.

Grab Bag: California State University Northridge has unveiled a new set of logos for their athletic teams (from alumnus Michael Cooperman). … Who owns pi? Don't laugh — someone is claiming to have a trademark on the mathematical symbol for pi (from Trevor Alexander).