I was watching a bit of yesterday's Mets/Phillies game and saw something about Phils starter Cole Hamels that I've noticed before but had never thought to write about until now.
Here's the deal: After almost every pitch, Hamels reaches down with his left hand and gives a slight tug to left hip area of his pants, just below the belt. It's almost as if he's integrated this tic into his follow-through. You can see what I mean in this sequence from a game about two weeks ago (if you can't see the video clip below, click here):
Hamels has been doing this for years. And that got me thinking: Are there other players who have odd uni-related behavioral tics? One who immediately came to mind is Yankees pitcher CC Sabathia, who frequently reaches across his body with his left hand and tugs on the right shoulder of his jersey after each pitch, as you can see here (if you can't see the embedded video clip, click here):
Later in yesterday's Mets/Phils game, I noticed that Mets reliever Josh Edgin, who was recently called up from the minors, does the exact same thing as Sabathia: He's a left-handed pitcher who reaches across with his pitching hand to tug at the right shoulder of his jersey after throwing a pitch. Unfortunately, I couldn't find any video to show this.
Another example is Mets third baseman David Wright. Every time he steps up to the plate — either when approaching from the on deck circle or after stepping out of the box during a plate appearance — he goes through a series of gyrations, one of which is to momentarily pull his jersey over his face: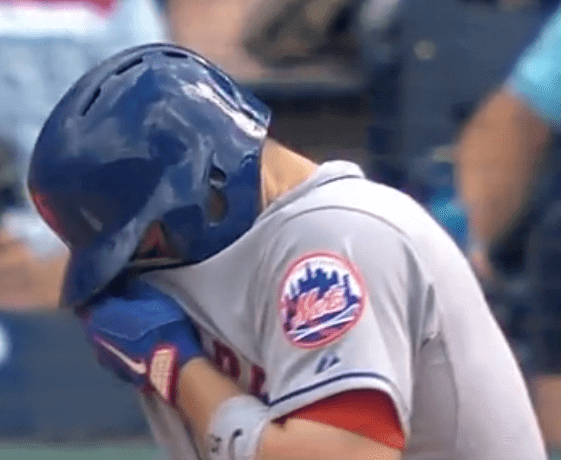 Going back a few decades to when I was growing up, I remember that pitcher Dick Tidrow would habitually tug on the brim of his cap as part of his follow-through after each pitch. I specifically recall a play toward the end of career, when he was pitching for the Mets, when a comebacker struck him in the shin and he was in no position to field it because he was busy tugging on his cap. Can't find any video of him, unfortunately.
Of course, these types of tics aren't limited to baseball. Michael Jordan famously like to pull down on his shorts, and I'm sure there are other examples out there. Can you think of any? Share them in today's comments. But let's please stick to two ground rules: (1) Let's focus to behavioral tics. In other words, we're talking about something the player actively does, not just the way he wears his socks or the angle at which he wears his cap or whatever. (2) Let's also stick to uni-related tics. So if a guy always draws his initials in the batter's box with his bat when he steps up to the plate, that doesn't count. Thanks.
+ + + + +
Party reminder: We will be celebrating Uni Watch's 15th anniversary with a party next Tuesday, June 10, 7:30pm, in the back room at Sheep Station. Phil and I look forward to seeing you there.
+ + + + +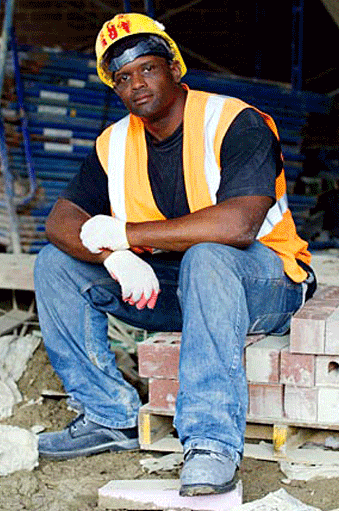 PermaRec update: The guy shown at right used to be Defensive Player of the Year. Which league? That question — and the larger question of who the guy is — is explored in the latest entry on Permanent Record.
+ + + + +

'Skins Watch: Ex-'Skins on the team's name: Mark Schlereth wants to change it and Clint Didier wants to keep it. … Another pair of divergent views: The head of the players' union says the 'Skins name may be a slur but an NFL official says it isn't. … The 'Skins thought it would be good PR to have a Native American on hand for a media event — you know, as a prop, or a human shield — so they invited a tribal leader from Nevada. But he turned them down.

Baseball News: Holy moly, look at all the different ways the Pirates styled Larry McWilliams's McNOB over the years (awesome stuff from Mark Rosa). "¦ Tottenville High School in Staten Island is using a purple version of the Texas Rangers' cap logo (from Alan Borock). "¦ If you love the Montgomery Biscuits' logo as much as I do, you'll want to read this history of the team's branding. "¦ Yesterday's Ticker had a question about this old Royals logo. Turns out it appeared on this lunch box and this pocket sked (from Mark Shipman and Phil respectively). "¦ Wow, check out Sandy Koufax at a 1984 old-timers game (Phil again). "¦ Texas Tech vs. Miami: Which team is which? (Phil yet again.) "¦ Bizarre scene in yesterday's Mets/Phils game, as Phillies OF Marlon Byrd broke his bat on a swing and a miss. Never seen that before.

College Football News: The blog Auburn Uniforms has launched a new "What If..?" series, the first installment of which is "What if Auburn had won while wearing the infamous orange jerseys?"

Hockey News: The Central Manitoba Railway — a small, independent railway company in Winnipeg — uses the Sabres' old bison head logo. "On the left side of their engines, the logo is turned the other way, so the logo on both sides faces the front of the train," says Brad Larocque. "¦ Thanks to a lost bet, the Canadiens' mascot, Youppi, had to wear a Rangers jersey (from Alan Kreit). "¦ Hmmm, what's with the "Tuna" jersey from last night's Kings/Blackhawks game? (From Kevin Tiessen.)

NBA News: WWE wrestler El Torito wore Chicago Bulls-inspired ring attire yesterday for the Payback PPV in Chicago. "The '2/3' uni number is both a reference to his height (he's a little person) and a nod to MJ (23)," explains intern Mike Chamernik.

Soccer News: British wrestler Wade Barrett wore trunks inspired by England's national football kit last night. "It had the three lions crest and a gold star for England's one World Cup win," says Mark Coale. "¦ "I was playing the Match of the Week feature on FIFA 2014, which includes updated rosters and uniforms, and noticed something off about the USA uniform," says Yusuke Toyoda. "The Yanks are wearing blue shorts instead of red with their much-maligned 'Rocket Pops' away jerseys. Does EA Sports know something we don't or did they simply make an error?" "¦ Nike is selling a new line of soccer shoes. "Yes, that ankle 'sock' section is part of the shoe," says Coleman Mullins.

Grab Bag: Here's one of the many reasons why I love Wisconsin (big thanks to David Gratt). … "For their Round 12 match of the Australian National Rugby League season against the Canberra Raiders, the Eastern Suburbs Roosters v">wore their alternate horizontal striped guernsey, instead of their traditional blue guernsey," reports Graham Clayton. Man, that's one nice uniform! … During the FedEx 400 at Dover, part of the track came loose and was repaired by a guy in an Earl weaver shirt (from David Firestone). "¦ This is interesting: Famous websites reimagined as dresses. Worth the click (thanks, Brinke). "¦ Also from Brinke: a slideshow of French Open attire. "¦ Expect to see California Chrome and all of his handlers plastered with the Skechers logo when he attempts to win the Triple Crown at this Saturday's Belmont Stakes.
+ + + + +

What Paul did last night three nights ago: On Friday evening my friend Jamie and I went to the old Domino sugar refinery in Brooklyn. The refinery has been shut down since 2004 and will soon be converted to luxury condos (grrrrr), but at the moment it's the site of a really unusual art exhibition called "A Subtlety," in which the artist Kara Walker has created a massive mammie-style sphinx out of sugar, along with lots of little "sugar babies" (life-size sculptures of children working the sugar cane fields), also made from sugar.
The sphinx and the sugar babies are all meant to make political points about race and labor (I won't get into that here), but they're also just amazing cool sculptures. The sugar babies are literally melting — each one has a little pool of molasses at its base — but are still very crisp and distinct, at least for now. I liked them better than the sphinx, maybe because they were small enough to take in all at once.
The whole place smells like sugar, and I'm not sure how they've kept out the ants. Here are some photos I took (if you can't see the slideshow below, click here):
The show is free, and it's open through July 6 — highly recommended. Further details here.