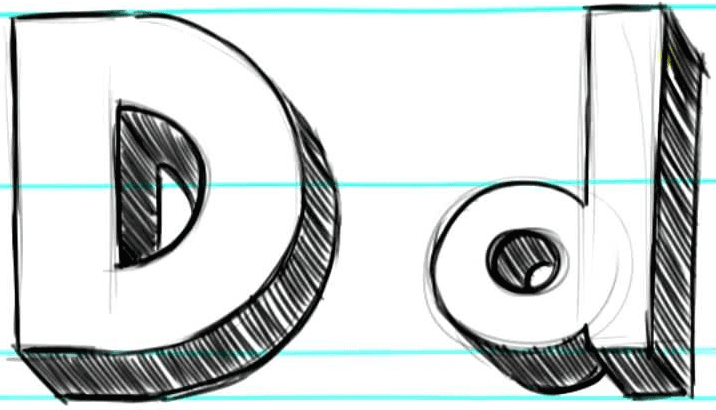 In case you missed it yesterday afternoon, my latest ESPN column is about NOBs with lowercase and small-cap lettering. It's a fun typographic rabbit hole — enjoy.
Now, several other media outlets have reported that the Mets used an upside-down "P" for Travis d'Arnaud's NOB last year but are using a genuine lowercase "d" this year. But I'd looked at a ton of photos over the past two months and had been unable to discern any difference between the upside-down "P" and the genuine "d." I even called Russ Gompers, the guy who does all the stitching for the Mets' uniforms, and asked him if there was any difference between the two, and he said, "Not that I can tell." So when writing yesterday's column, I included the following line: "You can't really tell the difference between last year's ersatz 'd' and this year's real thing on d'Arnaud's jersey — the two letterforms are essentially identical." Then I made my point by linking to this comparison (click to enlarge):
But reader Steve Dodell spotted something that I missed. As he posted in yesterday's comments, "This year's [version of the 'd'] has a tiny triangular notch cut in the lower-right corner in the blue layer, to simulate the rounded bottom of the [letter]."
It took me a minute to understand what he meant, but then I saw it: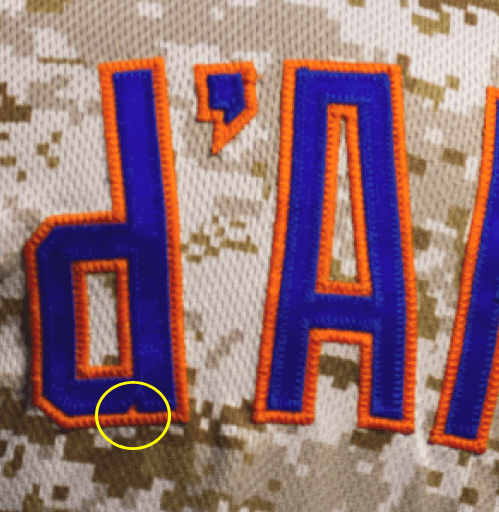 Wow. That is one subtle element! The funny thing is, it basically looks like a random fleck of orange, which feels in keeping with the camouflage background on that jersey. I'd like to say that's why I didn't initially spot it, but the reality is that I just wasn't as attentive as Steve was. Kudos to him for spotting what I missed.
But wait — is the little notch also apparent on Jacob deGrom's NOB? Sure enough: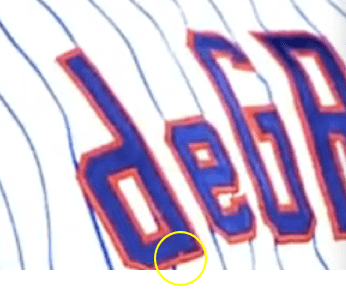 It's worth noting that the font used for the Mets' NOBs, Block Standard, wasn't designed to include lowercase letters — just caps and small caps. Majestic created the lowercase "d," along with the other lowercase letters the Mets are using this season, at the request of Mets equipment manager Kevin Kierst. But there was no precedent for that, so they kinda winged it.
Meanwhile, that ESPN column from yesterday prompted lots of other good responses:
• From Jeff Caveney: I had mentioned that I couldn't find a good rear-view shot of Tony LaRussa from his time in Oakland, but here's a good view from the 1989 World Series. Small cap "A" and a space!
• From Ed Westfield Jr.: A few minor league and college hockey teams used lowercase lettering for their NOBs in the 1990s, including the Orlando Solar Bears and Northeastern University.
• From Louis Griffel: NHLer Greg de Vries wore lowercase lettering on his NOB while player for the Predators, Avalanche, and Oilers. But he had small caps with the Thrashers, and the Rangers gave him an odd hybrid — a lowercase "d" and a small-cap "E." (At first I thought the "d" was an upside down "P," but that can't be right, because the block-shadow wouldn't be properly oriented if that were the case. So why use one lowercase letter and one small cap? Weird!)
• From Jaime González: Puma has been including lowercase letters for its soccer NOBs for several years now.
• From Jericho Ilagan: The Philippines' soccer team uses all-lowercase NOBs — no initial caps.
+ + + + +
WCWS: The Women's College World Series got underway yesterday, and Brian Rice checked in with some detailed info regarding jersey patches:
I know you'll probably get some submissions on inconsistent and/or missing patches from the Women's College World Series. I've gone three times with Tennessee and helped in the patching process, so here's a refresher.

First, the NCAA only patches two sets of jerseys for each team, so they ask you to bring your two "primary" white and color jerseys to the NCAA hotel, where they are patched on-site by a seamstress. If you wear a sleeveless jersey, as Alabama does, the NCAA will patch a set of undershirts instead. A team can still wear another jersey.

Second, the patches are placed on whichever sleeve will face the CF camera when the player bats. So the right sleeve for lefties and left for righties. They do it that way even if the jersey has another patch on that sleeve, and will not cover any other logo or patch that is already there. I've never liked that, but they've done it that way since at least our first trip in 2005. All about the logo, I suppose.

If you make the Championship series, you must wear your "primary" patched jerseys.
+ + + + +
PermaRec update: The camera shown at right was recently found by divers in 40 feet of water — with photos and video content still intact on the memory card! The photos were then used to track down the camera's owner. Get the full scoop over on Permanent Record.
+ + + + +

'Skins Watch: A New Hampshire high school has decided not to change its Native American "Red Raiders" mascot (from Tom Mulgrew). "¦ 'Skins apologists like to claim that the team was named in honor of coach Lone Star Dietz. A newly unearthed 1933 article clearly refutes that claim. Here's the article itself. "¦ The 'Skins asked their fans to tweet #RedskinsPride at Sen. Harry Reid — what could possibly go wrong with that? "¦ Speaking of Reid, Skins team president Bruce Allen sent him a letter defending the team's name.

Baseball News: Whoa, look at the logo the Padres almost ended up with thirty years ago. Also, read all the way to the end to see some tantalizing info about prototype uniforms. … First two numbered grafs on this page are about the Indians switching from gray jerseys to navy for Wednesday night's game in Chicago (thanks, Phil). … Wally Campbell has written a lengthy manifesto on the history of the A's white shoes. "¦ The Twins will wear 1984 powder blue road throwbacks at home on June 5. Note that their stirrups will include the "TC" logo! Further info here (thanks, Phil). "¦ Interesting snakeskin glove for Juan Uribe of the Dodgers (Phil again). "¦ Here's the Civil Rights Game patch that the Astros and Orioles will be wearing tonight (Phil again). "¦ That patch will also appear on both teams' caps, as seen here and here (from Todd Fisher). "¦ Major find here: I've often been told that Twins pitcher Paul Thormodsgard wore a "Thor" nickNOB, but I'd never seen visual evidence of it — until now. Paydirt! (Huge thanks to Stephen Kraljic. "¦ I'm not sure why Jose Cardenal was riding a penny-farthing, but it sure looks amusing (Phil yet again). "¦ The Indians recently used some high-tech glasses to track where fans looked during games. Why? So they can put more advertising where the fans look, of course. Douchebags (from Jarrod Leder).

NFL News: Here's more info on yesterday's "concussion summit" at the White House. … The "Manzelf" illustration that recently circulated on Twitter is now being merchandised on T-shirts and stickers (from Joe Coney). "¦ You know the problem with the Bills' helmets? Not enough charging buffaloes (from Thomas Migliaccio). "¦ Here's more about former Vikings coach Bud Grant's garage sale, plus a photo gallery and an article on what he didn't sell. … A dear friend of mine had a bike accident on Monday night and ended up in the hospital with four broken ribs. When he was discharged yesterday, the technician who wheeled him to the exit was wearing a Giants head wrap. "¦ Two more strength/conditioning T-shirt examples, this time for the Giants and Pats (from David Varley).

College Football News: Penn State equipment manager Brad "Spider" Caldwell is retiring (from William Yurasko). … Several uni-related queries come up in this Q&A with Virginia Tech athletic director Whit Babcock. Just search on the word "uniforms" (from Tommy Turner). … New logo for the ACC. Here's the new style guide, and here's how the logo looks on Clemson's jersey (thanks, Phil).

Hockey News: Odd place to spot the Sabres' old bison-head logo: on the side of a fire truck in Cincinnati (from Scott Palmer). "¦ The Wilkes-Barre Scranton Penguins wore 15th-anniversary jerseys for Wednesday night's playoff game against St. John's. "I have never seen an anniversary logo used as a primary uniform crest before," says Steve Cook.

NBA News: Here's what the Hornets' new practice court will supposedly look like. … Reprinted from yesterday's comments: The first five games of the Eastern Conference finals have featured five different uniform match-up. Game 1: Miami (red) @ Indiana (yellow). Game 2: Miami (black) @ Indiana (yellow). Game 3: Indiana (yellow) @ Miami (white). Game 4: Indiana (dark blue) @ Miami (white). Game 5: Miami (black) @ Indiana (white). "Does anyone know if we've ever had a series that long with no repeat uni match-ups?" asks Brian Perkins. "Also, interesting that the Pacers have worn yellow both at home and on the road." Indeed. … The 76ers will reportedly have new uniforms for 2015 (thanks, Phil). "¦ ESPN ran a segment on spelling bee contestant Gokul Venkatachalam in which he cited LeBron James as his favorite player. Then they showed him wearing KD's. "Hypocritical genius," says Chris Perrenot.

Soccer News: The guy who designed Brazil's iconic uniforms is an Uruguay fan (thanks, Phil). … New training kit for Liverpool (from Nile Smith). "¦ Valencia CF switched kit suppliers, to Adidas, and released a limited-edition uniform with a retro badge (from Yusuke Toyoda). "¦ Also from Yusuke: A Korean has activist placed an ad in The New York Times arguing that Japan's World Cup uniform features the 'Rising Sun' flag motif used by imperialist Japan during World War II."

Grab Bag: Mitchell & Ness is running a big sale (from Scott Davis). … Serena Williams is blaming her early French Open ouster on my favorite color (thanks, Phil). … "In Saturday's Top 14 (France's professional rugby union competition) final, Toulon will wear a commemorative jersey for fly-half Jonny Wilkinson's final game before retiring," reports Eric Bangeman. "Wilkinson is one of the most storied players in the history of the sport, best known for a drop goal in overtime to win the 2003 Rugby World Cup for England." "¦ Lots of debate in Provo, Utah, over what the city's new flag should look like. "The mayor has been advocating for the aesthetics and standards of proper flag design, while citizens are arguing looks and meaning," says Josh Sorenson. "It's very interesting." "¦ A lot of the photos and screen shots from this listicle on jersey typos originally ran on Uni Watch.