When I wrote about the difference between uniforms and equipment last Friday, I neglected to mention compression sleeves. The rules surrounding them make no sense: On the one hand, your undershirt sleeves have to be a certain color (unless you're David Wright); on the other hand, you can wear a compression sleeve — which looks just like an undersleeve — of just about any color. Which is how we ended up with Marlins slugger Giancarlo Stanton wearing a stars/stripes compression sleeve yesterday.
Stanton's sleeve hit the trifecta of stupid: the flag-desecration thing, the superhero thing, and the "I don't actually understand what this holiday is about" thing. It was the low point in a brutal day for MLB aesthetics, as all 30 clubs went G.I. Joe. You can see each team's uniform in the slideshow below (if you can't see the slideshow on your mobile device and/or would prefer to see the photos as a gallery, click here):
As you may have noticed in that slideshow, the Blue Jays had a different camouflage pattern than the other teams, based on what the Canadian military wears. That's nice — except that they still had to wear the military costume on an American holiday, which doesn't make much sense, a fact not lost on The Globe & Mail's Cathal Kelly, who wrote, "Why are we paying fealty to a neighbour? And especially in this way? We are the United States' global partner, not its kid brother." Kelly then continued:
Seeing your heroes running around in camo is neither heartening nor instructive. It's toying with politics. Cheering in that environment is a mandate of the hive mind, because are you going to be the one guy who sits on his hands while everyone is standing? No matter how good the intention, it's coercive and arbitrary.

When you don the trappings of war in an environment that has nothing to do with real battle, you are play-acting. I'm not sure what the sight of 17 Americans, five Dominicans, a Venezuelan and an Australian wearing the distinctive camo of the Canadian military is supposed to mean to Canadians. The only guy who makes any sense is [Canadian-born] Brett Lawrie.
Well put.
A few additional notes:
• The umpires got into the act, wearing G.I. Joe caps.
• The "LA" logo on the back of the Dodger Stadium mound went G.I. Joe as well.
•  The Rays apparently couldn't wait for Memorial Day and wore their G.I. Joe caps — but not the jerseys — on Sunday.
• The Mets and Pirates, who are both wearing Ralph Kiner memorial patches on their right sleeves this season, played each other yesterday. Interestingly, the Mets included the Kiner patch but the Pirates did not: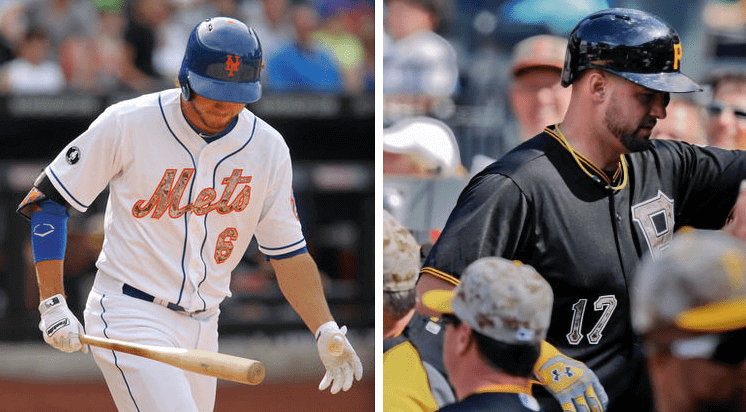 Were any other patches missing from yesterday's jerseys?
(My thanks to all contributors, including Mark Coale for the Globe & Mail article, Brian Skokowski for spotting the Kiner patch omission, and of course Phil.)
+ + + + +
The lowercase chronicles, continued: A uni-centric subtext to yesterday's Pirates/Mets tilt was that the Mets had called up outfielder Matt den Dekker prior to the game. He entered the game in the 9th inning and, as you can see at left (and can click to enlarge), had lowercase letters on his NOB, just like Jacob deGrom and Travis d'Arnaud.
This is at least the third different NOB format den Dekker has had as a pro ballplayer. Last year the Mets rendered his name in all-caps; at triple-A Las Vegas, he's had just a lowercase d.
d'Arnaud is currently on the DL but is expected to be activated tomorrow. When that happens, the Mets will have all three of their lowercase-NOB players on the active roster at the same time. Or to put it another way, they will be playing in 3-d.
Interestingly, when New York Mayor Bill de Blasio was on hand to throw out the first pitch on Opening Day, the Mets gave him a jersey with all-caps lettering.
+ + + + +
In case you missed it, yesterday was the 15th anniversary of the very first Uni Watch column. I had a lot to say about this in yesterday's entry. If you didn't catch that, I urge you to check it out here.
Meanwhile, here are a few more more anniversary-related developments:
• When I unveiled that anniversary logo yesterday (designed by our own Scott M.X. Turner, don'tcha know), several people asked if it could be made available on a T-shirt. Sure can — look here.
• Some people have also asked about having the logo made into a sleeve patch. I'm looking into that, but it might depend on how much demand there is — would you be interested in purchasing such a patch? If so, please let me know. Thanks.
• We're going to have an anniversary party at Sheep Station on the evening of Tuesday, June 10, 7:30pm. This is the first time we've done a Brooklyn party on a weeknight, and I realize it may not be as convenient as a weekend for some of you, but circumstances (i.e., my schedule and Phil's schedule) left us with no other options. Hope to see you there.
• I'm having the anniversary logo printed onto a large-ish banner, which will be on display at the party on June 10. If you want to organize a UW party in your town, let me know and I can ship the banner to you (as long as you send it back, natch). Not quite the same as showing up myself, but still not bad, right?
+ + + + +
Attention NYC-area readers: I've mentioned Jody Avirgan's excellent "Ask Roulette" events several times over the past year. It's a simple premise — strangers get up onstage and ask each other questions — but it ends up being more entertaining than the sum of its parts, because Jody is an unusually witty host and there are always "celebrity" guest participants. (I was one of the celebrities last year. You can check out my segment in the Dec. 24 entry here.)
Ask Roulette is coming to the Bell House tonight, 8pm. The special guests include Chuck Klosterman and Jay Smooth. Sadly, I won't be able to attend (I have a longstanding date with my brother tonight), but Ask Roulette is totally worth your time — you should go!
+ + + + +
PermaRec update: There's been a new development in the story about that 1975 high school ring that I've been trying to return to its owner. Get the story over on Permanent Record.
+ + + + +
Baseball/Softball News: You knew this was going to happen: The Dodgers wore their "Dodgers" gray jerseys on Sunday — except for coach Davey Lopes, who wore the "Los Angeles" jersey (thanks, Phil). "¦ Sunday was Dominican Mother's Day, so the Blue Jays' Dominican players wore pink accessories. The sad thing is that most fans probably thought it was a breast cancer thing (from Casey Levene). "¦ Great story on the guy who paints the signs at Spokane's minor league stadium (from Kenny Ocker). "¦ Phil had good coverage on Sunday of Saturday's Mariners/Astros throwback game, but here's a photo gallery for those who want more (from Tim Dunn). "¦ Another team wearing solid-orange: Oklahoma State (from Mark Rybczyk). "¦ Very nice uniforms the other day, complete with vertical placket lettering, for Southeastern Louisiana (from John Schmitt). "¦ The U. of Florida softball team was wearing white stirrups over white sannies the other day. Love those stripes (from Jaime Galindo). "¦ "I saw the highlights of Sunday's Red Sox/Rays " brawl," says Scott Turner. "When Johnny Gomes was ejected, he handed his glove to Mike Carp, his replacement in the outfield. I know Carp is a first baseman, but he's played outfield so presumably he'd have a fielder's glove." Odd. "¦ Pablo Sandoval wore a Batman undershirt yesterday. To honor the troops, I guess (from Sean Robbins). "¦ Speaking of honoring the troops, the Jacksonville Suns observed the holiday yesterday with this tasteful jersey design. Classy! "¦ This isn't the first time we've noted Hunter Pence's super-high pants, but man — those pants are super-high! The White Sox should trade for him and then do a Sox-in-shorts throwback game just for him (screen shots by Scott Novosel). "¦ New logo set for the 2014 Korean All-Star Game (from Dan Kurtz).

NFL News: DeSean Jackson, recently acquired by the 'Skins, says Robert Griffin III offered to change his uni number so Jackson could wear No. 10, but the league "was too invested" in having Griffin keep his number. Hmmmm (from Yusuke Toyoda). "¦ Here's a mid-1960s photo of 49ers Hall of Famer Jimmy Johnson — No. 37 — wearing the wrong jersey design. Those shoulder stripes were only part of the Niners' uniform program from 1959 through '63, so Johnson must have been wearing an old jersey (good spot by Tom Farley).

Hockey News: Derick Brassard of the Rangers was missing his front helmet number during Sunday night's playoff game against the Canadiens. Gotta say, I liked it better when the helmets didn't have those numbers, which often look too cluttered (screen shot by Mikey Brethauer).

Soccer News: Here's a great behind-the-scenes photo of Italy's jerseys being prepared for pre-World Cup friendlies (from Joe Hickey). "¦ ESPN has created really nice poster designs for all 32 World Cup teams. "¦ Here are some thoughts about Brazil, Nike, and hype. "¦ Real Madrid celebrated "La Decima" — its 10th European Cup title — with this shirsey (from Yusuke Toyoda). "¦ Also from Yusuke: "On Saturday, Queens Park Rangers won the promotion playoff to move up to the Premier League while wearing their red and black away kit, but put on their home colors for the post-match celebrations with 'R's are going up' printed on the back. "¦ The rest of these are from Trevor Williams: New kits for Ireland, Indonesia, Recife, Sevilla, and new reversible kits for five Penalty-outfitted clubs.

Grab Bag: Last week I mentioned and linked to a couple of new sock manufacturers. One of those operations, American Trench (whose main product is trenchcoats but also makes socks), sent me three pairs of striped sock samples, and I'm happy to report that they're wonderful — really comfortable, tight enough to stay up but not too tight, and I love the stripe patterns. The blue/gray design is supposedly inspired by the Brooklyn Dodgers' uniform and the red/gray one is supposedly Red Sox-inspired, both of which frankly seem like a bit of a reach to me, but whatever — they're just great socks. American-made, too. Uni Watch's highest rating! You can buy them in various configurations here and here. … "A little boy had an accident and his favorite Under Armour shirt was ruined," says Kelly Duncan. "His mom wrote a letter to UA, trying to find a replacement, and the company came through in a really nice way." "¦ It's not that unusual for members of a rock band to wear matching outfits, but I particularly like that the bassist and guitarist of the excellent Atlanta garage band the Woggles, who I saw on Friday night, both have "W"-emblazoned straps and white amp cords. Nice details. "¦ The U.S. military has been policing its trademarks a bit more aggressively lately. "¦ Here's an article/video on the guy who makes the WWE championship belts in his garage. "¦ The Denver/Duke NCAA lacrosse semifinal game featured several uni-notable details, as both teams wore two-tone helmets. As you can see in that shot, Denver wore the NCAA tourney patch on the clavicle, but Duke wore it on the rear collar. And Denver's uni numbers had a Rocky Mountain theme (all this from Jared Buccola). … Super-teeny-tiny logo adjustment for Google (from Laurence Holland). "¦ "¦ Indy 500 winner Ryan Hunter-Reay celebrated his victory with his very young son — who wore a suit modeled after daddy's. "Awwww," says David Firestone. "¦ You mess with the swoosh and the swoosh will mess with you. Douchebags. "¦ Would you wear flip-flops to meet the President of the United States? Some members of the Northwestern women's lacrosse team did just that in 2005 (from Tommy Turner). "¦ I knew baseball umps used to wear formal suits, but I didn't know basketball refs wore suits until I saw this 1921 high school basketball photo. Amazing! Lots more photos of a similar ilk here (great stuff from Chris Wheeler). "¦ All 18 indigenous-themed uniforms for the Australian Football League have now been released. "All were designed by indigenous artists — that's how you honor native peoples, Mr. Snyder," says Lew Strawn Jr. You can watch the Indigenous round for free here. … Absolutley faaaascinating article on airport runway fonts and graphics. Highly recommended (big thanks to Paul Lee).